INTRODUCING FITS FOR YOU BY BOUX
Our latest collection is made for a summer like no other. It's the first normal summer in years, so say hello to a new season wardrobe, perfectly designed to fit YOU, with lingerie & swimwear up to a G cup, there's 'fits for every shape and style.
Fit has always been our obsession, because wearing lingerie, swimwear and nightwear in the perfect fit is key to you looking and feeling like your very best self…
THE BEST FITTING LINGERIE TO ADD TO YOUR COLLECTION
We say this with every range, but we really do think the lingerie sets of Fits For You are some of the most stunning pieces we have ever designed.
As with all our lingerie, the key to having sets that make you feel fabulous is ensuring you are wearing the right bra size.
Before you fall in love with every bra, knicker and bodysuit from the collection either read our guide on how to measure your bra size, or book a fitting with one of our expert fitters at your nearest Boux store.
Now, are you ready to see some of our fave new lingerie styles?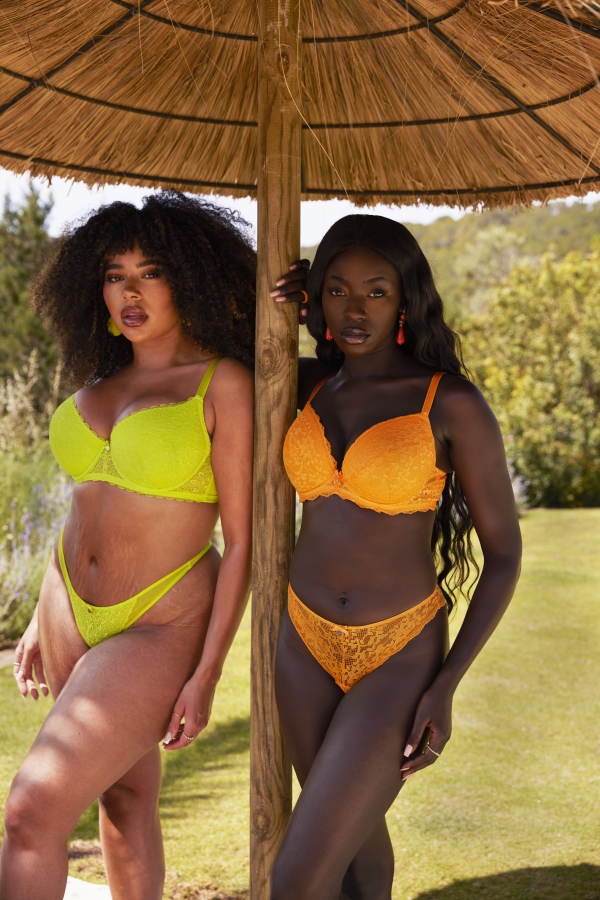 We couldn't launch a new collection without giving everyone's fave Mollie plunge bra a refresh!
You can now shop the best fitting plunge bra we know and love in a bold orange shade that will brighten up every day - even if the sun isn't always shining!
We've also given the Piper balconette bra a bright neon splash of colour. This classic balconette bra style now comes in a lovely lime shade, along with the rest of its gorgeous colourways.
Now for some of the brand-new lingerie sets that are designed for every occasion!
These luxe lingerie sets are too stunning to stay hidden under clothes; these new pieces should well and truly be worn to be seen too!
Meet Tenahya, neon green to make you scream, this bright neon shades work perfectly with the delicate lace detailing. We need every Tenahya style.
The Tenahya demi bra is the most classic bra style, lace and underwired, you will feel so sexy and supported in this set.
If you are looking for a piece that is made to be worn as a head-turning lingerie top, then add the Tenahya high neck bra to your bag.
The intricate embroidery and satin ribbon detailing of the high halter neck design will have you feeling like your baddest self!
Either save this piece of sexy lingerie for wooing bae, or pop on some nipple petals and absolutely slay with this as a top for a big night out!
And the final key piece of the Tenahya neon green lingerie range is a lace bodysuit version of the high neck bra.
So, if you were considering the bra but want a little more coverage, the Tenahya high neck body is for you!
An equally jaw-dropping neon lingerie range that forms part of the Fits For You collection is the Estella range - full of neon coral lingerie for standing out and feeling sexy in.
The Estella lingerie sets feature one of Boux's exclusive new embroidery designs. The heart Swiss design can't be found anywhere else.
You can find a super sexy lace bodysuit in this gorgeous range in the Estella bodysuit. This low-cut number would make a festival outfit perfect for standing out in!
If corset style lingerie is your thing, the Estella longline bra will be your new fave. But if you want something a little more traditional, the Estella plunge bra is a deep plunge bra design in a more classic fit.
And for when you want to wear a full sexy lingerie set there is the stunning Estella waspie suspender belt. It really is a luxe upgrade from a regular suspender belt!
Pair your fave stockings or hold ups with an Estella set for the sexiest lingerie set you have ever seen! You will feel absolutely fire in these pieces.
If you're after some tips on how to wear suspenders we have a whole guide on that, full of our expert tips!
These are just a few of the lingerie pieces that have been designed to fit you and your style, keep an eye out on our Fits For You collection for even more lingerie dropping soon.
SUMMER READY SWIMWEAR THAT FITS PERFECTLY
We truly believe we have the best fitting swimwear around. All our bikinis are sold as separates so you can get your perfect fit on top and on the bottoms.
You will also find that most of our bikini tops, especially the underwired bikini tops, come in bra sizes for a truer fit.
Our swimwear fits just like lingerie, so you can wear it with confidence and in complete comfort!
Fits For You wouldn't be a summer collection without swimwear to shine in.
You can find bikinis, swimsuits and even beachwear to wear all summer long right here…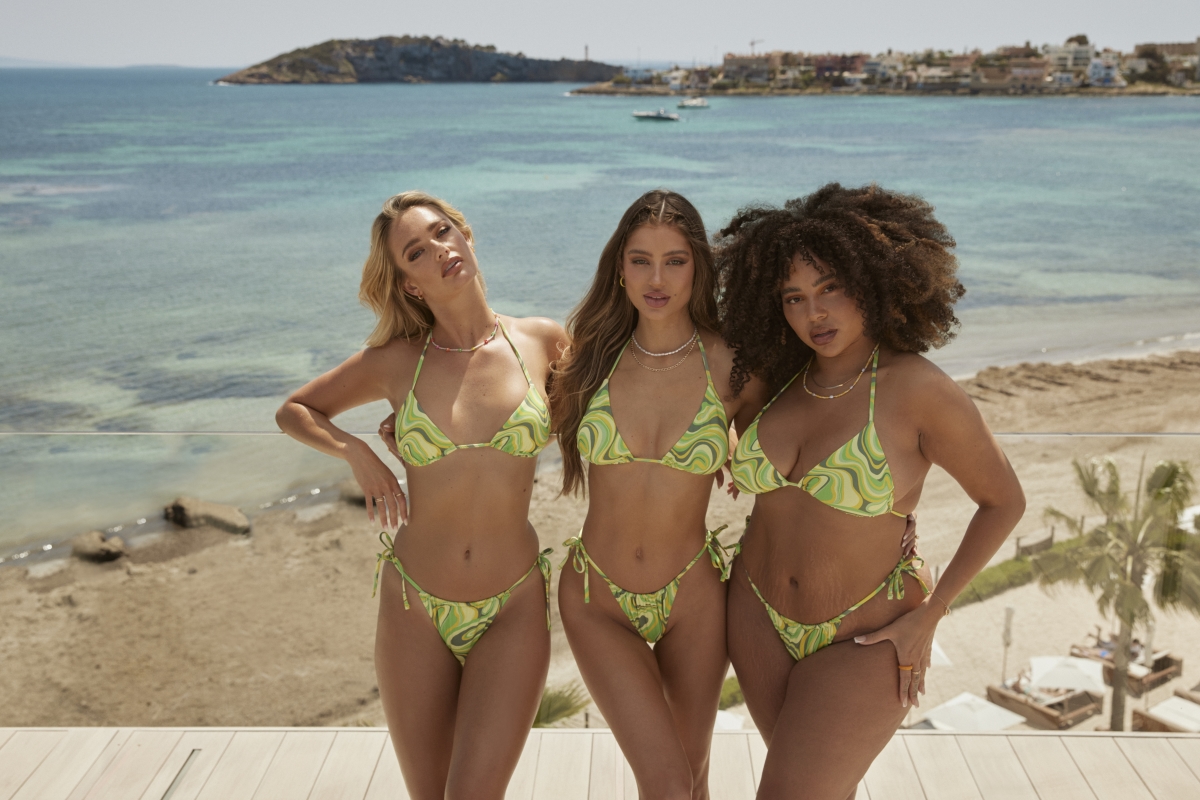 We can't lie, we are absolutely obsessed with green for summer, which is why the Dominica triangle bikini and matching Dominica adjustable bikini bottoms are going to be our summer staple for sure.
You just can't go wrong with a triangle bikini top for a flattering fit.
Thong bikinis are very popular right now, but we know they might not be for everyone, but with the Dominica adjustable bottoms you can choose just how much coverage you want from your bikini bottoms. So you can choose between a thong style or more of a brief bikini bottom, dependent on your preference!
Looking for an underwired bikini top for a bit more support? Our Ibiza bikini range is for you!
The Ibiza eyelet bikini top is a bikini top you won't want to be without this summer. You can find this up to a G-Cup!
Prefer red swimwear to really make a statement in? The Ibiza textured bikini top is equally supportive and flattering.
The bra sizing really does mean these bikini tops fit unbelievably well! And with all our bikinis being sold separately, it means you can mix and match to make up your perfect bikini set!
It's not all just bikinis though, Fits For You also features some show-stopping cut-out swimsuits!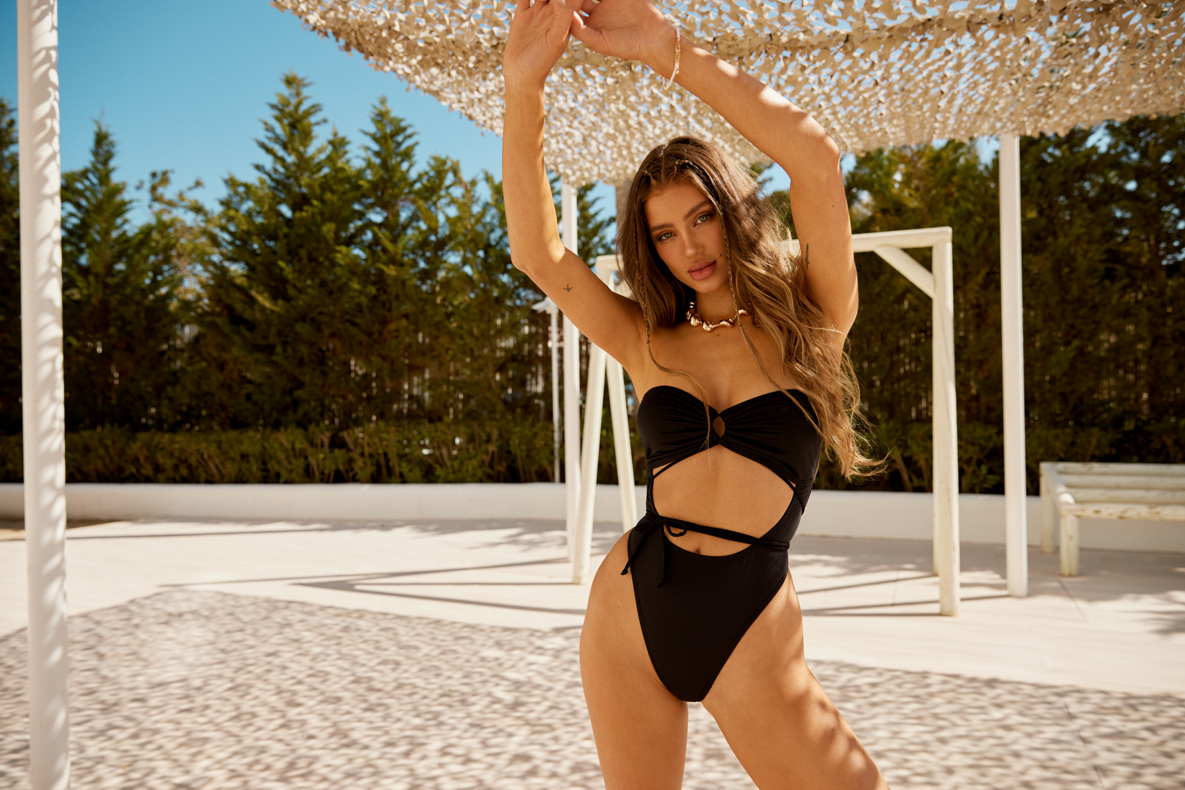 The Cannes strappy swimsuit is a major fave, perfect for pool parties, festivals, and anything else. You will look and feel like an absolute queen in this one-piece.
The bandeau style also means no annoying strappy tan lines. Bonus!
WE DO NIGHTWEAR FITS FOR YOU TOO!
There is nothing nicer than having a fresh pair of cool cotton pyjamas to slip on after a hard day of tanning on holiday!
Our super cute PJ sets are made for looking and feeling fabulous in, even during those hot summer nights.
From sexy nightwear sets to comfy summer pyjamas, we have nightwear fits for every occasion!
Short pyjamas are a must for summer, you can find so many gorgeous designs in our latest collection.
Our absolute faves, though, are the Spot revere and shorts set - cute, breezy and made from 100% cotton, they are the perfect fit for summer nights.
If cami sets are your sleepwear of choice, add the Rib keyhole cami and shorts set into your summer nightwear rotation.
Coming in a sweet pastel pink and an aqua shade, this set will keep you looking so fabulous whilst you get your beauty sleep.
This is only a small selection of the Fits For You collection; there are so many more stunning pieces we know you are going to love dropping very soon!
So, explore the range and find all your perfect summer 'fits from Boux! Don't forget to share your fave pieces with us over on Insta using #myboux!