WHAT BRA SIZE ARE YOU WEARING?
Please select the size of the most comfortable bra you own, using the drop down menu below
UNDER BAND SIZE
CUP SIZE
Not sure? View measuring video
WHAT BRAND IS YOUR CURRENT BRA?
HOW IS YOUR UNDERBAND FITTING?
A good fitting underband should sit horizontally across the back and be in-line with the wires at the front.
BAND RIDES UP
BAND IS TIGHT
BAND IS COMFORTABLE
From the Expert: You should be able to pull the underband out 1cm from your side and 2 inches from your back.
HOW ARE YOUR STRAPS FITTING?
Ensure your straps are not too tight or too loose on your shoulders - they should feel secure and offer lift and support.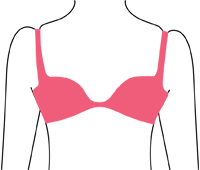 STRAPS DIG IN
STRAPS SLIP, EVEN AFTER TIGHTENING
STRAPS FIT JUST RIGHT
From the Expert: You should be able to just fit 2 fingers under the straps when you pull upwards from your shoulder.
HOW DO YOUR CUPS FIT?
Ensure the wire under the cup is encasing the full bust, not standing away from under the bust and not digging in under the arm or into the bust.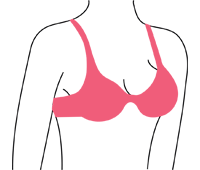 CUPS GAPE A LOT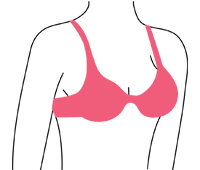 CUPS GAPE A LITTLE
CUPS FIT JUST RIGHT
CUPS OVERFLOW A LITTLE
CUPS OVERFLOW A LOT
From the Expert: The wire at the side should be sitting on your rib cage, not on your breast tissue.
HOW IS YOUR CENTRE FRONT FITTING?
The centre front of a bra is the piece of fabric which meets in the middle of the bra between both cups. This should sit flush against the skin.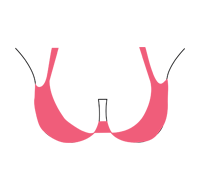 STANDS A WAY A LOT
STANDS A WAY A LITTLE
SITS COMFORTABLY AGAINST MY SKIN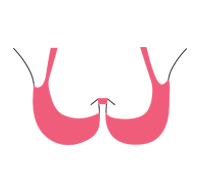 IS TIGHT AND DIGS INTO MY SKIN
From the Expert: If your centre front stands away this means the cup size is too small, if it is tight and digs in, your band size may be too small.
WHICH BREAST SHAPE RESEMBLES YOURS?
From the Expert: Remember, many women have breasts that may be slightly uneven in shape or size. This is very normal, as every woman is unique!
BOTTOM HEAVY
The bust is slightly thinner at the top before rounding and becoming heavier at the bottom
CLOSE TOGETHER
The bust is fuller on the inside, and may sit very close together
SEPARATED
The bust is fuller at the outsides, and may fall towards the sides of the body
TOP HEAVY
The bust may be pointy and have space underneath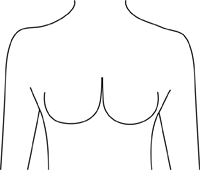 FULL/ROUND
This bust will appear round with the weight evenly distributed, it may also be firm
NEARLY THERE!
Based on what you have told us, we have found your unique fit.
Simply sign-in/sign-up to see your results.