BOUX'S GUIDE TO BRA SOLUTIONS
Bras - we love them! Not only do they give us the support we need on the daily, but they also look fabulous! However, sometimes your regular bra styles just won't cut it.
That is where bra solutions and accessories come in! There for when you need some boob support or coverage, but a regular push up bra or balcony bra is going to interfere with your outfit.
From nipple covers to strapless bras, discover all the best bra solutions to add to your lingerie drawer to ensure you can always wear your plunging tops or backless dresses with ease…
THE MUST-HAVE BRA SOLUTIONS
Bra alternatives have come a long way over the years. Whilst we used to have to go completely braless if we wanted to wear a backless or low-cut piece, there are now plenty of solutions to choose from.
These bra solutions and accessories can provide support and coverage when you need it!
Backless dresses and top styles are so in right now, and with that comes the rising need for a good bra solution for backless styles.
If you still want lift and support whilst wearing your fave backless dress, then go for breast lift tape or a stick-on bra!
Breast lift tape is great if you want minimal bra lines and zero straps and it will also give your boobs some support and lift with no outfit-ruining back strap!
For even more breast support for a backless lewk, a stick-on bra is the perfect choice!
Our stick and clip bras or padded backless strapless bras both work amazingly under any backless outfit!
The padded backless bra attaches to your sides with wing tape, whilst the cups of the stick and clip bra are actually coated with a gel adhesive.
Just avoid moisturising the area where the adhesive attaches to ensure it stays on for as long as you need.
Whichever style of stick-on bra you choose, you will be able to wear your fave backless outfit with confidence with these supportive bra solutions!
With Summer around the corner, another very common bra solution we find ourselves in need of is a strapless bra.
Whether it is because you are going for a bandeau top or a cute spaghetti strap sundress, bra straps can very easily ruin the look of many summer outfits, which is why strapless bras really are a girl's best friend! They will allow you to wear all your fave wardrobe pieces without straps getting in the way.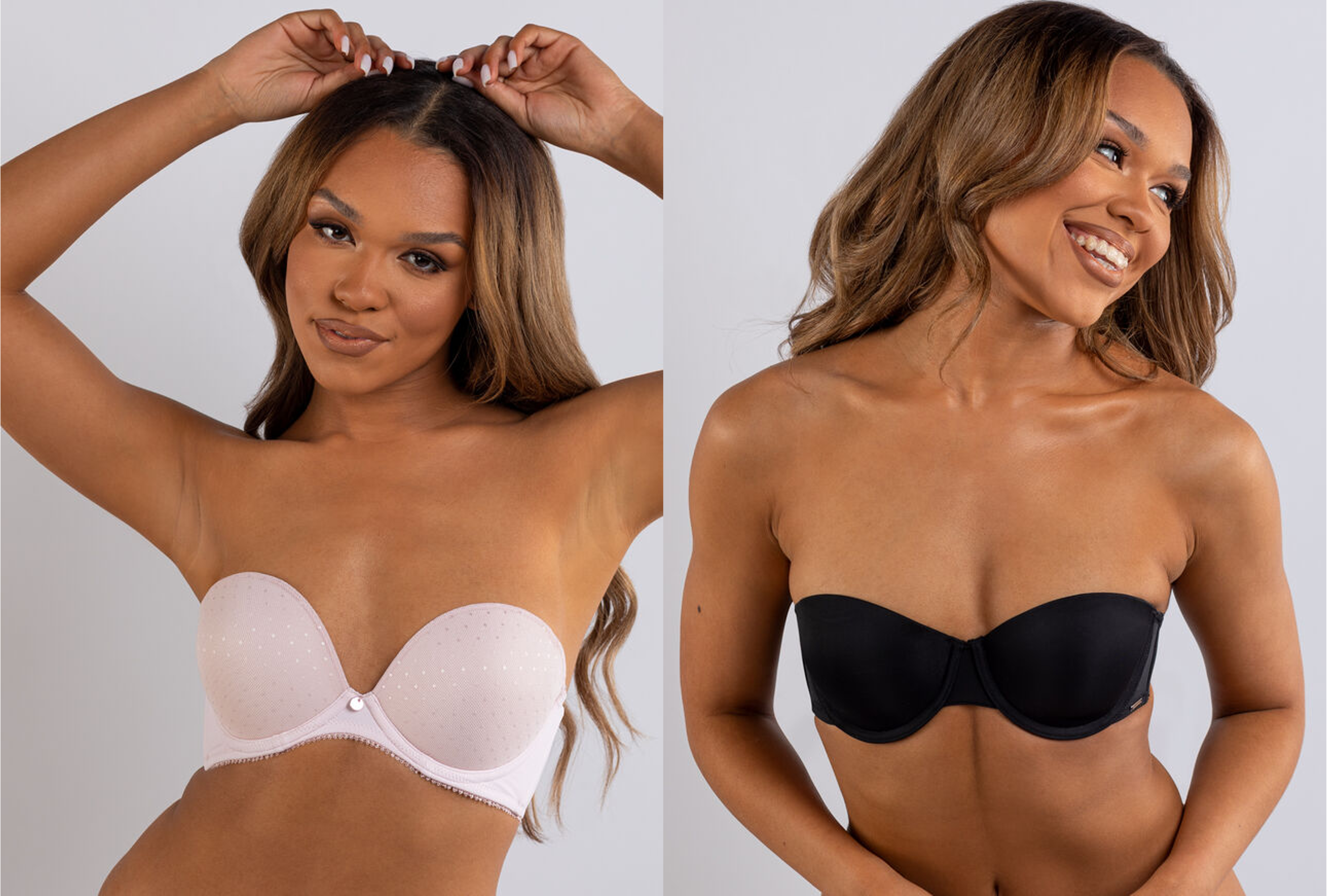 Our strapless bras come in a range of styles. If you're after a push up bra style for low-cut tops or dresses, then the spot mesh plunge bra is for you, as it will give your cleavage an extra boost whilst still allowing you to go strapless!
For a more natural look, the microfiber strapless bra offers you a solution without the added boost!
If you don't need to go fully without straps but do need your bra straps to work a bit differently to usual, then a multiway bra could be a great choice.
Multiway bras have straps that can be worn in a number of ways to work exactly how you need them to with your outfit!
If you have a bra with removable straps, you could even switch your regular straps out to some handy clear bra straps to create the illusion of a strapless bra!
If you are determined to make your fave bra work with your outfit, then we have some super handy bra accessories that can transform it!
You can use racerback bra convertors or low back bra converters to make your existing bras work for you!
Whether it's to style your fave t-shirt bra under a racerback top, or to get your go-to plunge bra to work with a low-back top, there is a bra solution for you.
And finally, a staple bra alternative we cannot forget - nipple covers! For those times you want to go completely braless but want to avoid your nipples being on show, nipple covers are there for you.
You can find satin nipple petals and silicone nipple covers, both of which are perfect for giving you some added security when going free!
Whatever you need from a bra to work with your outfit, we are sure we have a bra solution for you!
We can't wait to see all the gorj outfits you step out in with the help of these wonderful solutions and accessories!
Share your fave looks that are styled with these pieces with us over on Insta using #myboux so we can see how you do!