HOW TO WEAR SUSPENDERS

There's effortlessly sexy lingerie, and there's 'I put real effort into this look and I'm working it" sexy lingerie. A set involving suspenders is undoubtedly the latter, which is why at Boux Avenue we design the lushest lingerie sets that you can wear alone or pair with matching suspenders and stockings when you really want to turn up the heat.
If you're not sure how to wear suspenders, here's our guide on everything you need to know about how to attach suspenders and slay in them.
WHAT ARE SUSPENDERS?
Far from the vintage suspenders used to keep men's trousers up, women's suspenders are also known as "suspender belts", but are far sassier and sit on your waist or hips to hold up sexy stockings.
There are many ways to sport a suspender belt. Our Lotti suspender in neon pink is a soft, playful take on the bold look. The Alette suspender in black is an elegant and classically sexy choice - and the matching Alette balconette bra and Alette brazilian knicker make for a killer ensemble, with daring cut-aways and feminine lace heart details.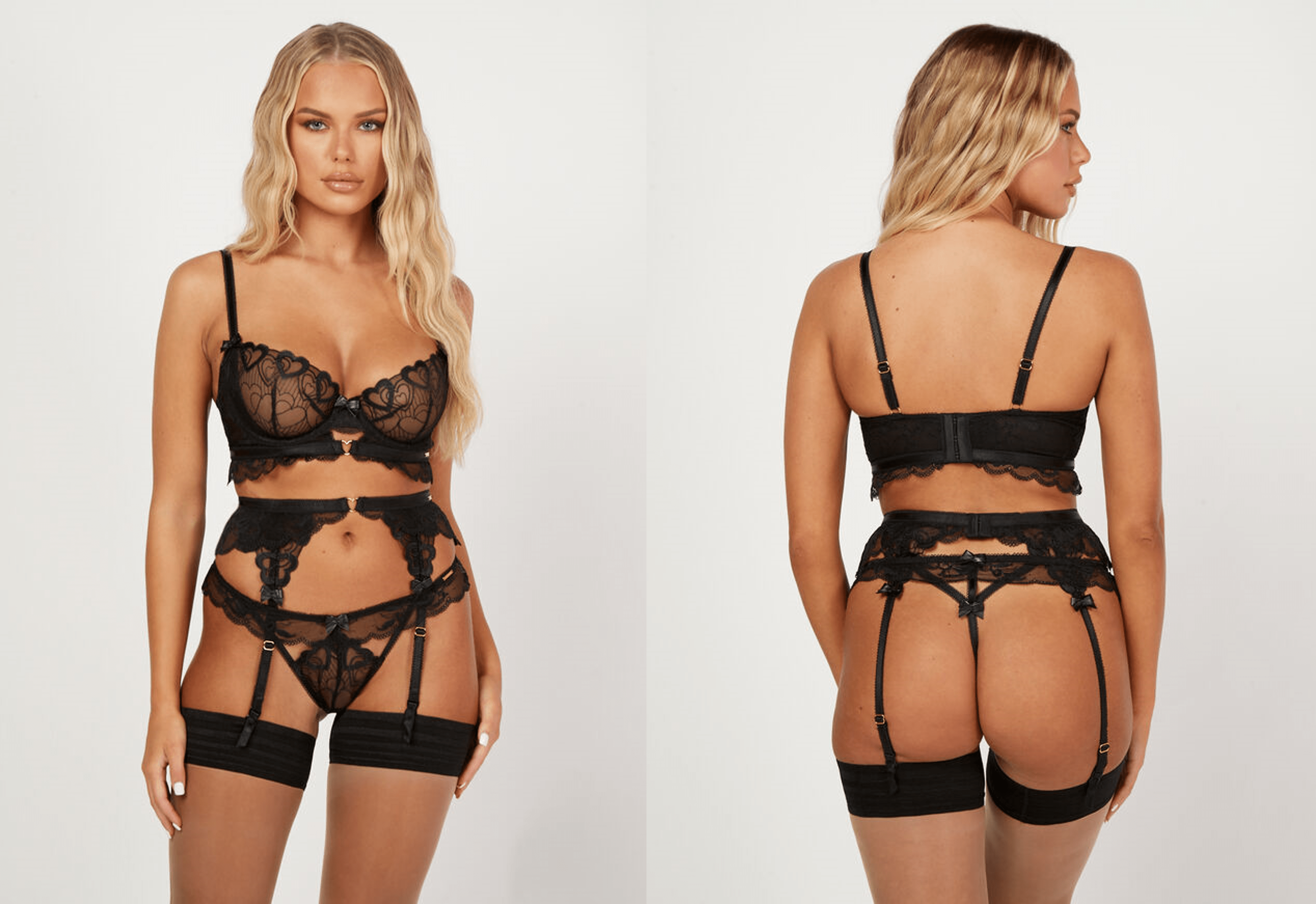 WHAT IS THE DIFFERENCE BETWEEN HOLD-UPS AND STOCKINGS?
While both hold-ups and stockings are types of hosiery, their key difference is the inner grip which sticks hold-ups to your thigh so you don't have to wear suspenders. That said, hold-ups still work well with suspenders, and can make the matter of how to put on stockings even easier because they don't rely on the support of the straps.
New to wearing suspenders? Try our Lace top hold ups in black, which are versatile enough to go with most lingerie sets. We like it with the Scarlette suspender, which offsets the black-on-black colour match with pretty peek-a-boo cutaways and bare-all mesh that will make even a suspender amateur appear a seasoned seductress.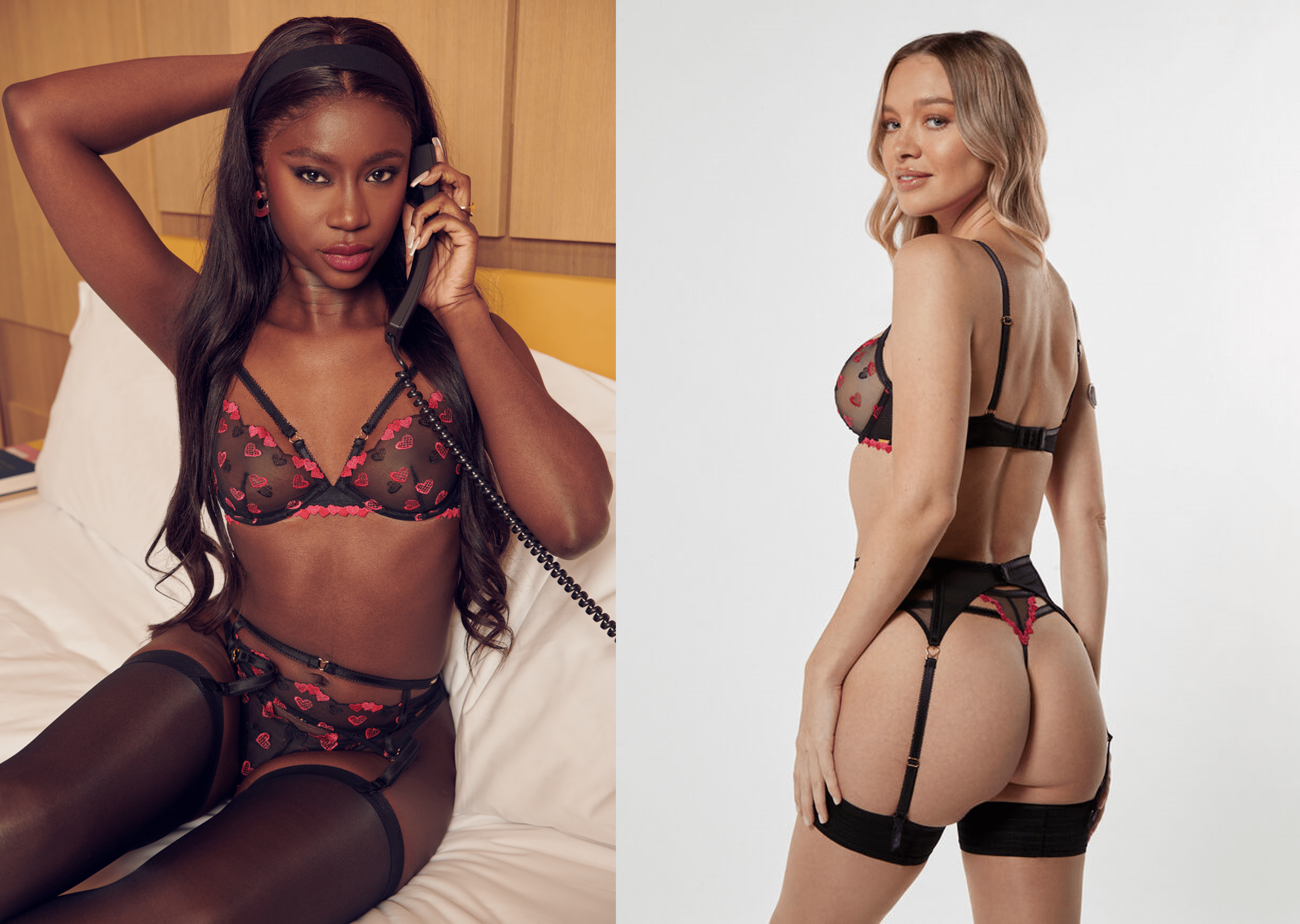 HOW TO ATTACH SUSPENDERS TO STOCKINGS OR HOLD-UPS
Once you have chosen your sexy lingerie set, you need to know how to attach stockings to suspenders. We've got you covered - so you can get uncovered - with confidence! Whether your suspender belt has four or six straps, follow these simple steps and take stride in your sexy new look.
Step 1: Once you're wearing your chosen bra and knickers, place the matching suspender belt around your waist and fasten it on the most comfortable hook.
Step 2: Once the belt is on, you can tuck the suspender belt under your knickers or run them over the top.
For a simpler lingerie set, we recommend wearing the suspenders under your knickers for a more integrated look. Our Helana longline lingerie set with the Plain top glossy stockings would be a great way to try this.
If you've chosen a more decorative style with frill and lace, like the Teagan suspender and matching Teagan tanga briefs, we recommend wearing the straps over the knickers so you don't compromise any of the gorgeous detail of your suspender set.
Step 3: Take a seat and gently pull your stockings or hold-ups on - be careful not to cause any ladders.
Step 4: Open the clips of the suspender belt straps, pull the stocking or hold-up top over the rubber section of the clip, with the metal and rubber part sitting on top.
Step 5: With the stocking top in-between the rubber part of the clip and the second metal part, push the rubber circle through, catching the stocking and securing it (the rubber circle should then be pushed down to the narrow end of the clip).
Step 6: Repeat steps four & five for each suspender strap until they are all securely attached to your hosiery.
If you are wearing hold-ups rather than stockings, you may notice you have to push a little harder to close the suspender clip. This is due to the thicker top as a result of their added grip. But do not worry, the suspender clips will still close with a little perseverance.
Don't keep us in suspense! Share your favourite suspender belt styling on Insta using #myboux!