Hosiery and suspenders are the perfect finishing touch to any lingerie look, and the cherry on top for making you feel ultra-glamorous head to toe! Suspenders don't need to be just for Valentine's; they do the job of making you feel extra special whenever. However, as gorgeous as they are, suspenders can be super tricky to put on (even if you're familiar with wearing them). Not to worry though; we've created an easy guide on how to wear suspenders and stockings! Covering everything from if they go over or under knickers and the easiest ways to attach them. We've got you covered.
What are suspenders?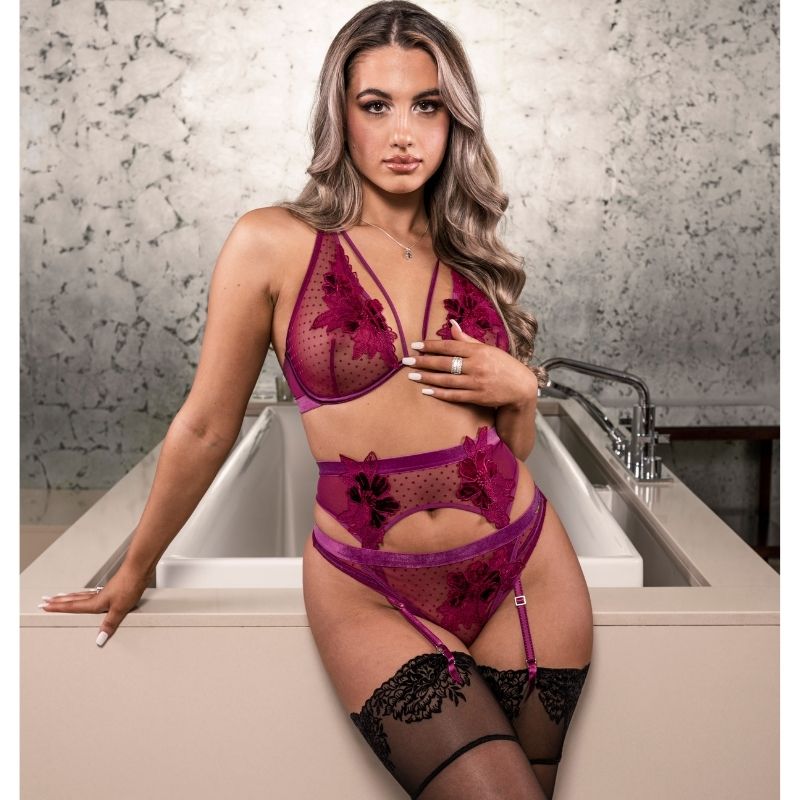 A suspender belt is a belt made of a strip of fabric generally fastened at the waist or on the hips, but can be worn as high or low as comfortable. This belt has two or four suspender straps (designed with a ribbon fabric) which are attached to the stockings via a metal and rubber clip to hold the stockings securely in place.
What are hold ups?
From flirty fishnet to sultry sheer - both hold ups and stockings do the job of smoothing your legs giving you a seamless, flawless finishing look to go with your matching set. Hold ups which have elasticated tops with grip inner surface so that you can wear them without a suspender belt.
What are stockings?
Suspender stockings are slightly shorter, and do not have the rubber backing; these are designed to be worn with a suspender belt to hold them up. Lace top stockings and hold ups are a popular choice, as well as patterned and back seam stockings; yes, the choices are endless! For extra style points, why not complete your final lingerie look by matching them to your set?! The red lace top stockings go perfectly with the Mollie suspender belt, the Mollie plunge bra and matching thong.
How to wear your suspenders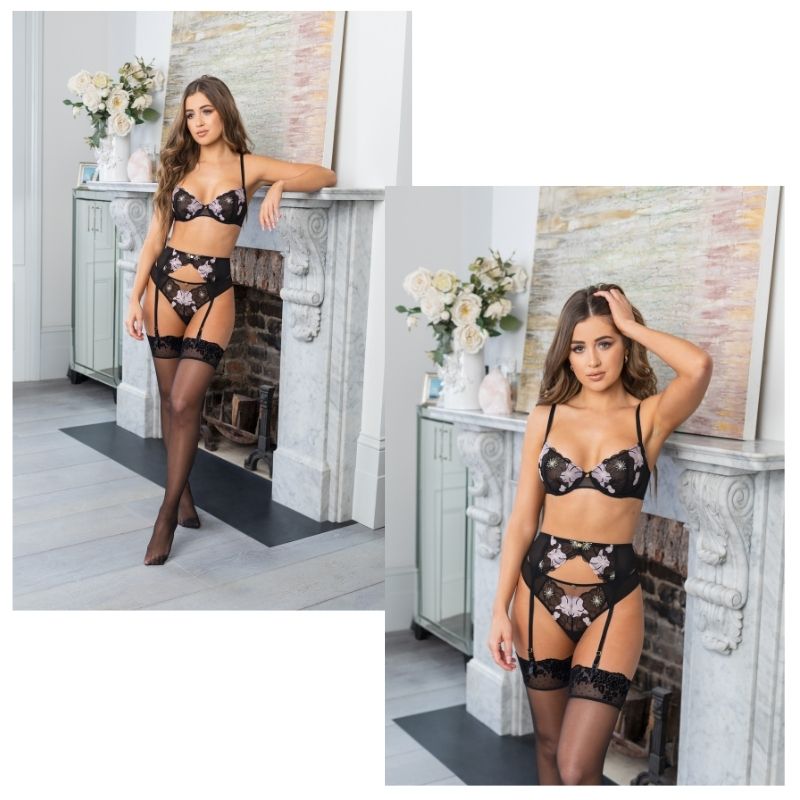 Firstly, you'll need a suspender belt - these fasten around the waist and are designed with two or four straps. Imagine these straps like a bra strap, adjusting higher or lower for your personal preference. (If you're going to be sitting down then maybe you'd prefer them a little longer). A common question is whether your suspender belt straps are worn over or under your knickers. For a smooth finish it's widely advised to have your suspender belt straps under your knickers, leaving you with a smooth, comfortable finish. But as always, wear them in a way that works for your shape and your style! Next step = attaching your suspenders to your stockings or hold ups…
How to attach suspenders to stockings or hold ups
Step 1: Put on your suspender belt and place around your waist, tucking the straps under your knickers
Step 2: Sit down and gently put on your stockings
Step 3: Open the two front clips at the end of each strap, and place the first stocking top on the rubber part of the clip (second metal part & the ribbon should lay on top).
Step 4: With the stocking top in between the rubber part of the clip and the second metal part, push the rubber circle through, catching the stocking in between (the rubber circle should then be pushed down to the narrow end of the clip)
And, that's it! Revamp your lingerie look and cause a stir with our sensational range of hosiery and suspenders; all perfectly designed to make you look and feel like the goddess you are. Mix it up with sultry lingerie from our collection of matching sets and you're good to go!