HOW TO WEAR SUSPENDERS
When it comes to sexy lingerie, you can either go for a matching bra and knickers, or a full, fierce and sexy look by adding in suspenders and stockings too!
Some of our new lingerie sets come with matching stockings and suspender belts that are just so beautiful that they'll make you want to opt for a full outfit.
Whether you wear suspenders and your fave stockings on the reg, or you save them for special occasions when you want to turn up the heat – we have got you covered.
There is no denying, however, that they aren't the easiest item of lingerie to put on - especially when you are trying to attach stockings or hold-ups to the suspender straps (we all know the flexibility needed to attach the back clips especially!).
So, to make the process of attaching your suspenders a lot easier, we have pulled together this guide with some of our lingerie expert's top tips and explanations of the key differences between stockings, suspenders, waspies and hold-ups…
WHAT ARE SUSPENDERS?
When we are talking about suspenders, we certainly aren't talking about the ones which men wear to keep their trousers up…
The suspenders we are fans of are a sexy piece of lingerie, also known as suspender belts. They sit around your waist or on the hips and are used to hold stockings up.
We have so many gorgeous suspender belts to choose from, and our latest collection features some gorgeous new styles!
Our new high waisted knickers, the Ammielia high waist brief, can double as a suspender thanks to the detachable straps they come with. Paired with the incredibly chic Ammielia longline bra, this is a look that will have you feeling your sexiest!
Our ultimate classic style is the Maie suspender belt. Pair this belt with the Maie longline bra, Maie thong and, of course, black top hold-ups. You just can't get more jaw-dropping than a full black lingerie set.
WHAT IS THE DIFFERENCE BETWEEN HOLD-UPS AND STOCKINGS?
Hold-ups and stockings, along with tights, are types of hosiery, however, they do have one key difference…
Hold-ups can stay up without the help of a suspender belt thanks to their inner grip, which keeps them stuck to your leg.
Stockings, on the other hand, would just fall down without the helping hand of a suspender belt. Both look the same, are equally sexy and will work with suspender belts.
Our hold-ups and stockings come in a range of bold colours and styles, so there is something for everyone and for every lingerie set.
If you are as obsessed with neon lingerie like the Tenahya suspender, matching Tenahya thong and demi bra as we are, then we recommend the neon green plain hold-ups for a for a full, bold look.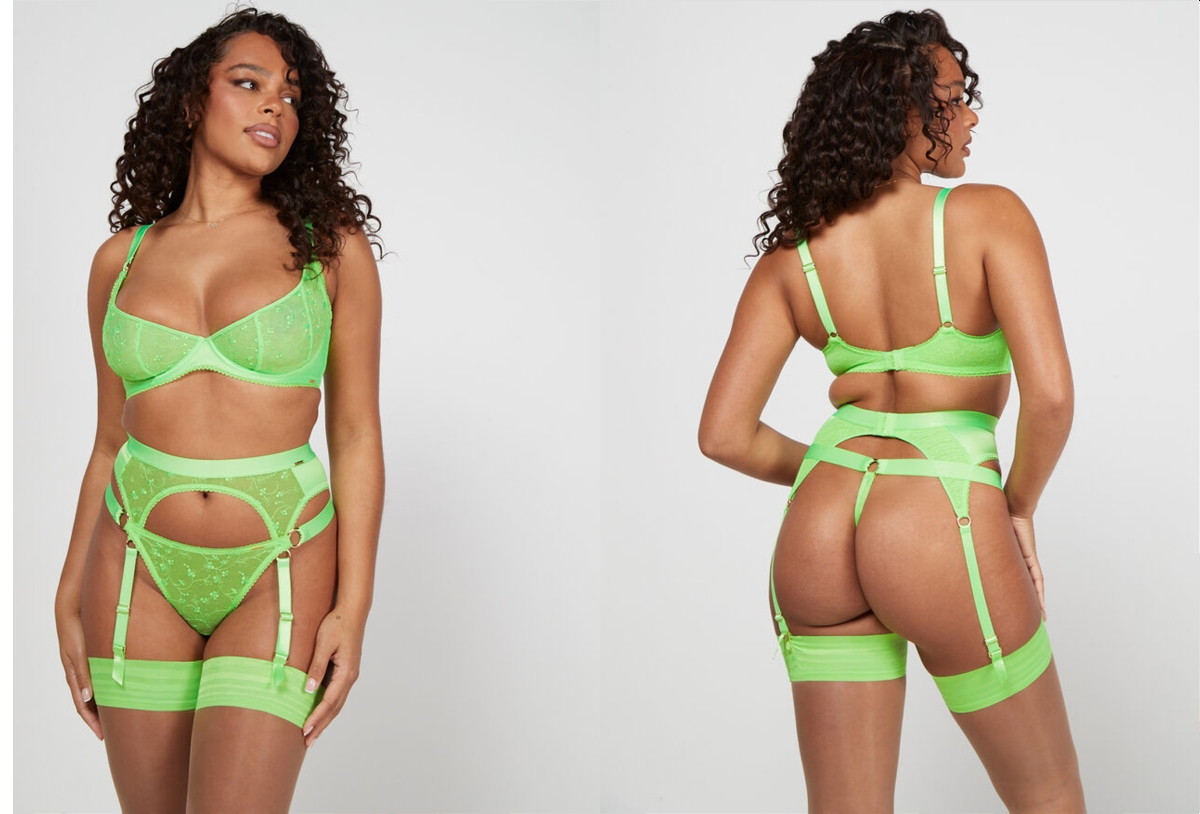 Or, turn one of our favourite lingerie tops of the moment into a full suspender outfit look by pairing the Leyla longline bra with the Leyla suspenders – this set will work perfectly with the plain top hold ups, or the extra special flocked floral stockings.
WHAT IS A WASPIE?
One of our newest lingerie styles is a waspie. A waspie is a type of suspender belt which is designed to accentuate your waist!
Our waspie suspender belts are so flattering - they will be your fave part of any lingerie set in no time.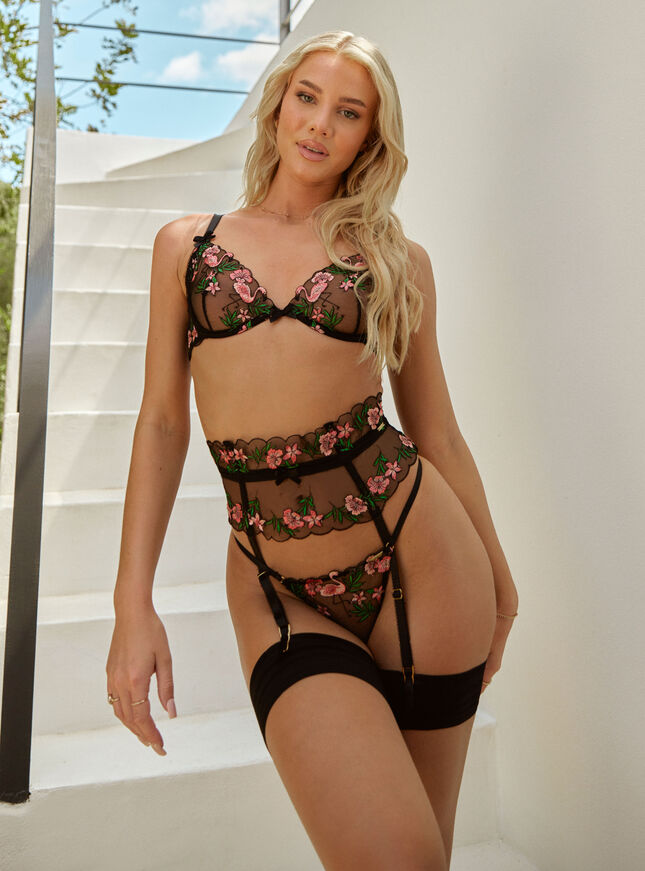 We are obsessed with waspie styles like the Kahlah suspender belt, with its oh so fabulous flamingo and floral embroidery. Or, there is the Estella waspie, which pairs perfectly with the neon coral hold-ups.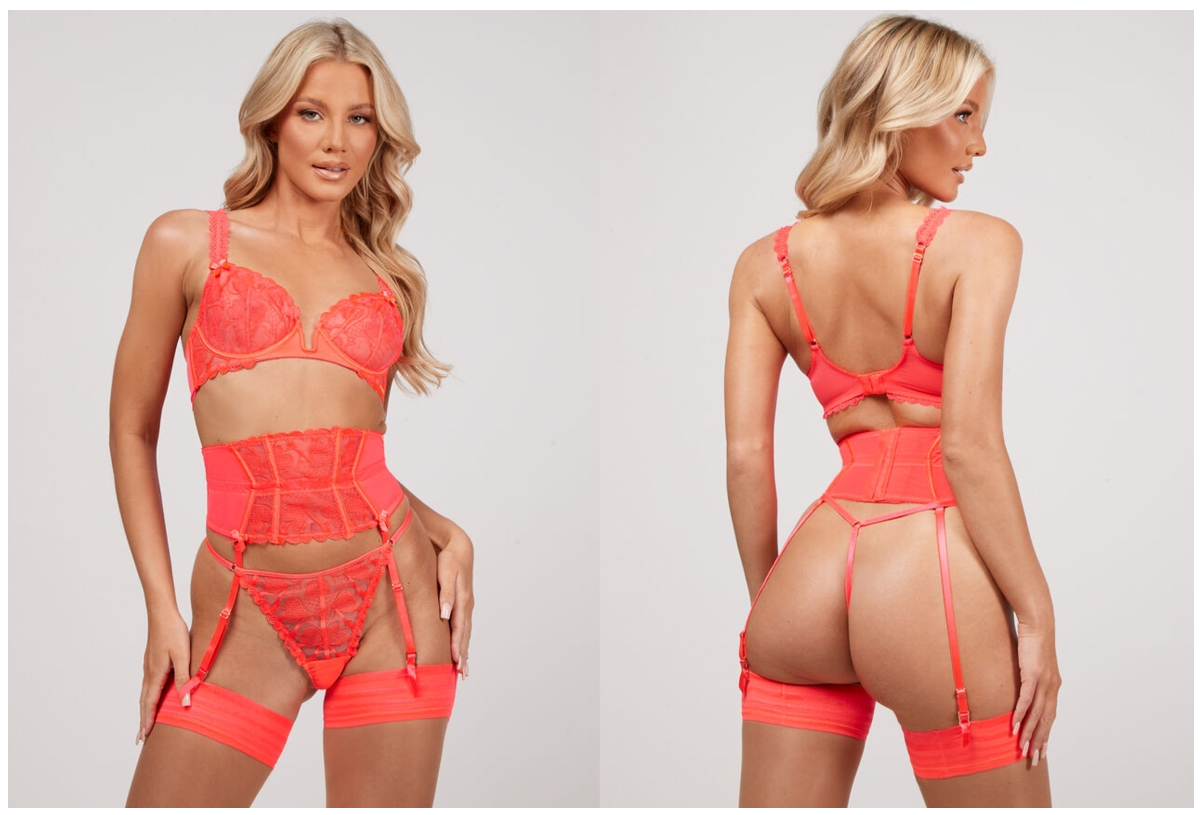 HOW TO ATTACH SUSPENDERS TO STOCKINGS OR HOLD-UPS
Once you have picked out your sexy lingerie set, you are going to need to know how exactly to do the all-important attaching of the suspender belt to your hosiery…
Honestly, it isn't as difficult as it may look. Whether your suspender belt has four or six straps, just follow the simple steps below and you will be attached and ready in no time.
Step 1: Once you have the bra and knickers of your choosing on, put the matching suspender belt on around your waist, fastening it on the most comfortable hook.
Step 2: Once the belt is on, decide whether you would rather tuck the suspender belt straps under the knickers, or have them running over the top. We advise wearing your suspender straps under your knickers for a more seamless look.
If you have gone for a frillier suspender style like our Annastasia suspender or the Nelia suspender, we would recommend wearing the straps over the knickers – this way you won't cover up any of the gorgeous frill detailing.
Step 3: Take a seat and gently pull your stockings or hold-ups on - be careful not to cause any ladders.
Step 4: Open the clips of the suspender belt straps, pull the stocking or hold-up top over the rubber section of the clip, with the metal and rubber part sitting on top.
Step 5: With the stocking top in-between the rubber part of the clip and the second metal part, push the rubber circle through, catching the stocking and securing it (the rubber circle should then be pushed down to the narrow end of the clip).
Step 6: Repeat steps four & five for each suspender strap until they are all securely attached to your hosiery.
If you are wearing hold-ups rather than stockings, you may notice you have to push a little harder to close the suspender clip. This is due to the thicker top as a result of their added grip. But do not worry, the suspender clips will still close with a little perseverance.
After a few times attaching suspenders to stockings, it will be a breeze and you'll be feeling like your sexiest self in a full set in no time. Share your fave suspender belt looks with us over on Insta using #myboux so we can show you some love!