EVERYTHING YOU NEED TO KNOW ABOUT THONGS!
Out of all the different knicker styles, thongs are one of the most well-known and loved. Here at Boux, we sell one thong every 23 seconds - you can't get enough of them!
From being an integral part of our fave sexy lingerie sets, to our go-to knickers under gym leggings, thongs are there for us day in, day out.
They aren't just staples of our knicker drawers though, the flattering design is also a popular swimwear style.
As we start to return to holidaying again, we are sure to be seeing more and more thong bikinis and swimsuits. In fact, over the past year, thong bikinis have seen an 112% increase in interest according to Google Trends.
With so many of you loving thongs, we thought it was time to answer some of your most frequently asked questions about thongs!
YOUR THONG QUESTIONS ANSWERED
What exactly is a thong? A thong, plain and simple, is an underwear style which doesn't cover your derrière like some other styles - instead, a thin piece of material sits between your cheeks.
You can find thongs in a range of styles, from high-waisted thong knickers like our beautiful ribbed seamless lounge thong, to barely there lacey thongs like the Bijou tanga thong.
You might be wondering what the difference is between a thong and a G-string, but worry not - we have got the answer for you.
Well, the clue is in the name, G-strings are a lot more stringy than thongs. By that, we mean the material is a lot thinner. Thong bands are typically slightly wider than their string sisters, but the general fit is pretty much the same!
If you prefer this fit then the sexy Brielle lace G-string or the Erin lace G-string are perfect for stocking up on, especially as they are both included in our knicker offer!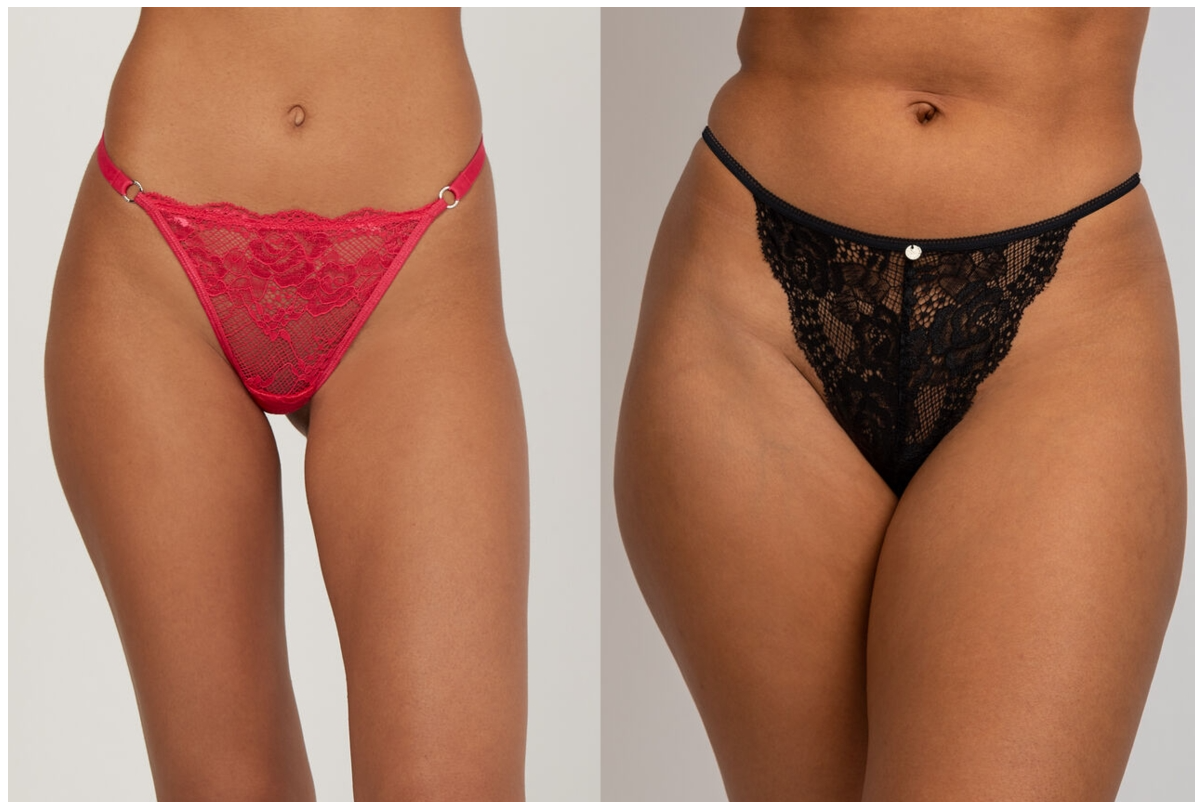 But why do so many of us go for thongs over classic knicker styles like briefs or Brazilian knickers? Well, there are many benefits to thongs!
Firstly, thongs really are super comfy and perfect for all day wearing!
With a thong, the string is meant to sit between your cheeks comfortably, unlike the uncomfortable feeling of a fuller coverage pair of knickers getting stuck where they shouldn't.
Another benefit of less material is that means no unwanted visible panty lines!
Whilst you can get no-VPL knickers in a range of styles - including seamless knicker briefs - thongs are always going to be the most trusted choice to avoid knicker lines!
If you really want to be certain you aren't going to have knicker lines from your thong, then go for the Bonded high-waist thong or the Cait microfiber & lace thong for a smooth seamless fit.
And of course, the obvious benefit of thongs is that they are just so good for flaunting your peach in. You will feel so fabulous when you see how good you look in your fave thong!
And luckily for us, all thong cuts aren't only limited to the knicker drawer!
Thanks to thong bikinis you can be comfy and feel oh so sexy in your swimwear 'fits this Summer!
We have so many thong bikini bottoms that you are going to want to add to your swim collection!
The Ibiza eyelet thong bikini bottoms are going to be our go to this Summer for sure!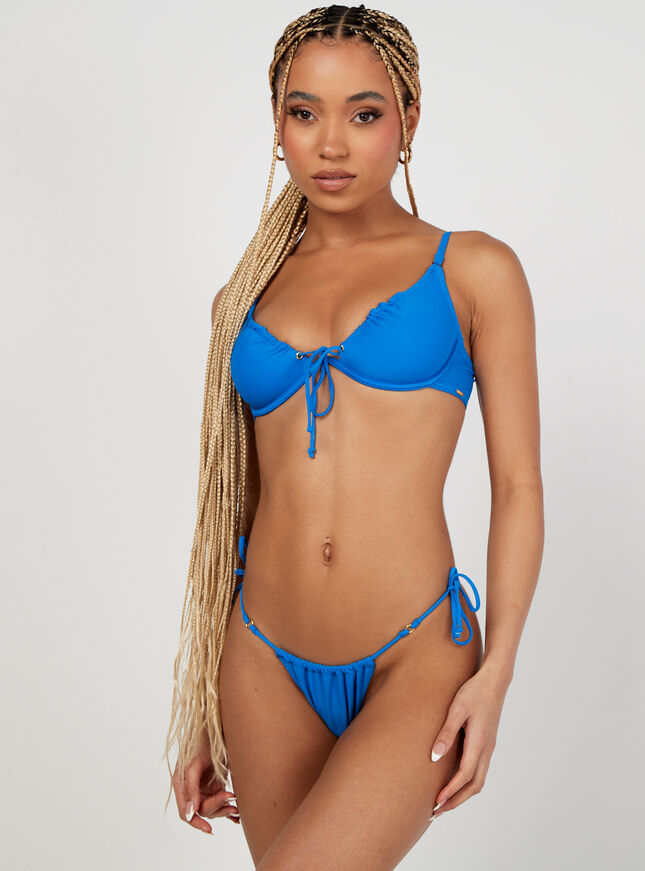 As well as the many reasons listed above why we love thongs, thong bikini bottoms come with the added benefit of being great for tanning in.
Say bye-bye to your derrière being paler than the rest of you, as opting for a thong bikini means you can finally even out that tan! Just don't forget the SPF!
Hopefully we have answered most of your questions and inspired you to slay in thongs on the reg!
Share with us what you love about your fave Boux thongs over on Insta using #myboux, or let us know any other questions you have about this much-loved knicker style!