TYPES OF SWIMWEAR EXPLAINED: THE BIKINI & SWIMSUIT TYPES GUIDE
'Tis the season to treat yourself to that annual upgrade of beautiful swimwear and beachwear - but how to whittle things down from dozens of different types of swimsuits, to one or two winners?
Our Swimwear Style Guide is here to enlighten you to the seemingly never-ending iterations of swimwear styles. As we know all the new swimwear trends year after year can get a little overwhelming.
We'll break down one-pieces and bikini sets and ensure you can tell your tankini from your tie-front styles, at least. Join us as we bring the latest types of bikinis, swimsuits and everything in between - just in time for your holiday packing!
WHAT ARE THE CORE SWIMWEAR STYLES?
Before we dive to the depths of swimwear delights, let's get a few things straight. That is, the core swimwear styles to know, so that you can pick the one(s) that suit your preferences and personal style. It's also great to know the most flattering swimwear styles for your body type.
You'll no doubt be familiar with some of these already - but with new styles constantly making their way onto runways and beaches the world over, Boux has got you sorted with the best picks for 2023.
From balcony to bandeau shapes, here's the what, how and why of this swimwear season…
WHAT IS A BIKINI?
The bikini. Can be itsy bitsy, can be teeny weeny - can also be super supportive, chic and even a little bit cheeky! This classic two piece is a firm fave with you UK bikini bods.
The ultimate mix and match option, pair patterned bottoms with a plain top, vice versa, or make things matchy matchy all the way. Versatile is an understatement.
WHAT IS A SWIMSUIT?
The one-piece swimsuit. Having made a serious comeback over the last few years, these no longer (have to) resemble your swimming lesson look from the year 2000. Glamour is a-go when we choose a swimsuit, as contemporary styles incorporate stunning plunge necklines, criss-cross strapping, bling-esque hardware and striking colour palettes like never before.
What's more, a swimming costume even doubles up as a complete outfit when paired with your cutest shorts or sarong combo!
WHAT IS A TANKINI?
Sometimes that two-piece, mix and match vibe of the classic bikini is the look we want, but with a tad more coverage and versatility. A tankini definitely falls into the two-piece swimsuit category, with the top half a little more substantial than a classic bikini bra top - more like the staple tank top!
WHAT IS A MONOKINI?
Let's call her the swimsuit's sexier sister - it's a (just about) one piece, usually featuring racy cut-out details. Definitely a worn-to-be-seen piece, it's all about adding halter styles, high legs and open backs for genuine monokini magic.
TYPES OF BIKINIS EXPLAINED
We couldn't publish our new swimwear guide without a closer look at some of the cuts and styles for getting your tanning/lounging/partying/swimming feels on in the best possible way. So from triangle tie-up to high-waisted to high-leg, find the most effortless ensemble for you amongst this sea of beach-worthy options…
THE TYPES OF BIKINI TOPS
Whether busty or subtle is your thing, amongst this collection of beautiful bikini top options, you'll be sure to find the one that works for you.
That is, one for your holiday with the girls. One for an island getaway with your love. One for garden glow up sessions. One for pool lengths and lounging. Need we go on?!
TRIANGLE BIKINI TOPS
The triangle tie bikini top - yes, this shape speaks for itself and is naturally more revealing that other bikini cup shapes. Designed to be a little sexy, self ties mean that actually, anyone can wear this style, as it is adjustable and leaves it totally up to you how much stays on show!
There are so many ways to style triangle bikini tops, they will always be a part of our swimwear rotations…
The Antalya triangle bikini top is a great option for triangle bikini fans, the bold neon green is the colour of summer and will emphasise any tan. The wider triangle shape provides great support and a flattering fit too.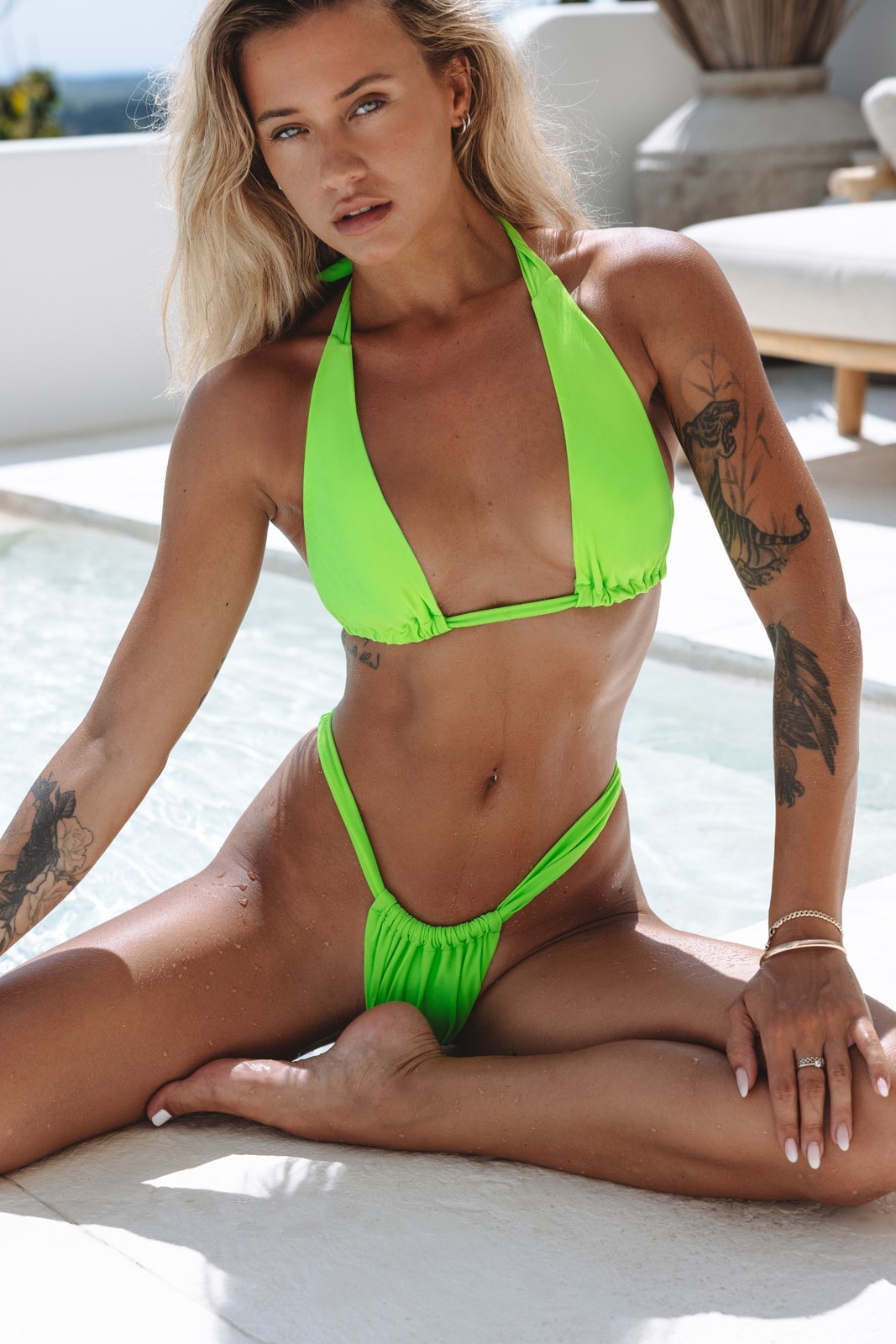 A classic triangle tie bikini top style we know is going to be a summer hit is the Madeira cherry diamante triangle top. A sure-fire poolside party hit, an unpadded triangle cup and the most extra of diamante cherry detailing are just two of the features we love here.
UNDERWIRED BIKINI TOPS
We've said it before and we'll say it again; your swimwear should fit as well as your underwear. Enter - underwired bikini tops.
These are the bikini tops that resemble your bra collection. In the right size, they don't budge, they're all-day wearable and they give a lift and a boost like no other bikini top type.
One of our faves for summer '23 is the Ibiza halterneck bikini top. A plunging underwire shape combined with holiday brights makes this one a go-to for the suitcase, whatever the destination!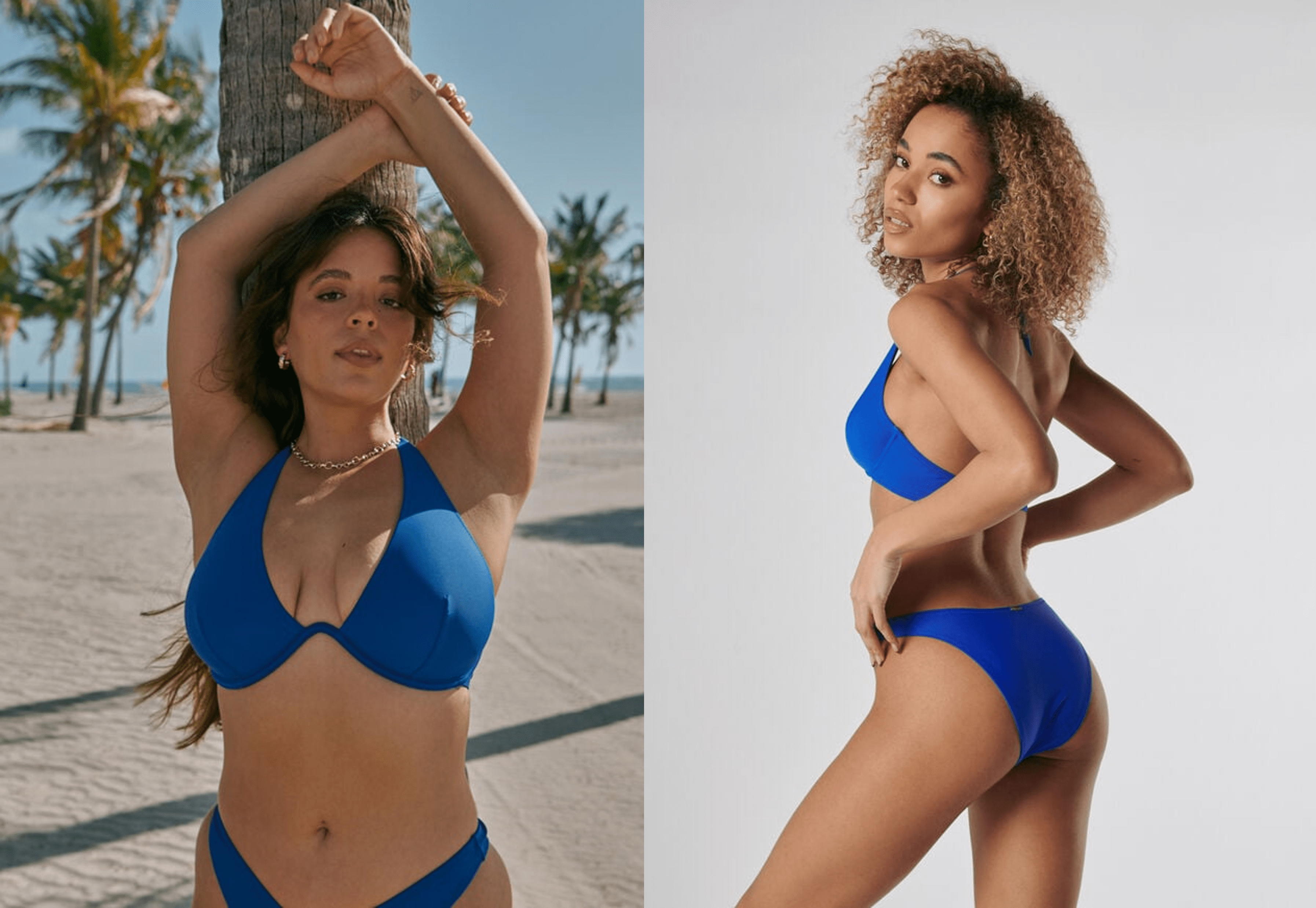 CROP BIKINI TOPS
The cutest and most casual bikini top out there, a good crop bikini top resembles the classic crop top and is perfect for our gals seeking a 90s, sporty kind of swimwear 'fit.
One-shoulder touch brings classic glam to the mix too, with the Java textured crop bikini top. Gorgeous textured fabric and a tie up shoulder make the devil in the detail - plus, it's dress sized for easy sizing picks.
PUSH UP BIKINI TOPS
The push up. Wearing a push-up bikini top makes us feel confident, powerful and magnetic…and who doesn't want that? The push-up bikini top is an underwired cup, with extra padding for a big boost, and adjustable straps.
We can't think of a better one to add to your collection than the Cyprus super push up bikini top in black. Gold hardware and additional underbust strapping make this one all the more interesting…and a swimwear style statement all of her own!
And if you are all about the Baribiecore aesthetic the Milos butterfly push up bikini top is another must-have. Plunge cut with push up padding, paired with the cute butterfly print and frill details on the strap make this the perfect barbie vibe bikini.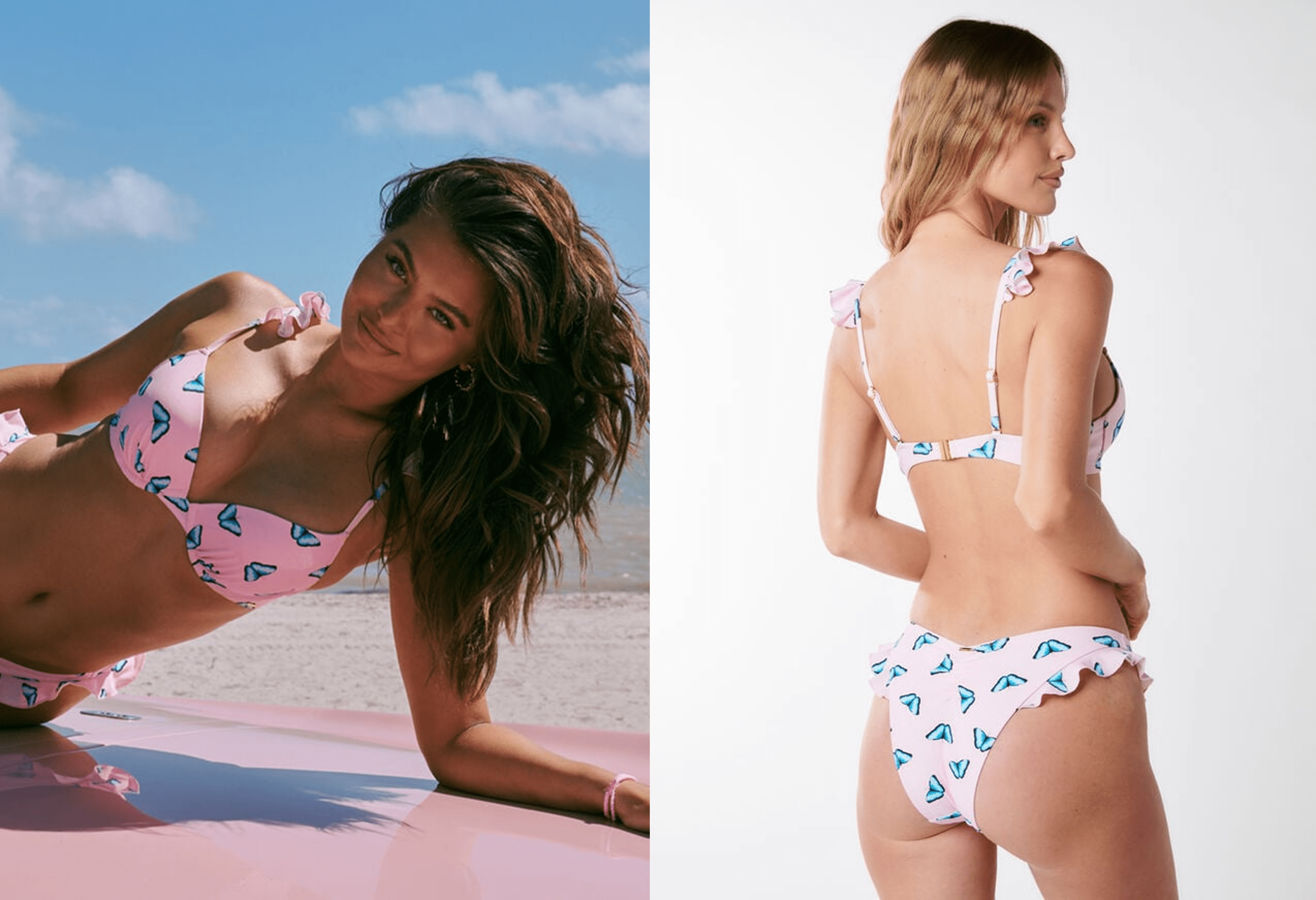 BALCONY BIKINI TOPS
With a little less coverage than a full cup but superior support that ensures comfort and confidence, balcony bikini tops are fast becoming as popular as their balcony bra cousins. The Amalfi balconette bikini top is a subtle style with playful touches - perfect for a first foray into the balconette world! Deep turquoise looks so summery, and with a front tie and ruching making an otherwise simple bikini shape super special.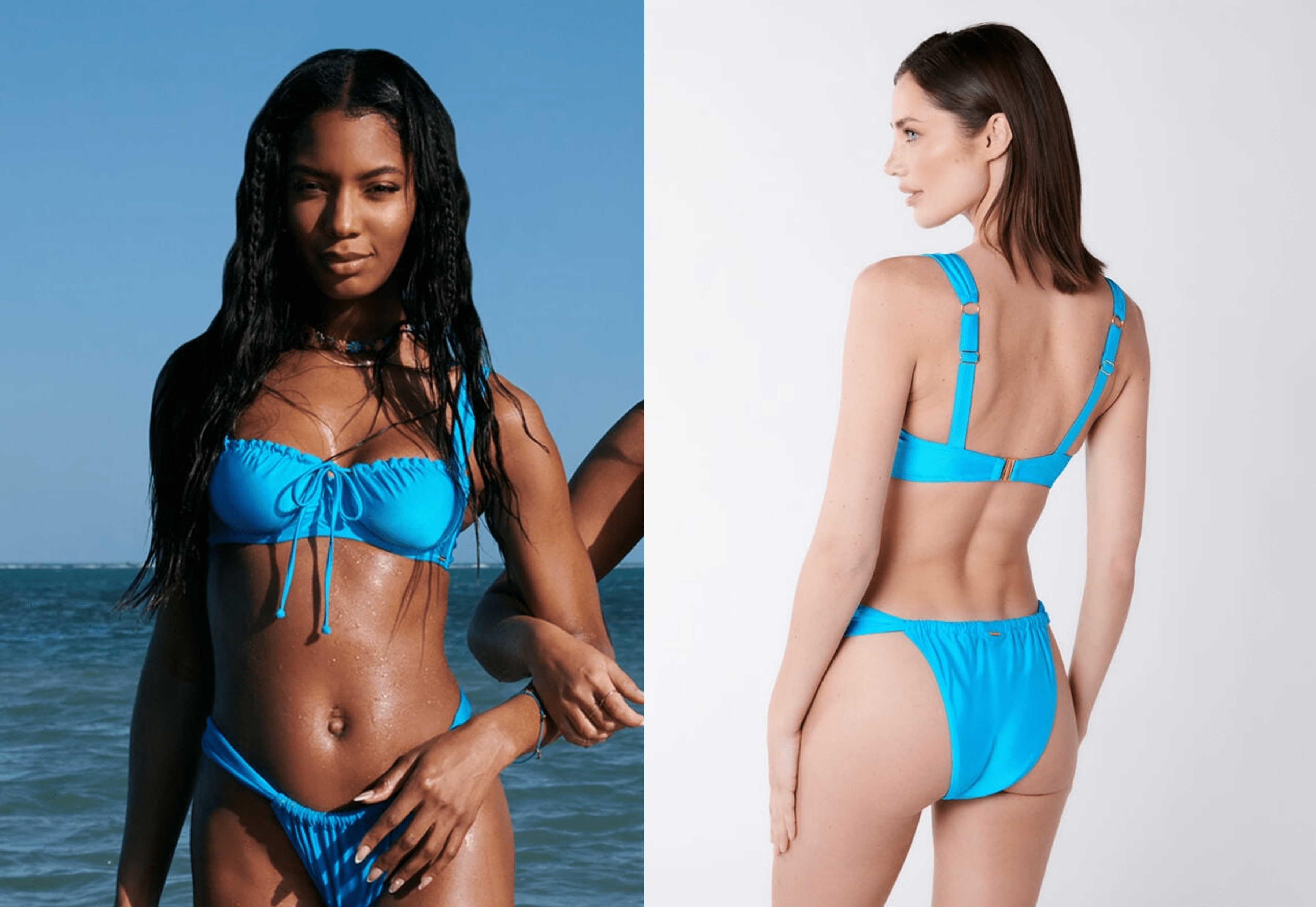 The Kuta heart balconette bikini top is one for our vintage vixens. With moulded balconette shaping, silver heart hardware and underband strapping, this is a 50s pin-up style that'll never go out of fashion.
HALTER-NECK BIKINI TOPS
Could this be our ultimate favourite shape of all the bikinis? Quite possibly. As long as the top fastens around the back of the neck, it's a halter shape. Seriously flattering for both shoulders and bust, we really do love halter neck bikini tops.
From the Ibiza laser cut bikini top - a sultry shape with trim detailing and a monowire, to ultra up-to-date cut-outs on the Valencia ruched bikini tops, this summer halter collection has one thing in common: Neon brights, and they're going nowhere fast.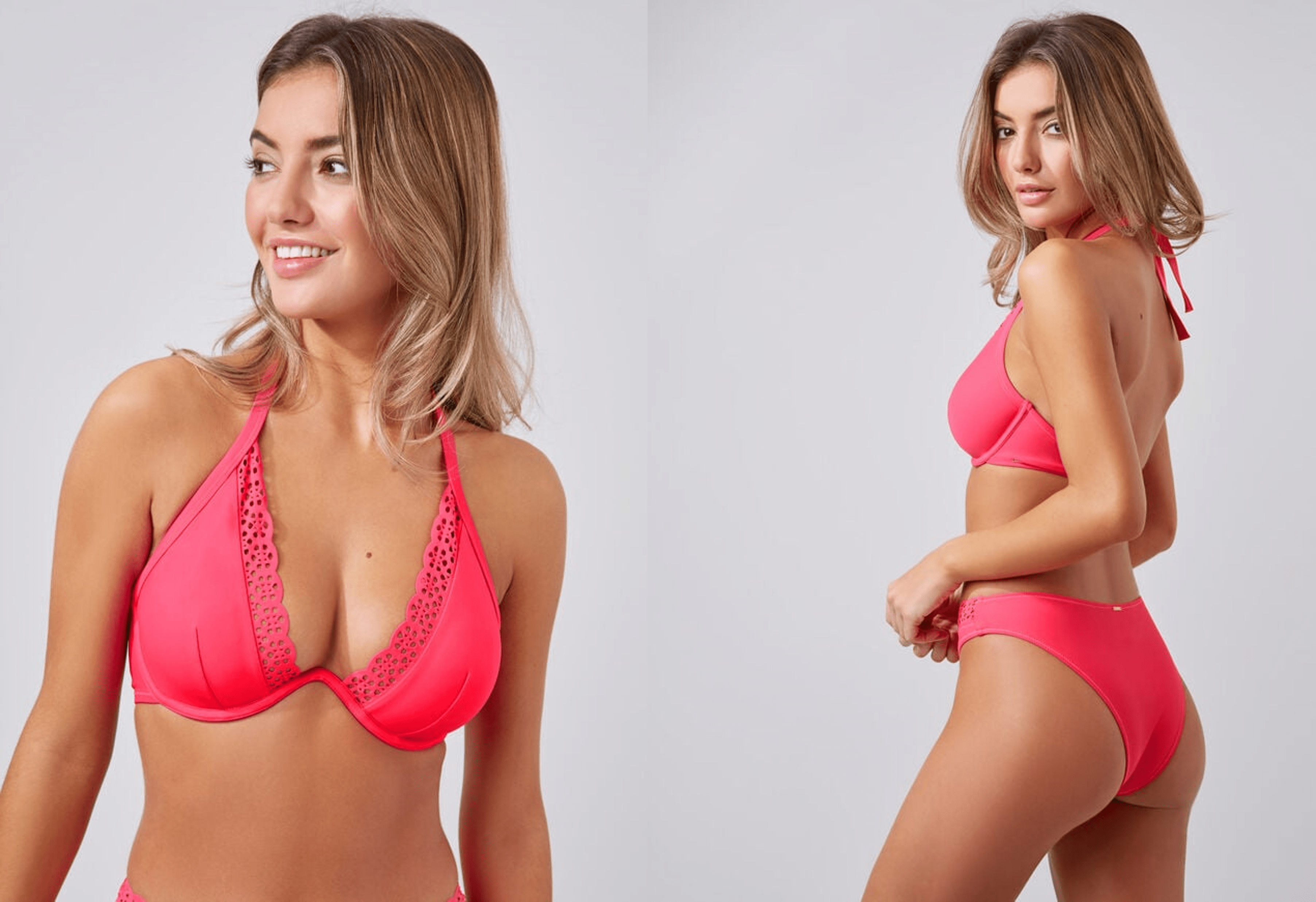 CROSSOVER BIKINI TOPS
A newer addition to the bikini world, the crossover bikini features fabric that overlaps in a cross-shaped figure, either around the neck area or as the underbust.
We adore the Bora Bora strappy triangle bikini top. With a halter crossover that is undeniably on point, with extra wrap around tie detailing, we can't get enough of this style.
And if you are all about the bold floral prints then the Jamaica strappy bikini top is the crossover bikini top for you. The criss-cross styling at the front gives a hint of underboob in such a flattering way!
TIE-FRONT BIKINI TOPS
Tie front bikini tops are a total gem; extra front fabric simply means tying your piece in whichever way the mood takes you. This means creating more than one way to wear your fave swimwear combo and we've got 4 top picks for you to start with:
The Ibiza eyelet bikini top is both sexy and sophisticated - the tie front and ruched trim lets you adjust your look, according to how much you want to show off.
Turn the temperature up a notch and switch straps to tie the Monaco diamanté triangle bikini top at the front. Combined with diamanté details and metallic lilac fabric, a tie-up front puts this naughtier option firmly in 2023, and you, in the mood to party!
Switch to the daintier Milos butterfly triangle bikini top for a more everyday feel; an adorable butterfly motif and front tie make this one pretty, playful and effortlessly fun.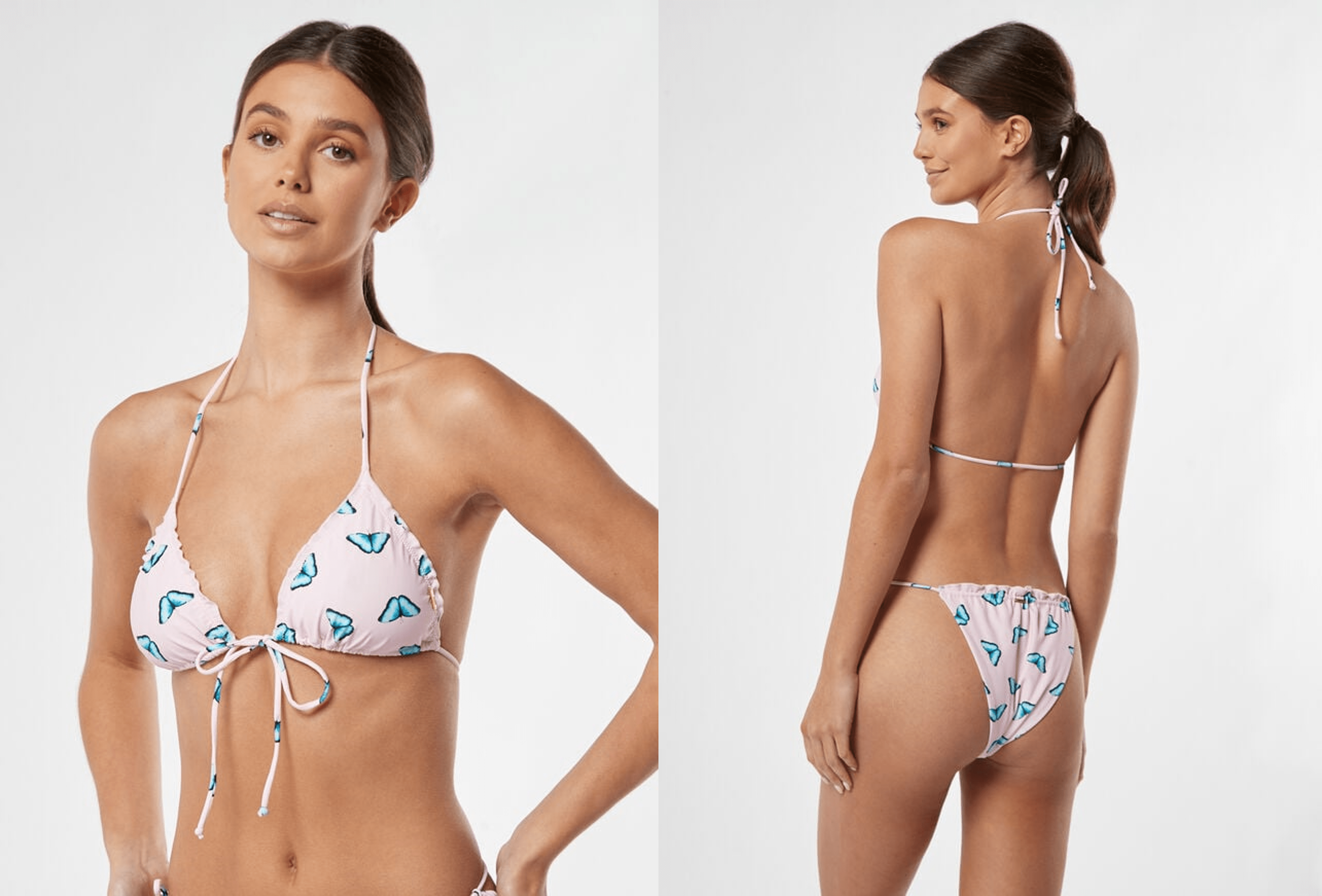 If you want to nail two trends in one, tie-front and the upside-down bikini trend, then the Mali ruched bikini top is for you. This top shows off just how many ways triangle bikinis can be styled and comes in our fave striking cobalt blue hue.
ASYMMETRIC BIKINI TOPS
The asymmetric bikini top turns classic on its head, with details on one side and simple lines on the other. Often a one-shoulder top, we love the asymmetric style for the sporty elegance it brings to beach days and pool parties alike.
Our favourite has got to be the Menorca chain asymmetric bikini top. Super sexy high shine fabric will level up your bikini game, and gold hardware and front strapping finish it off to perfection.
THE TYPES OF BIKINI BOTTOMS
Think you're there with your bikini top selections? Time to grab the best bottoms to match. Six key types of bikini bottoms makes for quite the collection. But of course we're here to guide you through; so get to grips with the different bikini bottom styles below…
THONG BIKINI BOTTOMS
Less fabric for minimal coverage across the bottom area, this style is great for tanning and posing in equal measure! Got those squats in this season? Dare to bare with a thong style bikini…it's your time to show off, lady.
And here are a couple we know we'll go back to, year after year: The Seychelles textured bikini thong brings that adjustable ruching we love, as well as gorgeous textured fabric.
And if you're all systems go on minimal coverage, choose the barely there Ibiza eyelet bikini thong. Decide whether red or black is your go-to for this one, but be quick. They're selling out, and fast.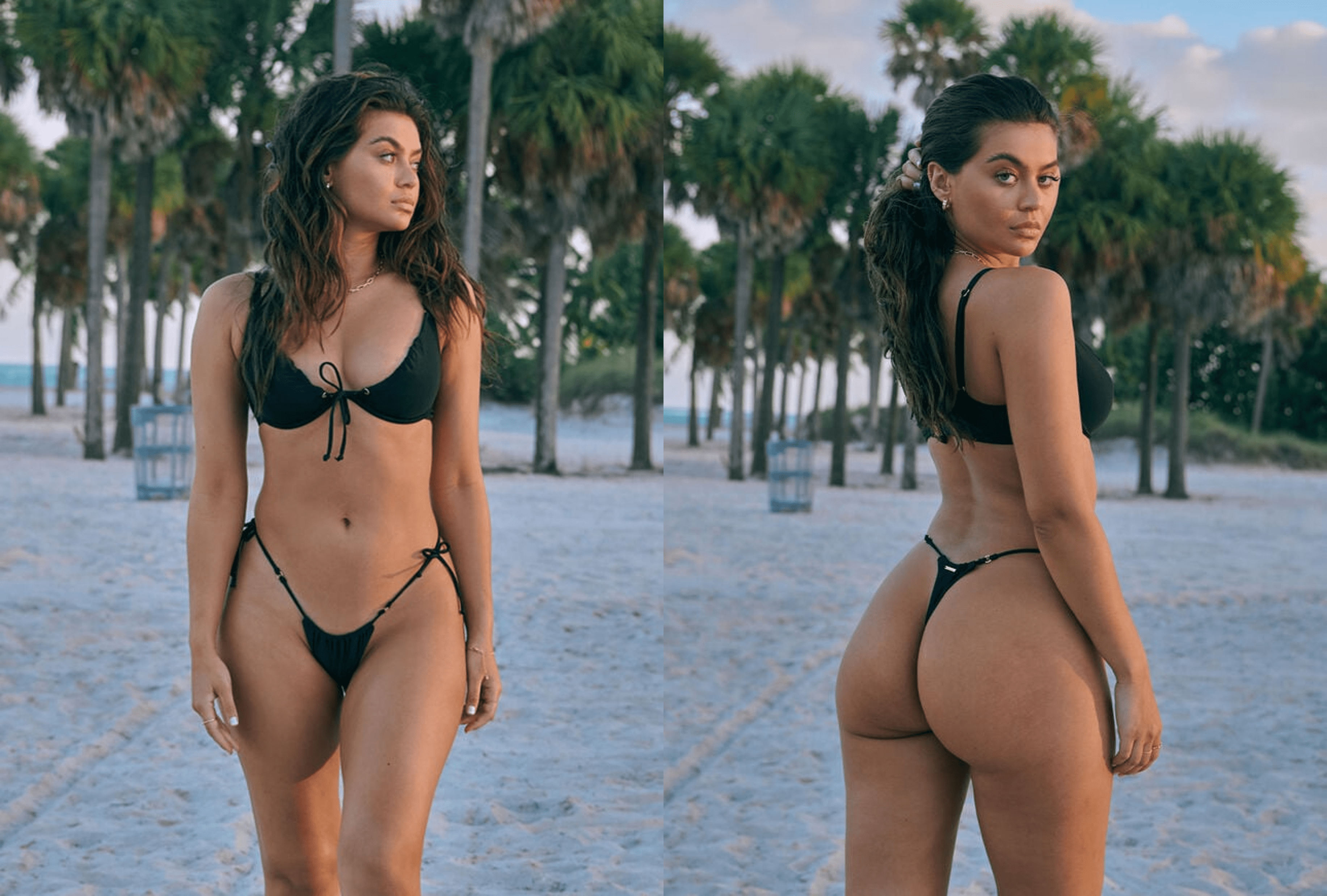 BRIEF BIKINI BOTTOMS
The classic knicker shape, brief bikini bottoms provide more coverage across that bum, and are the best choice for those pool lengths and more active of (holi)days.
The trick is to add a little charm with, well, charms! Butterfly hardware makes the Palma butterfly bikini briefs beautiful and adds some individuality to your beachwear.
Gold rings more your thing? Then don't let the Seychelles ring side textured bikini briefs get away…gold with pink makes for a chic contrast that we just can't get enough of.
Perhaps you're going simple and streamlined for this style, and for that, look no further than the Ibiza bikini briefs. Sleek and pool party ready, these also come in a range of colours to truly make that tan pop!

BRAZILIAN BIKINI BOTTOMS
The Brazilian - another classic bikini shape that offers a midway point between a thong and a brief. The top of your bum is covered, with the rest left free to soak up that sun, sea and sand!
We're big fans of our Fiji frill gingham Brazilian bikini briefs for this style; designed with long beach days in mind, we love the sexy Brazilian shape combined with cutesy gingham patterning. And with both peach and red colourways ready for you, is it time to treat yourself to both?

STRING TIE BIKINI BOTTOMS
The most adaptable of all the bikini bottoms, string tie bikini bottoms can be tied at each side in the style that you fancy! Ruche them up, loosen them off, create a high-leg feel…with string ties, you want it, you've got it.
The Ibiza range once again hits the brief(!) with the Ibiza tie side bikini brief. Still sexy with side strapping and their striking red hue, they offer a pretty, practical take on the string tie situ. But if stand-out is more your summer vibe, pick the Vienna tie side bikini briefs instead. With turquoise metallic fabric and ruching to bring a touch of razzle dazzle, we love to make these high leg and we think you will too.

CHEEKY BIKINI BOTTOMS
Very similar to the Brazilian style, we love a cheeky bikini bottom for accentuating our derrieres with their flattering V-shape.
Amongst the cheekiest of choices, check out the Madeira cherry diamanté bikini briefs. Ruching details mean you can get as 'cheeky' as you like, dialling up or down - and what is more fun than light pink diamanté cherries?!

HIGH-WAISTED BIKINI BOTTOMS
The high-waisted bikini bottoms - these are the beauties that sit high up on the waist, suit all body types, and smooth and streamline that bod.
A couple of Boux team faves include the Rio chain high waist bikini briefs. Matte black and gold chain features are made to get you noticed…although no more so than the Java textured high waist bikini briefs. Just look at that self-tie sash! Oversized and dramatic, we love it.
Plus don't forget your new swimwear staple, the High waist bikini brief, available in three core colours, perfect for mix and matching with your fave top styles!
Try these on and you'll be sashaying through a summer breeze in no time.
TYPES OF SWIMSUITS EXPLAINED
Bandeau, high-leg, cut-out, plunge, underwired, or halterneck? Yep, you guessed it - it's time for the one-piece to step up. And, as with our bikini range, there are a few cuts and shapes to choose from. We know, we spoil you.
Perhaps all 6 will make your cut. Whichever way you sway, we're here to inspire, so read on for the latest in swimsuit styles to make summer sizzle!
BANDEAU SWIMSUITS
Bandeau swimsuits are strapless, with a straight band across the bust, and definitely bring that classic feminine energy…best of all, they suit everyone.
Perfect for minimising tan lines, our pick has to be the Cannes strappy swimsuit for its high-leg shape and sexy cut-out front. Tie it up at the front or back, wear this one solo or with your chosen beach cover up. It's black, it's fierce and it most definitely brings the summer heat.

HIGH-LEG SWIMSUITS
High-leg swimsuits are cut high towards the hip, elongating your legs for a streamlined, baywatch-esque style. We love all things 90s and the high-cut is no exception.
Our St Kitts low back swimsuit has it all. Fabulous and feminine with a scooped low back and classic square neckline, you'll up the glam stakes whether you're holidaying in St Kitts or St Ives!

CUT-OUT SWIMSUITS
Go daredevil on the Dalmatian coast this summer with a cut-out swimsuit. From more extreme shapes to peek-a-boo eyelets, there's something for every cut-out queen.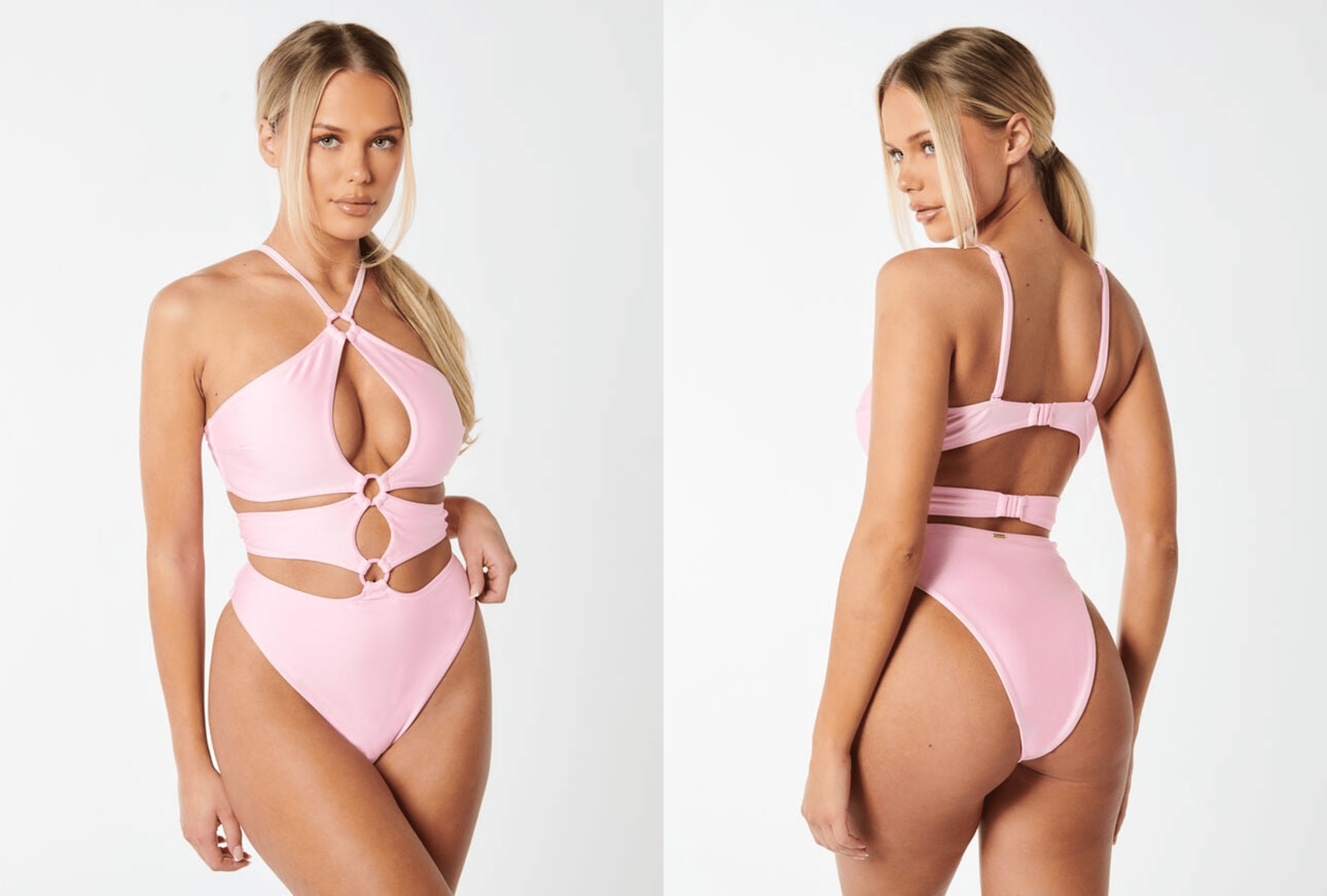 Two of our favourites are the Positano ring cut out swimsuit (multiple cut-outs bring maximum impact) and the Dalyan cut out swimsuit, and we can't get enough of either. From full on 'look at me' attitude to subtler side shapes, why not get both and mix things up?

PLUNGE SWIMSUITS
The ultimate in old school glamour, the swimsuit with the deep V neckline is the one we call the plunge. In its element as both a pool party 'fit and the flirtiest out-out top, for us the Caicos plunge swimsuit has it all. Red mix, a gorgeous plunge and the rest kept sharp and simple; you'll wow the crowd.

UNDERWIRED SWIMSUITS
Another newer addition to the swimwear scene, the underwired swimsuit means that our larger busted ladies no longer have to worry about feeling supported and lifted by their one piece! Essentially a swimming costume with built-in underwire, one of our faves has to be the Ibiza halterneck swimsuit in Neon orange. Not only does this one boast excellent support and sexiness, but does so with a monowire - a key '23 trend totally nailed.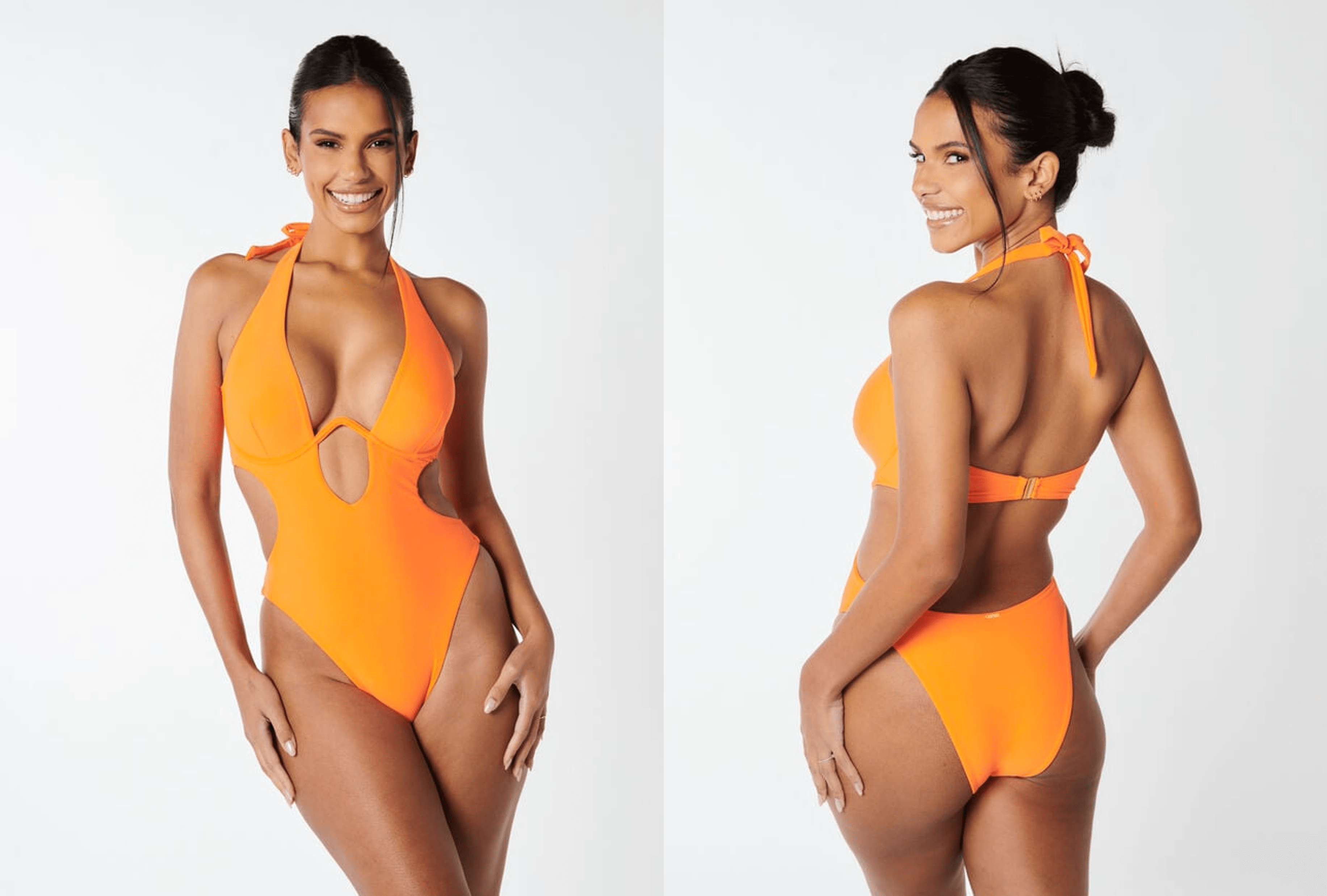 Let's not forget the Cyprus super push up swimsuit. Combining underwire with a mega boost (hello super push-up fit), plus soft textured fabric, gold hardware and a front strap extravaganza, everyone needs something a little extraordinary in their swimwear drawer - and we think this piece is exactly that.

HALTERNECK SWIMSUITS
Last, but never, ever least: We've seen your halter bikini options, so what about a halter neck swimsuit too? With its signature behind-the-neck fastening, a halterneck swimsuit can vary in terms of shape; from plunge to balcony, triangle to tankini, the halter just needs your fave straw hat and those sunnies added, and bam! You're on vacay, baby.
One to snap straight up is the Bahamas ruched swimsuit; it's the colour that makes this one so special! In a gorgeous lighter khaki, high-shine fabric gives you a gorgeous glow - with ruching and gold hardware details, this one piece will ensure you shine (in the best way) come golden hour!
So how many did you go for? What is your fave style? Share your fave swimwear styles with us over on Insta, using #myboux !