THE BEST BRAS FOR PARTY SEASON OUTFITS
Party season is here and with that comes allll the glam outfits! From office Christmas party outfits, to the perf lewks for nights out with the gals; we have got you covered with the best bras for all your night out lewks! From our sexy corset tops to jaw-dropping bodycon dresses, wearing the right bra is super important to ensure you slaaaayyy!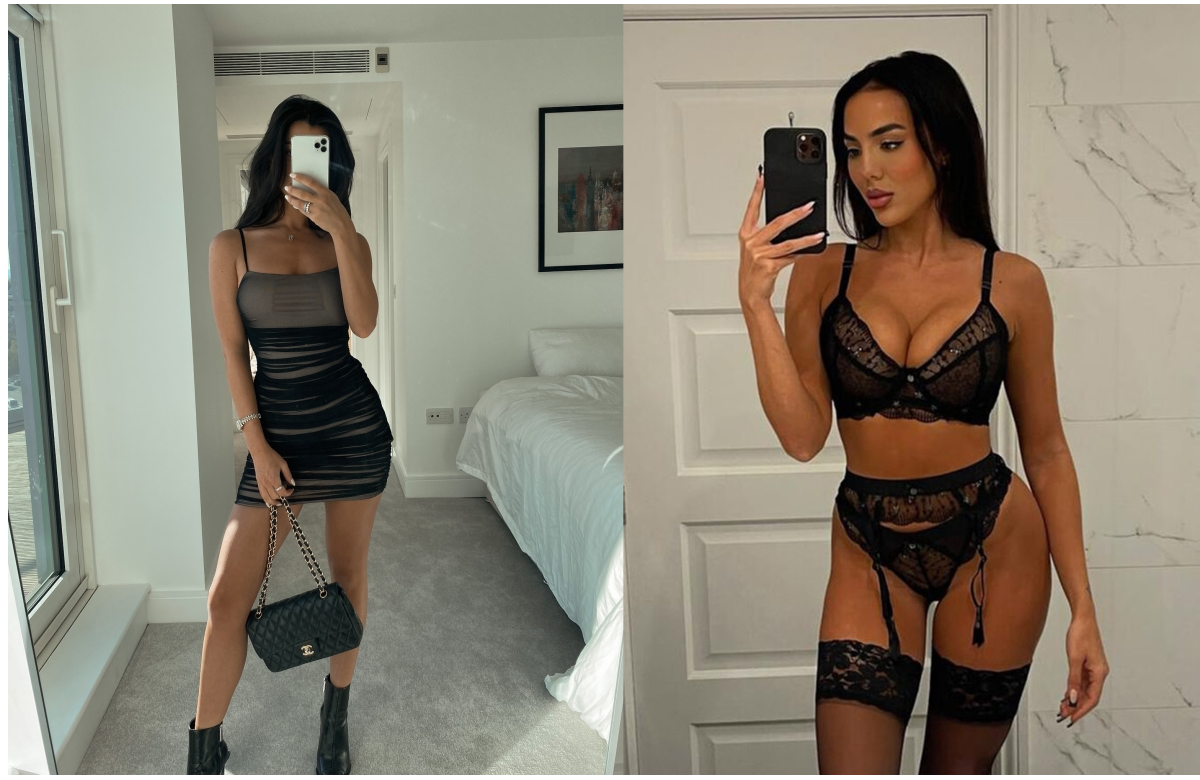 THE BEST BRAS FOR LOW-CUT TOPS AND DRESSES
We are going all out this party season and one classic going out look that always wows is a deep plunge neckline!!
To ensure your plunging neckline looks as fabulous as you, choosing the right bra is vital!!
When it comes to the best bras for deep plunge necklines, a plunge bra is always the perf choice! Whether you are going for the Lace up corset top or the Sophia ruched velvet dress, a plunge bra is going to make your outfit pop!
Everyone's all time fave, the Mollie plunge bra, is a musssttt have to see you through party season! The deep plunge cut and the added padding gives you a lil boost that will have you looking oh so sexy in whichever low-cut outfit you werk it in!
Another plunge bra that is the perfect partner to any plunging neckline is the Kadie plunge bra - you can go for the unpadded style that Shannon shows off or the padded version for an extra boost!
WHICH BRAS FOR SQUARE NECKLINES?
Square necklines, milkmaid necklines, whatever you call them, they are a must-have in your going out wardrobe this festive season! So flattering and glam, you can slay in a square neckline alllll party season!!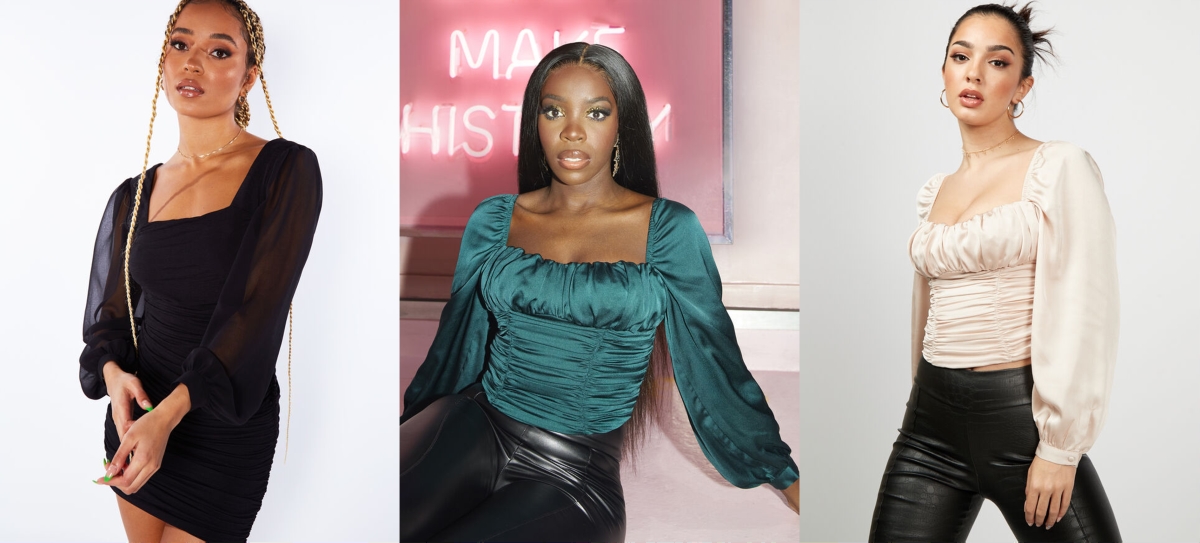 We have so, so many gorj square neckline pieces ready for you to feel and look fabulous in!! Kaz's faves include some gorj square neckline pieces like the Emily volume sleeve dress, perfect for bringing the dramaaa in this festive season. Or the super sexy ruched long sleeve corset top.
Whichever milkmaid style piece you go for, you want to make sure you are wearing a bra whose straps don't interfere with the statement neckline!
Balconette bras are a great choice to go with a square neck! The straps are slightly wider set on balconette bras, which means they should fall in line with the sleeves on your going out top or party dress! Our brand-new Micaela balconette bra is the perfect choice!
Or how about the oh so flattering Bethany balconette bra! It's a lingerie drawer staple that's ideal for your evening wear looks and every day, it's just so flattering and comfy! Plus, it will make sure your square neckline outfits look as fabulous as intended!
THE BEST BRAS FOR STRAPPY TOPS & DRESSES
It may be winter, but that doesn't mean you can't go strappy for the festive party season! With our Aisha mini dress and the v luxe Aisha midi dress, you are going to need a good strapless bra so you can werk it from the office party to the clurrrb!
There is nothing worse than having bra straps ruining a cute strappy dress, so treat yo'self to the perf strapless bra to avoid that fashion faux pas!
The plunge strapless bra is so, so perf for any strappy or even strapless top or dress! As well as being strapless it is also plunge, so perfect for anything low-cut and it's padded to give you a sexy boost!!
WHICH BRAS TO WEAR WITH BACKLESS DRESSES
Spice up your winter going out wardrobe with the Emily backless dress! Going for a backless number doesn't need to be stressful; bra solutions are a-plenty so you can slay in an open back style whilst still being able to wear a comfy and supportive bra!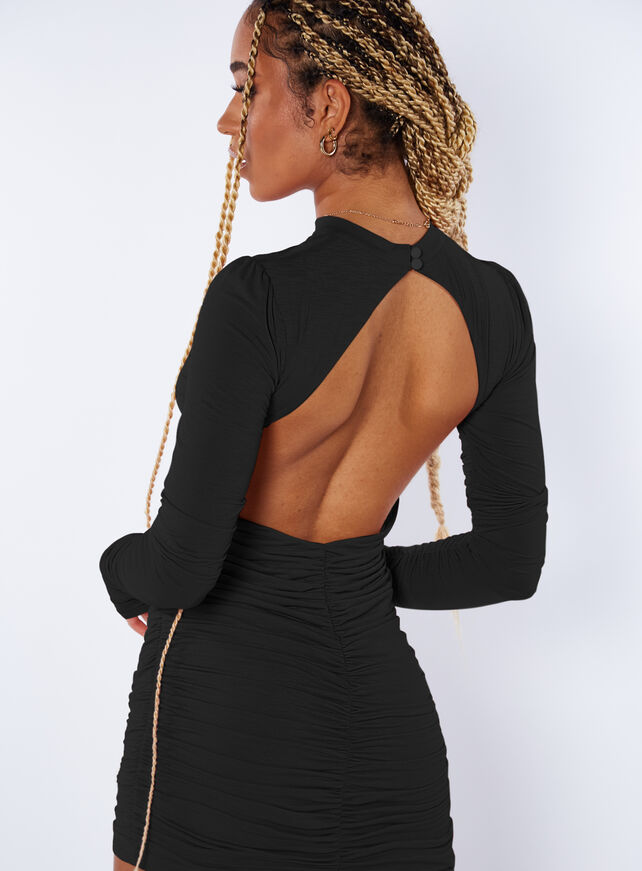 We have so many options perfect for backless or low back dresses and tops! The lace-up stick on bra is so popular, as is the backless strapless bra! Stick-on bras are just the dreaaam partner for any backless dress!! They give you the lift and support of a regular bra but without ruining the look of your fabulous outfit choice!
We can't wait to see all the outfits you show off this party season! Hopefully this guide to the perfect bras to go with our fave going out styles helps you slayyyy! Share your fave going out lewks with us over on Insta so we can show you some loveeee!!