SEXY DATE NIGHT OUTFIT IDEAS
One thing lockdown has really deprived us of over the past year, and then some, is the fun of dating. Whether you're in a relationship and have been confined to not-so-sexy lockdown sofa dates, or you've been stuck just messaging potential new matches rather than meeting up, there is no denying we all miss and neeed the fun of dating back in our lives.
Luckily, with restrictions ending soon it means we can get back to getting out on dates and having fun. One thing we love about dates is choosing the perfect date night outfit! It's a chance to pick something out you know you will feel your most sexy and fabulous in! So, to get you as excited as we are about the return of sexy date night outfits, we've pulled together some top picks for you…
SEXY DATE NIGHT LINGERIE
We are strong believers in the power of a matching lingerie set making you feel like your most fabulous sexy self, even if no one else is seeing it, you cannot deny the power of the right lingerie!
If you're wearing a skirt or dress, make yourself feel extra sexy in a full lingerie set with suspenders too! Our ultimate fave lingerie set to pair with suspenders and hold ups is the gorj Lily embroidery lingerie set that our girls Emily Shak and Lottie look so amazing in! If the stunning head-turning sulphur shade wasn't enough to convince you this is the perf date night lingerie, then the delicate embroidery and flattering fit will be! If sulphur isn't the shade for you, then take inspo from our girl Sophia and treat yourself to the Lily set in a floral purple mix!
Another of our new fave lingerie styles for date night has got to be a longline bra; they can even double up as the perf sexy date night top! The Rowena longline bra looks so gorj on Sophia, pair it with the matching Rowena thong for a sexy date night lingerie set - you just can't go wrong with sexy black lingerie. Or take inspo from Ellie in the Sorelle longline bra as a sexy date night top in a gorj purple, perfect for turning heads in! If you like a bit more length in your longline bra, then you need the Maybelle longline bra that Lottie looks so amazing in for your date night outfit!
Another type of sexy lingerie you can't go wrong with is a lingerie bodysuit! A lacey bodysuit is perfect for date night. We've got so many gorj bodysuits to choose from, and all of them make sexy tops as well as lingerie pieces.
Our Maybelle bodysuit in blue is so cute, the floral embroidery is so pretty you'll want everyone to see! It would make the perfect date night top paired with jeans and an oversized shirt! Another piece of newness is the Sorelle bodysuit that our girl Daisey looks so gorgeous in; the underwired design gives it extra support so you can feel confident in how fabulous you look on date night! One of our sexiest new bodysuits has got to be the Nellie body, that Jourdan looks amazing in! The low plunge design and cross front detail is enough to make it the perfect date night outfit choice!
SEXY DATE NIGHT DRESSES
Now you've got your sexy lingerie sorted, it's time to choose the perfect date night dress! Finally gone are the days of living in joggers and pyjamas - now is the time to dress up for date night in a sexy going out dress!
The ultimate sexy date night dress has got to be the Aisha strappy ruched dress - the bodycon dress fit with the ruched mesh is so sexy and flattering, you will be feeling fire on date night in this! Wear the perf matching lingerie under it and pair with your fave heels and a cute bag, and thank us later x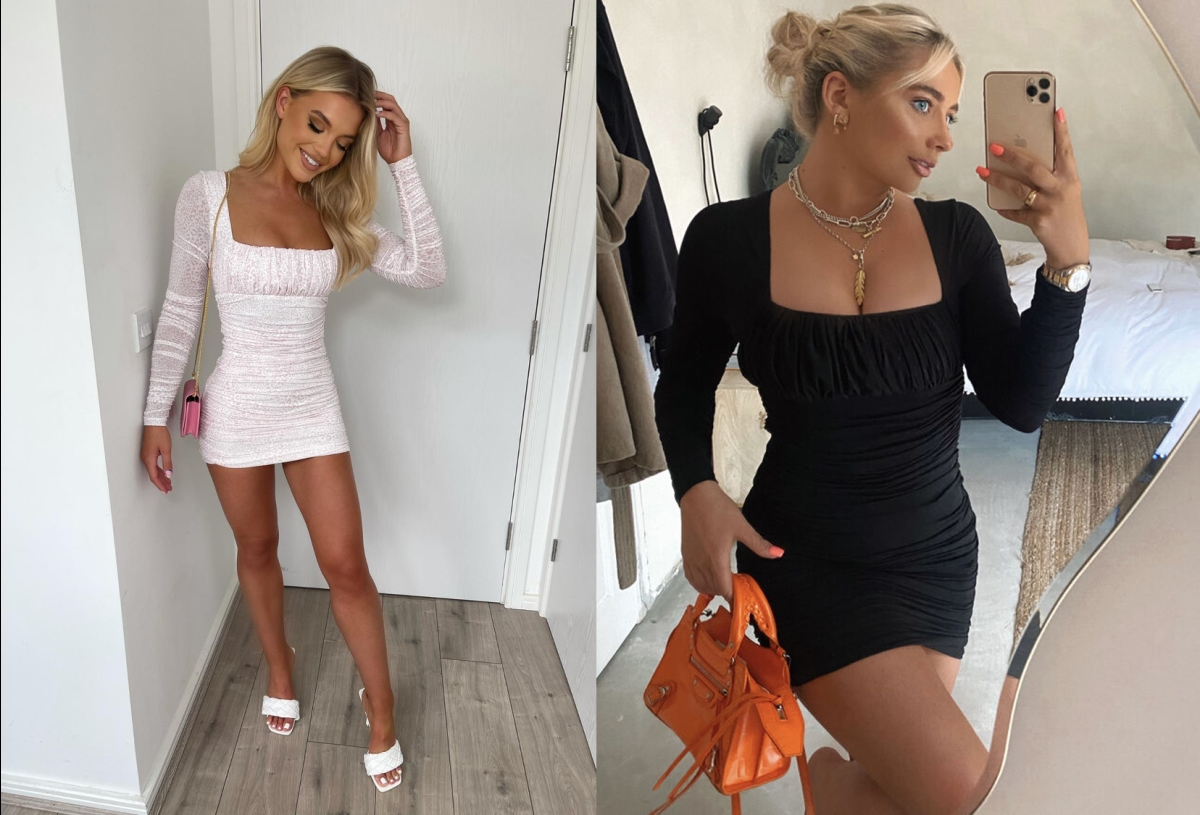 Another gorj mini dress made for a date night outfit is the Emily long sleeved dress! We can't get enough of a square neckline - it's just so flattering! With bodycon dresses you want to make sure you match the perfect lingerie to the dress fit! Make sure you look and feel your sexiest by taking advantage of solution wear to get the perfect look in these bodycon dresses!
We hope you've found some inspo for your date night looks and are excited to feel your sexiest and most fabulous in them on your next date night! Share your fave date night outfit looks with us over on Insta using #myboux. Happy dating x