CHRISTMAS STOCKING FILLER IDEAS FOR HER: BOUX AVENUE'S 2023 TOP PICKS

Stocking fillers may be considered the easiest brief during Christmas gifting season, but they have so much potential to be more than an afterthought. From Christmas PJ sets to sock drawer updates and fluffy slippers to warm their toes all through the winter, our Boux elves have been busy curating our top picks for all the women in your life.
Think stocking fillers for your girlfriend or wife, meaningful gestures for mum, and treasured treats for older and younger daughters alike. Get ready to turn a typical stuffed sock into the twinkle toes tip of a mountain of magical Christmas memories.
STOCKING FILLERS FOR YOUR GIRLFRIEND, WIFE OR PARTNER
What you fill your partner's stocking with may well depend on where she's likely to unpack it. If you're in the market for small treasures perfect for a private moment between you then some of our sexiest lingerie is an option.
She'll love our festive red Kiss me mistletoe thong with its soft microfibre material and playful ruffle. Or if she lives in black and white undies, our more subtle Christmas Ho ho ho thong or Candy cane g-string thong will make for merry womens stocking fillers.
Often a collection of misfits, curating stocking filler items by theme highlights the planning you put in. And as consideration is every bit as important as the gift itself, she'll feel the love when she unpacks her stocking. We love the Robin fleece pyjamas in a bag with matching Robin socks in a bag.
Or if you're opting for lingerie (coming next) over PJs, then reserve the themed items for our Reindeer mule slippers, Reindeer cosy socks and Fluffy reindeer eyemask, which add quirky novelty character to your festive edit for her.
If you're after something lovely and lacey, that just happens to be a treat for you too, then the Piper balconette lingerie set offers a winning combo ideal for a Christmas gift for your girlfriend. We love the padded push-up balconette bra and choice between matching thong or knicker brief, and we especially love the nine different colourways so you can coordinate with her personal colour palette. And if you would rather leave the lingerie gifting to her, why not opt for a Boux gift card in her stocking instead?
If your leading lady loves fashion, she'll love the unexpected two-tone design of our Contrast twisted slider slippers, in super soft plush fur fitting for the coldest and longest days of the year.
Or you can print your heart(s) on a pair of mules: these pom-pom accessorised Knitted heart mule slippers will melt hearts and frozen toes alike.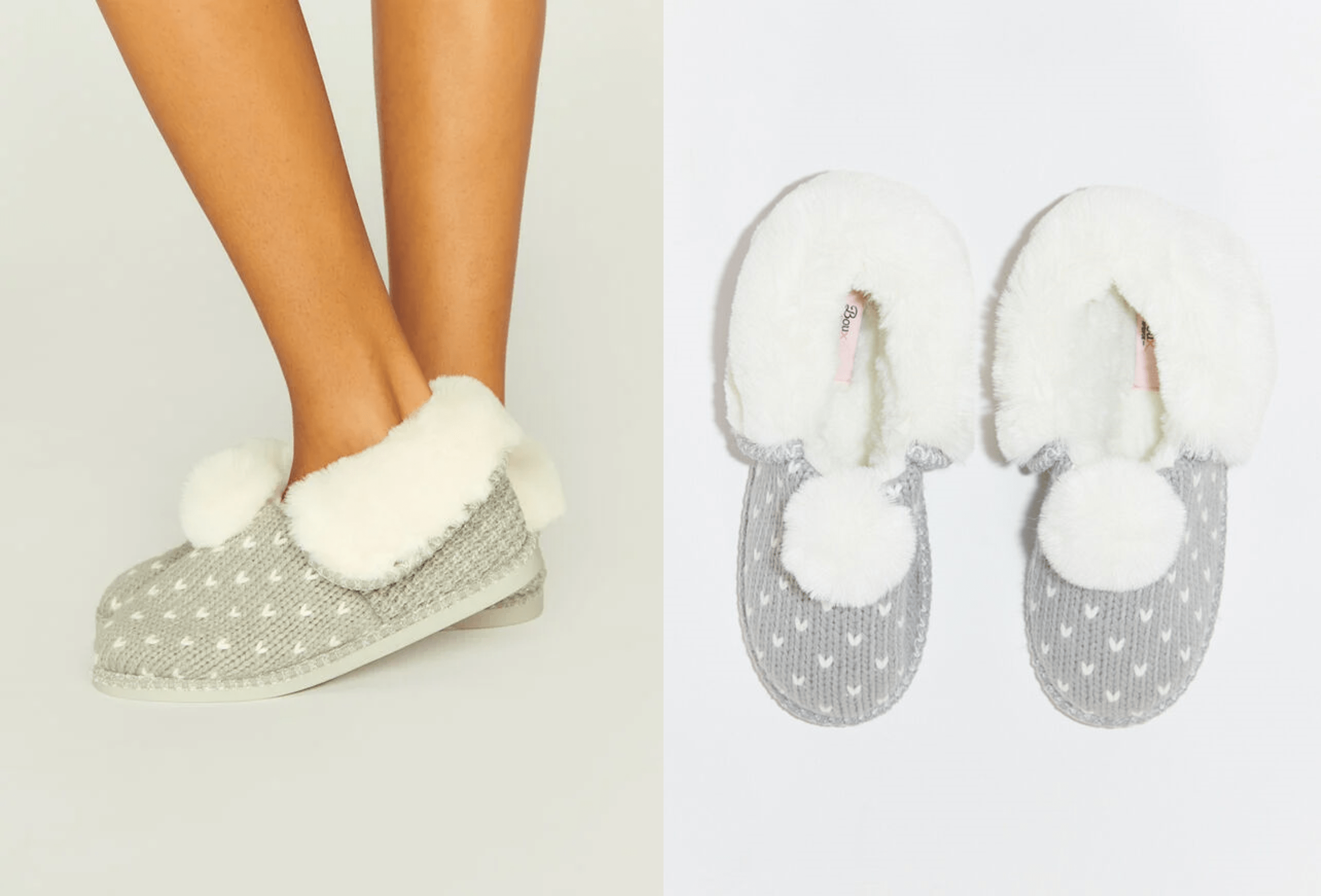 STOCKING FILLERS FOR MUM
Gifts that feel like a warm hug: pretty much the most welcome stocking fillers for mum. From a top-to-toe hug courtesy of our Star fleece pyjamas in a bag, to luxurious upgrades for everyday essentials like our Velvet fleece socks or Heart cosy socks, soft and snuggly Boux favourites will fast become her go-to way to feel closer to you (at Christmas time, and beyond).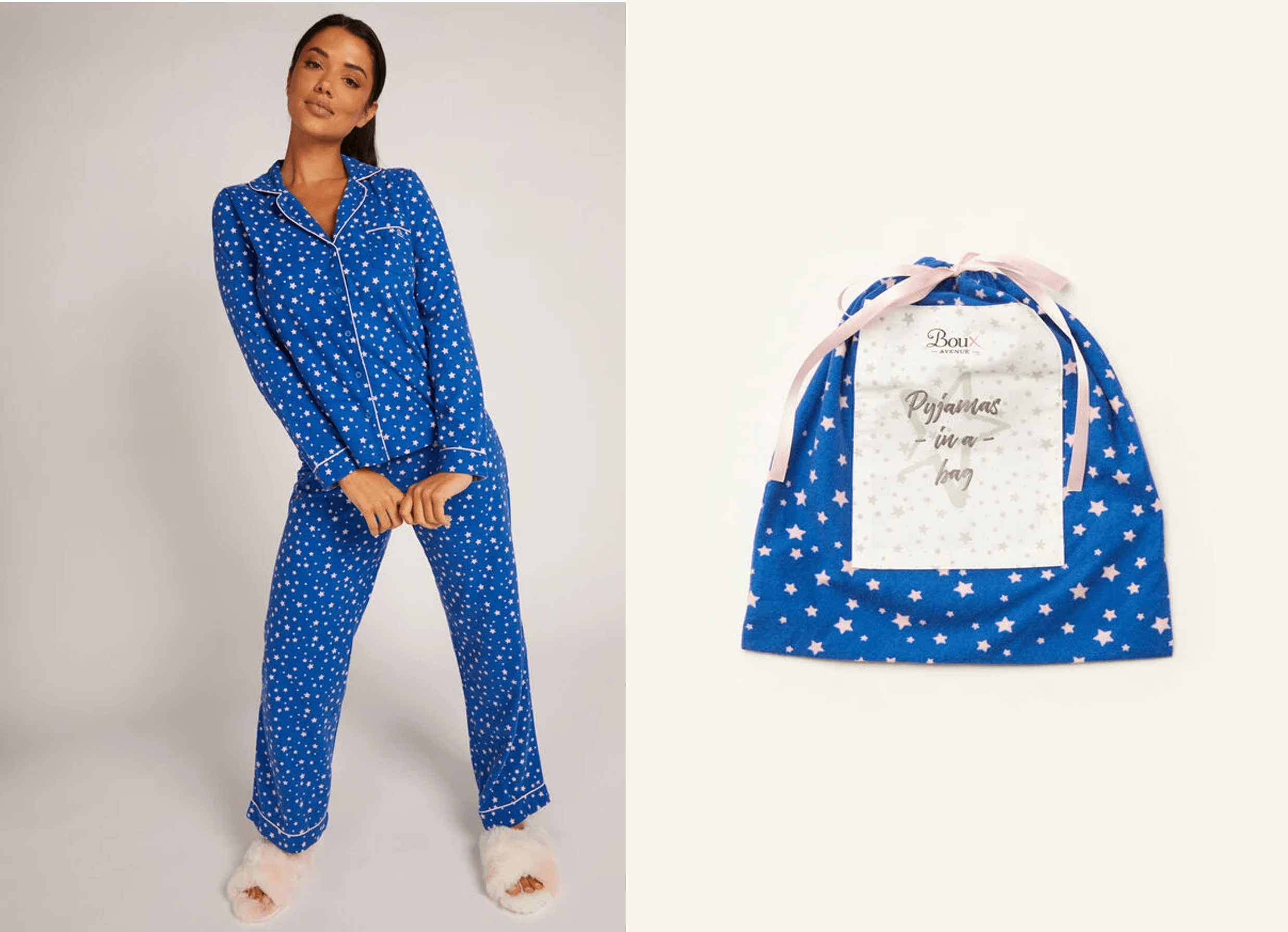 On cool, long evenings, she can literally channel those festive warm and fuzzies into her new Fluffy hot water bottle (available in grey, pink and white), or wrap up for a walk down memory lane with a plush Pom pom hat in versatile shades of grey, pink or oatmeal.

STOCKING FILLER IDEAS FOR ADULT DAUGHTERS
Grown up daughters will always welcome a chance to relive the childhood excitement of a Christmas mystery, and stockings are one of the most magical secrets of all: treasures so close yet so forbidden, until the morning itself arrives. If she's liable to take a peek, our pyjamas in a bag offer an extra layer of mystery.
We love the Heart check cotton pyjamas in a bag as a modern update on classic stocking fillers for adults. For t-shirt and shorts co-ords instead, check out our Check cotton short pyjamas in a bag.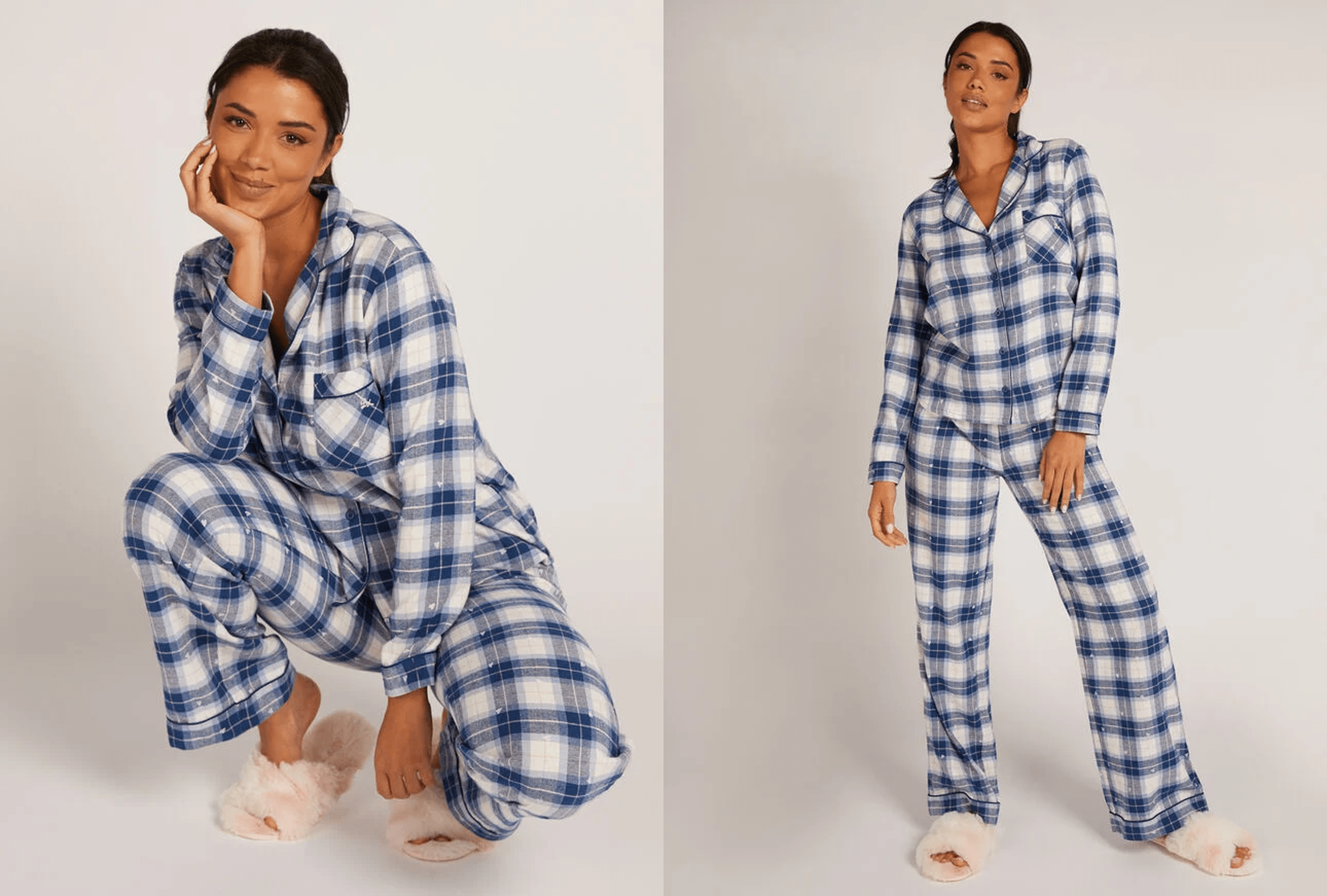 Adult daughters may have little need for a fluffy teddy, but the sentiment behind our Borg stripe cross band slider slippers is similarly nurturing. We love the added style of the striped sole, with the classic fluffy upper in our softest fabric.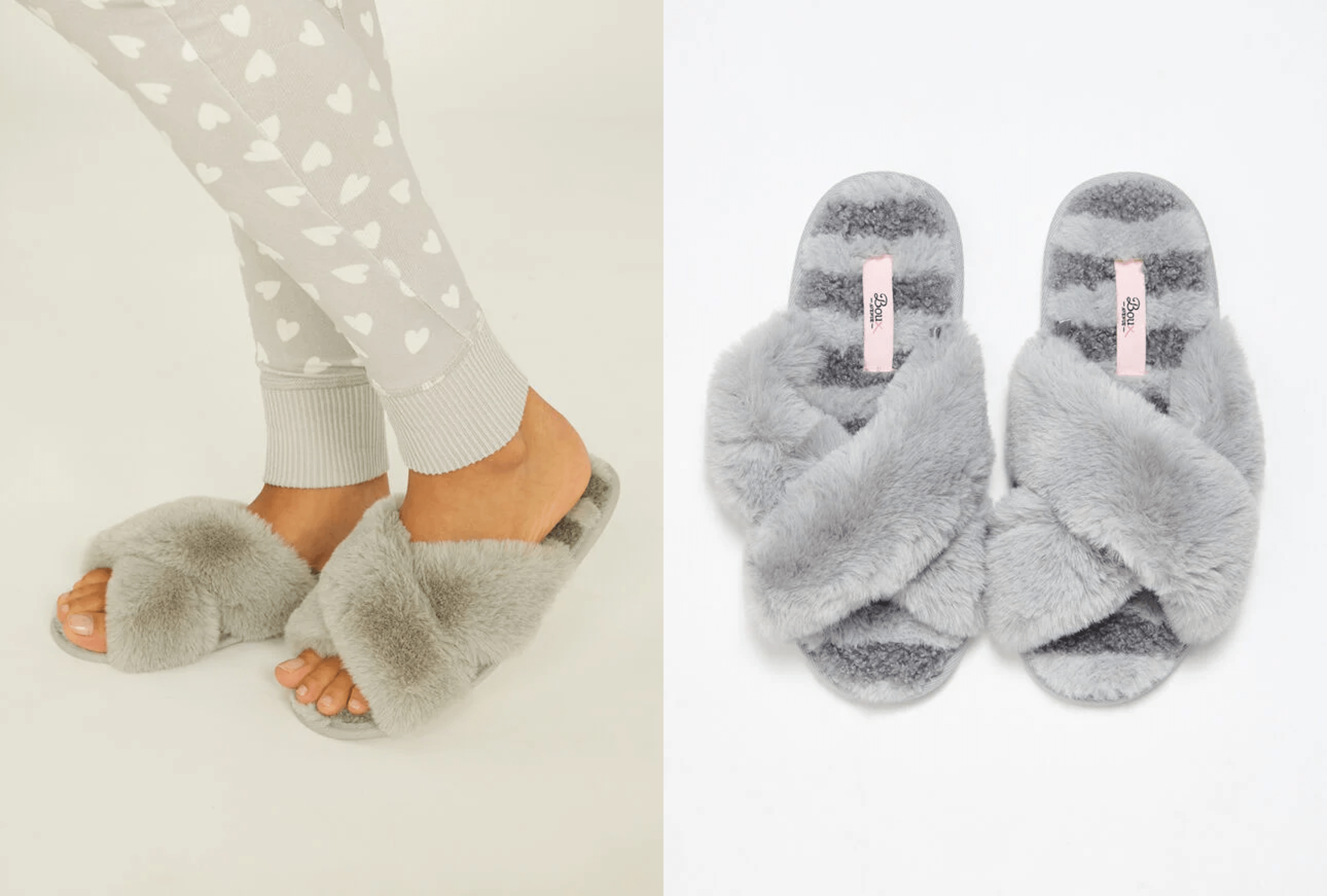 For a more festive feel still, add the Knitted fairisle mule slippers to your basket: the fur trim, pom pom accessories and Christmas knit will bring out her playful inner child within a sophisticated style.
If Christmas walks are a longstanding tradition, she will enjoy a welcome new addition with the Fluffy earmuffs in gorgeous, understated oatmeal. Keeps her hair chic, too. How thoughtful!
STOCKING FILLER IDEAS FOR TEEN DAUGHTERS
Stocking fillers for teens can be a minefield, with everything from tech treats to beauty spoils to fashion finds contending for space in her stocking. At Boux we think simple gestures go the longest way when it comes to girls stocking fillers.
Take our Xmas flamingo fleece short pyjamas in a bag: they're an unexpected colour and quirky festive print, but in a classic (and ultra cosy) fleece pyjama style that stands the test of both time and simplicity. Practicality also goes a long way; cue a storage bag she can use for the likes of her favourite beauty products, that also doubles as a pretty way to skip the wrapping paper!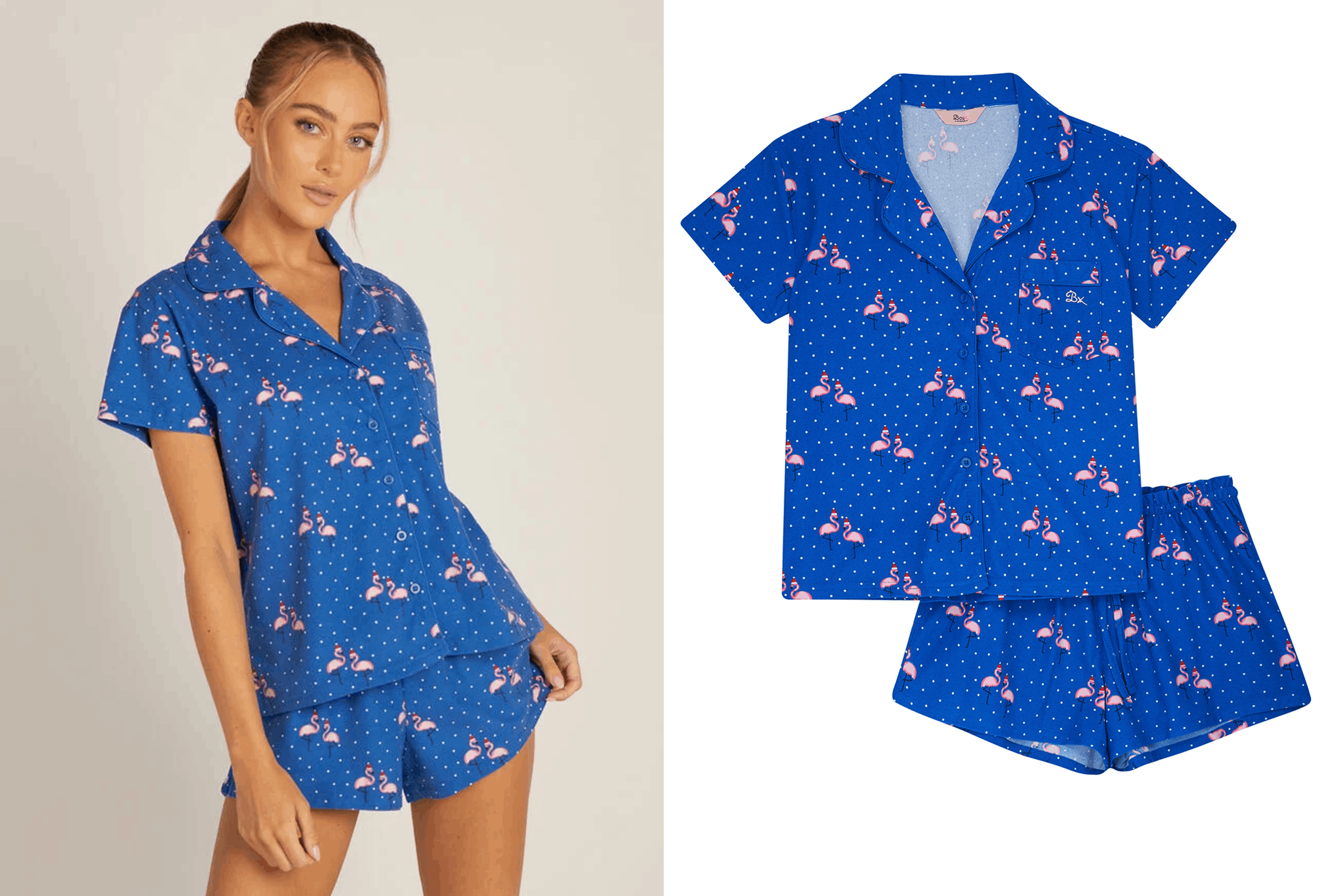 Buying for multiple daughters? Our Heart fleece short pyjamas in a bag are a pretty choice for mix-and-match family photo ops.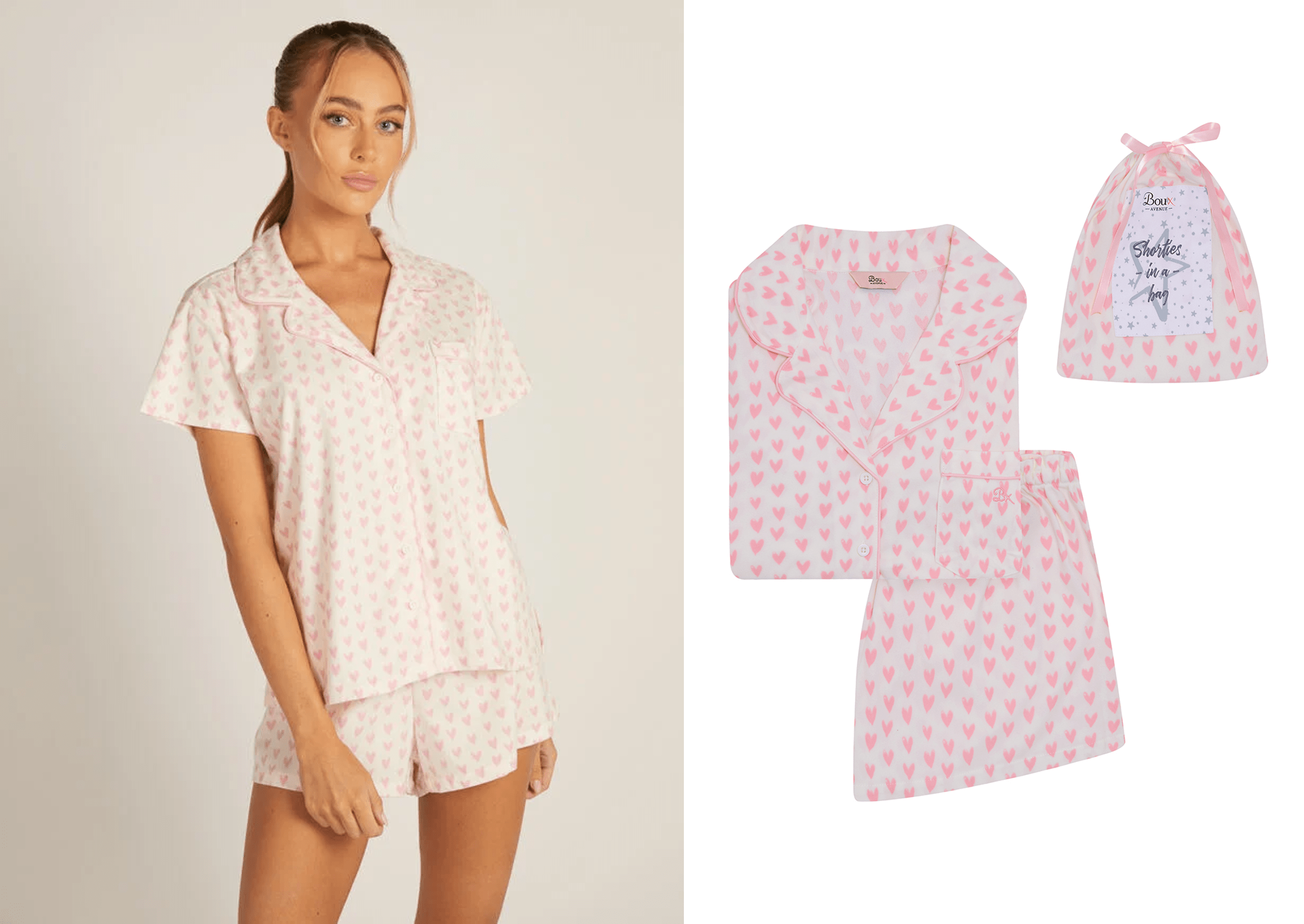 Seamless bras are a cosy addition your teen daughter will love to find in her stocking. Proof that you acknowledge she's growing up, while still putting comfy designs and youthful fabrics first. The Ribbed seamless cherry embroidered bralette and Ribbed seamless heart embroidered bralette will go down a treat, with their textured prints, soft-stretch fabric and removable padding.
As will the super colourful Chevron ribbed seamless bralette available in four different shades, to capture every personality palette.
For slippers fitting of teen divas, our fur-trim Sequin mule slippers will unlock the sparkle in her smile. Or, for a teen-approved update to non-slip socks, our Chenille sparkle cosy slipper socks will live on her feet the way she lives on her phone.
Finally, make the remaining extra space count (and give her something to stow in the self-printed bag from her new pyjamas), and treat her to the complete set of our berry-scented Boux Wellness lip scrub and Boux Wellness lip balm.
STOCKING FILLER IDEAS FOR YOUNGER DAUGHTERS
Surely the most fun you can have at Christmas, picking stocking fillers for your kids. Coordinate family stockings with matching pyjama sets, led by this year's printed kids pyjamas including our Kids fleece present pyjamas in a bag, Kids fleece robin pyjamas in a bag, Kids heart print twosie pyjama set and Kids fairisle twosie pyjama set, among others.
Let her enjoy making a dazzling Christmas entrance with our 3 pack fluffy scrunchies in a pretty pink mix, turning a regular ponytail into full-blown princess hair.
If you've supersized your stockings this year, then another girls stocking filler she'll love is the reversible Carved star fluffy blanket: perfect for family movie nights.
We hope you've picked up loads of stocking filler ideas for her. Now go forth and spread the joy, or spread the word on your own personal wishlist over on Insta using #myboux !