Did you know that 80% of women are wearing the wrong bra size? We recommend women to have a bra fitting every 6 months, as your size can change due to different life circumstances such as pregnancy, contraception etc... You'd be surprised by how often your body changes.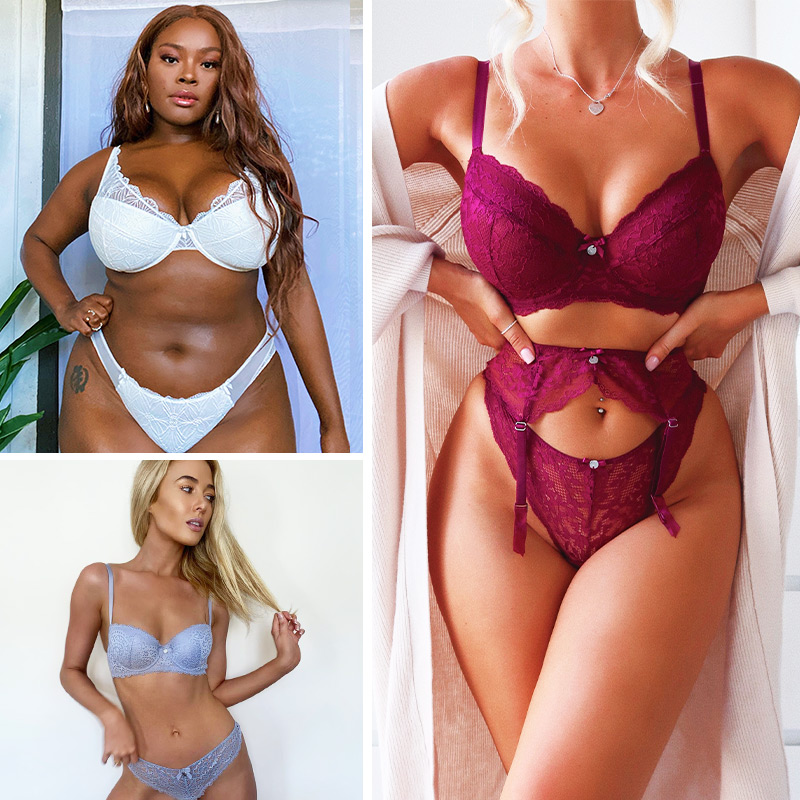 5 tips for fitting your bra correctly
Straps should be fully adjusted to 5cm max (from the back) to give the right amount of pressure on your shoulders
Underband should be parallel to the front, and you should be able to slightly pull the underband away from the body, without there being too much stretch!
Centre wires at centre front should sit completely flat against your body (in between or below your cleavage)
Side wires at outer bust must sit underneath your armpit and be flat against your rib cage/the side of your body, not on your breast tissue
Breasts should sit in the bra cup without overspill
How do you know if your bra is fitting correctly?
A key sign of your bra fitting too small is when spillage can be seen at the cleavage area, under the arms and across the back. Your bust should comfortably sit and be fully encased within the cup. Lastly, wires should never dig into your breast tissue; remember comfort is key! Another secret to finding your perfect fit is investing in the perfect bra for you and your bust shape. We offer four main shapes: plunge, balconette, full support and non padded.
What happens in a professional bra fit session?
What exactly is involved during a professional bra fitting? When being fitted by a professional bra fitter, you'll be expected to remove any extra layers, whilst leaving your current bra on in order to correctly assess the fit. Your fitter measures your rib cage area and bust with a measuring tape. New bras are then selected for to try on which include styles best suited to your bust shape and personal style preference.
5 common bra fit myths
1. You have to take off your bra to have a bra fit
We prefer you to leave your bra on throughout the fitting, and one of our expert bra fitters will measure around your underband and check key features of the bra to find your size. The remainder of the fit is carried out by visually assessing your upper body shape and your breast tissue.
2. Every bra style suits every woman
There are many factors that affect the fit of a bra, such as the style, the fabric and most importantly your bust shape. A bra in the right size but the wrong style may not fit correctly.
3. Women stay the same bra size
It's recommended to have a bra fitting every 6 months as your body changes often, so will your bra size.
4. If your bra is rising up at the back, it's too small
A rising bra strap means your bra is too big as it is not tight enough to stay horizontal around your back. Try a smaller back size. Bra straps travel up your back when your bra band is too big.
5. Your bra support comes from the straps
In fact, most of your support comes from the underband, so it is important that it's the correct size to give you the correct amount of support without riding up or digging in.
We offer expert bra fittings in-store where fit, style and shape are assessed. It is recommended to have a bra fit every 6 months... if you haven't been fitted for a while (or ever) pop in and visit us in-store for an expert fit! Find your perfect fit with our free, expert bra fitting service.