HOW TO MEASURE BRA SIZE
Forget breakups, breakouts and bad hair days – nothing causes quite as much heartache as a badly fitting bra. That daily struggle with slipping straps, painful underwires, red marks and lumpy cups, is one that too many of us can relate to. Once you know how to measure bra size, you can kiss those troubles goodbye and fall in love with your perfect fit.
A poor-fitting bra doesn't just leave you feeling awkward and uncomfortable; it can also cause health issues like backache, neck and shoulder pain, headaches and bad posture. It's astounding how many of us put ourselves through this unnecessary torture. Luckily there's a pretty easy solution to take the guesswork out of bra shopping. Knowing your size makes it so much easier to find the best bra for you. All you need is a mirror and a measuring tape.


How to Measure Bra Size in Three Simple Steps
A lot of the support you get from your bra actually comes from the underband, so it's important to make sure you have the right fit. Here's how to do it:
Stand in front of the mirror, wearing no bra. Face the mirror side-on.
Use the tape to measure around your ribcage, directly under your bust (along the bottom of where the band would sit). Keep the tape snug against your body, and level all the way around. Make sure the centimetre side of your measuring tape is facing outwards, so it's easy to read.
Get the measurement from the tape, in centimetres. Then use an underband chart to find your underband size.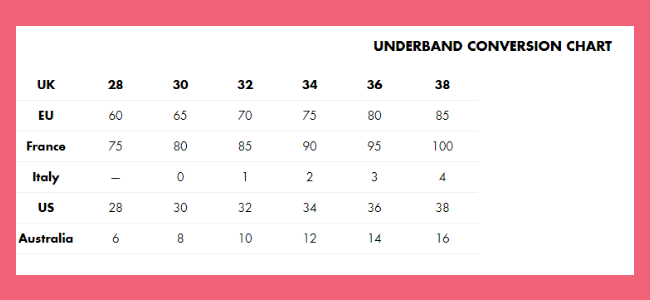 How to Measure Cup Size
You can use your underband measurement to determine your cup size as well.
Take one of your current bras and look at the underband size marked on the label.
If the new measurement you just got is smaller than the current underband size, you'll probably have to go up a cup size to get the right fit.
If your new measurement is bigger than your current underband size, you'll likely need to go down a cup size.
If your new measurement is the same as your current underband size, but your cups aren't fitting right, you'll need to go up or down one cup size, depending on the fit.
Refer to a sizing chart (in stores or online) to make sure you're buying a bra with the right underband and cup size combination.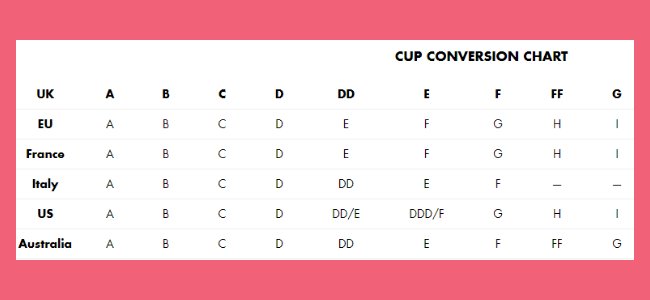 Pro Tips for Trying on Bras
Finding a comfortable fit is sure to set your heart a-flutter, but these tips will help you be 100% sure you've found "the one".
Bend forward while putting on the bra and hook it before you stand up straight. This will help you fully settle into the cups.
Use a finger to test whether the bra is too tight or loose. You should be able to slide one finger easily underneath the underband.
Check whether the centre front of your bra (where the cups meet in the centre of your bust) is lying flat. If it isn't, then the bra is the wrong size or shape.
Lift up your arms and twist your body from side to side. If your bra is the right fit, it will stay in place.
Before you commit to a bra, try it on under a form-fitting t-shirt to make sure there are no wrinkles, puckers, lumps or bumps.
To check for support, look at a side-view of yourself in the mirror. With proper support, your breasts should sit midway between your shoulders and elbows.
Bra straps provide secondary support to your back, so make sure they're properly adjusted. They should lie flush on your shoulders and shouldn't be so tight that they dig into your skin.
Remember, sizes may vary a bit across different brands and styles. A good rule of thumb is if you need to go down one cup size, go up one underband size, and vice versa.
An underband will typically have three or four hooks. Choose one that gives you a good fit on the outermost hook. As the fabric loosens over time, you can move to a tighter hook.
Lose the Guesswork!
If you're ready to skip straight to the best bit – bra shopping – then simply visit your closest Boux Avenue store to be fitted by a professional in one of our gorgeous fitting rooms.
Fall in Love with a Fab New Fit: Boux Avenue has a range of beautifully designed bras available, to suit ladies of all shapes and sizes. With our expert fitting facts, you'll find plenty of flattering designs that are just right for you. Learn how to measure bra size, break up with badly-fitting bras, and give your heart to the perfect fit!