WARM PJS WE LOVE
The cold snap is back - and with a bit of a vengeance, we might add. So, *sigh*, it's not quite time to vacuum pack away those cosy pyjamas and your fave fluffy dressing gown. In fact, with no sign of the weather warming up just yet, is it the ideal moment to stock up on warm pyjama staples? We think so.
Warm pyjamas are so important - when we're feeling toasty, we are happier, more productive and even more active - but we get it, energy bills are looking scarier by the month and we thought we were headed for springtime sometime soon. Don't despair!
We've rounded up the warmest pyjamas in the Boux range, just for you…
THE ESSENTIAL WARM PYJAMAS
Classic styles are simply unbeatable when you need coverage in the colder months. But this doesn't mean you're stuck with unflattering, chunky styles. We're here to help you choose wisely (we know, it's tough).
The Cloud print twosie works double time as uber-cosy softness, a crew neck and cuffed details keep you totally warm, whilst the prettiest powder blue hue channels soon-to-be sunnier vibes…we can dream!
Have your own après-ski style afterparty with the Borg zip hoodie and shorts set. Yep, we're throwing shorts into the mix with this one, but check out its super fleecy texture, add the Fluffy feather socks in gorgeous ivory and you'll soon forget it's minus one outside.
Ribbed fabric - we LOVE it. Flattering, on-trend and just the right amount of clingy helps us to keep that all-important body heat close during the depths of winter! The Heart print ribbed onesie ticks a fair few boxes. Cute? Check. Versatile? Yup. Selling fast? You bet. Bundle this one with the Soft heart blanket and the Colour block slider slippers and channel goddess-like grey at your girls' night in this weekend.
Wanting a warm set that'll definitely work as daytime gear too? You've got it - the Ruched side top and leggings set brings a little ballerina chic to your cosy getup, even if you don't plan on leaving your blanket and cuppa for a second. The sleek silhouette of this set combines comfort with charm just perfectly. Now to choose - the pink or the blue?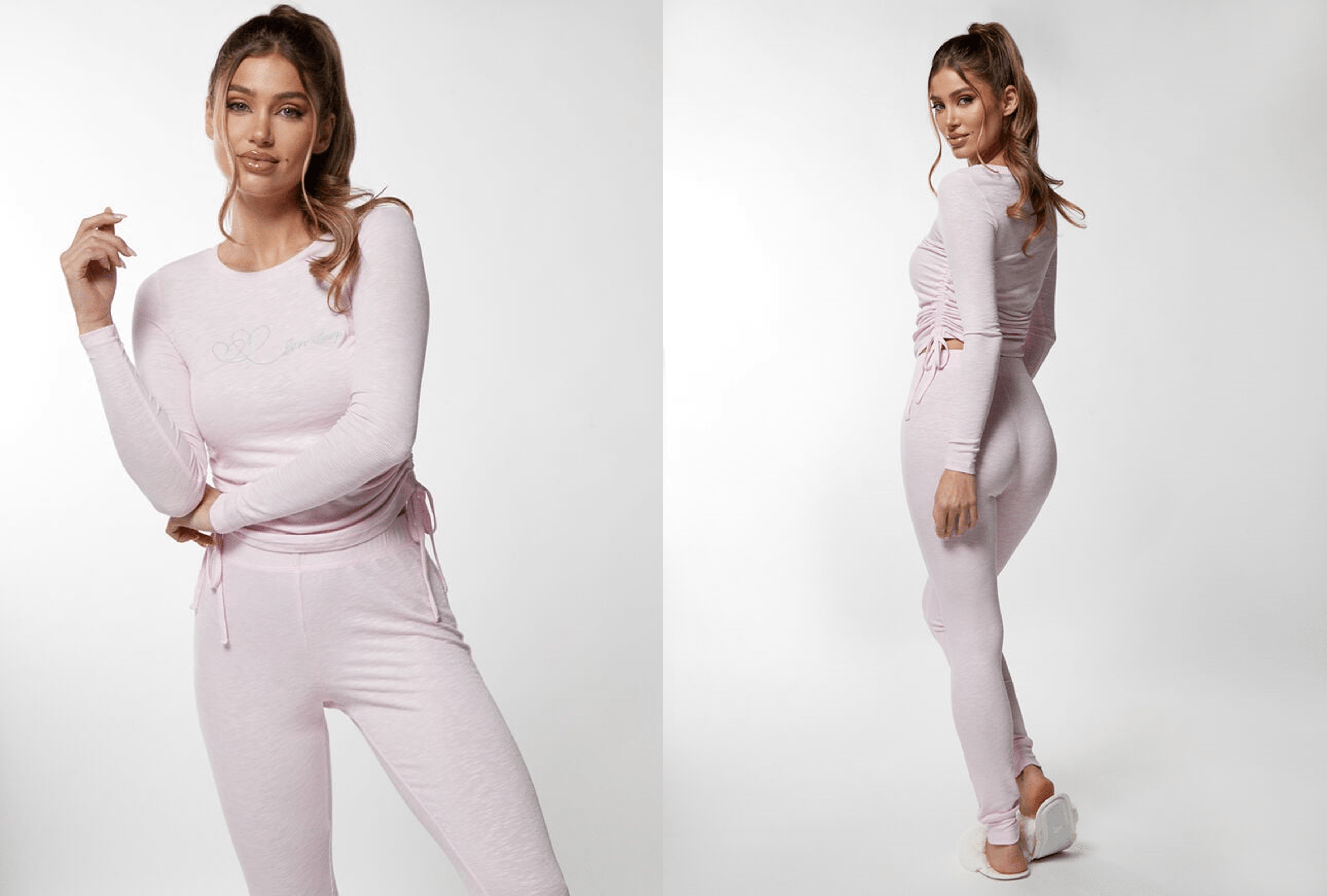 WARM PYJAMAS CAN BE SEXY TOO
If slinky is more your slumbertime style, turn to satin PJ sets for a look that oozes ice glam. Yes, warm sexy PJs are a thing. We'll show you!
Take the Stripe satin pyjama set. A button-through, long-sleeved shirt will keep you toasty, whilst its silky feels, wide-leg pant and stunning blue shade make it known that you NEVER compromise on chic, even for a wintry cold snap. Pair with the Borg cross band slider slippers, also in blue, and lounge away, lovelies.
New-in to the heart trim collection is the Heart trim cropped pyjama set. Liquid satin-like fabric skims the body oh-so-subtly, whilst cutesy frill details keep this one feminine. Another gem in powder blue that confirms that this stunning shade is enjoying its must-have moment.
Sexy doesn't have to mean satin, though. Boux's Fluffy knitted bralette comes in 4 gorgeous, neutral shades. Fluffy yarn material and a fabulously flattering neckline combine to make this one a super cushy option for snuggling down…or, snuggling up, of course! Pair with the Fluffy knitted flared trousers for a 90s throwback 'fit that you'll want to wear again and again.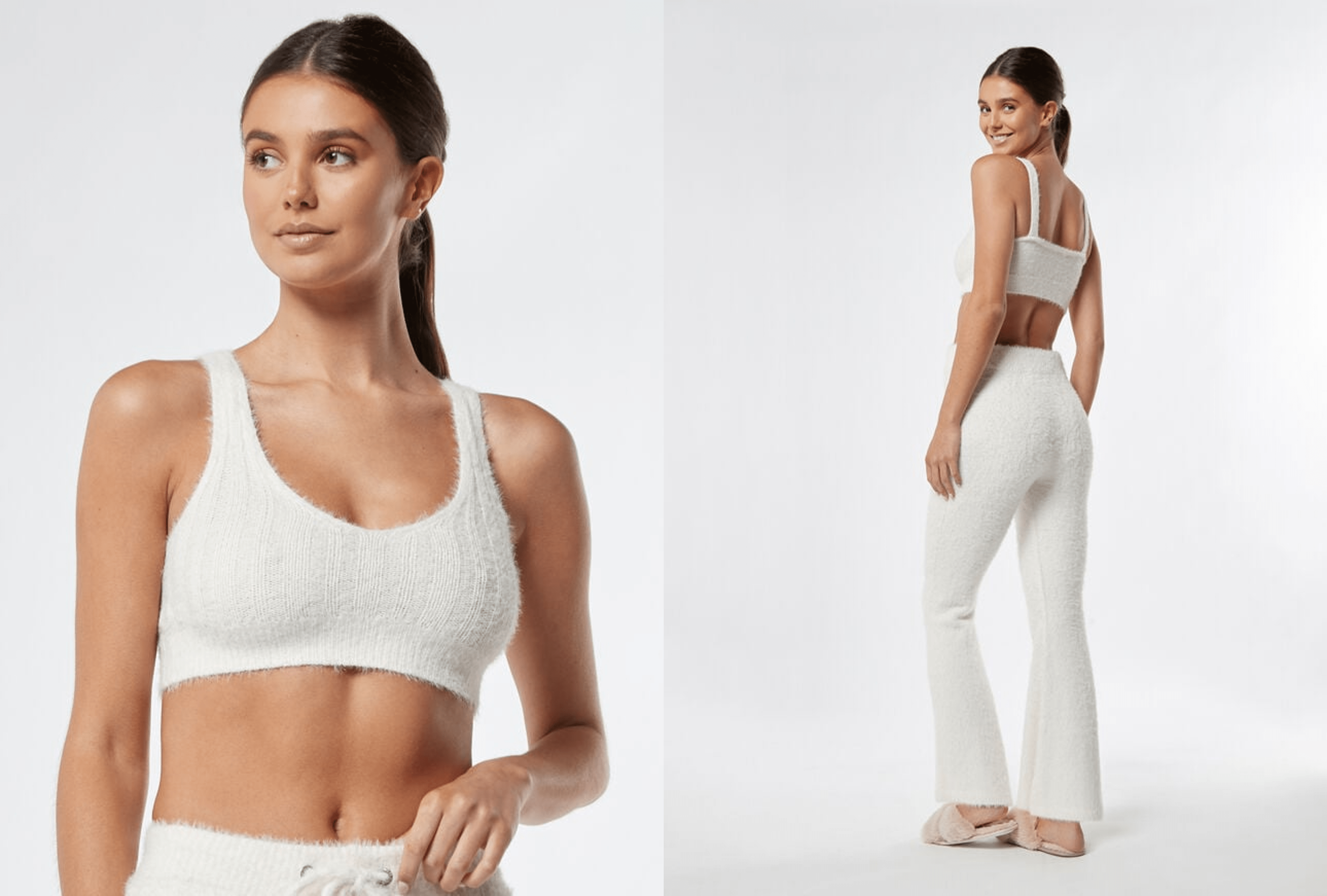 And if you're keen to bare a little midriff but need just a touch more fabric than a bralette, the Maya ruched top and wide leg trouser set is the one. Adjustable ruching means you decide just how much sexy you want to add to this set - and with a fitted pant and sweet button front detailing, these are warm pyjamas that'll have you (and bae) feeling hot, hot, hot.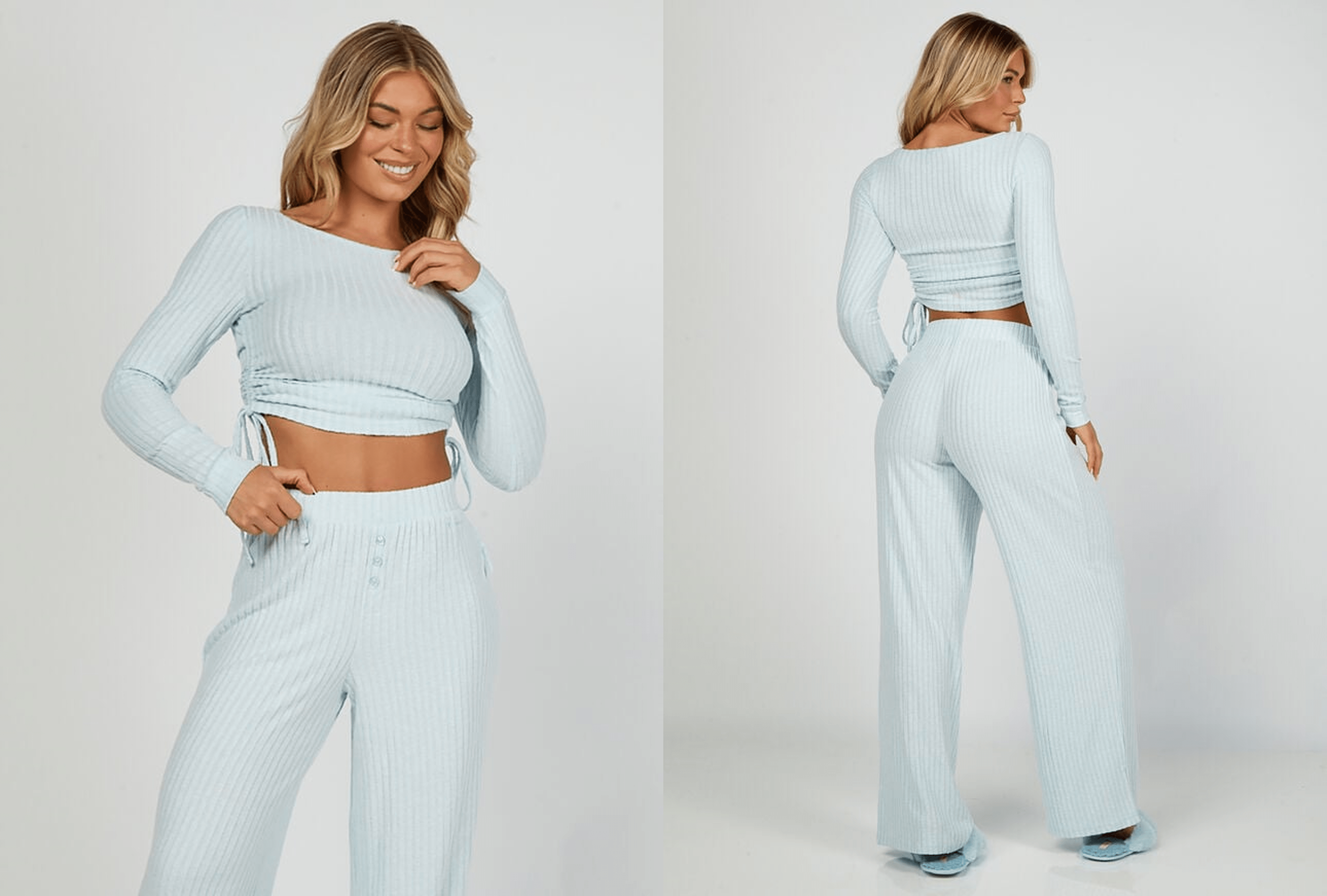 Nailed the warm PJs brief? We want to see! Share your 'fits on Insta using #myboux !