HOW TO STYLE LEATHER LEGGINGS
Have you heard? The Boux wardrobe is growing!! As well as our gorj dresses, we now also have the most fabulous sexy leather look leggings! They are the perfect wardrobe staple to style up or down!!
There are so many ways to style these new must-have trousers! Our styling experts have pulled together some top picks of what to wear with leather look leggings right here for you…
You'll be slaying in these amaze PU leggings day and night in no time!
HOW TO STYLE LEATHER LEGGINGS FOR A CASUAL LOOK
Shiny leather look leggings aren't just for looking glam in on nights out! Our new leggings are going to be a wardrobe staple because they are so, so versatile!
Whether you are heading to lectures, into the office or going to meet the gals for brunch, you are going to look fabulous by adding these leggings into your casj outfit rotation!
Our high shine wet look leggings are such a fave of Team Boux's already! Embrace autumnal dressing with the lush chocolate or dark red colour. These shiny leggings feature front zip fastening and belt loops, so it is basically like you are wearing jeans except comfier and waaaay chicer!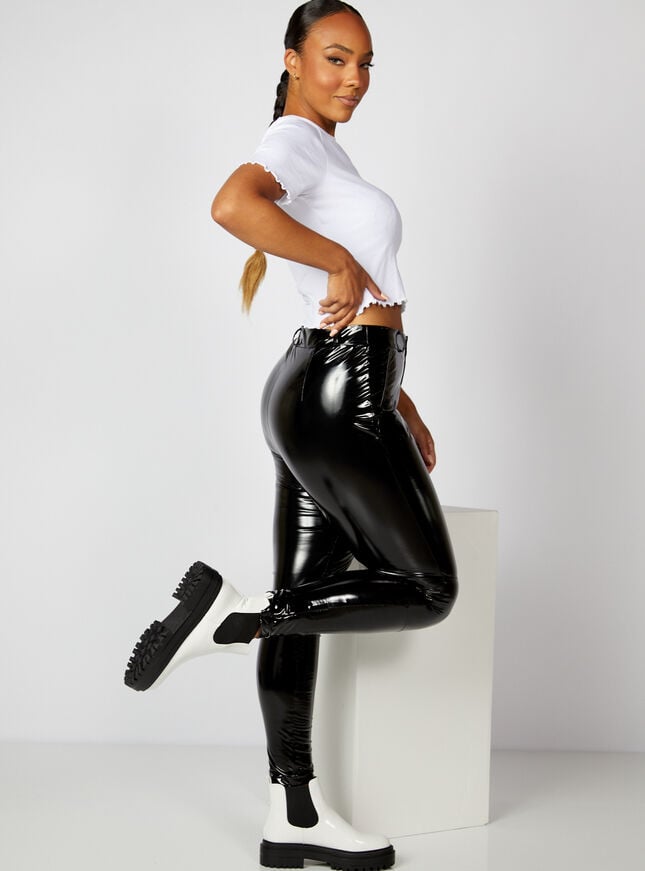 For a daytime look we love to pair these wet look leggings with a cute cropped hoodie or tee! For a super luxe but casual look, try your wet look leggings with our velour zip hoodie!
Another faveee way to style leather look leggings for daytime is with our FABULOUS new borg oversized shacket! The PU high-waisted leggings look so good with the oversized shacket thrown on top! Have a cute bralette or longline bra on underneath and your ready to go out too! We love versatility!!
WHAT TO WEAR WITH LEATHER LEGGINGS FOR GOING OUT IN
As gorj as our leggings look for daytime looks their real time to shine is as part of a fireeee going out outfit! There are so many sexy lingerie tops to pair with them you are going to be spoilt for choice!
First, let's talk bralettes and longline bras! You know we are all about wearing lingerie as outerwear, well our new leggings are the perfect outfit companion for nailing that trend!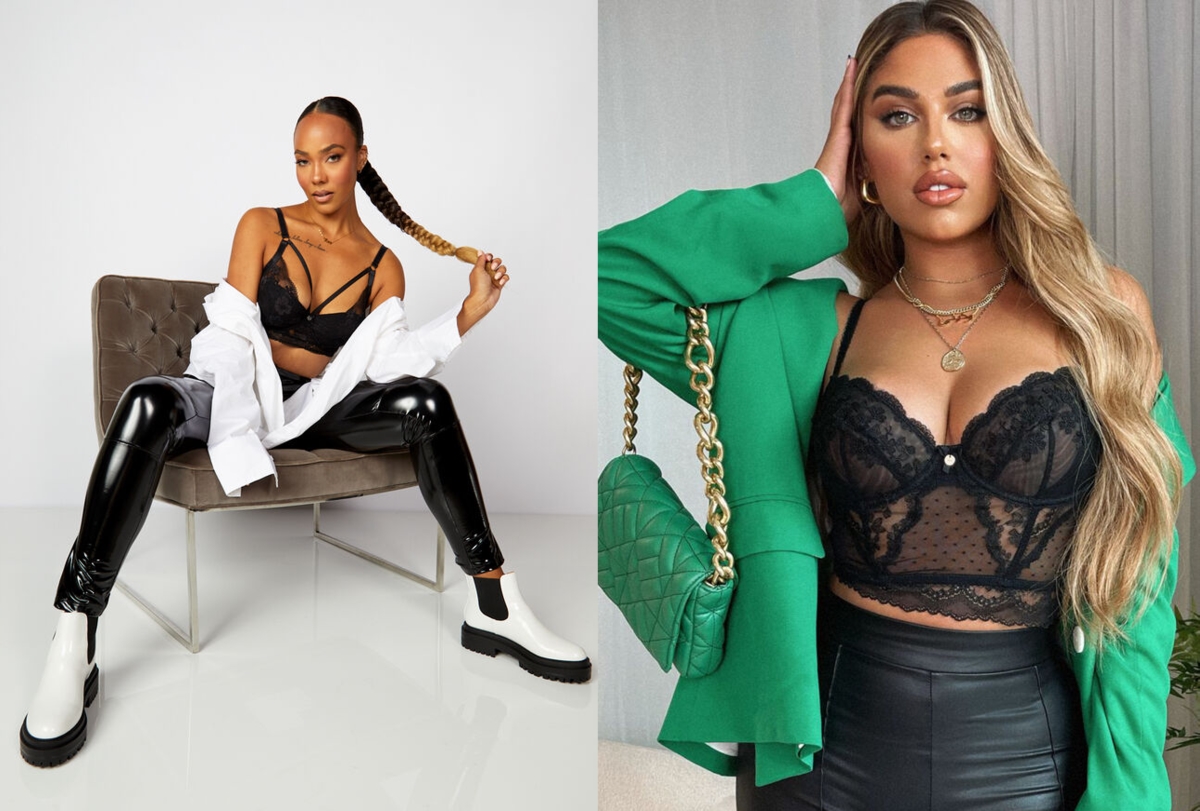 A fave statement bra to pair with our high shine leggings is the gorj Stephanie longline bra! The longline design paired with the high-waisted style of all our leather look leggings means you get the perf amount of coverage! The strappy harness detailing on the bra makes for such a head turning look, just throw on an oversized shirt and you're ready for the eve!
Another classic choice is the Maybelle longline bra that Anna looks so beaut in! This longline bra is the dreaaam to pair with high-waisted styles, it creates such a flattering look, you will be feeling your most fabulous self alllll evening!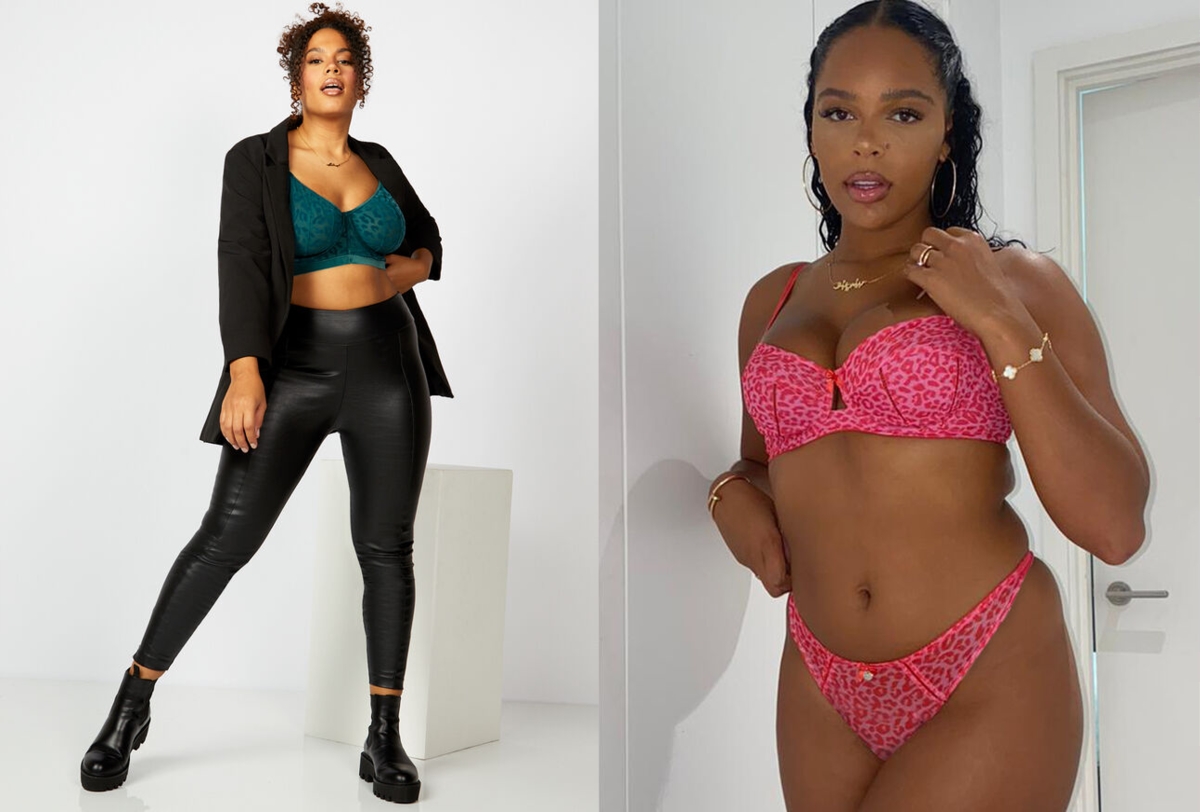 If you are looking to add a pop of colour, then try our Kristie animal balconette bra. Pair with our Alligator print leggings for some seriously sassy animal print clashing! We love this look with an oversized blazer on top, paired with some chunky boots for the perf autumn going out lewk!
Saving the best till last… we can't get enough of our fabulous lingerie bodysuits paired with our leather look leggings! Match them with some cute heels for the fiercest going out outfit!
Turn heads by going for the Maybelle underwired bodysuit, which features a fabulous open back detail! Go bold with the red high shine leggings or keep it classic in a fully black look! Either way you will look gorj!
A final pick of what to wear with leather leggings from us is the Stephanie floral lace bodysuit! This, along with any of our new leggings will be your new fave going out outfit for sure! The low plunge design is so sexy and the lace detailing will make any outfit look extra glam!
THE LEGGINGS PERFECT FOR HALLOWEEN TOO
If you are already looking for Halloween costumes then look no further than these gorj sexy leggings! We told you they are versatile!
Shiny leggings are the perfect sexy Halloween costume addition. Just throw on a lacy bodysuit like the Mollie bodysuit in red and you're a très chic vampire.
Or go for the timeless classic cat by matching the PU leather-look leggings with the Jodie body and some cute cat ears for a Halloween look you will look fabulous in!
We are so so excited about all the new leather look leggings, we can't wait to see how you style them! Don't forget, for any tight pants like these, thongs and no VPL knickers will be your best friends! Share how you have been styling the new leggings with us over on Insta using #myboux so we can show you some love!