CAN I WEAR MY PYJAMAS TO WORK? OF COURSE YOU CAN!
Planning your outfits ahead of time has become a fine art in 2021. Not only do we have ever-changing lockdown restrictions to think about, but the weather seems to get more ridiculous by the day too. Come rain or shine (or snow… in April!), you can rely on Boux to point you in the right direction!
Offices will start to open soon and after more than a year of being super-comfy on those Zoom calls, it begs the question: can I still wear my pyjamas to work? The answer is a resounding 'yes!' and it just so happens that April 16th is National Wear Your Pyjamas to Work Day. What more evidence could you need?
WORKING FROM HOME PYJAMAS
While lockdown measures are easing slowly, we're still a few months away from being back to 'normal', and even then a lot of us have got a taste for the WFH life and will be in no rush to head into the office.
Your fave working from home pyjamas will be front and centre of your wardrobe for some time yet!
Our stripe satin revere PJ set is gorge and can definitely pass as a luxe satin shirt on your Zoom calls (no one will know you've got the matching bottoms on too). Pair them with our luxuriously soft grey lounge slippers, and you'll get through your work day in complete comfort.
If you want something a little sassy but no less cosy, take inspo from our girl Georgia in the Weekend Vibes hoodie and shorts set. The perfect casj hoodie look to see you through all your video calls.
For an extra cute spring-ready layer, you'll want a glam robe to go with your pyjamas. Our Lillie ribbed lounge robe in sage green - complete with hood - is the perf choice.

SUMMER PYJAMAS YOU CAN WEAR ALL DAY
As temperatures finally start to rise, you'll want to switch up your work pyjama looks. For those 'Camera Off' days, you can't go wrong with our Darcie lace chemise - a summer PJs classic. If this is a bit of you, then there's space in your WFH wardrobe for the Darcie revere & short set and Darcie lace trim dressing gown, too. These satin summer PJs are perf for making you feel extra special & glam even when you're at your desk all day!
Another super cute and airy option for the summer is our pink spot shorties in a bag. We love the feel of 100% cotton in the warmer months; you can work these all day long in summer!
OPTIONS FOR WHEN THE OFFICE OPENS AGAIN
Okay, we admit we've stretched the definition of wearing pyjamas 'to work' with our style tips so far, but when actual offices & workplaces are fully up and running again and you're sorting out your work-ready wardrobe, don't feel like you have to sacrifice comfort.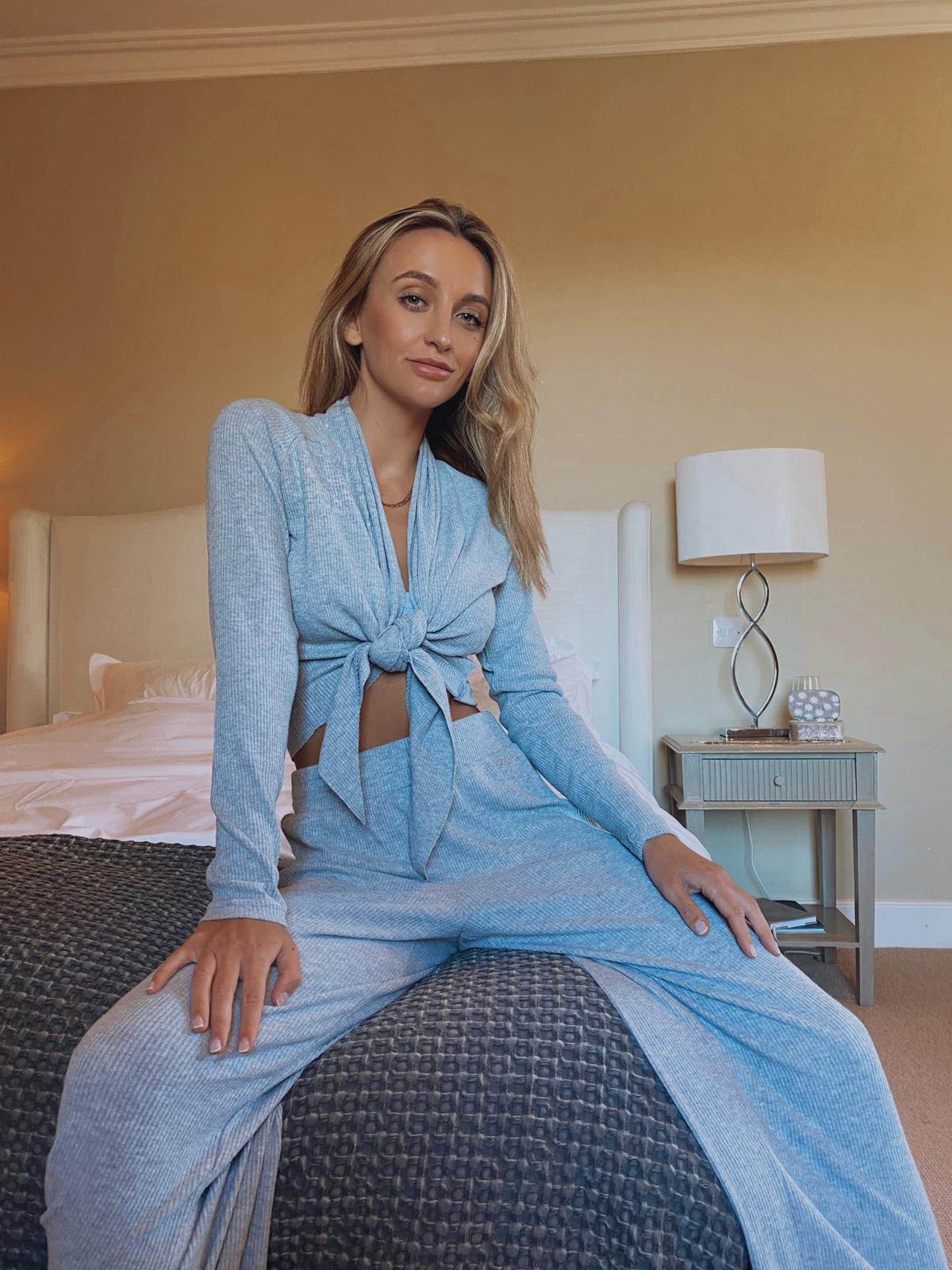 Boux's Loungewear and Activewear collections should be your go-to for casj & comfy pieces that can be easily styled up for the office. The Lillie ribbed wide leg pant is our fave new wardrobe staple. Pair it with the matching ribbed lounge tie top and a nice simple T underneath; these wide-leg trousers will take you effortlessly from desk to daiquiri when you can eventually head out for post-work Thursday night (socially distanced) drinks.
Embracing wearing athleisure and loungewear for work is the new normal, so a zip-up hoodie is defo part of our new regular work look. You just can't go wrong with this grey marl number.
Don't be afraid to add some colour and sass to your work wardrobe. Our Boux Sport sweatshirt in coral couldn't be any more perfect for those days when you want to get your headphones in and wade through your to-do list - looking fierce in the process.
So, there you have it! Whether you're working from home, the office, or both in the same week, we've got you covered. Keep up with Boux and follow us on Insta for daily inspo.