THE BEST HONEYMOON OUTFITS TO PACK
Weddings and honeymoons were put off for so long, but now we are back to being able to celebrate love on the reg! Plus, travel is now easily possible, so honeymoons are a GO too!
Whilst we all know how important bridal lingerie and bridal nightwear is for the big day, having all the essentials for the honeymoon is equally as vital!
Let's be honest, when we say honeymoon outfits, the main things you are going to be wearing are lingerie, swimwear and sexy nightwear…
Honeymoons are all about celebrating love, but we think that also means you should be ensuring you love yourself and feel your most fabulous and sexy, and our picks of the best honeymoon pieces to take with you are sure to help you do just that…
HONEYMOON LINGERIE IDEAS
Top of the packing list for your honeymoon is surely going to be your sexy lingerie sets.
Whatever your fave lingerie styles are, from thongs to Brazilian knickers or balcony bras to push ups, we have got the perf sexy honeymoon lingerie for you.
A super special piece to pack for your honeymoon is the Merylin basque set - you and your partner will fall so in love with it!
The white lace and delicate floral design paired with lace stockings or hold-ups is such a sexy look. Believe us - you will feel honeymoon ready in this!
Just because the wedding is over, doesn't mean you need to move away from the white and blue colourways.
The Leyla longline bra and matching Leyla thong are another must-have set in your honeymoon lingerie roster.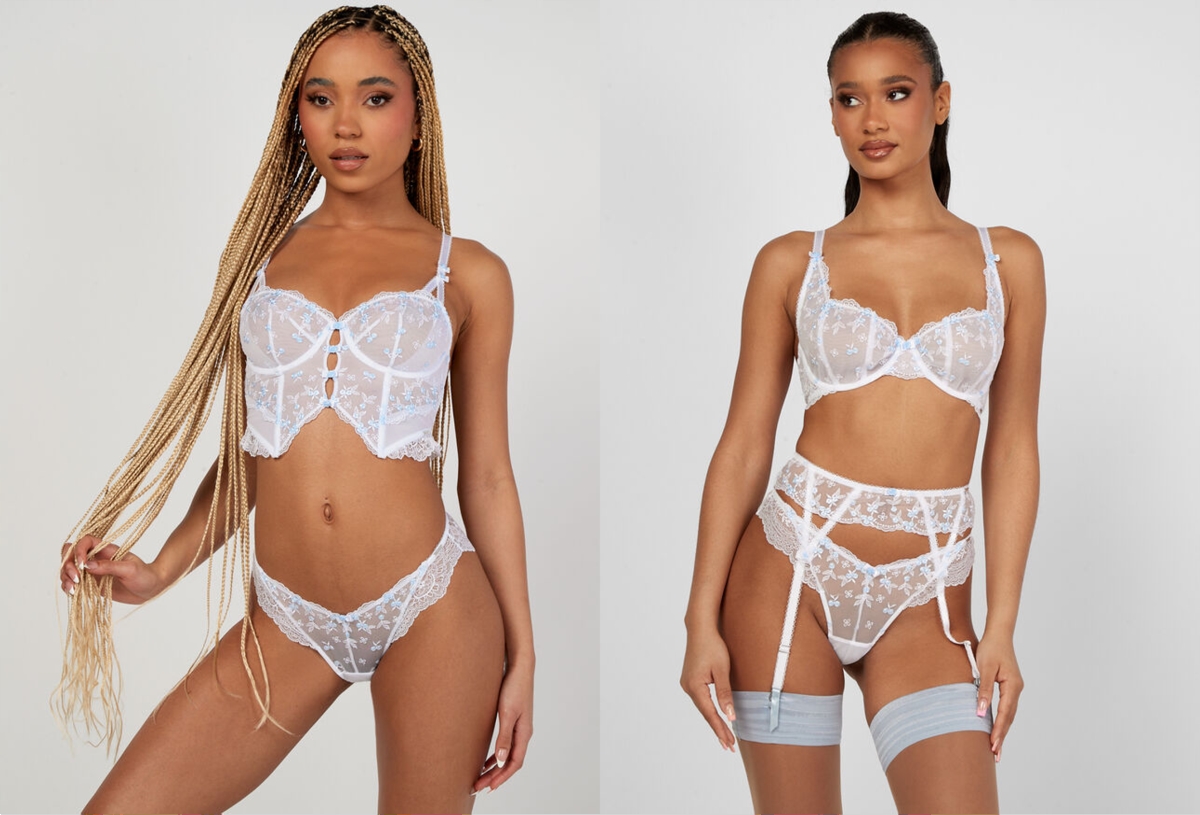 This beautiful longline bra is so stunning, and the perfect nod to the corset lingerie style which is oh so on-trend.
Pair the set with the Leyla suspenders and Blue plain top hold ups - it is your honeymoon after all!
The great thing about the Leyla bra is that it will look so good with your bridal glow, plus it can even double up as a lingerie top to wear for your romantic meals in the eve.
Lace bodysuits are one of our fave styles of honeymoon lingerie, so for a more classic sexy lingerie style for your honeymoon, the Lauryl bodysuit is a must-have.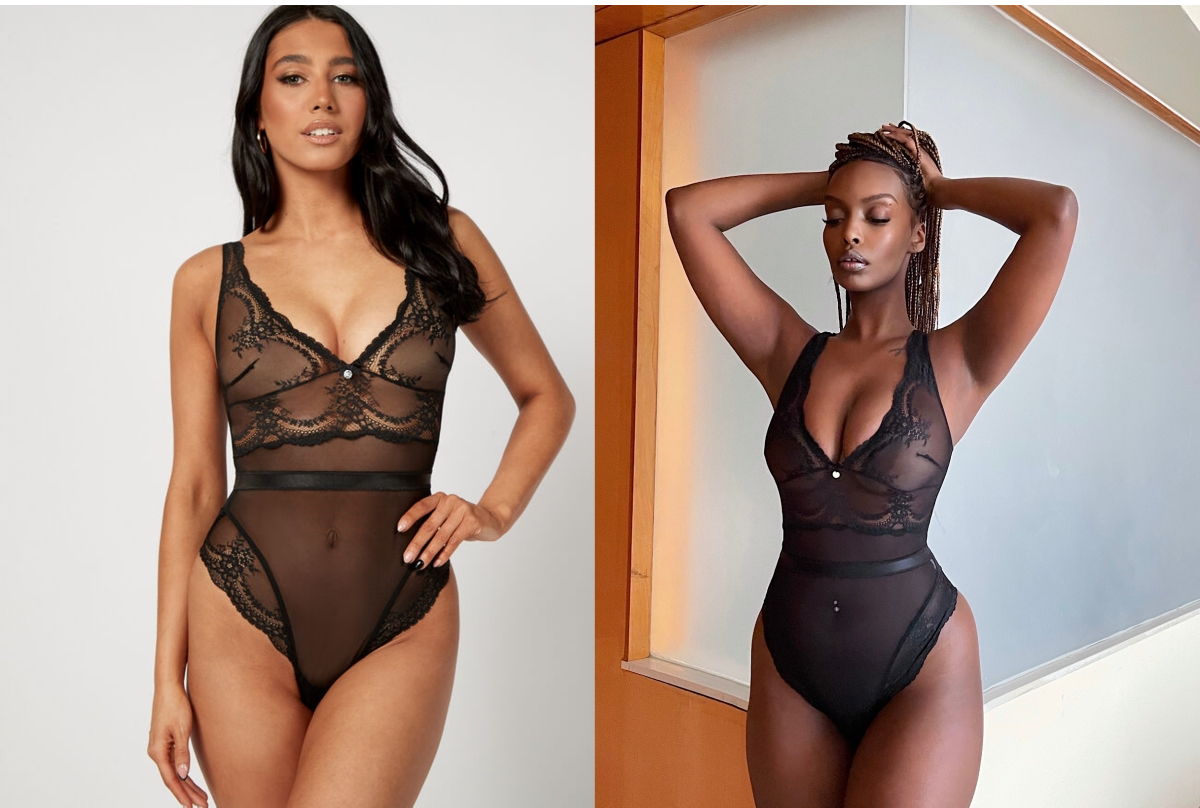 This bodysuit is perfect for wearing as a top in the evening, then transforming into jaw-dropping sexy lingerie when you want it.
When it comes to buying lingerie to feel your sexiest in for your honeymoon, just ensure you are wearing the right bra size. You can book a free bra fitting at any of our stores, so you can get the perfect fit to feel fabulous in.
NIGHTWEAR FOR YOUR HONEYMOON
It's not just going to be lingerie all the time whilst you are loved up in paradise - taking some super cute nightwear sets with you is always a good idea.
When it comes to sexy nightwear for a special occasion, you simply cannot go wrong with our Marnie satin nightwear range.
There are two brand-new Marnie styles that will make the perfect honeymoon nightwear.
The Marnie satin and lace bralette in ivory was MADE for wowing in.
The ivory colour will look so beautiful and the sexy satin and lace in the shorts and bralette will keep you feeling cool when things heat up!
Another stunning new Marnie piece is the Marnie satin cowl neck teddy, the perfect teddy for having lazy mornings in whilst feeling so glam.
Both Marnie pieces come in a range of gorgeous colourways. So, if you're sick of all the ivory from your wedding, why not try the beautiful pistachio shade?!
For a cheeky nightwear set for your honeymoon, the Mischa daisy cami set is ideal. Coming in black or a cute powder pink, this sheer cami set is sexy, comfy and will make you feel fabulous!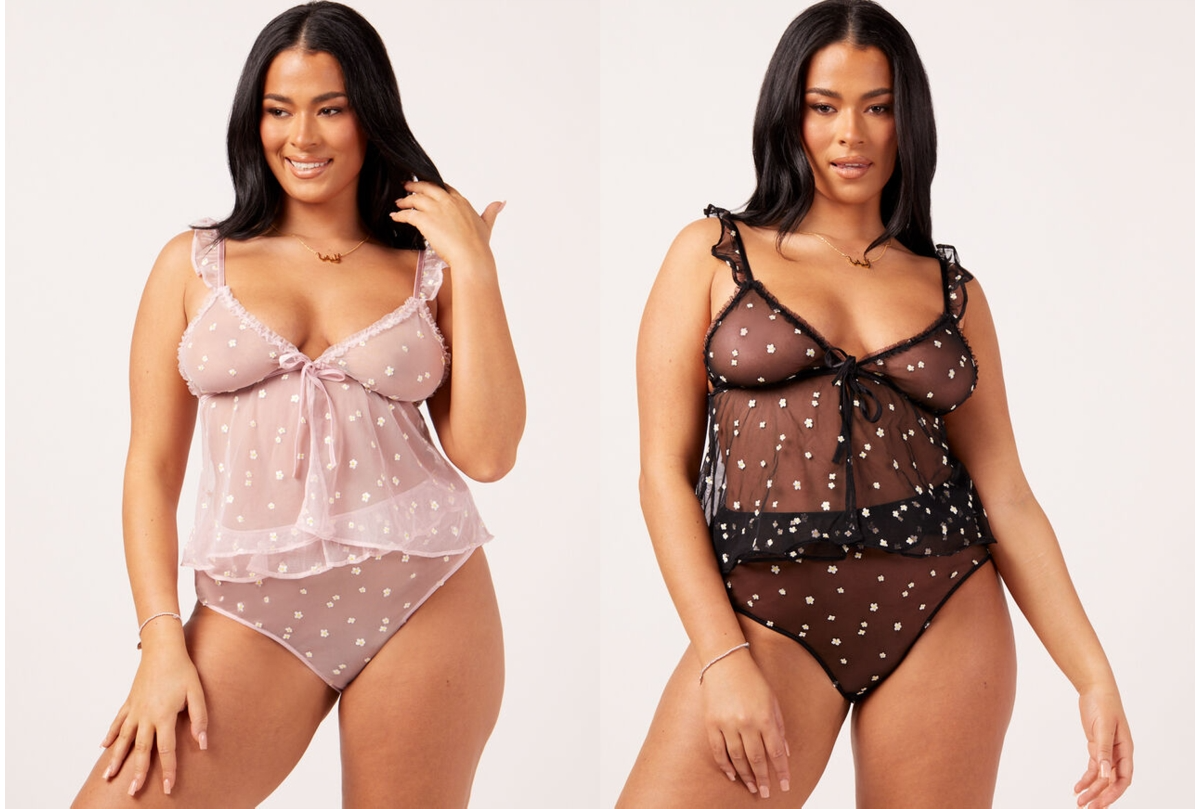 HONEYMOON READY SWIMWEAR YOU NEED
After so much time not being able to travel, it's likely you'll be going somewhere gorj for your honeymoon!
Whether you plan on relaxing by the beach or the pool, if you are heading to sunnier lands, you are going to want to pack some show-stopping bikinis and swimsuits.
A swimsuit we cannot wait to debut on hol is the Haiti ruched strapless swimsuit. A striking red one-piece will always have you feeling absolutely fire, which is how you should be feeling all honeymoon long!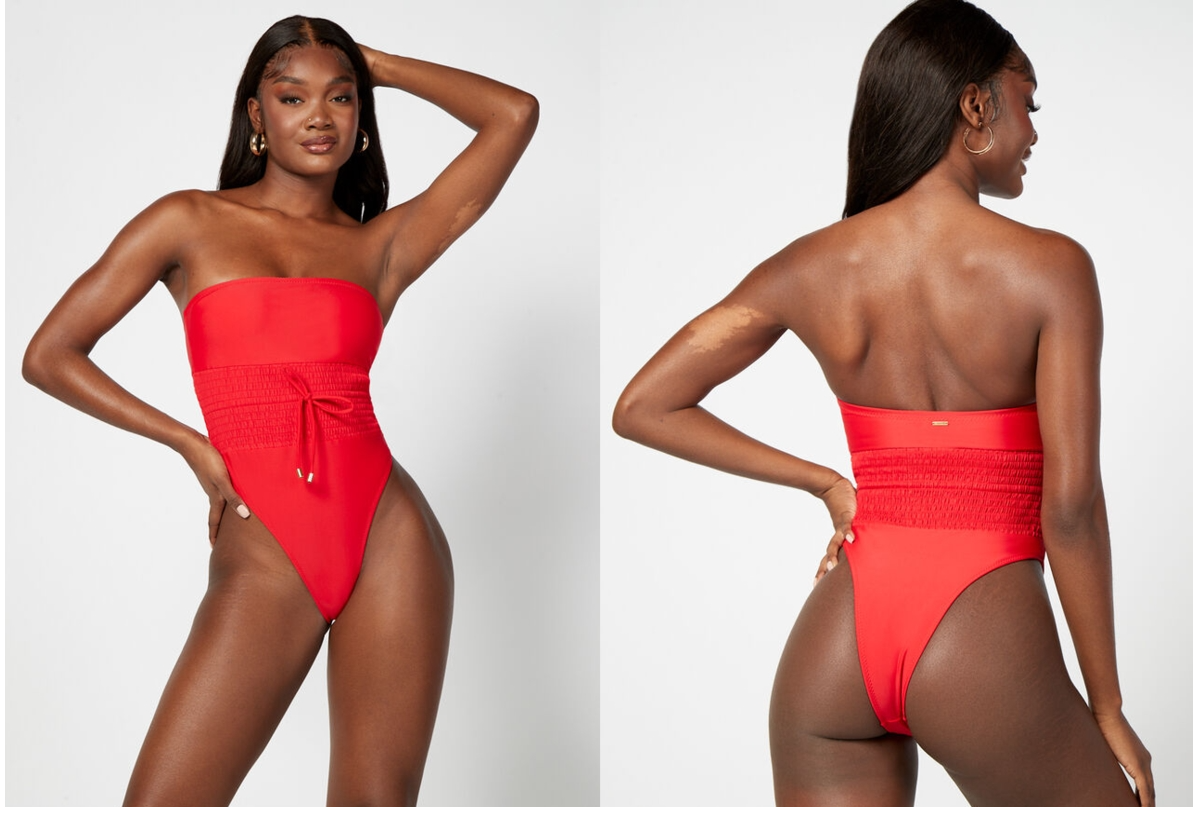 The ruched waistband and high-leg cut is so flattering. Plus, the strapless bandeau style is perfect for tanning in, helping to avoid dreaded tan lines.
Another fave is the Java textured crop bikini set – we have never seen a bikini more suited to a honeymoon.
The crop bikini top is so pretty, the asymmetric sleeve and bow detail will have your partner swooning on your honeymoon!
Pair the bikini top with the high-waisted bikini bottoms option to really bring the drama, thanks to the oversized sash.
If you prefer a more subtle bikini bottom, then go for the Java Brazilian briefs instead!
For a classic underwire bikini style perfect to take on your honeymoon, we just love the Ibiza strawberry tassel bikini top with the matching Ibiza string side bikini briefs.
The strawberry tassel detailing is so cute and flirty, and you just can't go wrong with an underwired bikini top and tie bikini briefs.
We can't wait to see what honeymoon lingerie, nightwear and swimwear you choose to take with you on your romantic trip away!
Share your honeymoon outfit picks with us over on Insta using #myboux so we can show you some love!