GIRLS' NIGHT IN PARTY IDEAS
After spending more than a year indoors, you'd think we'd wanna be going on nights out as much as poss. But with the cold weather creeping in, there's nothing we want more than a cosy girls' night in, filled with snacks, cocktails and some major goss.
So, if you're planning a girls' night in party for you and your BFFs, we've got you covered with some of the best ideas for an unforgettable eve. Cocktail shakers at the ready…
CREATE THE ULTIMATE SNACK SELECTION
What do you need for a girls' night in? Snacks, of course! Whether you've got a super sweet tooth, or you're a savoury kinda' gal, these are some of the must-have snacks that are sure to go down a treat:
• A selection of sweets and chocolate (obvs)
• Doughnuts (with matching doughnut pyjamas)
• Popcorn is a must (sweet and salty, please)
• Chips and dip (we vote guac)
• Olives if you're feeling boujee
• Strawberries and melted chocolate
If you get your snack selection right, you can pretty much guarantee you'll have the best night. Snacks = happiness.
GIRLS' NIGHT IN OUTFITS
One of the best things about a night in is that you don't have to deal with that pre-night out panic, where you're texting your BFFs telling them you're not coming 'cos you've got nothing to wear. We've been there. A lot.
But just because you're ditching your fave bodycon in favour of popcorn and Netflix, doesn't mean your outfit can't be on point!
SUPER COMFY LOUNGEWEAR
We all know that loungewear is the unofficial uniform of any girls' night in. Comfy and stylish, you just can't go wrong with a super cute loungewear set for a cosy evening.
Lucy looks super cute in our Velour bandeau top, shorts and hoodie. The soft material is so chic and stylish and we love the cropped fit of the hoodie – it's a must have set for any night in.
If you want to add a playful touch of colour to your loungewear look, then you can't go wrong with our beaut Lillie waffle crop top and joggers. The super soft waffle knit fabric is SO comfy you'll never want to take them off!
MATCHING PYJAMAS ARE ESSENTIAL
As much as we love loungewear, matching pyjamas are an absolute MUST for any girls' night in (and provide the perf opportunity for those Insta snaps! #MatchyMatchy).
Fran looks soooo on-trend with our bold Blue leopard pyjamas in a bag. With long sleeves and wide leg bottoms, these pyjamas are perf for any winter night in, and the matching carry bag makes them ideal for sleepovers!
We are low-key obsessed with the Pink gingham matching pyjamas in a bag that our girl Sharon looks so cute in. Effortlessly stylish, these gorj gingham pyjamas are the ultimate girly set. We're teaming ours with a pair of our super soft Pastel pink suedette mule slippers and Fluffy shimmer midi dressing gown. Pink makes the boys wink, right?
SLEEPOVER ACTIVITY IDEAS
Once you've got your snacks sorted (number one priority for any girls' night in) and you've chosen your matching PJs, you're obvs gonna want to get some fun activities planned.
COCKTAIL MAKING
Here at Boux, we LOVE a good cocktail. From Piña Coladas to help us channel those summer vibes, to the failsafe Margarita that'll please everyone (oh, and don't forget our fun Margarita Cami & Short PJs to match!).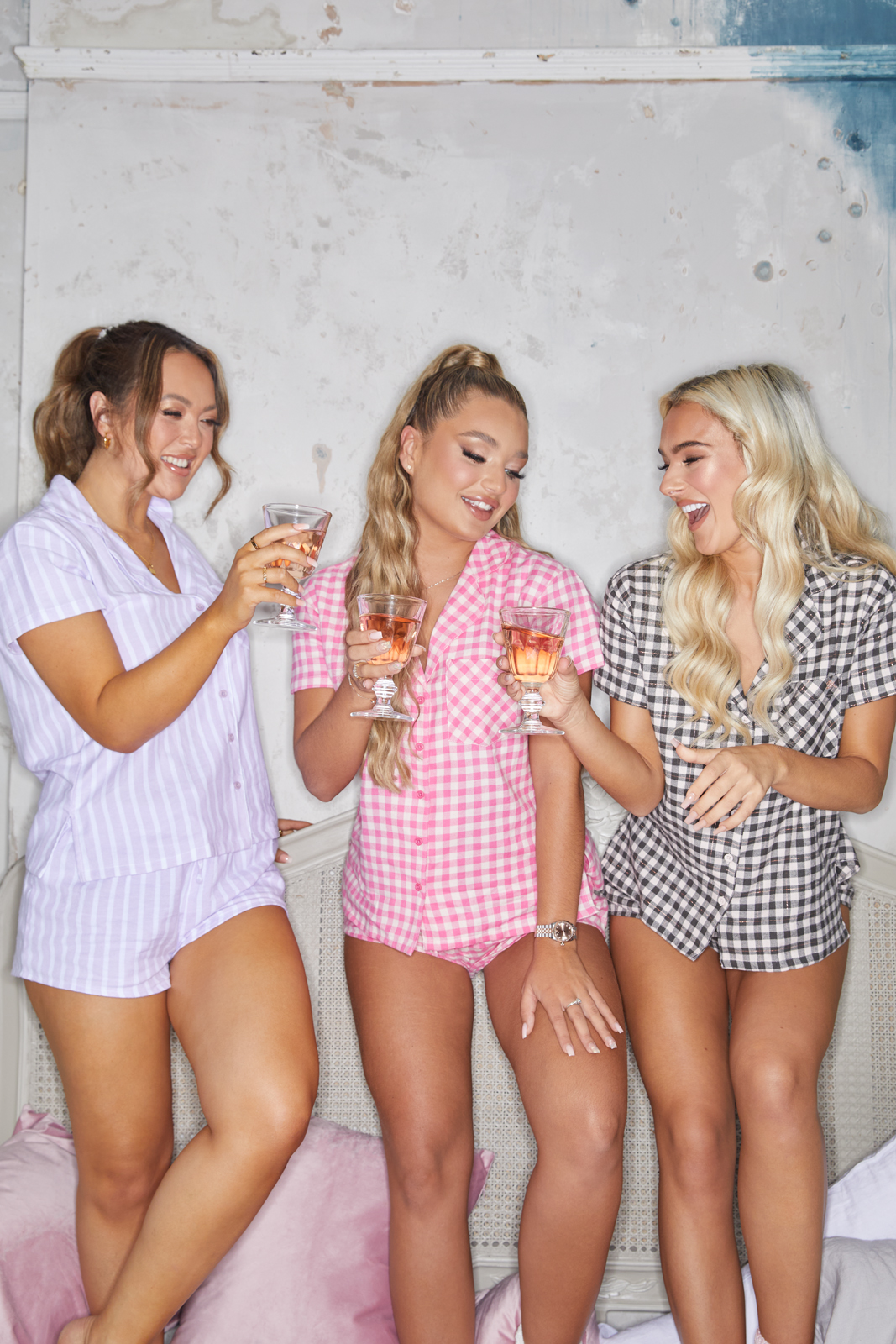 So if you're looking for a fun girls' night activity, you can't go wrong with trying your hand at making your fave cocktail or mocktail.
NETFLIX MARATHON
Let's be honest, when you're having a girls' night in, it goes without saying that a Netflix marathon will be taking place. Whether you watch your fave rom com that you've all seen a hundred times, or find a new series to binge in one go, it's the perf activity for any sleepover.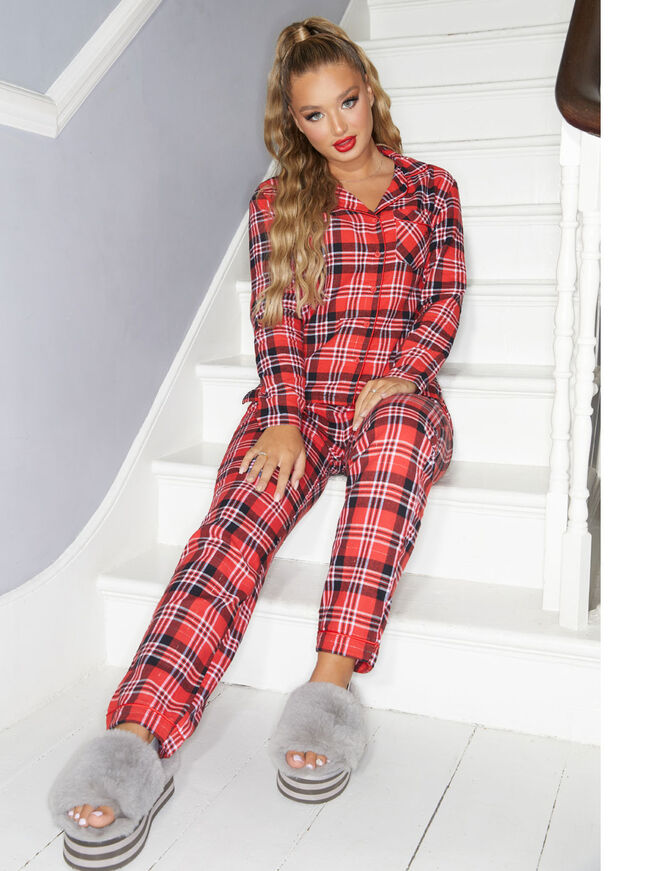 Our girl Lucinda has got the Netflix marathon look nailed. Slaying in our beaut Red and black check pyjamas in a bag and super cute Platform slider slippers, all she's missing is some popcorn.
MAKE YOUR OWN PIZZAS
If you're not feeling a takeaway, then making your own pizzas is the perf girls' night in activity.
Simply buy some pizza bases, cheese (don't forget vegan cheese for your plant-based mate!), tomato sauce and alllll the toppings and make a homemade pizza to your exact tastes. Not only will you have SO much fun making them, but you can all share your creations after. It's a win-win!
So, whether you binge-watch a new series, get creative in the kitchen, or simply spend the night sipping cocktails in matching pyjamas, you're sure to have the best night in with your girls. Tag us in your looks on Insta using #MyBoux.