HOW TO BUY YOUR GIRLFRIEND LINGERIE THIS CHRISTMAS
Thinking of what to get that special gal in your life for Christmas? Feeling a bit overwhelmed at how to pick the perf lingerie set for her? Don't worry, Boux is here for you!
Our handy guide will help you pick the perfect lingerie gift this Christmas that you will both seriously enjoy!!
If you are wondering if it is weird to buy your girlfriend underwear, then maybe you shouldn't…Don't be buying lingerie as a Christmas present for someone you've just started dating! If you are confident that some gorj sexy lingerie will go down a treat though, then don't hold back!
Our experts are here to teach you how to buy lingerie for your girlfriend / wife / partner this Christmas that they will look and feel fabulous in!
GIFTING LINGERIE: HOW TO GET THE RIGHT SIZE
If you want your sexy lingerie to be a hit on Christmas morning, then you NEED to get the sizing right!
Buy too small and you'll both be disappointed that you can't enjoy the lingerie present. Too big and you may unintentionally offend with your present! So listen closely to our tips to ensure a merry Christmas morning (and evening…)!
If you are looking for the perfect Christmas present for your girlfriend, then there's a few things you need to subtly find out before heading to the checkout this Christmas!
No matter how well you think you know your girlfriend's body, do not even think about guesstimating her bra size!!
According to our bra fit quiz tool data, only 19% of women are wearing their correct bra size! That means a whopping 81% of women are wearing the wrong bra size!!
If even she isn't great at knowing her own bra size, then you really shouldn't be guessing either! To ensure you buy her lingerie that fits perfectly and makes her feel fabulous and sexy, then you may need to do some subtle label checking!!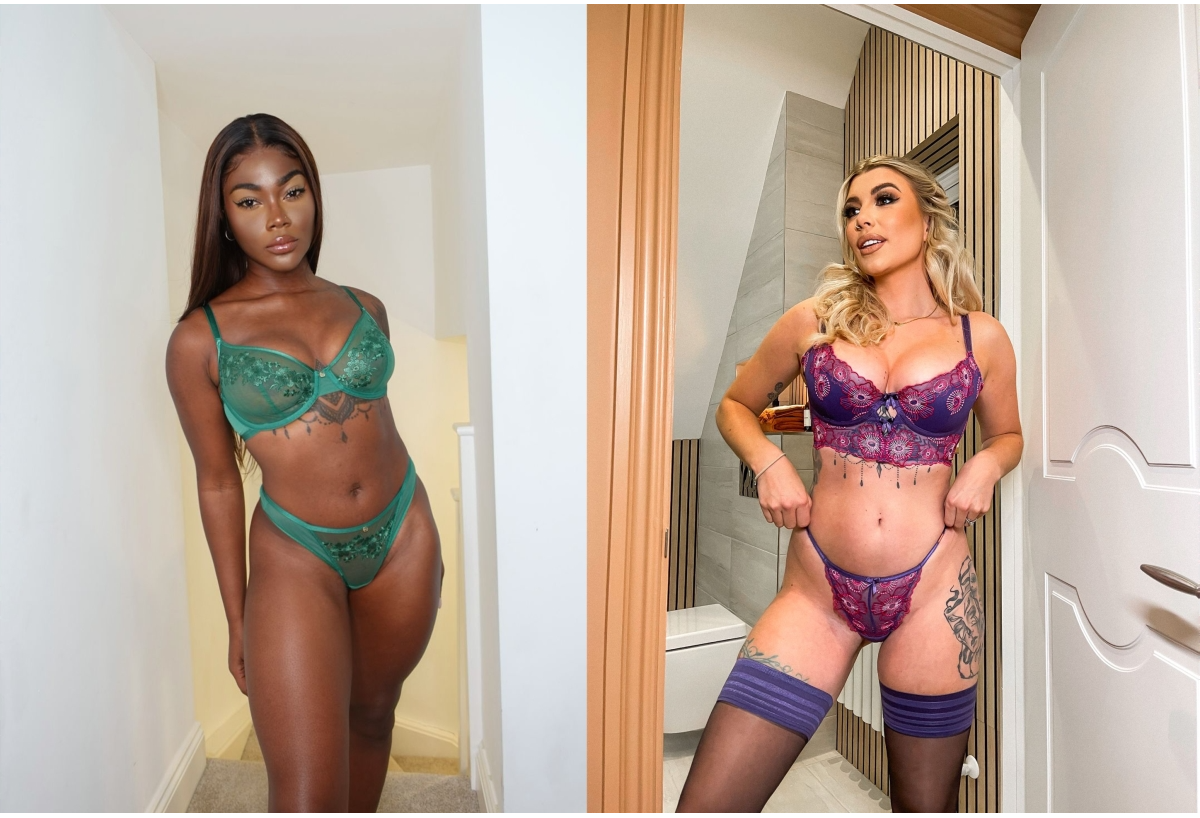 To get the right fit, try and find one of her fave bras and check the label!! You are going to be looking for something like 34DD or 32B – it's important to make sure you get both the number and letter part as together they make up the size!
If you really want to ensure you buy the most perfectly fitting bra, then you should check the size of one her bras that is a similar style to the one you have your eye on! If you are unsure on which bra style you are after, keep on reading for more top tips.
Now you know exactly which bra size you are going to be gifting, it is time to find out the right size for the matching knickers, thongs or even stockings and suspenders!
To find the correct fit for other elements of the matching lingerie set, then you need to know her dress size! You will be able to find this in the label of most of her clothing and will be something like 8 or 12! Just a number this time, no letter needed! It is best to check the sizing of something like jeans or a skirt!
If you want to be completely accurate with getting the perfect fit for the knickers right, you could check the label of a pair too! Though knicker size is normally the same as general dress size.
So now you know how to choose the right fits for your lingerie gifts, it's time to decide on the style…
GIFTING LINGERIE: HOW TO CHOOSE THE PERF STYLE
The important thing to remember when choosing the perfect lingerie pieces for Christmas is what does SHE like - not just what you'd like to see her in!!
If you choose a style you know she'll feel fabulous in and enjoy wearing, then you will have succeeded at buying her the best Xmas present!
Explore our bra style guide for everything you need to know about different bra styles!
If she has got DD+ size boobs or above, a balconette bra will be a great choice, these are so flattering for larger boobs! We have got so many perfect balconette sets that will make v sexy Christmas presents…
The Saffie balconette lingerie set is extra special and extra sexy, the perfect lingerie gift!! If she likes lingerie with a lot of straps, then this is the dream! Choose from either red or black, two classically sexy colours, and the option of some cheeky bumless briefs or a tanga thong, there is nothing not to love about Saffie!! You will both be very merry and happy with this set!
Another perf style for larger boobs is a Plunge bra! Although plunge bras are so sexy and flattering for any body shape and size!!
Now, a style we know everyone is going to want under their tree this Xmas is the super sexy Adelia plunge set!! Look how sexy all our girls look in this set!! Available in red or green, this set complete with a matching suspender set and stockings, is a definite winner for a lingerie gift!!
If you know your girl loves an unpadded bra style, then we have some gorj sets to choose from!
The Rafaella plunge lingerie set comes in green like gorj girl Altou wears, or a beaut magenta shade too! The sheer material and delicate lace applique makes this a v sexy set.
However, if your special person actually feels sexier in a lingerie bodysuit, then scrap the matching set and go for a gorj lacey bodysuit instead!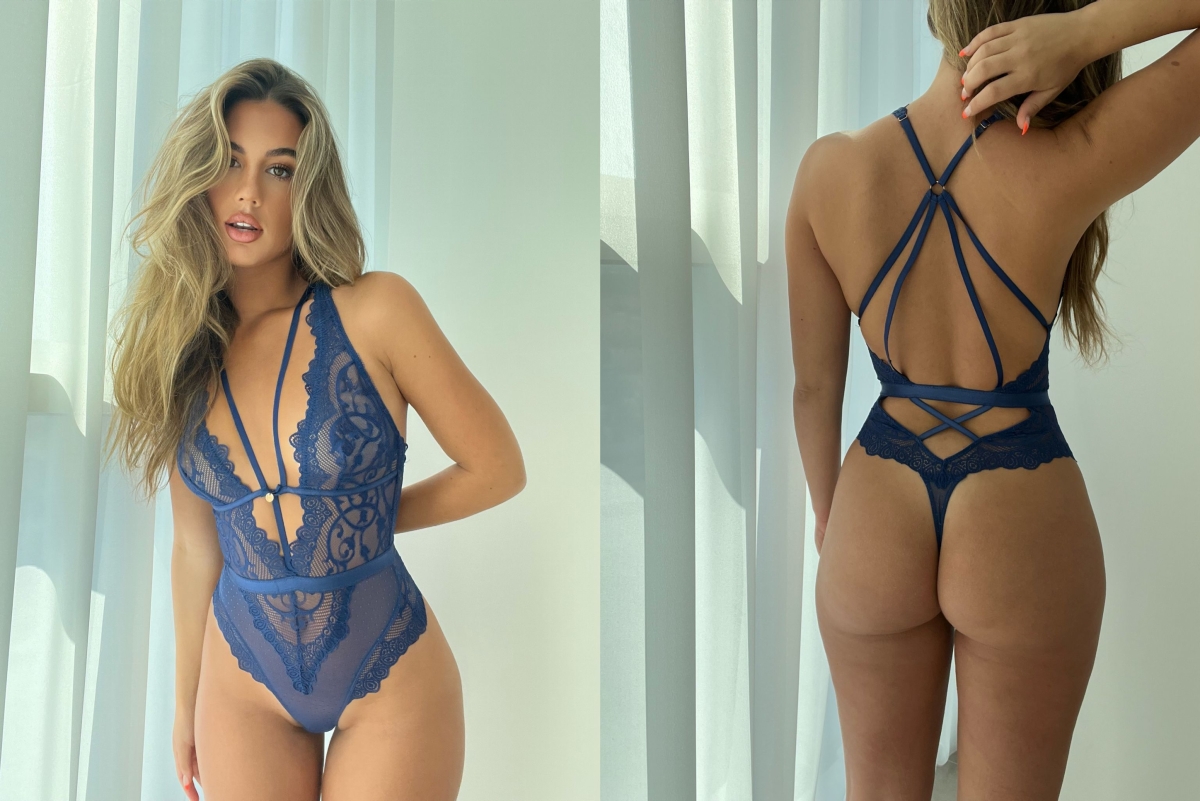 The new in Alisa unpadded bodysuit is lacey and strappy, what more could you want in a bodysuit?! This piece is so flattering and will have your girl feeling fabulous and sexy for sure!!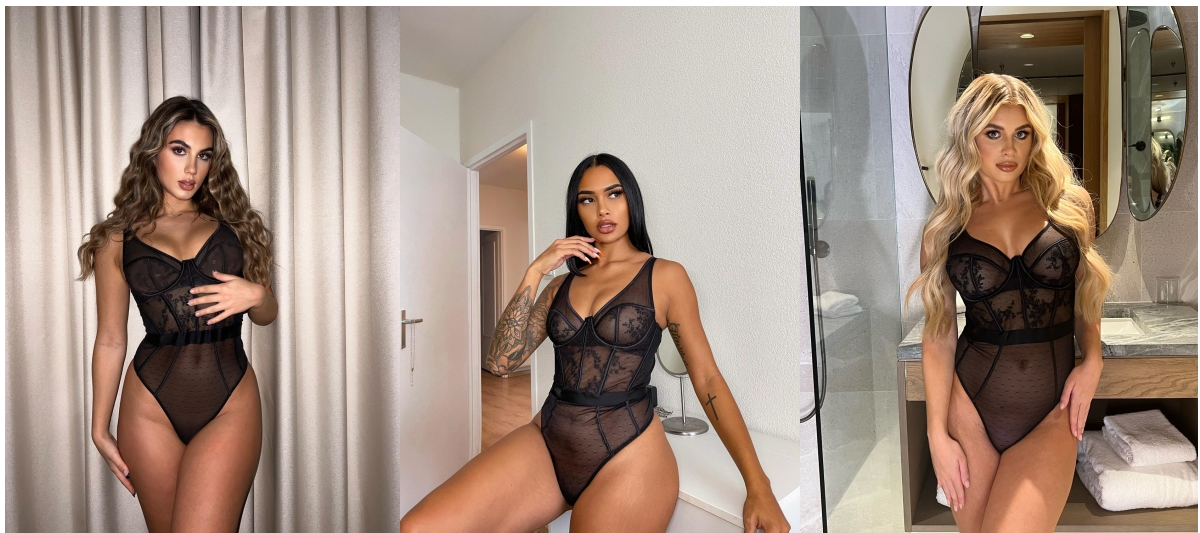 Another bodysuit which will make a star Christmas present is the very sexy Neomi plunge bodysuit! The structured cups means it still gives support, whilst being so comfy and sexy!! Black is always flattering, so you can't go wrong with this as a present!!
So now you know how to get the sizing right, how to make sure you buy a style she will love and have seen some of our top lingerie gift reccs… it is time for you to get shopping!!
You are going to be spoilt for choice for gorj pieces to gift your bae from our sexy lingerie options! Why not get her more than one set?! We know she deserves it…So go get your gal some gorj sexy lingerie this Xmas!!!