BOUX'S BLACK FRIDAY MUST HAVES
Starting now you can shop our best ever Black Friday deals, actual Black Friday may not land until the 24th November but you can already save up to 30% off selected lines! This year's Black Friday event is the ultimate opportunity to jumpstart your Christmas shopping or to pick up some seasonal bargains for yourself. Make it a Black Friday lingerie deal, get cosy in some Black Friday pyjamas or upgrade your night-in with Black Friday dressing gown savings.
Here's some of our top picks of Boux' must-have Black Friday steals...
OUR TOP BLACK FRIDAY LINGERIE PICKS
If matching sets and sexy lingerie feel like the spoils of the most indulgent shopping sprees, then sidestep guilt with our seriously dishy Black Friday delights. And you can even get free knickers with the matching bra now, so you don't have to wait till Black Friday for all the deals.
Perhaps the darkest-meets-sexiest pick of our Black Friday hits is the Bouxtique Vivian body. A vixen within our most premium range, her softness (padded bust, floral lace) is equal to her assertiveness (wide strappy styling, mesh). Pair with the Amelia satin short robe in black or emerald to complement her soft touch.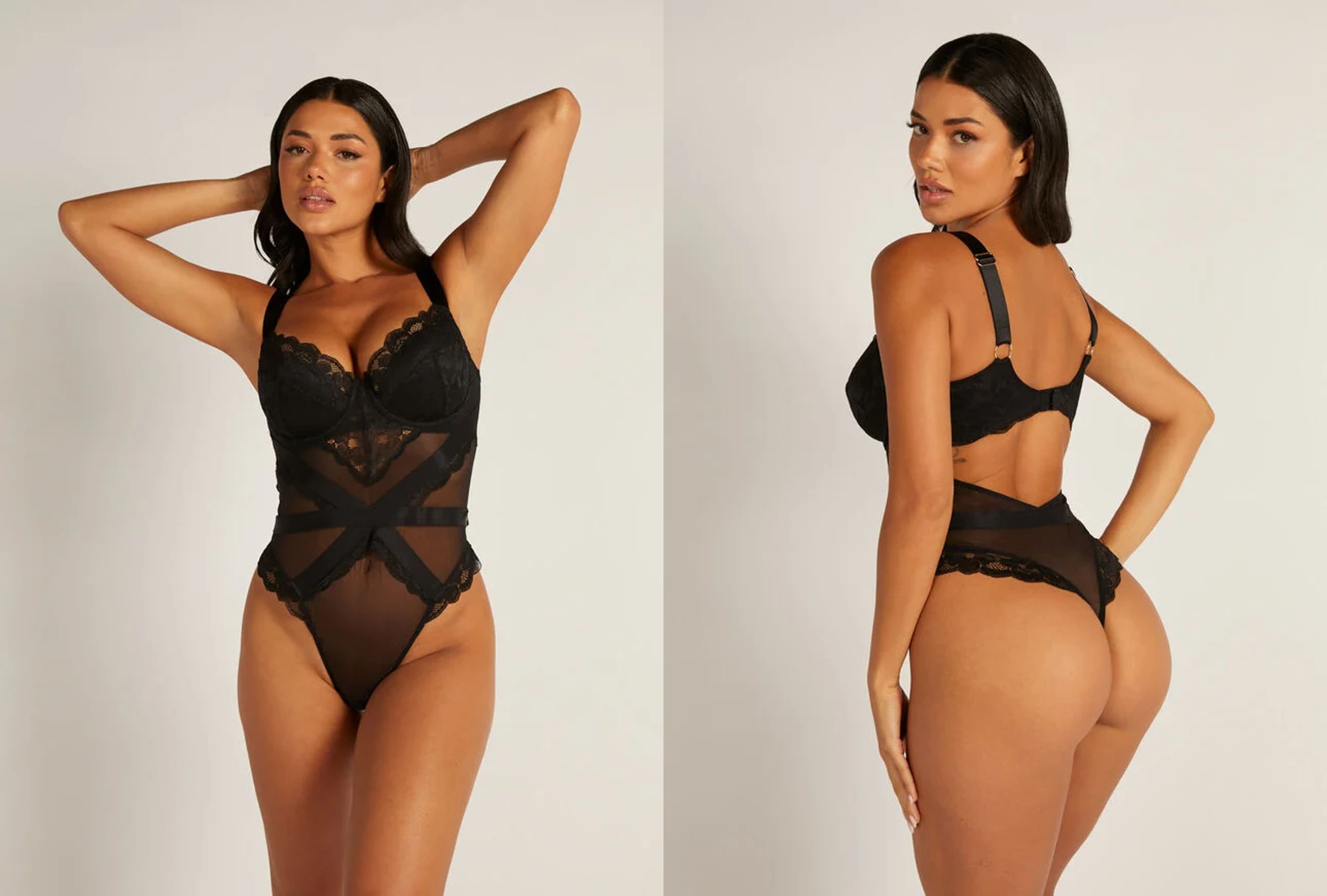 Another one-piece that means business this Black Friday, the Bouxtique Dalia body with the cut-out bra, high-leg fit and wide strap silhouette. A case of the seasonal blues? This is the kind we welcome!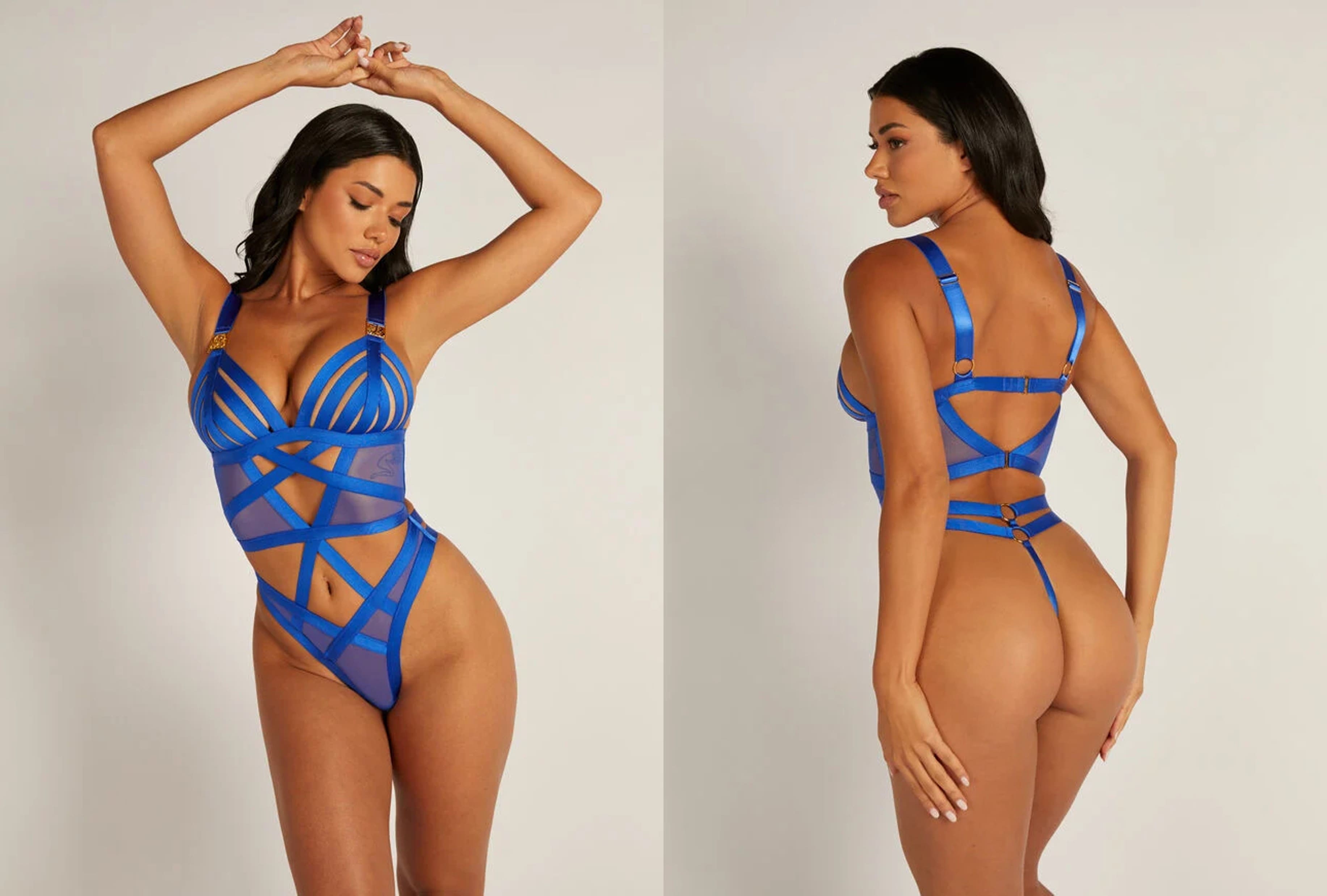 If getting ready for Christmas is your priority, then let the Heidi plunge bra accompany you through the festive season. Beautifully feminine with floral lace, scallop edging, satin bows and matching Heidi briefs or Heidi tanga thong, it's a fierce yet versatile pick for festive nights out and sexy nights in.
If you're going full blown sexy Mrs Claus, then the Harlow longline push up bra in the season's favourite shade is a sure winner. The mid-waist finish could make this top a standalone start on nights out, but don't miss the coordinating Harlow tanga thong with its diamante and cut out detail.
Of course, red is just one shade of the Christmas colour palette. Jewel tones are back (and we're here for them!), with the Gracey balconette bra getting a seasonal update in emerald. We love this sheer bra with unlined floral lace, with a bust-accentuating 3-piece cup, plus power mesh wings for a supportive fit in sizes up to 40G.
Lace, mesh and keyhole styling make the Gracey briefs and Gracey thong the perfect co-ords when those short winter days extend a welcome invite for early evening drinks.
BLACK FRIDAY PYJAMAS FOR GIFTING AND SELF-INDULGING
If you're using Black Friday to get ahead on Christmas shopping, these are the items you need to add to your bag now. From our popular pyjamas in a bag (with a fabric and print for everyone), you'll tick plenty of boxes on your Christmas list when you start here. Plus we'll throw in some sexier picks for festive sleepovers when you want to feel your best.
And don't forget all our PJs in a bag are buy one get one half price right now - so you can upgrade your sleepwear before Balck Friday!
Among the warmer pyjama sets are the Present fleece pyjamas in a bag, Star fleece pyjamas in a bag, Robin fleece pyjamas in a bag and Pudding fleece pyjamas in a bag. We love the cosy, long styling of these sets and the soft fleece material that segues between loungewear and sleepwear.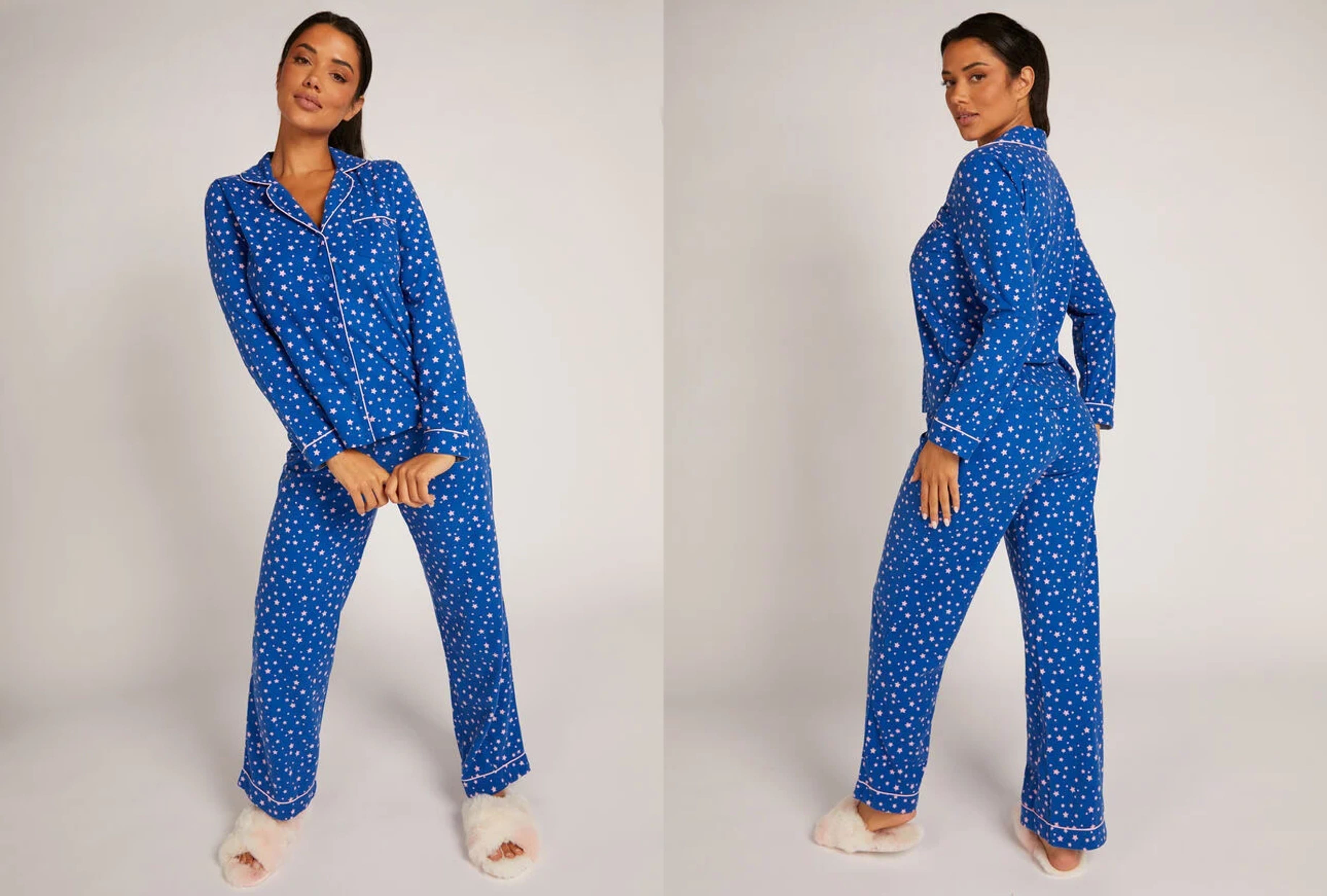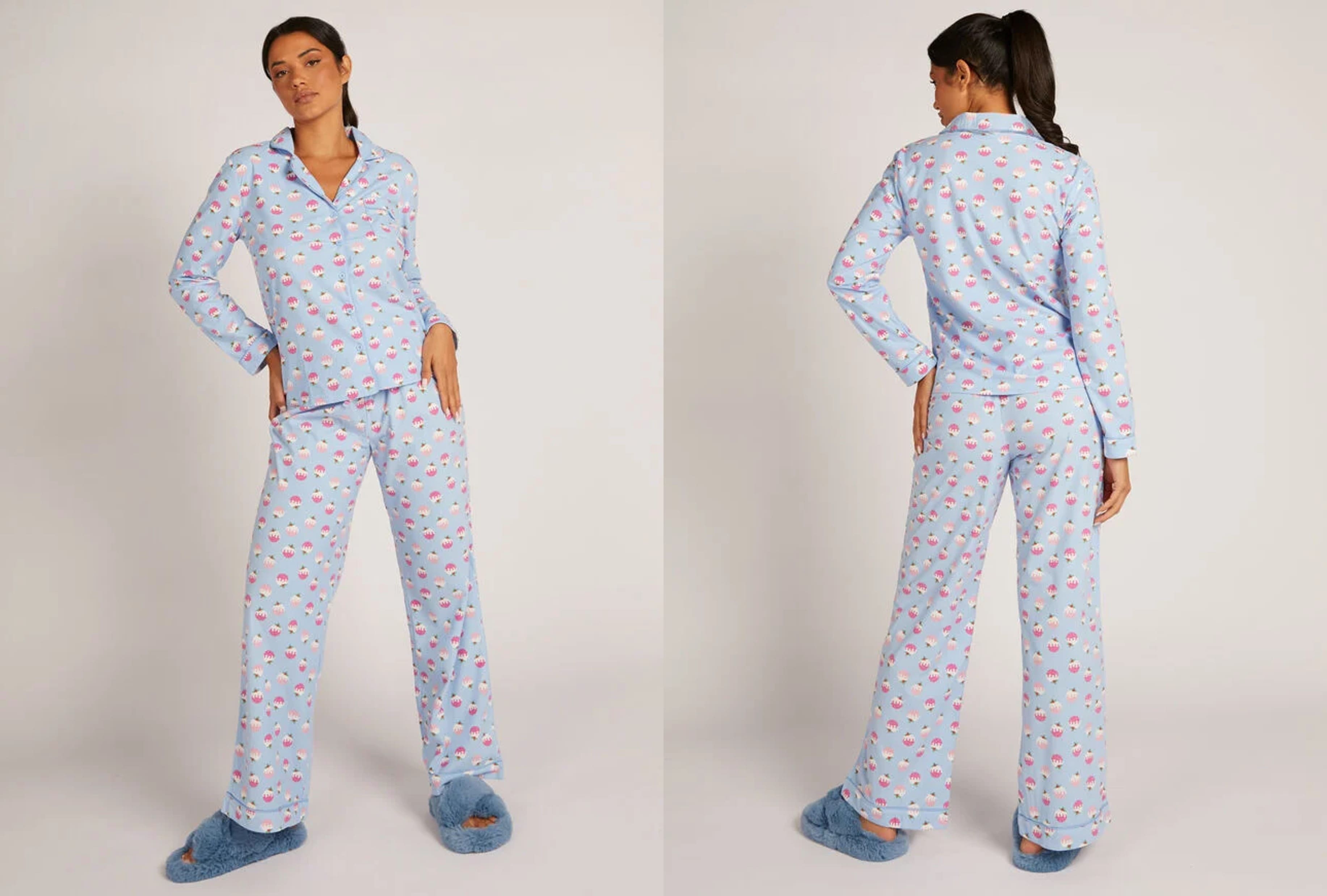 We also have t-shirt and shorts pyjama co-ords in our charming printed storage bags, including the Xmas flamingo fleece short pyjamas in a bag and Heart fleece short pyjamas in a bag. The same soft-on-skin feeling, for those who prefer bare legs under heavy winter duvets. Bliss!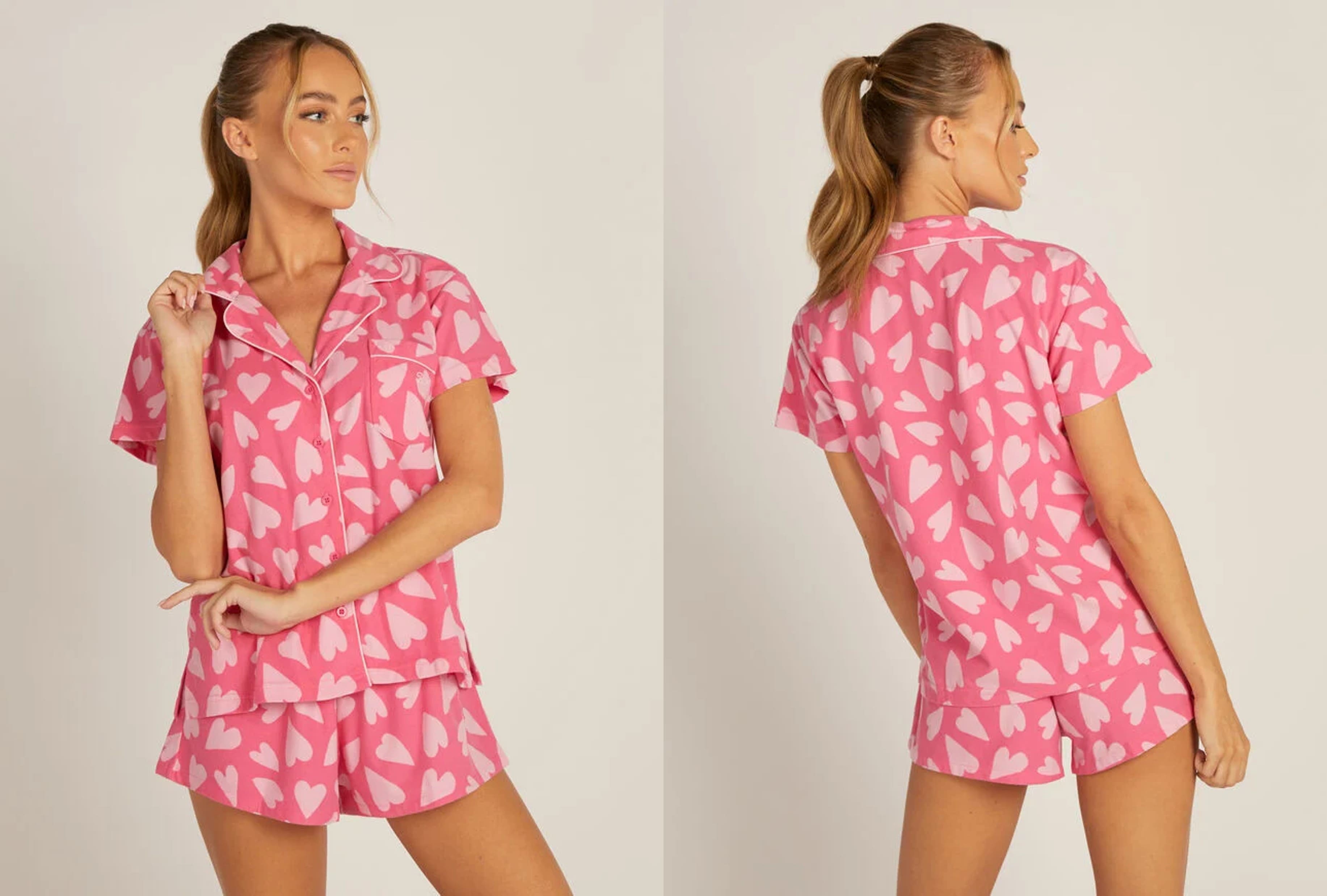 Our newly landed twosie sets also make for beautiful transitional lounge and sleepwear sets. The Foil star and moon velour twosie, for instance, could easily make an appearance as a standalone tracksuit or as cosy layers on crisp days.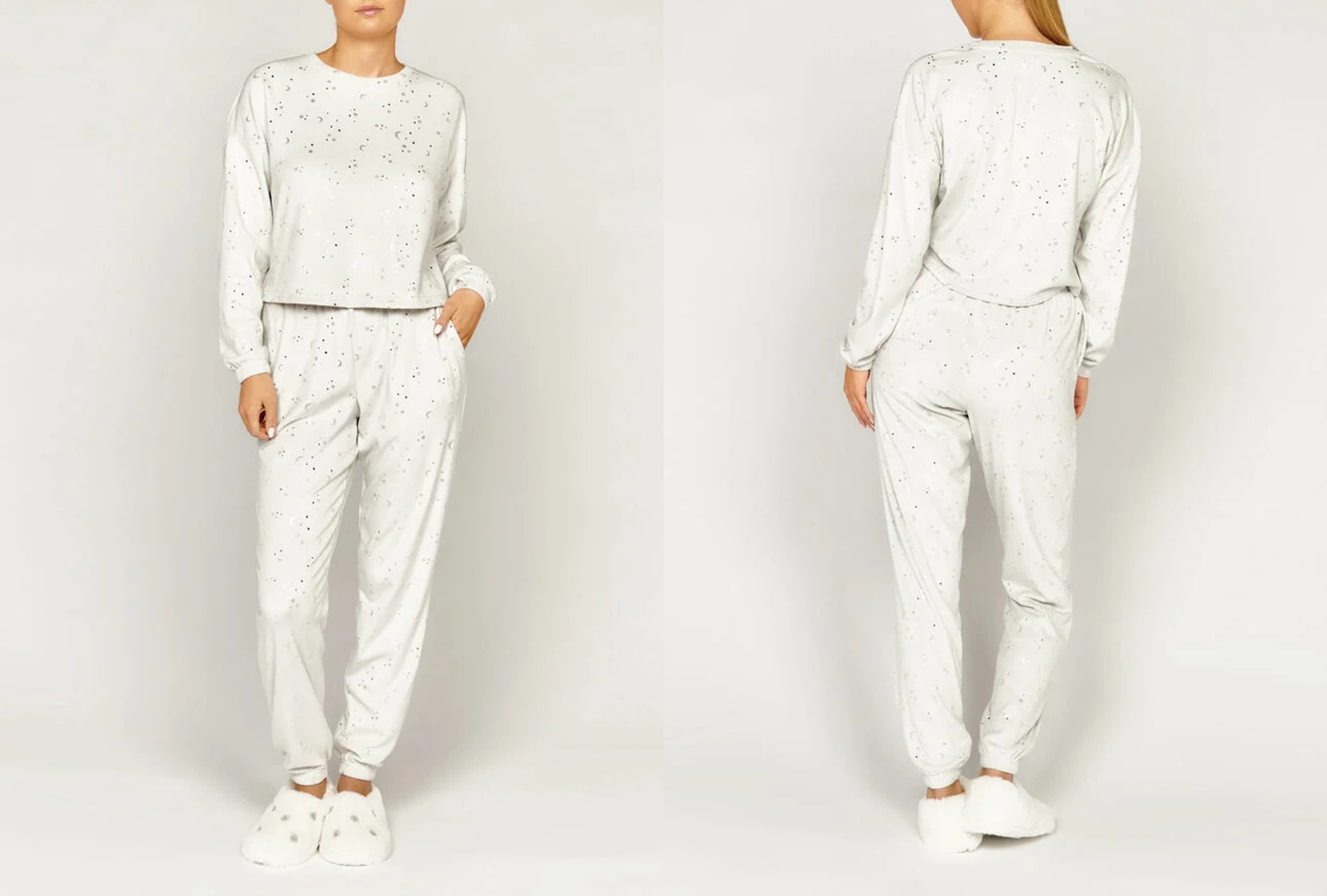 If, like us, Fairisle represents one of the first signs of the Christmas spirit, then our Fairisle wrap top and leggings pyjama set packs in plenty of spirit you'll definitely want to embrace this Black Friday. We love the versatile wrap style long sleeve top, which we definitely won't be reserving for nighttime alone.
The only thing that has even more festive spirit is the jolly jumpsuit, or Boux' take on it with our Fairisle hooded onesie. Its fitted silhouette and super soft material makes it a night-in selfie essential once the tree goes up.
For something shiny ('tis the season to sparkle), check out our Star satin pyjama set. Its subtle all-over star print elevates the satin co-ords. Wear it with a pair of premium slippers to finish the look. We recommend the Sparkle chenille knit mule slippers in grey to let the festive red really pop.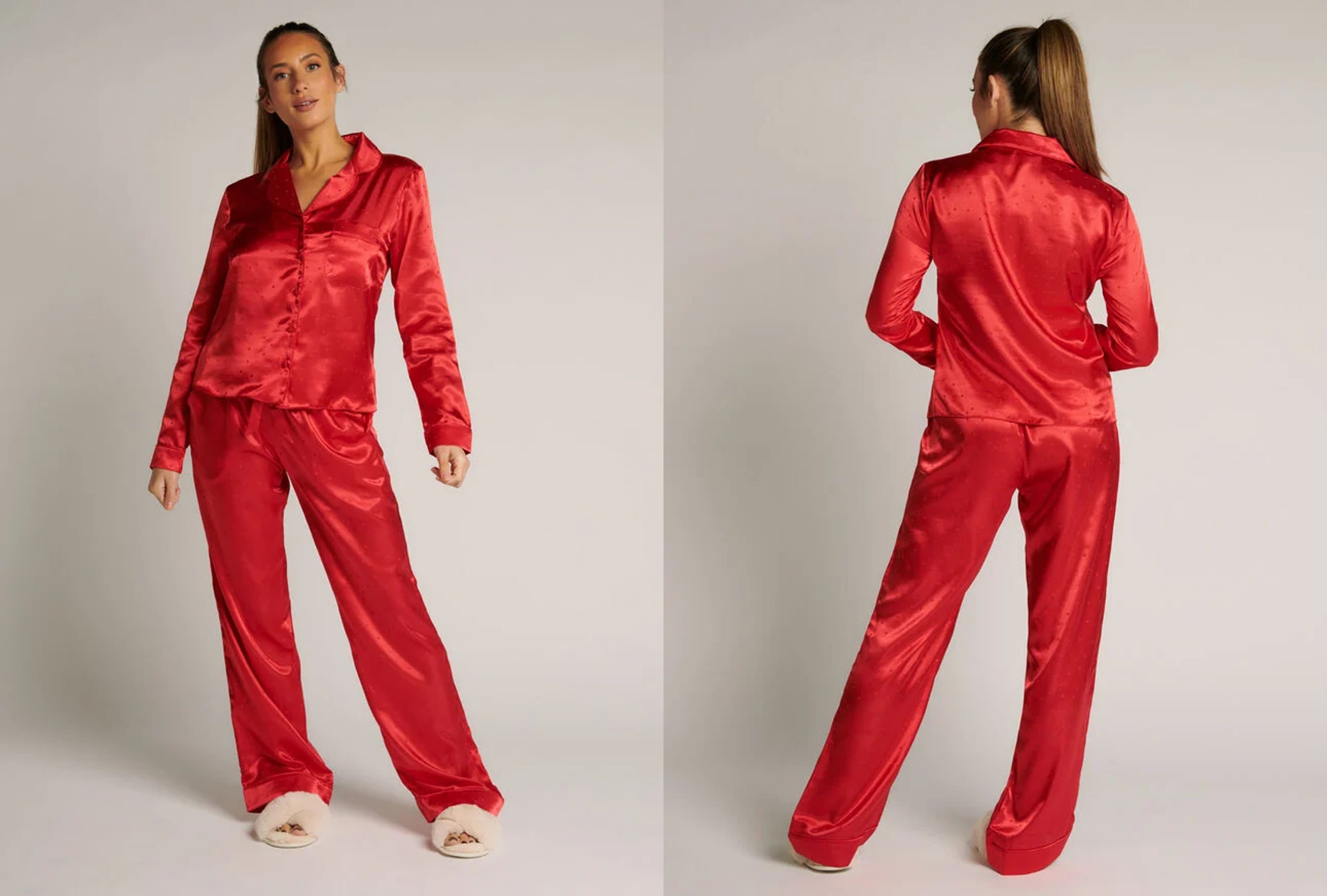 When the cosiness of a night in comes from the person you cuddle up with, rather than the item you cuddle up in, then the Diamante satin slip dress is the one. It may be too good to reserve for nights in, and we'll applaud you wherever you show off this dreamy asymmetric midi-length chemise with the diamante straps and adjustable cross back styling.
Another multitasking wonder is the Amelia satin cami set - the new emerald colour will definitely make the top a candidate for our Boux' festive nights out. The cheeky shorts with lace trim, and liquid satin feel, will give you (rightful) queen status.

BLACK FRIDAY DRESSING GOWNS TO LUST OVER
With the nights growing darker, and the days growing colder, Black Friday is the optimal time to maximise ROI on a cosy dressing gown. Here's our lust list, to add to your Netflix and chill tick list.
Forgot the snacks? Throw on a pair of leggings and pop out in our Fluffy heart oversized cosy hoodie: it's the perfect transitional hoodie / gown to save you changing 'fits during precious downtime. We also love the knee-length Fluffy oversized cosy hoodie, with a kangaroo pocket to stash said snacks. Or, for full-on parka vibes, choose our long-length Fluffy oversized cosy hoodie. It also has a front pocket for nipping out essentials, because we know this one is too comfy to reserve for indoors.
When you have no intention of going anywhere, we have every intention of maximising your joy. Remember when hygge was all the rage? The word may be out of vogue, but the feeling is bigger and better than ever with our new dressing gowns. Here's our picks from shortest to longest.
For chic sophistication we love the Fluffy stripe short dressing gown in black. It's a little Posh Spice a la 90s, which is perfect for catching up on DB and VB on Netflix. Although, Posh has broadened her colour palette over the decades, and we think she'd also be here for our dusky pink Fluffy star and moon short dressing gown.
A transitional length for transitional nights (from the sofa to bed, that is), we love the Fluffy sparkle midi dressing gown, with its chunky plush fabric and festive sparkly finish.
Another stripy style with a unique chevron cut fur, the Fluffy chevron long dressing gown in mocha (the newest shade of neutral) is divine. This fluffy hooded dressing gown give us serious North Pole nostalgia.
For a long robe that will definitely accompany you well beyond your nights in, our super versatile Maya ribbed robe is the perfect cold weather cardi for just about everything.
Finally (and this is definitely a case of saving the best for last), the just-landed Bouxtique eyelash lace robe in siren red straddles the line between lingerie and dressing robe; consider this one a gift to both you and your partner.

BLACK FRIDAY LOUNGEWEAR MUST HAVES
This season Boux is all about loungewear that demands to be seen. Loungewear underwear like the Chevron ribbed seamless bralette and Chevron ribbed seamless thong are a great place to start, with the bralette doubling as a bold standalone top under your winter layers.
As well as the red version, we have the Sparkle ribbed seamless bralette, which is both soft and sparkly, and features removable padding (every layer between you and the cold counts!). We're all about co-ords, so don't miss the Sparkle ribbed seamless thong, too.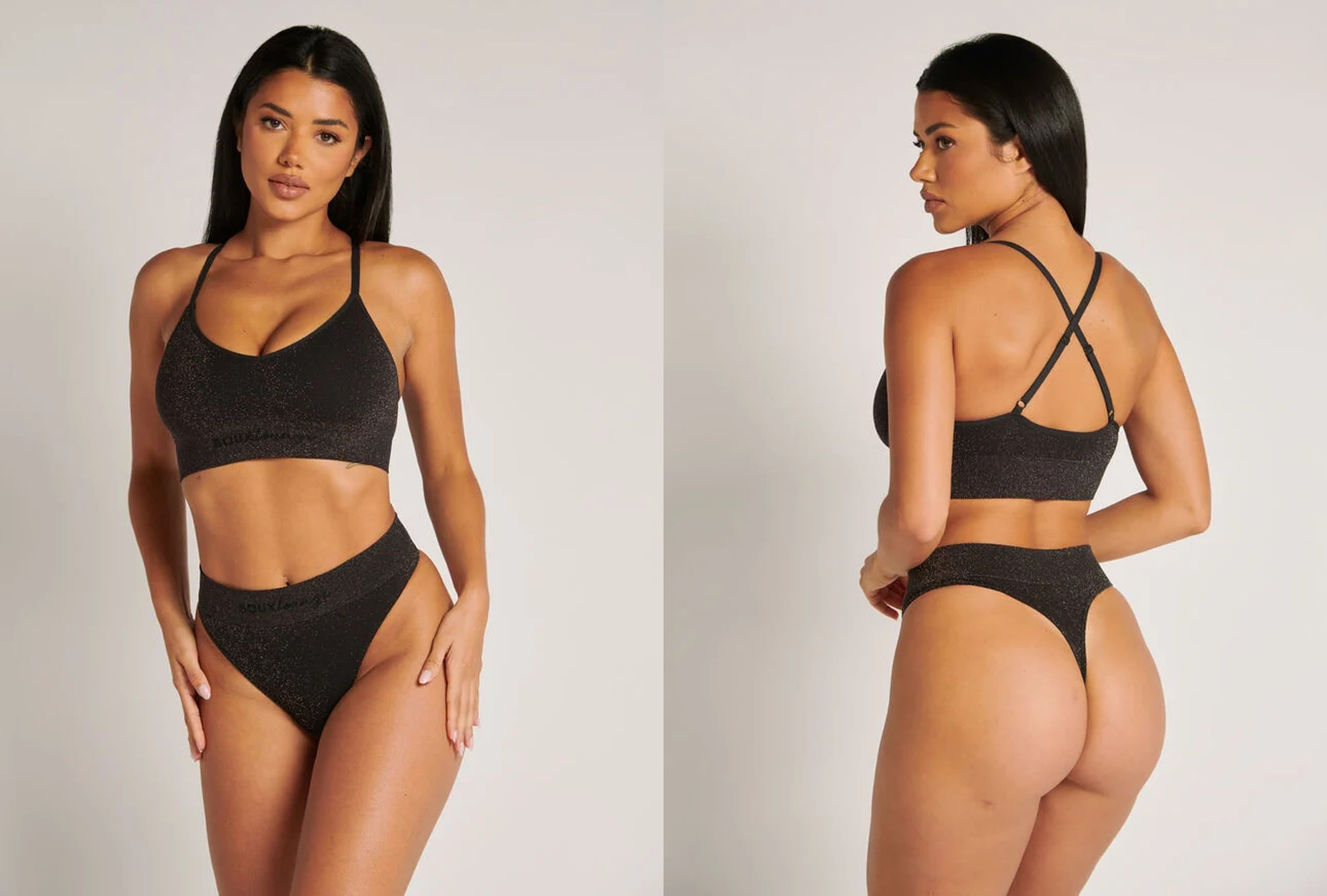 Another silhouetted favourite, our Contour seamless jumpsuit in soft-stretch knit fabric is a one-piece wonder for the winter months. Wear it solo, and showcase the Marvel-esque contouring lines (female superheroes unite), or as a base layer under your favourite loungewear and outerwear.
This Black Friday, upgrade your loungewear collection with coordinating sets like the all-white Fluffy NYC Short Pyjama set, cream Quilted swear cropped hoodie and Quilted sweat shorts, or sporty Frosted borg short pyjama set with the contrast stripe hem and cuffs.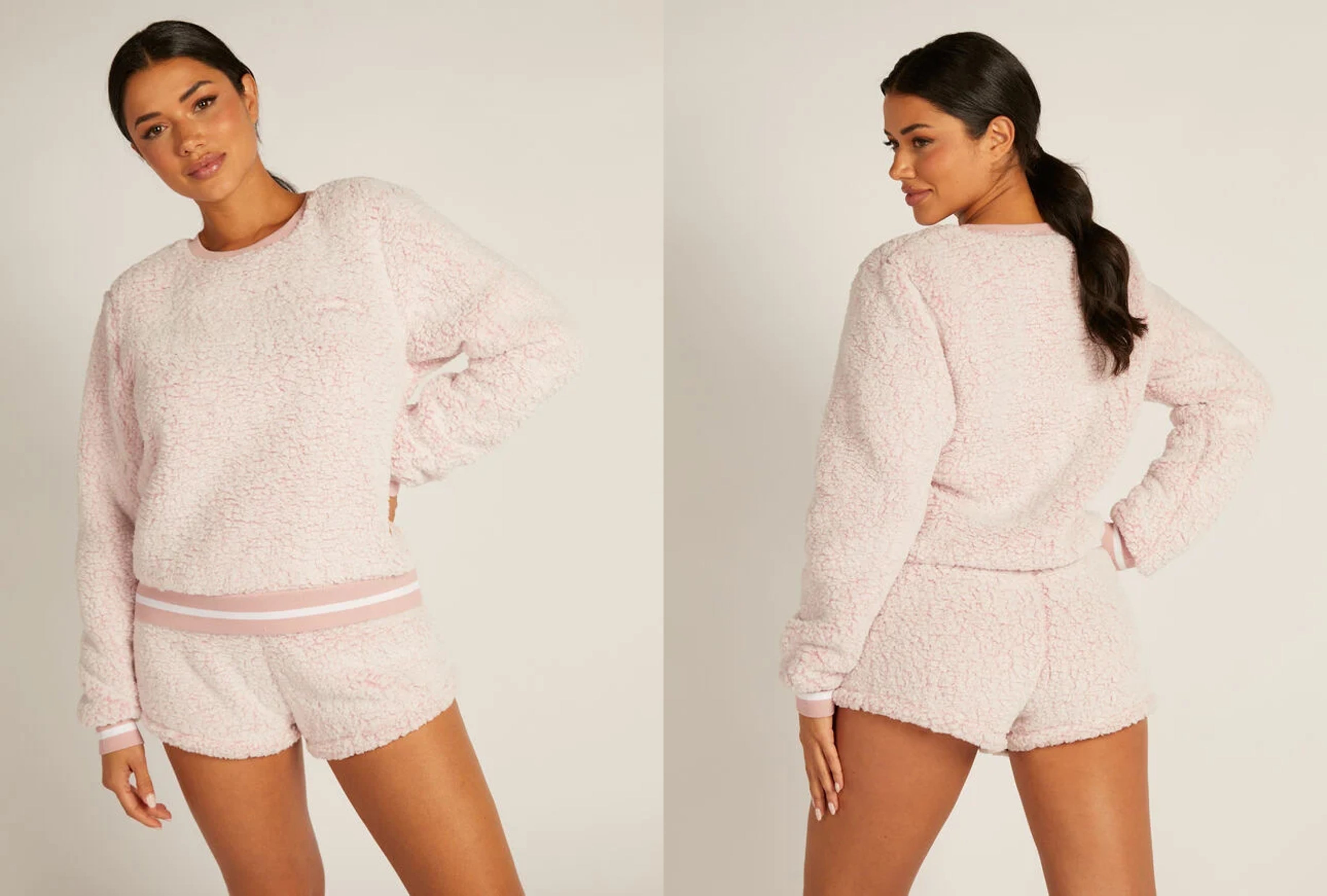 For long-length co-ords, our Boux Lounge oversized hoodie and matching Boux Lounge oversized sweat joggers are long-standing customer favourites for good reason.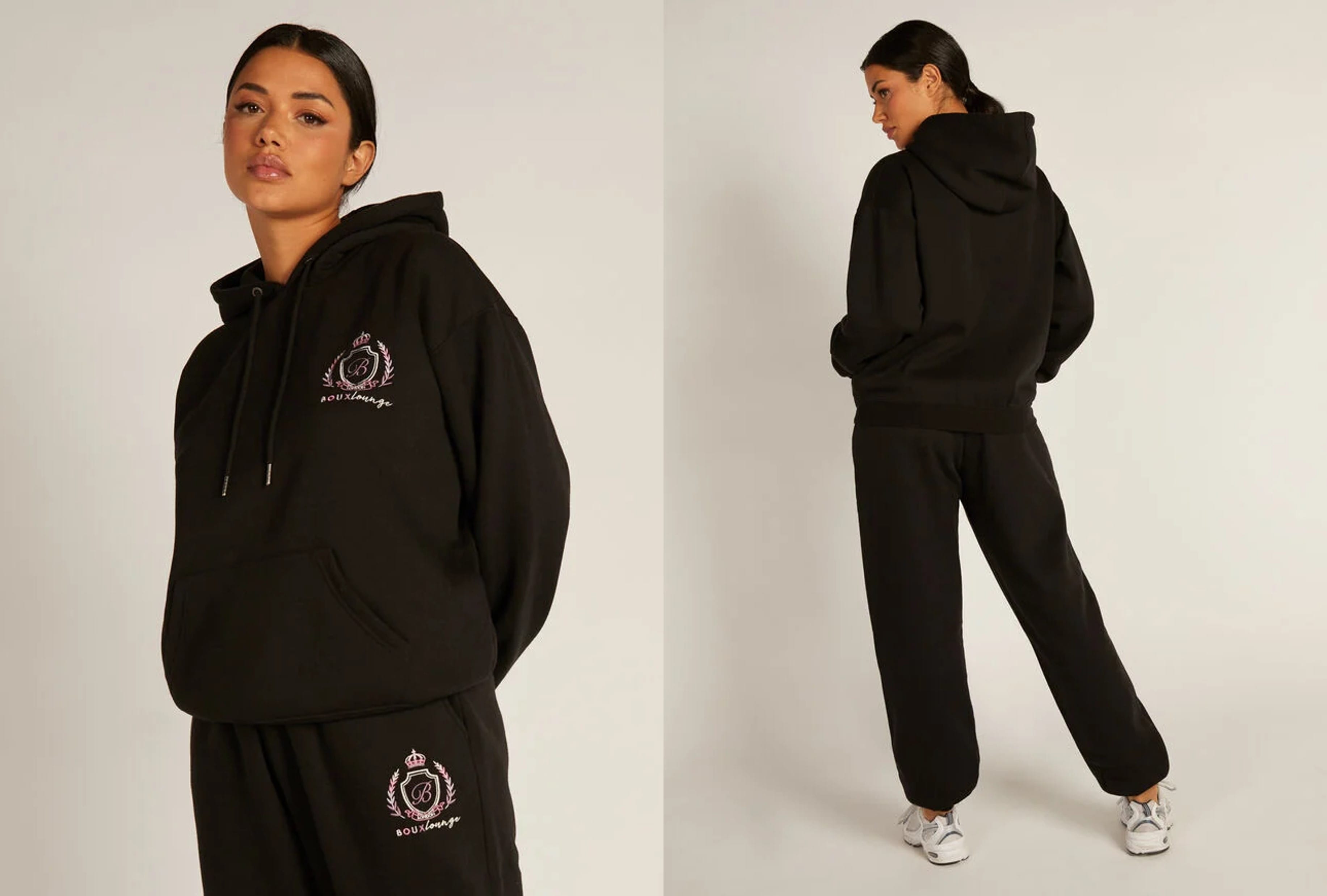 We also love the lighter and more stylised Maya ribbed top and Maya ribbed joggers in pastel shades with a cropped hem, soft ribbed fabric and deep side pockets. Pair it with the Maya ribbed bralette for the ultimate co-ords and gym-to-breakfast transitions.

SOCKS AND SLIPPERS NOT TO FORGET ON BLACK FRIDAY
Small additions that add big value, don't miss these cold weather socks and slippers in your sprint to the checkout this Black Friday
From upgraded basics like the 2 pack glitter star cosy socks, Reindeer cosy socks and 2 pack pudding cosy socks, make sure your sock drawer is primed for festive season styling.
As it's also the perfect time to stock up on Christmas gifts, get your fill of our popular socks in a bag. Some of this year's favourites (soon to be sitting under your friends' and family's Christmas trees) are the Xmas flamingo socks in a bag, Pudding socks in a bag and Robin socks in a bag. Their cute self-printed storage bags need no wrapping, so they're no-stress, crowd-pleasing Secret Santa favourites, too.
In the slipper department (we all need at least one pair of new slippers to slide into this Christmas), the Sparkle chenille knit mule slippers and Fluffy boot slippers represent two different styles with a shared pink colour palette. We have more modern shapes with strong pink game, too, like the Platform mule slippers and Borg heart mule slippers.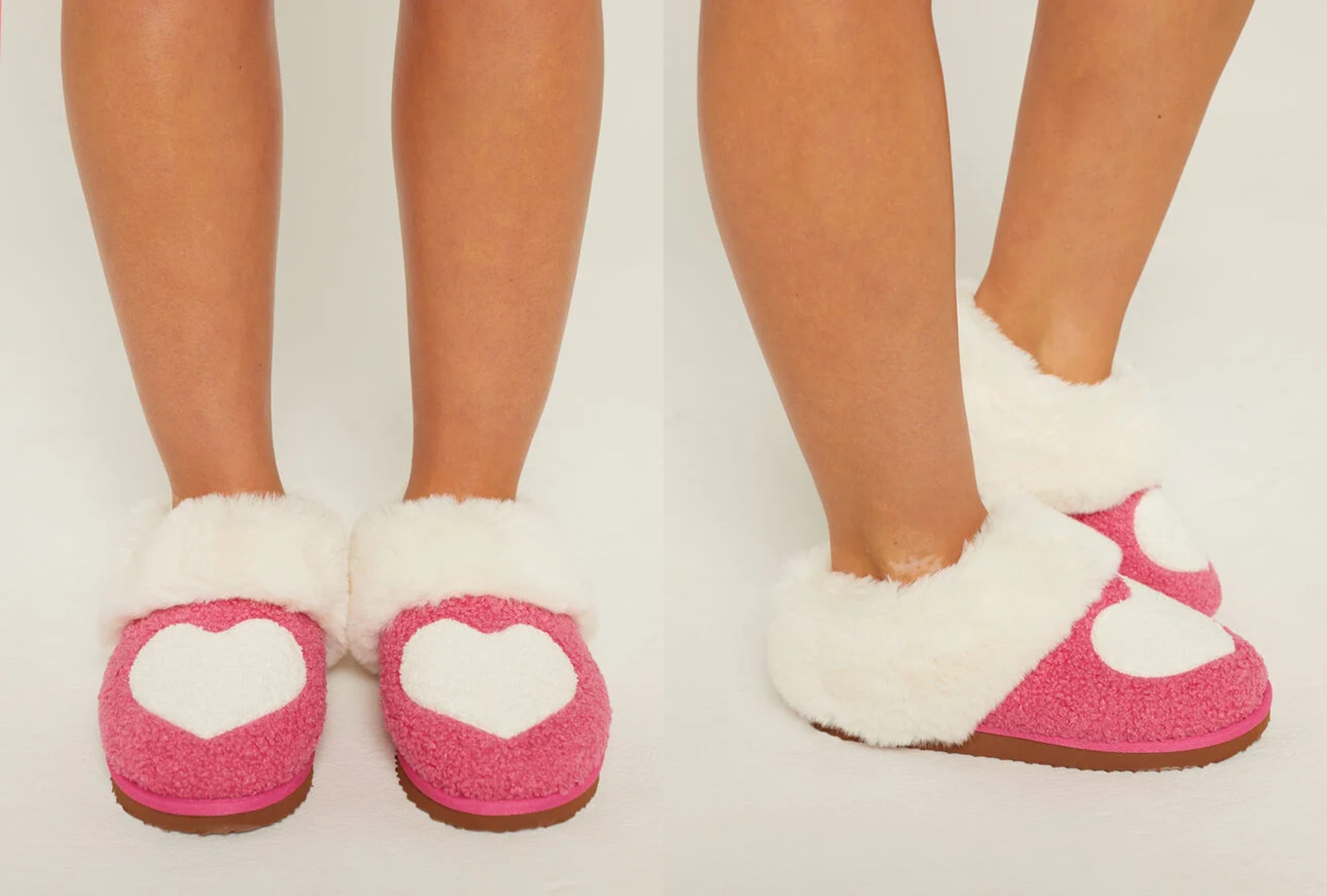 Don't forget, there's no time like Christmas for a novelty slipper. Our Reindeer mule slippers and Koala mule slippers are here for the season's selfies.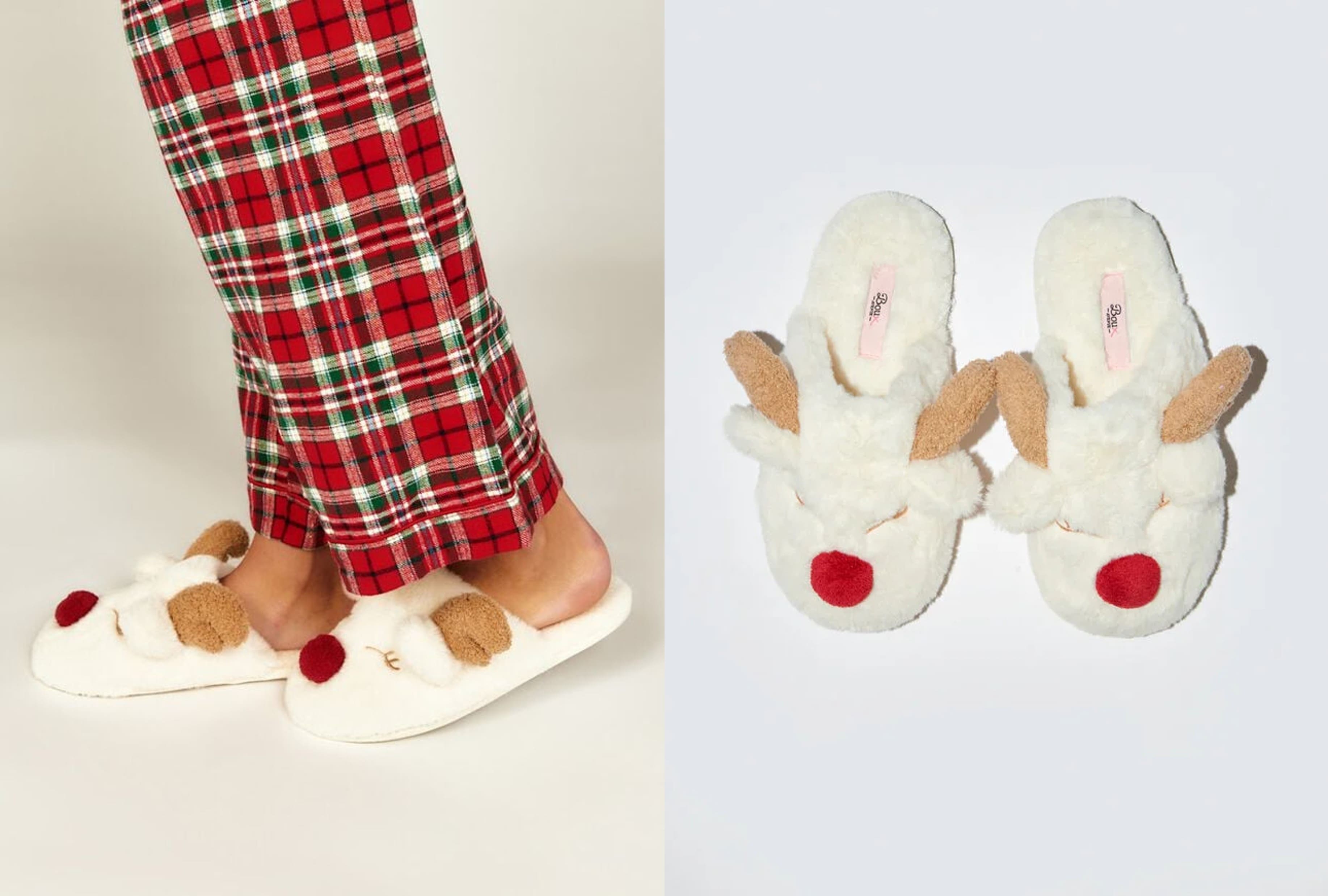 Don't delay, haul your wish list with up to 30% off now, Black Friday savings have never looked so good! Share your best Boux purchases with us over on Insta using #myboux !