WHAT IS NIGHTWEAR? EVERYTHING YOU NEED TO KNOW
Nightwear, sleepwear, whatever you call it - we all love it. From pyjamas to teddies, nightwear comes in so many styles, materials and colours. To put it simply, it is essentially the types of clothes worn at night to sleep in, though you may find yourself wearing nightwear as loungewear whilst chilling at home!
Traditionally, nightwear includes, pyjamas, nighties, chemises and fluffy dressing gowns!
Whether you strictly wear your PJ sets for sleeping in, have a fave dressing gown you would happily live in, or opt for satin nightwear when you wanna feel sexy - you can simply never have enough nightwear pieces.
But with so many styles comes many questions! So, continue reading to discover answers to all your burning nightwear questions, covering everything from glam nightwear to cosy pyjamas.
POINTS ON PYJAMAS
Now, when it comes to sleepwear, who isn't thinking of a pair of pyjamas? From the classic long styles, to cute short pyjamas - they serve us well all year round. Find the answers to some of the most frequently Googled questions about pyjamas here…
ARE YOU MEANT TO WEAR UNDERWEAR UNDER PYJAMAS?
There really is no right or wrong way to wear pyjamas. If you feel more comfy wearing knickers under PJ bottoms, then wear them and if you don't, then don't!
When sleeping, it is best to wear a breathable material down there, so if you're wearing knickers with your pyjamas, then go for a cotton pair like the Nell high leg boxer brief.
If you like to go knicker-free in your PJs, then we have some super cute casual cotton nightwear styles that are perfect!
The dreamer tee and shorts set is one of our many short pyjama sets made from cotton. If you prefer pink, then try out the This girl loves sleep tee and shorts set. Who doesn't love a cute slogan pyjama set?!
IS LOUNGEWEAR THE SAME AS PYJAMAS?
Loungewear and pyjamas used to be thought of in the same 'can't leave the house in these' way. But countless lockdowns have well and truly changed up loungewear.
Although you could probably sleep in your fave lounge set as they are that comfy, you will surely want to be out and about in loungewear when it looks so good.
Pyjamas, on the other hand, are probably best kept to the confines of your home – even when they do look as fabulous as our Pink stripe satin revere pyjama set.
WHAT IS THE BEST MATERIAL FOR PYJAMAS? DO PYJAMAS KEEP YOU COOL?
We have a huge choice of pyjamas in a range of different styles and materials, from ones that will keep you cool in summer, to cosy ones for those colder months.
The best materials for pyjamas are either cotton and jersey or a luxe satin pyjama style. Both are comfy, look great and are breathable for a dreamy night's sleep!
DRESSING GOWN DEETS
We have so, SO much love for our dressing gowns. Even in summer, we still can't get enough of our favourite fluffy dressing gowns - they simply are the best.
Now, whether you have multiple dressing gowns, from fluffy ones to satin robes, or just have one old faithful - we are sure some of these questions have crossed your mind before…
WHAT IS A DRESSING GOWN?
Everyone may have their own definition of a dressing gown, but we see them as a hug you can wear - basically a portable blanket.
But, technically speaking, dressing gowns are a piece of nightwear you can layer over your chosen nightwear style.
They are perfect for wearing when you get up in the morning, when you're lounging around the house on lazy weekends, when you get out the bath and, of course, whilst working from home.
Put simply, a dressing gown is a comfy, loose robe type item of clothing worn around the house.
WHY DO DRESSING GOWNS HAVE HOODS?
Whilst not all dressing gowns have hoods, hooded dressing gowns are a firm fave.
If you wear your dressing gown after showering, the hood can work to absorb the moisture from your wet hair.
Another reason some dressing gowns have hoods is just straight up comfort. We can't deny the need to sit with our dressing gown hood up sometimes, it just makes us feel extra cosy.
HOUSECOAT OR DRESSING GOWN?
Now, this really is a long-time debate, but it comes down to which region you're from - just like the constant debate over what you call a bread roll, bap or barm!
But it's not just housecoats and dressing gowns - there are even more names used too!! When they are more sexy than cosy, they tend to be called robes or satin kimonos!
Our fave glam robe is the Marnie satin and lace robe - the perfect summer dressing gown!
ANSWERS TO THE REST OF YOUR NIGHTWEAR QS...
Nightwear isn't just all dressing gowns and pyjamas, though! There are plenty of sexy nightwear styles that are part of our collections too, and with these glam nightwear styles comes even more questions…
WHAT IS A TEDDY?
A teddy is basically nightwear's answer to a playsuit! Teddies or rompers are an all-in-one style of nightwear. Unlike a onesie, though, teddies are usually sexy and glam!
We have the most gorgeous teddy romper you need in your nightwear collection - the Marnie satin cowl neck teddy! This satin romper is so flattering and cute - perfect for lazy Sunday mornings!
WHAT IS A CHEMISE OR A NEGLIGEE?
A chemise, also known as a negligee or a slip dress, is a type of nightie that's normally made from a satin material.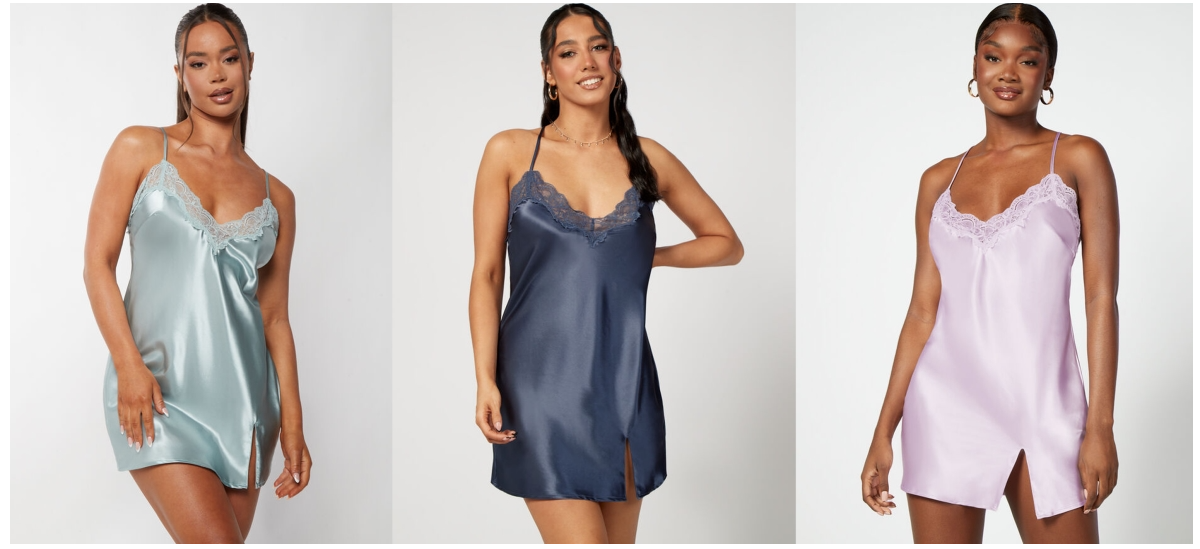 Chemises are typically worn as nightwear, but can also be worn under dresses and other clothing as an extra layer. Our classic Marnie satin and lace chemises are always a firm fave - they're so cute and glam!
HOW TO WEAR A CHEMISE?
Chemises can be worn with or without any lingerie underneath; but we would recommend the latter - especially when sleeping in them.
With slip dress styles being so in, you may well want to wear your fave chemise out as a dress! If you want to style your negligee for the outside world, we recommend a strapless bra to offer some support, without ruining the delicate straps on the dress.
WHAT IS A BABYDOLL?
A babydoll is also very similar to a chemise! However, babydolls normally have a detailed cup design and a loose floaty material making up the rest of the dress!
Our super sexy babydolls tend to be sheer and come with matching thongs. One of our fave new babydoll styles is the Sabrina spot babydoll and thong set - it's the perfect piece of sexy nightwear to add to your collection!
WHAT IS A CAMI?
Cami tops and cami sets are a pyjama type which have a strappy top as part of them and are typically made from satin. Cami is short for camisole!
Our cami sets come in a range of styles, including casual pyjamas and more glamorous sets. The Evalina gingham cami and shorts set is one of our fave cami sets – it's so perfect for summer!
If you are as obsessed with the gingham print as much as we are, but don't love the bralette style of that set, then you will love the Evalina gingham cami and knicker set, which offers a more longline version of the cami.
We hope we have answered most of your big nightwear questions! If you have any other questions let us know and share your fave nightwear looks with us over on Insta using #myboux!