BOUX'S TOP TANNING TIPS
After so long with no holidays and what feels like non-stop grey after the past few months, Summer will eventually return and we'll jump back in the sun for hours as soon as poss to get our tan on! However, it's important to remember a few things before you start basking in the sun again! From tanning safely to choosing the best bikini for tanning in, we have pulled some of our fave tanning tips together for you.
HOW TO GET YOUR TAN ON SAFELY
Whilst getting a suntan is something we all LOVE doing, it is important to remember to do it safely. Whilst using your fave fake tan is probably the safest way to get a glow, there is no denying how good it feels to get a natural tan and feel the actual sun on your skin (God, we miss holiYAYs).
The most important thing to remember when sunbathing is to always wear SPF and reapply it regularly. It's best to wear SPF on your face every day, even if it doesn't look sunny! When sunbathing in the summer sun you should always wear factor 30 or above to avoid burning. Looking after your skin with SPF means you will get a better, healthier tan and avoid any serious sun damage to your skin that burning can cause!
THE BEST BIKINIS FOR TANNING IN
When it comes to choosing what to wear to sunbathe in there are actually a few factors to consider! We've pulled together some of our fave styles for sunbathing in so you can throw on your best bikini as soon as the sun returns!!
Our fave bikini style for an easy tan is always gonna be a tie side one. The strap style on the top means very few tan lines thanks to the easily moveable straps.
Our Paros check triangle bikini set is so cute for Summer, look how gorj Georgia looks in the lilac gingham print! Or take inspo from Tiff in another of our tie bikini set faves, the Gili bright stripe triangle bikini set! Whether you want to tie the straps round your sides to avoid halter neck tan lines, untie them completely when you're lying on your front or follow Tiff's lead and slay the upside-down bikini top trend - these tie strap bikinis are always the perf tanning choice!

If you are worried about tan lines on your bum then you are in luck, as thong bikini bottoms are a big trend this year! Our Ibiza bikini set makes a great bikini for tanning in, ensuring limited tan lines on your back, plus the support in the underwired bikini top means extra confidence all day!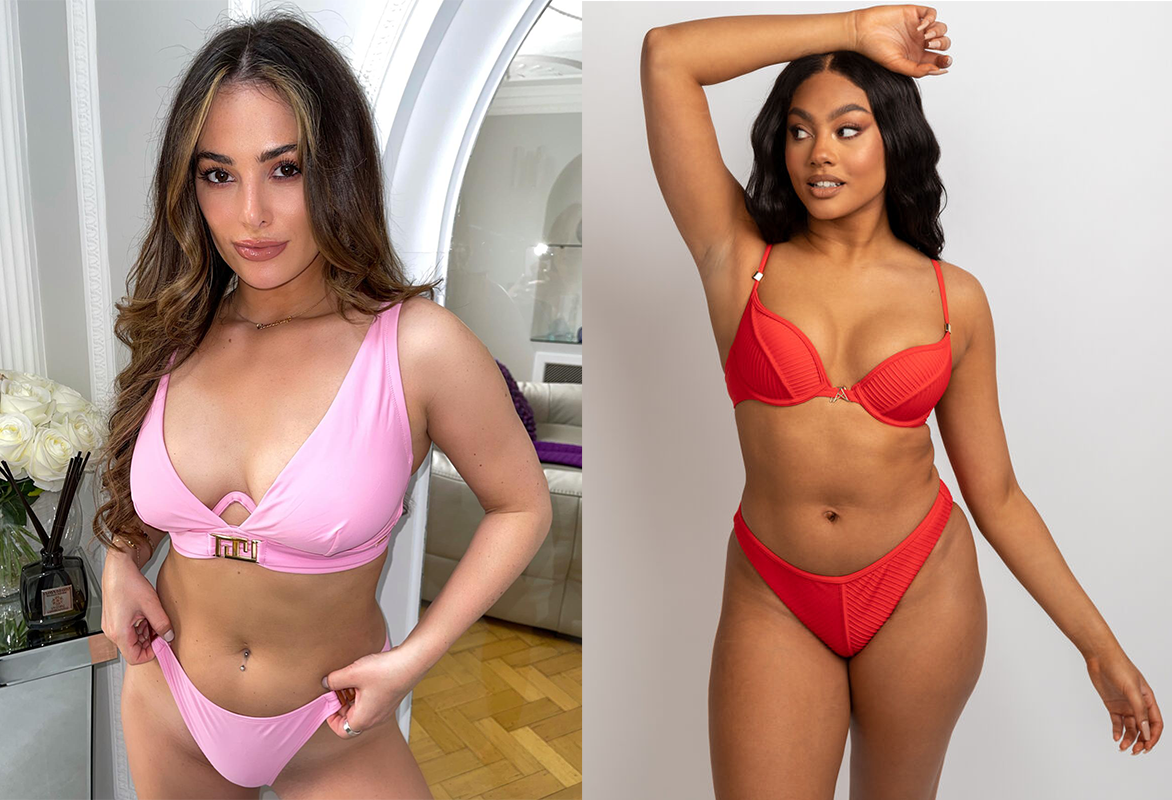 A final factor to consider when choosing which bikini you are going to wear when you're tanning is what colour it is!! We all know wearing white is a great way to emphasise your tan, but did you know neon bright colours are also great for making your tan look even better (without having to sit in the sun for as long)!
Our Kasos trim pink bikini set that Courtney looks so good in is a great choice for making that tan pop! The low plunge and gold detail is so sassy you'll feel and look fabulous (plus the pink will have your tan glowwwing!!). If red is more your thing, then the brightly coloured Martinique pleat bikini set is for you! Turn heads and set your 'gram on fire when you werk this gorj bikini with a fresh tan!
We hope you get to enjoy some safe sunbathing this year, whether it's in your garden or in Ibiza - just don't forget your sunscreen! We can't wait to see your bikini looks this summer, so share them with us using #myboux and find even more summer bikini inspo over on our Insta! Happy safe tanning!!