BOUX'S GUIDE TO DIFFERENT BRA TYPES
Bras are our speciality, from plunge bras and balcony bras to strapless bras and stick-ons, all our styles are designed to perfectly support you, provide comfort and, of course, ensure you feel your most fabulous!
With so many different bra types available, it can be very confusing knowing what the key features of each are, and, most importantly, which bra type will be best for you.
But thanks to our detailed bra type guide, you'll no longer be confused! Find out key differences, as well as tips from our fit experts on which bras are best for your individual bust shape and size!
YOUR COMPLETE GUIDE TO BRA TYPES
Prepare to become an expert in bras and bralettes as we explain each style below!
WHAT IS A PLUNGE BRA?
A plunge bra is a bra type with a low-cut 'V' shape neckline to show a little cleavage. Plunge bras are the perfect option for clothing with plunging necklines.
Plunge bras are available in padded and non-padded styles, both of which give support and lift, so are super flattering and comfy and emphasising the cleavage so well!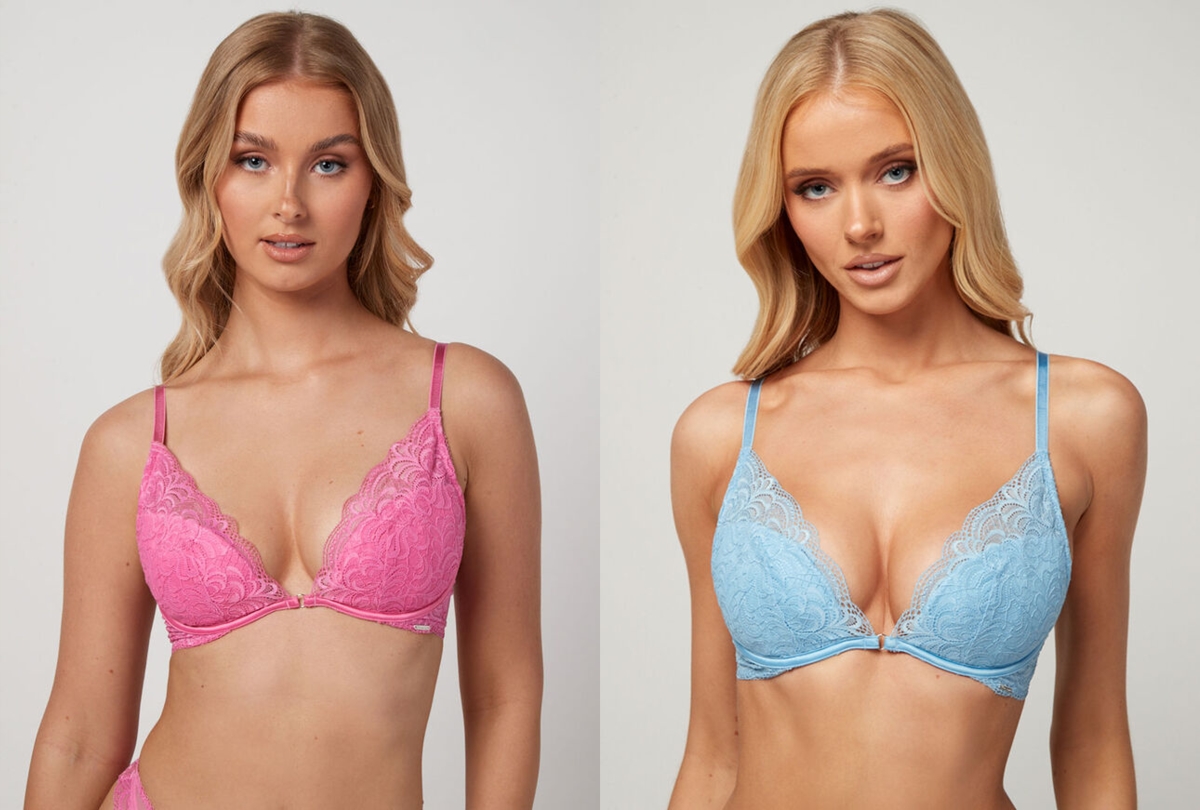 They are also great for those with a smaller bust for boosting cleavage!
WHAT IS A PUSH-UP OR PADDED BRA?
Padded bras aren't necessarily 'push-up', but many styles do offer the option of both!
A padded bra is exactly that, a bra with added padding; this gives the bust a more rounded and smooth shape than you would get with unpadded styles.
Some of our padded bra styles also have integrated push-up boost padding, such as the Mollie plunge bra.
Push-up bras give your bust an extra helping hand to lift and define the cleavage. You will feel fabulous in this bra style!
WHAT IS A BRALETTE?
Bralettes come in a range of styles, just like other bra types do. Generally, a bralette has slightly less support than a regular bra, either due to being non-wired, unpadded or both.
Bralettes also make great lingerie tops, as many are longline and lacy, but super comfy lounge bralettes are also available!
We know support is important, so many of our bralettes are also underwired so you can get the cute bralette style with added support!
WHAT IS A BALCONY BRA?
Balcony bras, also known as balconette bras, have a horizontal cup shape and a higher centre front - this gives great support and provides an uplifted round shape to the bust!
Balconette bra straps tend to join from the side of the cup, rather than the front like most bras. This means the straps come slightly wider, making them great for low-cut necklines!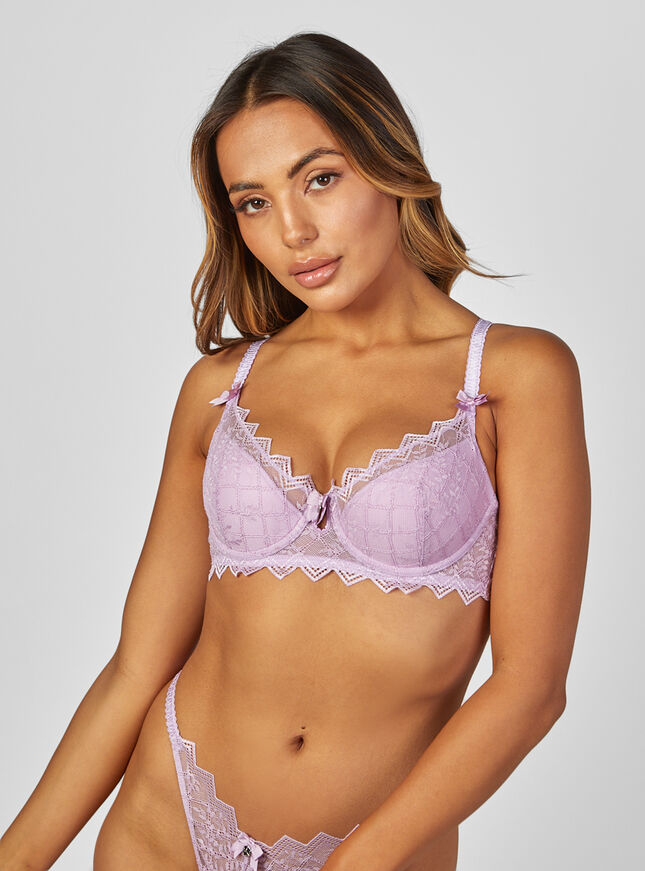 This is a bra type that we tend to recommend to those who wear a larger bra size, as it offers great support and is flattering for a larger bust. Additionally, balcony bras work really well with square neckline tops, which is cut that complements a larger bust so well!
WHAT IS A T-SHIRT BRA?
T-Shirt bras are designed to be smooth and seamless under clothing, thanks to the soft moulded cups.
The slight padding in t-shirt bras provides a natural rounded shape, so they are the perfect everyday bra!
Moulded cups also mean they are made from one piece of fabric, so you don't get lots of seam lines on show through your clothes!
WHAT IS A NON-WIRED BRA?
Non-wired bras are exactly that, bras without an underwire or any other bones. The bra support is provided by the cups and wings making them a super comfy bra style.
Rather than giving a fuller or rounder shape, non-wired bras tend to give a more natural look under clothing.
WHAT IS A TRIANGLE BRA?
Triangle bras have a triangle-shaped cup that goes into the straps. Many bralette styles are a triangle shape and they are super comfy and look gorgeous.
With a plunging neckline, triangle bras and bralettes will give you a fabulous cleavage, and they work really well under lower-cut clothes!
WHAT IS A LONGLINE BRA?
Longline bras feature an under band which extends down towards the waist. They provide more coverage than a usual bra or bralette, so make great lingerie tops or are the perfect choice for under sheer clothes!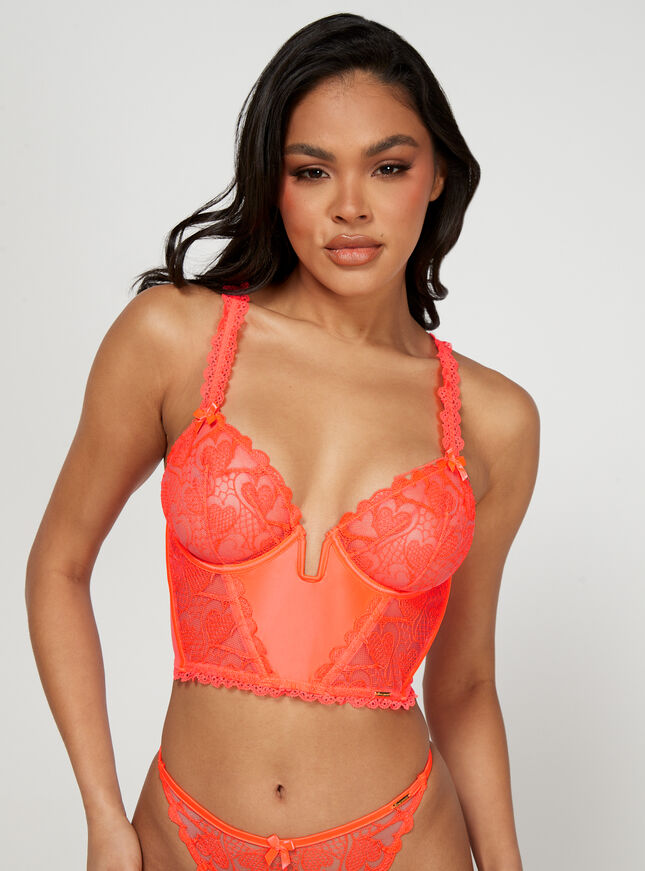 The longer length of this bra can accentuate your figure, making them very flattering and a must-have in your lingerie drawer!
Many of our longline bras also make fabulous corset style lingerie too!
WHAT IS A STRAPLESS BRA?
A strapless bra is a must-have, as they give you the complete support of a normal bra, but without straps!!
Strapless bras hug the body, so all the support comes from the under band. You don't have to worry about strapless bras falling down, as they are specially designed to stay in place and let you go strap free!
Many of our fabulous strapless bras also have the option to add straps when needed, so you can wear them in multiple ways!
Strapless bras are just one of our many bra solution options, but we also have stick-on bras, nipple petals and more! We have a guide all about the different types of solution wear available too!
WHAT IS A MULTIWAY BRA?
A multiway bra has removable straps that can be easily positioned in different ways so you can wear the bra in a number of ways.
Multiway bras can be styled into halter-neck, racerback and one-shoulder options, plus they give great coverage!
WHICH BRAS ARE BEST FOR YOUR BUST TYPE?
Now you know all about the different bra types, it is important to know which bra styles are best for your individual bust shape and size too!
As long as you are wearing a good quality bra in the right size, you will look amazing, but there are defo some styles that work better than others!
To ensure you are wearing the right size, it is important to know how to measure your bra size or book a fitting at one of our stores with an expert fitter! They will be able to advise which particular styles will work best for you too!
THE BEST BRAS FOR LARGE BUSTS
For larger busts, we have a fabulous range of DD+ bras and lingerie which provide the support needed without compromising on style!
Of course, any full-support bra is perfect for a larger bust to ensure comfort all day long!
Some other great styles to try for larger busts are balcony bras, plunge bras and t-shirt bras! Though, no matter what your bra size, you can wear whichever bra style is your fave; just make sure you have measured your bra size correctly for a flattering fit.
THE BEST BRAS FOR SMALLER CHESTS
When it comes to choosing a bra for a smaller bust, you can wear whichever bra type you like, but there are some styles which are particularly suited to a smaller chest.
If you are after the best bras to give you a bit of added lift and cleavage, you can't go wrong with plunge bras, especially padded and push-up styles!
Having a smaller bust means you don't always need as much support as those wearing DD+ sizes, so any non-wired and unpadded bra options are also a great choice, including bralettes and triangle bras!
We love the Kahlah plunge bra for an unpadded option, the lace design is so pretty! Or, if you want a push-up effect you can't go wrong with the Piper balcony bra!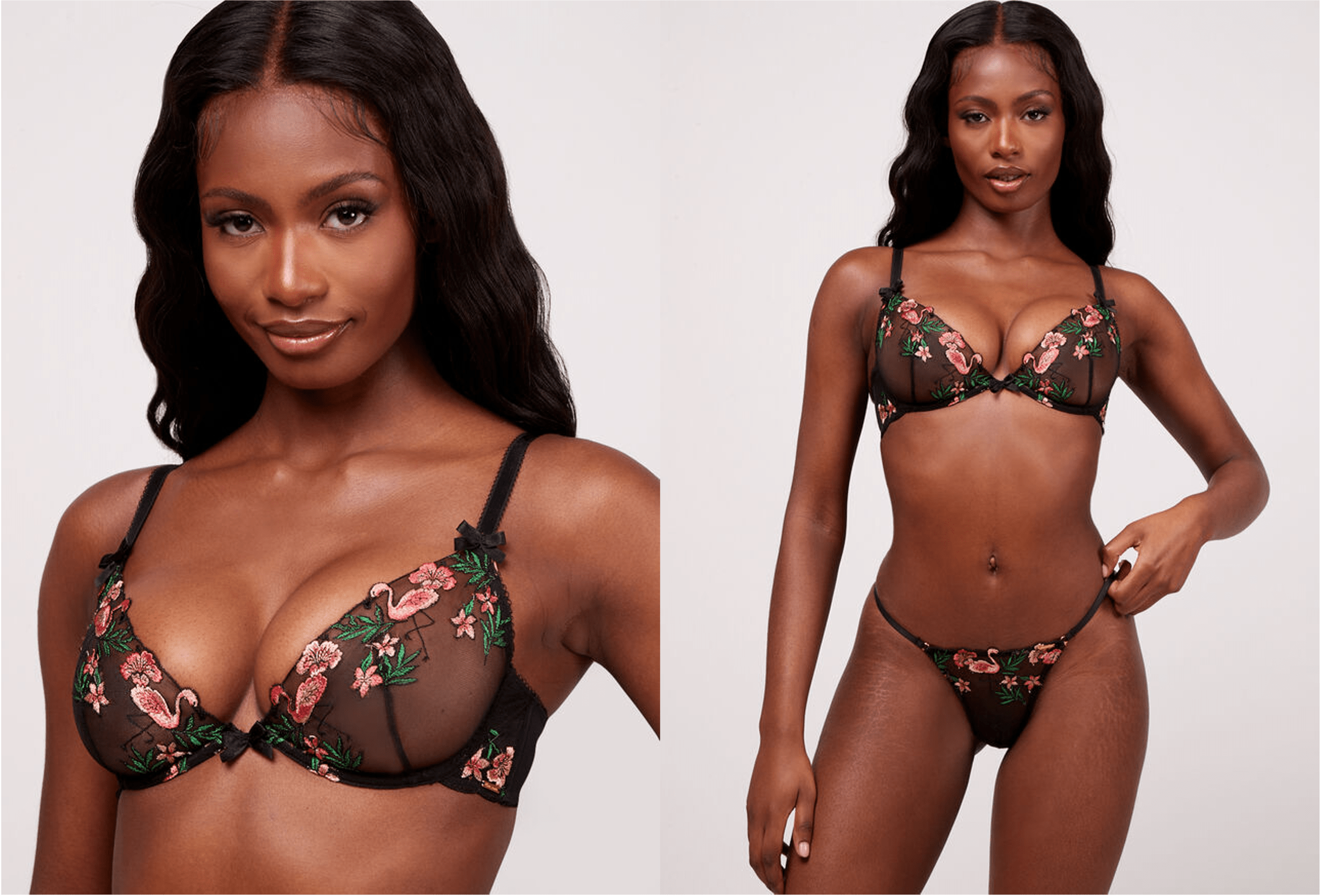 Now you know all there is to know about bra styles to give you some inspo for your next bra purchase!
What is your fave bra style? Let us know and share your looks with us over on Insta using #myboux - we know you'll all look fabulous in whichever bras you go for x