ALL THE BRA TYPES EXPLAINED
Bra styles are always an important topic! Everyday styling means giving your bra type some thought; on the colour, fabric, shape and cut that goes best with your day's attitude and attire.
With a myriad of different bra types out there to choose from, the Boux team has developed an unparalleled level of love, knowledge and skill around this everyday lingerie essential. So it would be only fair to share with you, too! We have answered all your bra questions, now it's time to explain all the bra types. Read on for a selection of the most brilliant bralettes, push up bras, balcony bras and more. We will have you expertly matching your bra to your knickers and your whole 'fit, every single day. Perfection
BOUX'S ULTIMATE BRA STYLE GUIDE
To properly get your own unique bra style down, you first need to know your balconette from your bralette, are we right?
That's why we are starting the season by gifting you the ultimate bra style guide. So that from plunge bras to push ups, longlines to lacy bras, you'll have the lowdown in order to slow down, and add the pieces you will really love to your collection.
WHAT IS A T SHIRT BRA?
A good t-shirt bra; bag one, and you'll never want to wear anything else again. Moulded cups and a seamless style make them the perfect, subtle companion under all clothes. The epitome of everyday bra comfort!
Our new solutions range puts comfort first - which is why our new t-shirt bra is our best ever - the Padded Microfibre Plunge T-Shirt Bra comes in five colours all perfect for everyday wear.
Even more t-shirt bra newness now, a piece perfect for those who favour a non-wired bra, the Comfort microfibre plunge bra. As the name suggests comfort is key with this piece - the perfect t-shirt bra, lounge bra hybrid.
BRALETTES EXPLAINED
More lounge-like loveliness to follow, as we turn our heads (and bodies) to the bralette.
Also wirefree, the bralette tends to give lighter support than your average bra style - meaning we feel free to move and chill to our heart's content. These beauties can often be worn as cutesy lingerie tops too, as part of any going-out outfit; making it the ultimate multitasker!
Liberate your days with a Boux Lounge option - the Ribbed seamless heart embroidered bralette is sexy, seamless and super comfy - its super-stretch ribbed fabric and scooped back and necklines make sure of it.
And for a 'dressier' lingerie drawer option, opt for the Heart satin bralette. Burgundy hues contrasted with pink, soft liquid satin fabric, plus gorgeous piping details have got us falling for fall in a big way…
WHAT IS A BALCONY BRA?
Moving on to the balcony bra, or, if you prefer, the balconette. One and the same thing, this bra style is always a sexy addition to that lingerie drawer.
A balconette cup is cut a little lower than your classic style - but still offers all the sexiness of a rounded look, plus solid support. We love a balconette for those days where we need a little extra oomph, or for when that square or milkmaid neckline is coming out to play!
Our faves this season? The Leah balconette bra just has to be one of them. Luscious lace, light padding and no less than 7 available colour options make this an all-seasons staple that you'll want, nope, need to add to your bra collection.
We're also obsessed with anything from the Gracey range; have a browse for delicate, feminine balconette styles that expertly show off your natural body shape.
WHAT IS A PLUNGE BRA?
Serving those deep-cleavage, sultry vibes since its inception, the plunge bra is the one for that sexy date night outfit.

Bring a little extra to the table with a fit that plunges at the centre - and a cut that gives you full support and a lush lift.
We say boost away with the bestselling classic Mollie plunge bra. With one sold every 7 minutes, we know that the Boux community have found a fave in this one - the reviews say it all. "Super comfy", "electric", "Looks amazing on" are the snippets that tell us you're just loving the cleavage this gem creates! And nothing could make us happier.
Grab the latest colours now (there are 8 available) and no bother, bustier babes; this ones here for you up to a G cup.
WHAT IS A PUSH UP BRA?
And onto the push up! But what's the difference between this and a plunge, we hear you ask?
It's all in the positioning, people. A push up tucks its padding at the bottom of the bra, for a super uplifted look; whilst the plunge is all about reuniting your boobs, creating that deep-V neckline.
The Aliyah plunge push up bra is made with stunning floral lace and additional push up padding - while luxe contrast lining in selected colours make it - and you - feel extra special too. This one in black and nude is just made for bringing a touch of glamour to your lingerie game; and don't forget the Aliyah briefs to match.
EXPLAINING MULTIWAY BRAS
Multiway bras means we can rock our most adventurous outfits, and still feel supported, sexy and in control. From strapless to stick-ons, there's a clever hack for all your hottest looks - and we've got you (at least partially!) covered.
Got a backless beauty you can't wait to wear? Grab the slick and subtle Stick and clip bra. Sculpted lightweight foam and strong silicone adhesive means you can pop this one on and sashay your way to the party in no time.
Or perhaps you're doing sporty-sexy with a racerback piece designed to show off those shoulders? Make room for the Microfibre strapless bra then, which comes with multiway straps, including a cross back option for invisible superpower! You've even got multiwear front fastenings on certain sizes - all in a soft and soothing microfibre material, to boot.
THE NEED TO KNOW ABOUT STRAPLESS BRAS
We've all been there - regretting the day's bra choice as double-boob, pinching and poking ensue. The strapless can get a bad rap. But we're here to change that for good.
Yes, our latest strapless bras have landed - and it's time to well and truly banish those bra blues as these take you from out-out to office party season - seamlessly, practically and perfectly.
The Strapless microfibre multiway bra is going to be the new hero of your underwear drawer. You can be sure that highly-developed design and fabulous fabrics will change your view on the humble strapless, for good.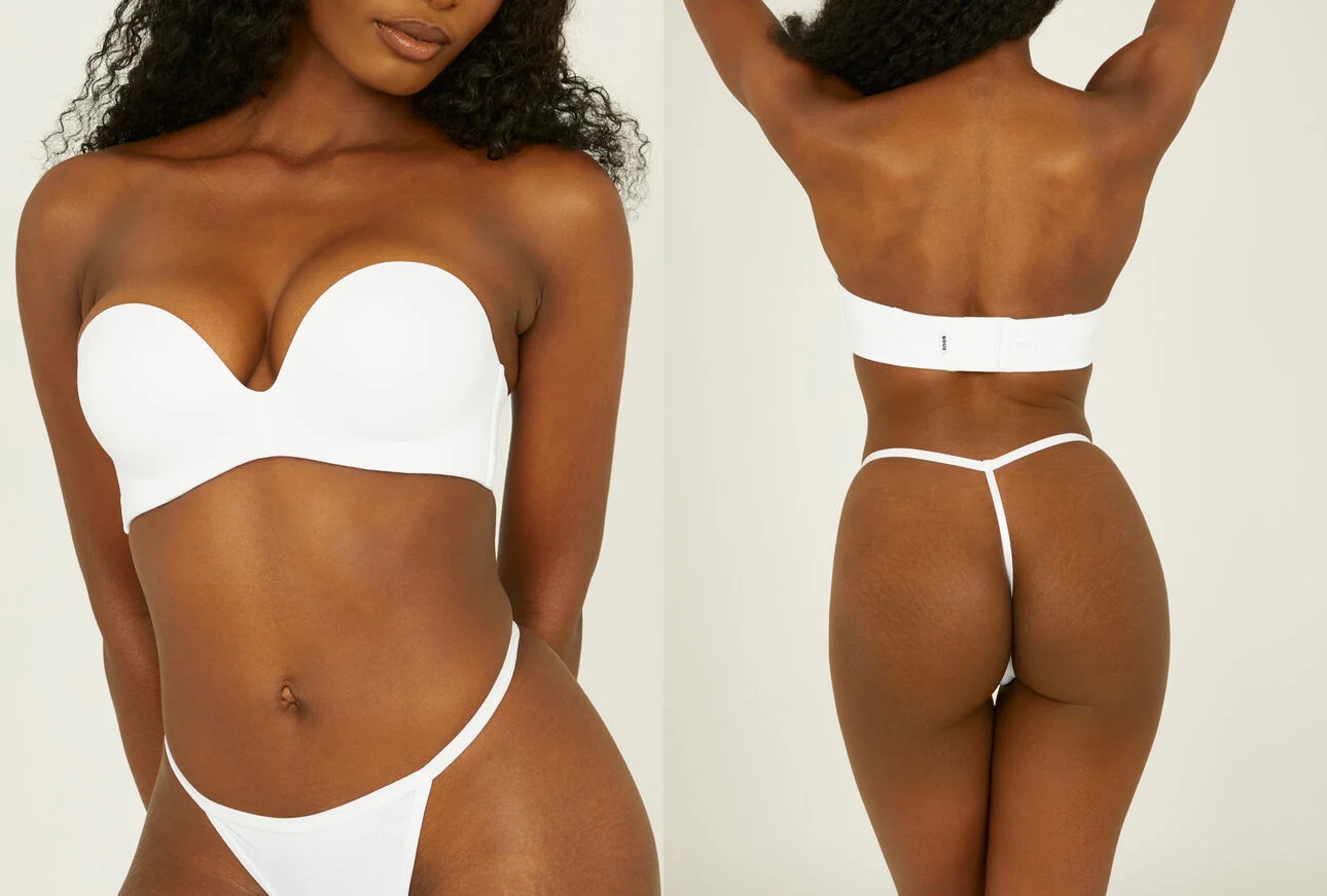 WHAT IS A LONGLINE BRA?
What's a longline bra? Whilst we might be most familiar with this term for our winter coats and knitwear, it definitely extends to your lingerie drawer too!
The longline is one whose underband extends a little further down the torso, usually with the help of strappy or lace-like detailing. It gives your bra a little worn-to-be-seen wow factor, and Boux's latest range has it all; from the raunchy to the resplendent, we love pieces such as the Harlow longline pushup bra. Unlock that inner goddess with corsetry and floral detailing, as well as diamanté touches that look so good on gorgeous emerald green.
In fact, this one's that beautiful, we say brave it and buy the whole Harlow longline set!
THE DIFFERENCES BETWEEN PADDED AND NON PADDED BRAS
Hmm, a padded bra or non padded bra. Which is best? That, Boux beauties, depends on the day. On the outfit. On the mood. On your preferences! But first - what's the difference?
A padded bra may have removable, shaped pads slotted into pockets within the cups. Or, these will be sewn in - either way, they're there to offer a rounder feel and heightened support.
Non-padded bras come in all shapes and sizes and could be underwired or not, bralette or balconette. The options can seem endless!
Fear not - and keep your choices simple. Need a fuller look, where you feel supported and shapely all day long? Go for a padded option. We adore the Piper balconette bra (especially in moody midnight blue), with a larger moulded cup and the sweetest sweetheart neckline.
Want to show off your natural curves, and even tease a little come bedtime? The Gracey balconette bra is a beauty, designed with delicate, unpadded lace. This one'll serve a sheer yet sexy look and keep things super sensual, for sure!
ARE WIRED OR NON WIRED BRAS BETTER?
Another great debate of our time - and one that has no definitive answer.
Whether you wear a wired or non wired bra will totally depend on how you feel. Non-wired will let nature do more of its thing, whilst underwire can bring greater structure and lift, whilst separating your breasts a little more.
From feminine feels to sporty ribbed ranges, you can move, groove, lounge and even snooze in these stunning styles.
And if you're after the perfect boosting and uplifting collection, the flawless Jodie range will enhance your cleavage. All underwired, these bras feature intricate lace and scallop detailing for a glam-fuelled option that'll never lose its shape!
Got a go-to bra type you just have to share? Or need your community's tips and tricks for inspo? Share all on Insta using #myboux !