THE MOST FLATTERING SWIMSUITS & BIKINIS FOR EVERY BODY TYPE
The most flattering bikini for my body shape – how many times have you typed that one into Google, probably whilst thinking, 'what even is my body shape?!'
Despite holiday season rolling around every year, the annual shop for flattering swimwear can be super stressful. But once you're armed with the know–how regarding your body shape and the failsafe styles that suit it, you'll float through those bikini buys…and be ready to fly away asap!
Whether you're on the hunt for a bikini classic, looking to level up your beachwear and accessories game, or you're ready to channel your prettiest pinup vibe with a high–waisted bikini number, we've got all the swimwear savvy you'll possibly need for summer '23…
THE BEST BIKINIS & SWIMSUITS FOR STRAIGHT / RECTANGLE BODY TYPES
Calling all the athletic–looking ladies out there! If your shoulders, bust, waist and hips are pretty much the same width, the straight body type, also known as a rectangle or athletic body shape is yours.
Gigi Hadid is one stunner who makes the most of her powerful body type and you'll be doing so too, with our top picks for accentuating this super versatile shape.
Freedom to wear halter neck bikinis and triangle bikinis without too much worry about the need for bust support is one fabulous perk of this club. So first up, the Vienna triangle bikini set. Available in a gorgeous aqua shade, it's perfect for lounging by the pool and savouring that first sip of heavenly holiday cocktail.
Double halter straps and scallop cup trimming give it a feminine feel without taking away from its seductive edge.
Is this the year you embrace the one piece, too? Add some curve – and all the right kind of drama – to your look with the Caicos plunge swimsuit. Ruby red, criss cross back detailing, and a to–the–waist plunge neckline. Need we say more?
HOURGLASS SWIMSUITS AND BIKINIS
This figure type means your bust and hip ratios are equal, with a well–defined waist. Sophia Vergera is a natural hourglass beauty.
You'll want to accentuate your curves, and the Cyprus super push up bikini set will help you do just that. Everyone needs a black swimwear staple in their armoury; but more than that, the push up bikini style will enhance your bust to the max, while the additional underbust strapping emphasises your waist to perfection.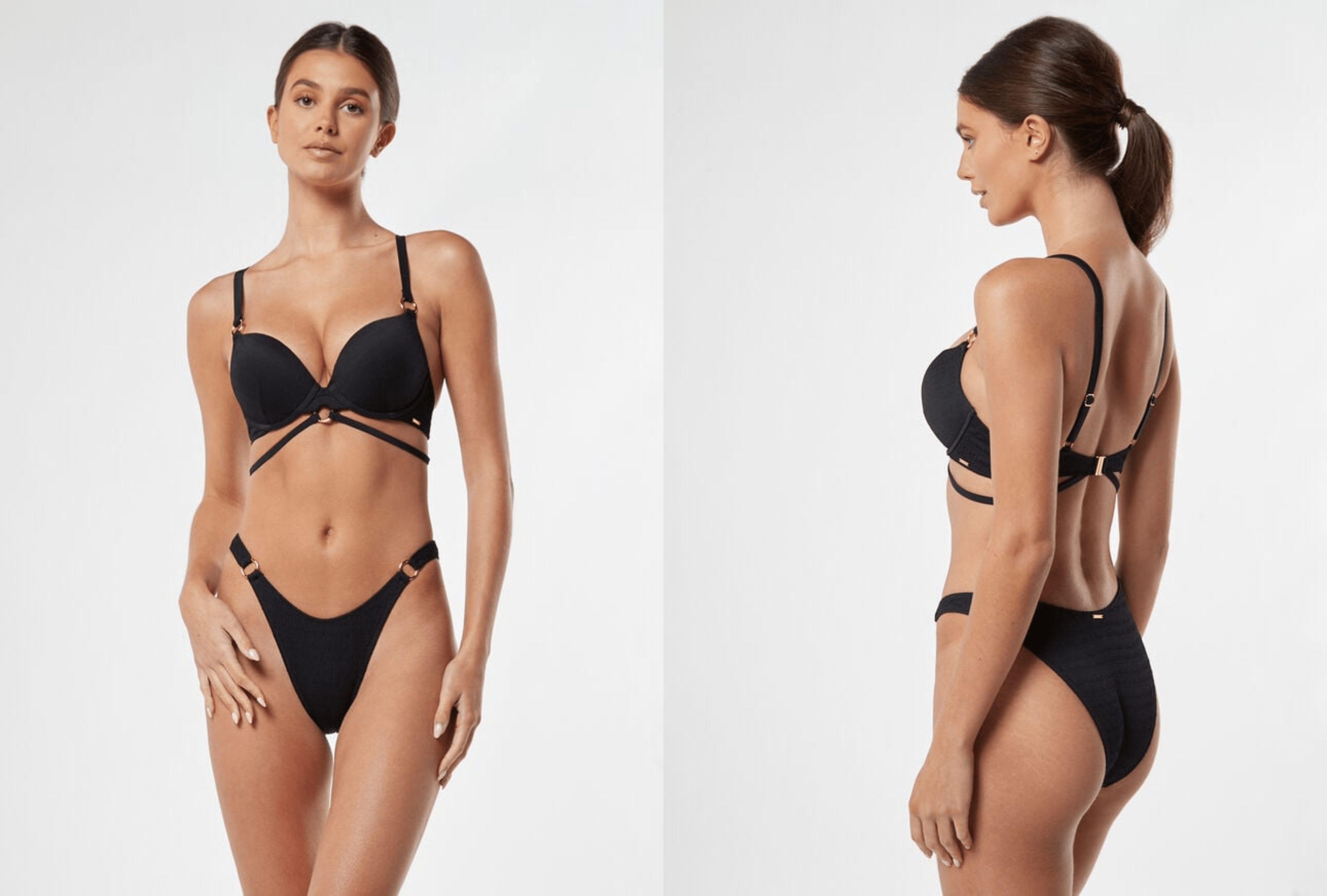 Prefer to shine even brighter? Go for the Goa ring detail swimsuit and let shimmering mustard fabric, the sexiest cutouts and that siren–esque halter neckline put you in the spotlight all summer long.
FLATTERING SWIMWEAR FOR PEAR SHAPES
The classic pear – our gorgeous girls with wider hips, a cinched in waist, a smaller bust and a peachy derrière. Think Beyoncé or JLo!
We're here with the styles that are most likely to make you feel incredible, season after season. Hint; think high waisted bikinis and barely–there thong bikini bottoms!
The Fiji frill gingham high waist bikini briefs hit this brief perfectly with a high–waisted shape and frill waistband that'll hug your curves to perfection. Add the Fiji frill gingham balconette bikini top to the mix and let the balcony cup style add a little up top, leaving you to flaunt all that you have on the bottom!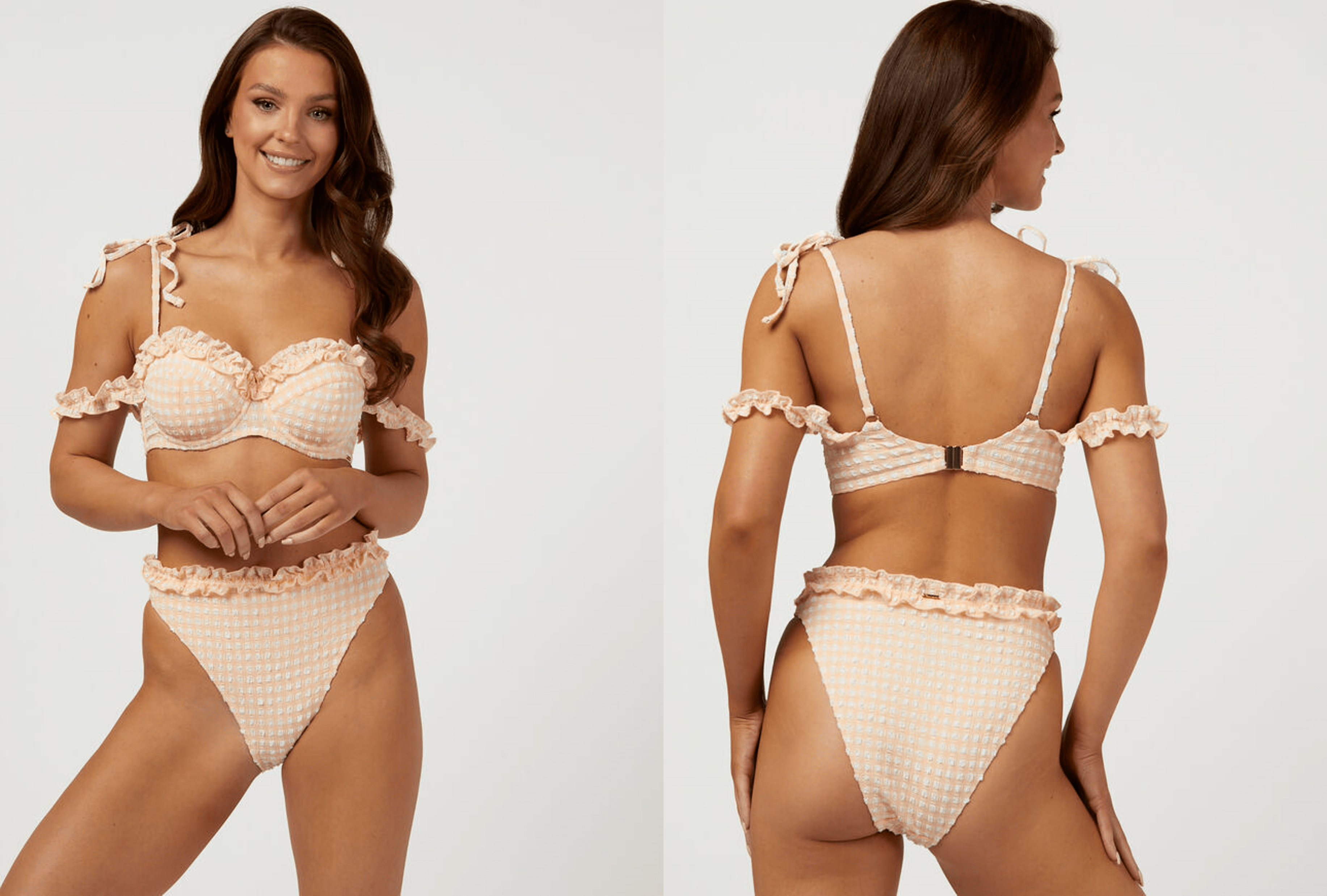 For a seriously sexy take, it's simple. Leave little to the imagination and treat yourself to the Ibiza eyelet bikini set. Adjustable ties on top and bottom leave it to you to decide where to lift, cover, dare and bare; and with 3 heavenly hues to pick from, let's face it, you might as well nab one of each!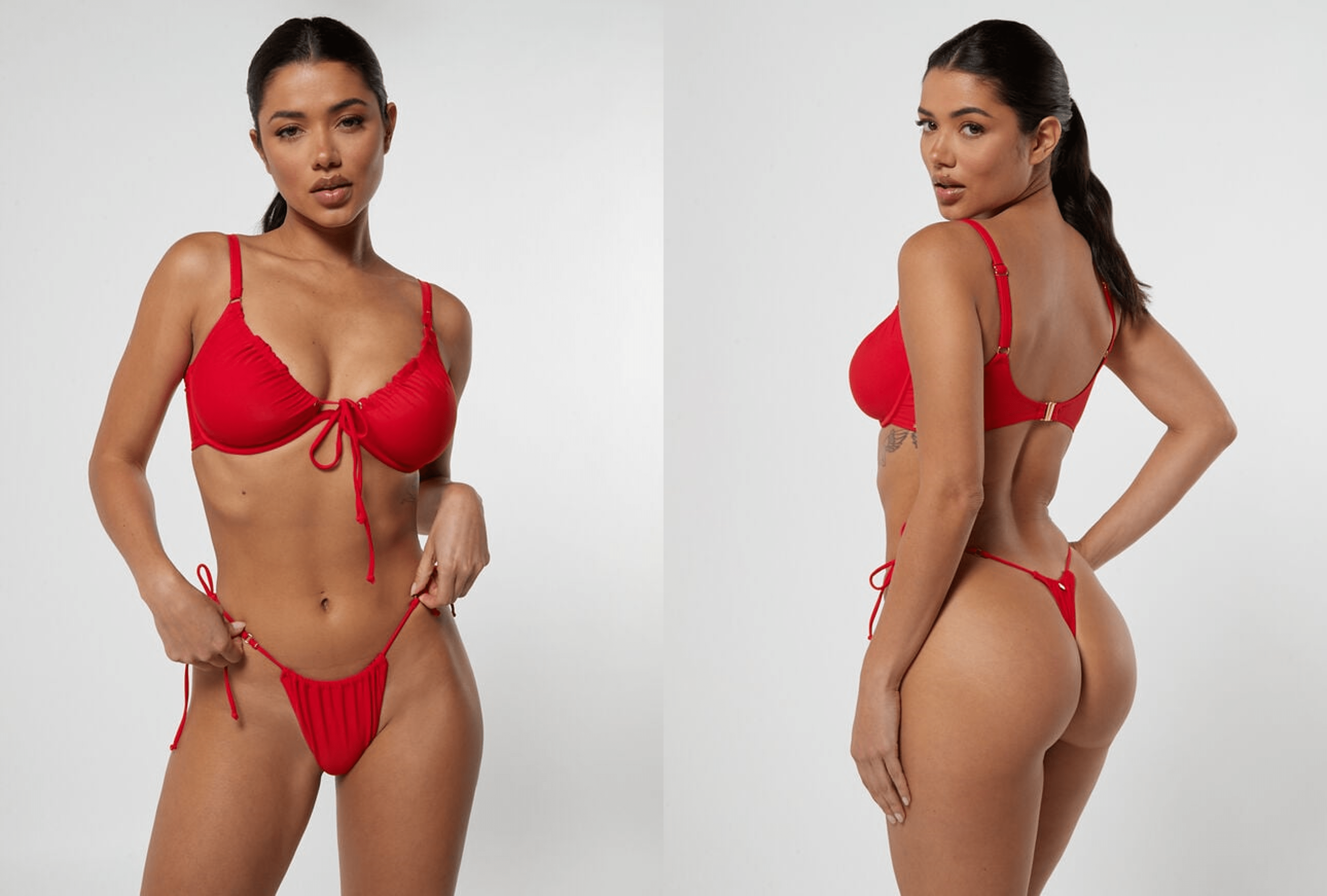 Our daring divas won't want to bypass the Menorca chain cut out swimsuit either – high shine black fabric, a sexy scoop neckline and bold midriff cut–out details make sure pear shapes are shown off to the max!
FLATTERING SWIMWEAR FOR APPLE SHAPES / INVERTED TRIANGLE
The apple or 'inverted triangle' – if you've a wider torso, a large bust, yet you've always had narrow hips and a slimmer bum and legs, then we're talking to you, ladies.
Amy Schumer is our ultimate inspo in dressing for this stunning body type. So let's get to the swimwear styles that were simply made for you…
High–leg cut briefs and swimsuits are a flattering choice for this bodyshape, working to excenuate your legs. They are what will serve you best, whether it's clocking in your pool lengths or clocking the talent at O–Beach this summer! And guess what? We've got plenty such pieces, waiting for you to snap them up.
The Baracoa ruched side swimsuit is simple, straightforward and downright sexy. Ruched sides draw attention towards your hips and legs, and the cross–back feature makes for just the right amount of flaunting – we think it should feature on every must–have flattering swimsuits list out there. Which out of the cobalt blue, green, and tie–dye pink mix will prove to be the apple of your eye?
Why not mix and match, too? We know you've a trusty bikini top or two just waiting to reemerge as soon as holiday season hits. Pair these with the Java textured high leg brazilian bikini briefs – and exude those runway vibes even without moving from that sunlounger!
THE BEST SWIMWEAR FOR ROUND BODY TYPES
This one is relatively similar to the apple body shape – perhaps with a little extra bust going on! And there is plenty of flattering swimwear that awaits your approval.
Often a formidable and eye–catching frame (hello, Lena Dunham), our rounded body types out there need swimwear to match your power and flair. And Boux, as per, has got you covered.
Enter the St Kitts low back swimsuit in classic black – trust us, she'll become your summer staple. Fast.
Simple but beautiful, this one features a bold, square neckline and a swooping low back. We know; the perfect balance of classic glam and cheeky flirtiness. Pair with your favourite oversized sunnies and go wow that crowd.
Don't overlook the Ibiza halter bikini set, either. Briefs with V–front shaping for a little waist sculpting? Check. An underwired halter top giving all the support you need to feel amazing? Absolutely. The cobalt blue of this ensemble is simply stunning and the icing on top of your hot swimwear cake!
SWIMWEAR FOR SPOON TYPE BODY SHAPES
Shout out to the spoon body type; perhaps one that you've heard less about, yet it's recognisable for so many of our Boux community!
Similar to the pear shape, our spoon–framed ladies have narrower shoulders and waists – but might have a slightly curvier midriff too. Think Marilyn Monroe, starring in, well, every single movie and photoshoot where she rocked that stunning swimwear. Rihanna is another, and who could deny she slays in the style files time and time again?
Get ready for your movie star moment too, because your vay–cay is about to take off with the Sierra leopard strapless swimsuit. Full on glamour is EVERYTHING here – so why is it perfect for our spoon–like sisters?
A ruched middle section means super flattering lines, and of course, a one–piece is the option for feeling super comfy all day long. A sassy high–leg fit means showing off those legs to the max, whilst the frill neck and underbust do wonders for adding a little volume to the bust! This one works so hard and frankly, we're obsessed.
Prefer a two piece? The Valencia ruched bikini set is the ultimate underwired bikini for emphasising your figure. The tie side bikini bottoms can be adjusted for your perfect fit, wear them high to excenuate your curves, whilst the underwired top flaunts your bust in the sexiest way.
Give us the best kind of holiday envy (and inspo!) – share your most flattering swimwear 'fits on Insta using #myboux