THE BEST SECRET SANTA GIFTS FOR ANY BUDGET
Ah, Christmas, it really is the most wonderful time of the year! Not only is it the best excuse to go shopping without the guilt (presents are essential items!) but buying gifts is so much fun too!
When it comes to secret Santa gifts, things can get a bit tricky. Whether you've ended up getting your boss and have no idea where to start, or the budget has made it difficult to find the perf gift for your recipient – secret Santa can often be waaaay too stressful for our liking.
However, we have got you gals covered with the best secret Santa gift ideas from £10 - £50 to help take away the stress of finding a gorj gift. Trust us, you're gonna find it hard to keep these a secret.
WHAT IS SECRET SANTA?
Secret Santa is one of our fave Christmas traditions where groups of people draw a name out of a hat and have to buy a gift (within budget…) for that person. The most important (and hardest!) part is keeping who you've got a secret. You don't want to ruin the surprise, after all!
Whether you've got a huge group of gals, or you're playing secret Santa at work, it's the perf way to ensure everyone in the group gets a gift at Christmas without having to buy for everyone (£££!).
SECRET SANTA GIFTS UNDER £50
If you've organised a secret Santa with your BFFs, then you might have a bigger budget to play with. Luckily, we have got you covered with some of the most gorj secret Santa gifts for under £50.
A BIG FLUFFY DRESSING GOWN
If you want to give your secret Santa gift recipient the equivalent of a hug this Christmas, then you just *cannot* go wrong with a big fluffy dressing gown. We might be able to leave our houses now, but let's be honest, we're still all living in loungewear and dressing gowns, right?
Our Dark lynx hooded midi dressing gown and Fluffy shimmer midi dressing gown are the perf secret Santa gifts for under £50. Super soft and snuggly, we can't guarantee you won't end up keeping them for yourself! Self-gifting counts too, right?
FOR THE LOUNGEWEAR LOVER
Every friendship group has that one gal who is essentially the human version of a sloth. When you're all out for brunch or cocktails, they're catching up on the latest Netflix series. And don't even try and invite them to anything past 9pm – they're all about the girls' nights in.
If you happen to pick this gal out for secret Santa, then some new loungewear is the ideal gift.
Our gorj Borg hoodie and joggers set is the perf secret Santa. Soft, fluffy and suuuuper comfy, your gift recipient is gonna want to wear this set all day every day.
Alternatively, our cute Cosy fur zip hoodie will keep them warm all Winter long. Whether they dress it up with a pair of leather look leggings and boots or chill out in their fave joggers – this is one hoodie they won't be taking off!
THE GIFT OF CHOICE
Looking for a secret Santa gift for someone you don't know? We have got you covered with our £50 Boux Avenue gift card so they can treat themselves to some beaut new lingerie, nightwear or clothes. Trust us, this gift card is sure to go down well.
SECRET SANTA GIFTS UNDER £30
If you're looking for the perf secret Santa gift under £30, we have got some of the hottest picks for you. From gorj fluffy slippers to PJs in a bag – you're totally spoilt for choice.
PJS IN A BAG
Our PJs in a bag are the ultimate secret Santa gift. From on-trend animal print styles, to the cuuuutest gingham sets, we've got so many styles to choose from.
Unsurprisingly, all of our pyjamas in a bag sets come in the cutest little carry bag, which is what makes them such a lovely secret Santa gift.
Our girl Liv is channeling all of those cosy winter vibes in our beaut Red and black pyjamas in a bag. For those who like to take a walk on the wild side, our Snow leopard pyjamas in a bag are an absolute must. Either way, we just know your gift recipient is going to LOOOVE them.
FLUFFY SLIPPERS
If you've not quite got the relationship where you can buy them PJs, then you really can't go wrong with a pair of cute fluffy slippers. Trust us.
We are just obsessed with our pink Platform slider slippers. Not only are they sooooo on-trend, but they are super comfortable too. With a fluffy inner sole and band, these slippers will make anyone feel like they're walking on a cloud. It's a yes from us.
We are also so obsessed with our cute and stylish Pastel suedette mule slippers. Featuring the softest faux fur lining, these beaut slippers are sooooo comfy and cosy – they're the perf secret Santa gift.
CUTE HOMEWARE GIFTS
When it comes to secret Santa gifts, you literally cannot go wrong with cute homeware.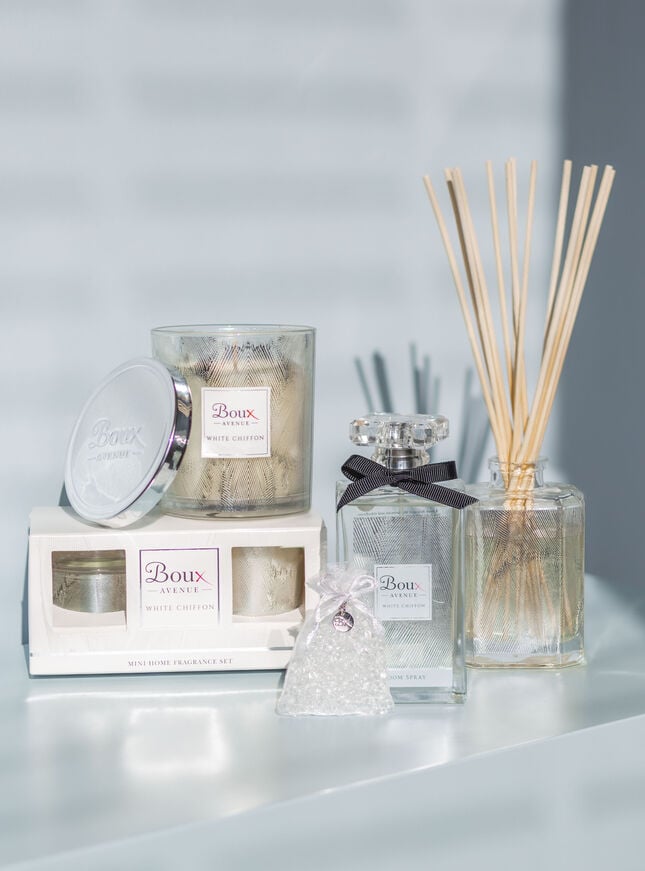 From a chic candle set, to our cute Mini home fragrance set featuring a candle and diffuser, they're the perf secret Santa gifts under £30.
SECRET SANTA GIFTS UNDER £10
If you've got to find a secret Santa gift for under £10, but all you can think of is chocolate, chocolate and… chocolate – we've got some beaut gifts that are sure to inspire you.
SOMETHING FOR THE BEAUTY LOVER
If the person you've picked is obsessed with all things beauty, then we have got some gorj gift ideas for you.
Our super cute Manicure set is such a lovely secret Santa gift idea. The set features nail clippers, scissors a cuticle pusher and mini nail file – perf for those on the go nail emergencies.
We are also a little bit obsessed with our gorj Bouxtique body mist. The opulent scent is the ideal handbag fragrance, so your secret Santa can freshen up wherever she is.
FOR THE FITNESS FANATIC
If you've picked out the gal who picks bootcamp over brunch and CrossFit over cocktails, we've got you covered with some of the best gifts for a fitness fanatic.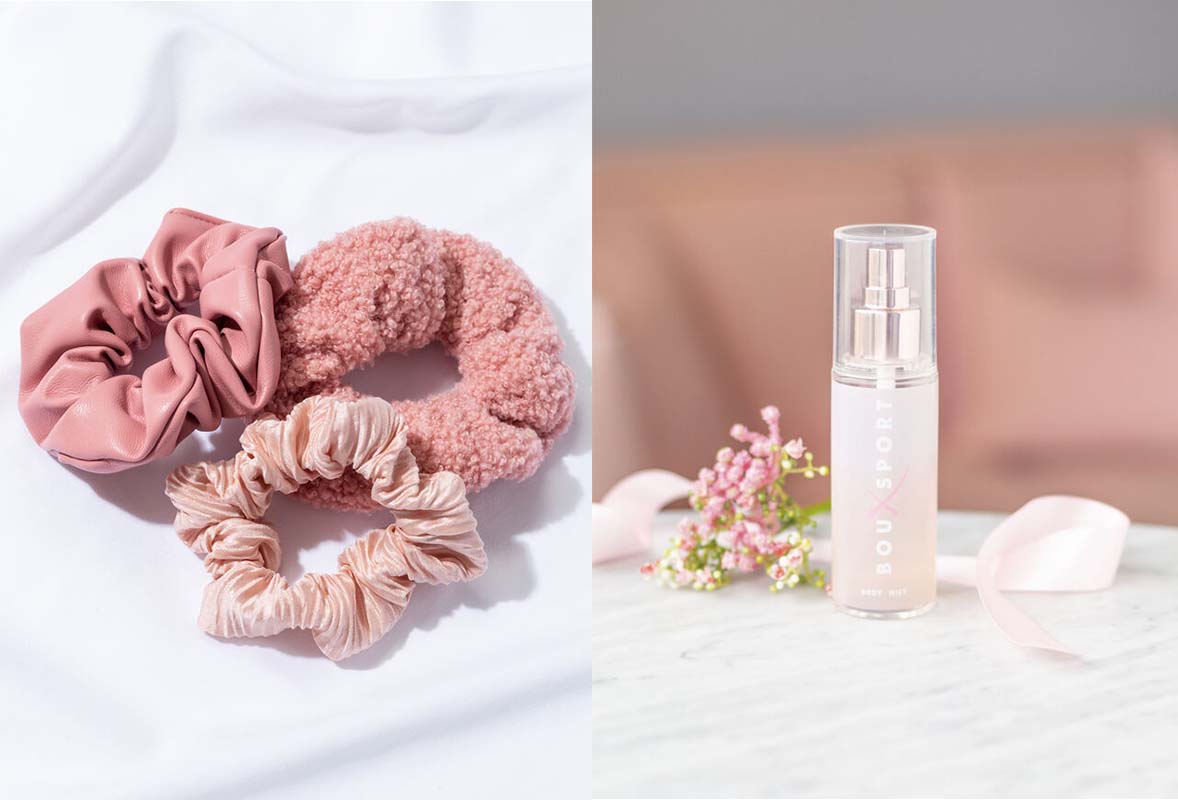 There's literally nothing more annoying than when you get to the gym and realise you've forgotten a bobble. Mountain climbers with your hair all over the place? It's a nooooo from us. Save your secret Santa from the pain with our suuuuper cute Textured scrunchies. Perf for throwing in a gym bag, they will keep your gal looking cute and stylish at every gym sesh.
Another gym bag staple, our Boux sport body mist is perf for freshening up after those 6am workouts and we are just obsessed with the beaut rose gold bottle.
FOR THE GAL WHO'S ALWAYS COLD
If you're looking for a gift for the gal who's always cold (every friendship group has one, right?!), then we have got some banging gift ideas for you.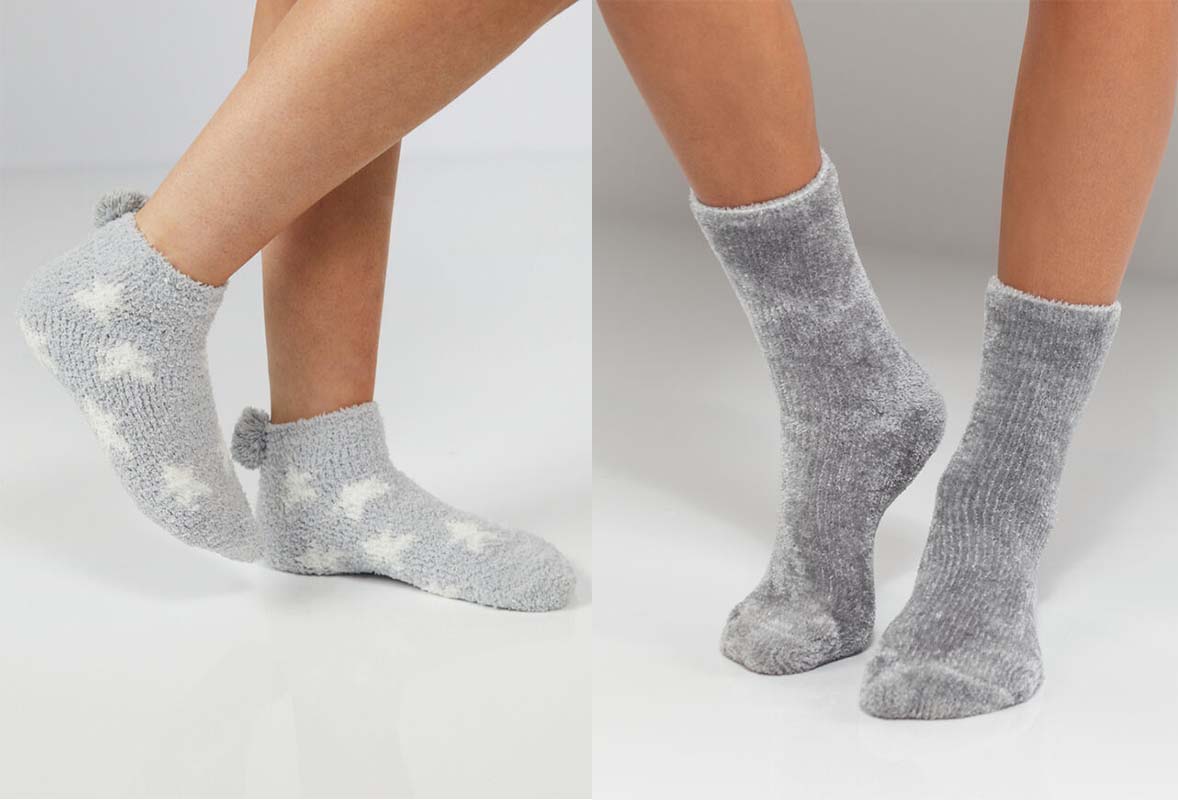 Sooo cute and fun, our Cosy night sky print socks were made for Winter nights in watching Netflix. We are also obsessed with our boujee Velvet fleece socks. With a warm fleece lining, these socks will keep even the coldest feet toasty and warm. Either way, they're the perf secret Santa gifts.
So whether you've got a big budget to fill, or you're looking for a token gift for your work secret Santa – our gift ideas are sure to inspire you. We know you're meant to keep it a secret, but don't forget to show us your gift choices on Insta using #MyBoux. We won't tell…