INTERNATIONAL WOMEN'S DAY 2022
This year, International Women's Day falls on Tuesday 8th March 2022. Each year IWD is a day to celebrate women's achievements worldwide, to lift each other up and empower one another!
The official International Women's Day message is #BreakTheBias, encouraging us to all stand against the biases and discrimination faced by women around the world.
Here at Boux we are celebrating International Women's Day by encouraging all our Boux girls to come TOGETHER to empower each other!
We are always wanting you to love YOU, after all, all of our pieces are designed with YOU in mind!
BOUX'S INTERNATIONAL WOMEN'S DAY MESSAGE
Our message for IWD is about coming TOGETHER to celebrate all women and feeling empowered by lifting ourselves - and each other up - with positive affirmations!
We want to encourage our beautiful Boux community to show themselves and each other love this IWD, by sharing stories, along with uplifting and supporting comments.
Lift someone up by leaving a supportive comment on their socials or even in-person!
Or you can share a story using our brand new filter, which includes a fabulous positive affirmation sticky note - positivity will be everywhere!
By coming together, we can all #BreakTheBias and spread love this International Women's Day!
Our campaign imagery is here to encourage you to be unapologetically you this IWD and thereafter!
As well as showing you some fabulous positive affirmations to empower you, our beautiful campaign imagery also celebrates every body in some of our fave knicker styles.
Boux knickers flatter every curve, whether you love a thong, a brief or high-waisted knickers, our selection is sure to make you feel confident and beautiful.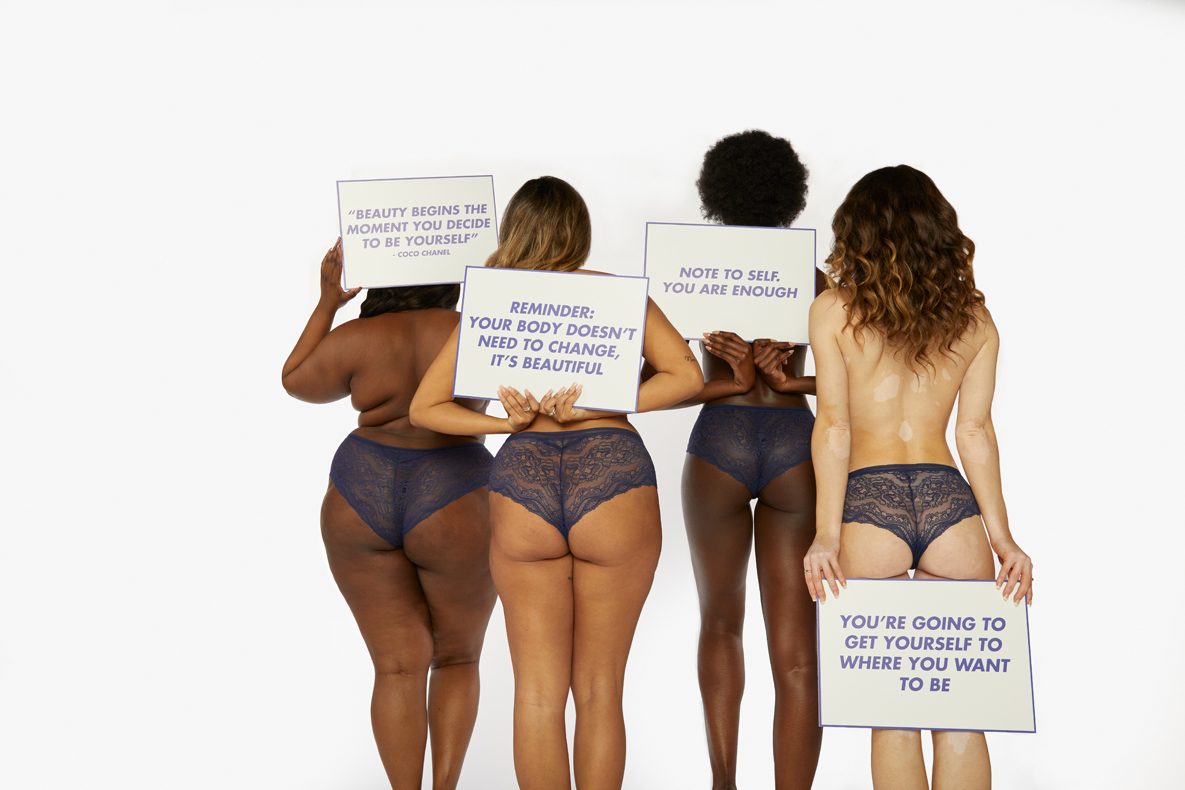 Our girls all look fabulous, strong and empowered in the Lillie lace shorts! Holding beautiful messages of positivity and self-love - we love to see it!
And the signs don't lie! You really are enough just the way you are!
Looking super cute in the Tatiana ditsy floral thongs, Boux girls have even more self-love affirmations for you. We couldn't agree more that you should put self-love first each and every one of you is a work of art just the way you are!
The Erin lace G-string and Tatiana plain thong also make an appearance in our International Women's Day campaign, showing just how beautiful every body is without needing to change!
How are you celebrating International Women's Day? Share pics with us over on Insta, use our brand new filter for IWD and use #myboux, #BreakTheBias and #together to show us how you come together and empower yourself and other women!