GYM UNDERWEAR WE CAN'T BE WITHOUT!
January is approaching, and without a doubt that always brings with it a rush to get back into a good exercise routine. It's what we all need in the dark depths of Jan, a good rush of exercise endorphins!
We know getting back into exercise, whether that is re-starting couch to 5K for the 10th time, making a return to the gym, or starting a brand-new exercise class, can be a bit scary.
One thing we know makes getting back into exercise, and importantly sticking with it, much easier is ensuring you feel comfy and fabulous in your workout lewk!
We all know what to look out for in new gym leggings or gym tops, but something which you might not consider is the impact wearing the right gym underwear can have!
As we are experts in all things knickers and lingerie, we are here to advise you on the best gym knicker picks to ensure you feel comfortable and fabulous whilst you get your sweat on!
GYM KNICKERS FOR A COMFY WORKOUT
There are a few things you need to consider when choosing the perfect pair of gym knickers to go under your leggings or cycling shorts…
Firstly, the material is important – when you are getting your sweat on, you need to be wearing a breathable underwear material, something like cotton or microfibre is your best bet!
The Nell high leg boxer thong is the perfect piece of exercise underwear if you prefer cotton, plus the high leg style is just so flattering! Or you could go for the equally cute Cait microfibre thong, another breathable thong perfect for working out in!
These knickers will pair perfectly under your gym look, we can't wait to hit the gym in our Boux Sport tie dye cycling short and matching Tie dye longline crop top. With our comfy cotton or microfibre knickers on, we know we will have a super comfy and fun workout!
Another factor to consider is how to avoid annoying knicker lines under your gym leggings. Let's be honest, gym leggings are great for working out in, but also great for flaunting the results of your hard gym work in. Show off the results of your many squats by avoiding knicker lines in a thong! Even better, go for a seamless No-VPL knicker style!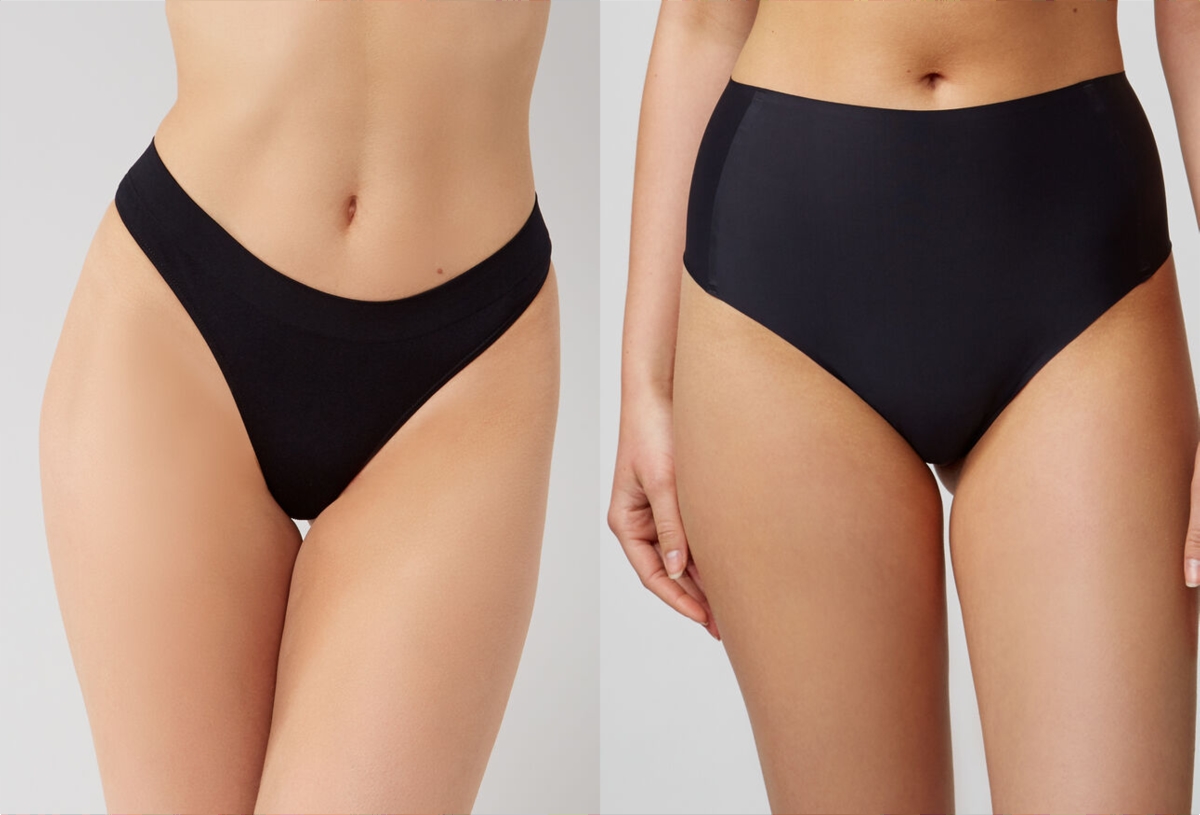 Our Seam free high-leg thong makes the comfiest and most flattering gym knicker! No knicker lines ruining your fresh gym outfit when you go for these! If you can't get enough of high-waisted knickers, then we cannot recommend the Bonded high-waisted thong enough!
Whether you are working out in the sleek Boux Sport mesh panelled leggings or you've gone for the gorj Textured panel cycling shorts and matching Textured panel long sleeve crop, your seamless knicker choices won't ruin the aesthetic of these flattering close fitting gym essentials.
Look out for fresh activewear drops in the New Year if you want to update your gym outfits. But don't forget to stock up on the best gym knickers to ensure a comfy and fabulous looking workout! Share your workout looks with us over on Insta using #myboux so we can show you some love!