After Halloween there's only one real holiday left to get excited about… Christmas! Our brand new Christmas campaign is here and this year, it's all about you. The 'Loving you for you' collection is created to encourage you to indulge in a little self-love this festive season; and treat yourself to brand new lingerie and nightwear to feel your most fabulous everyday! With everything from new jewel toned lingerie to sophisticated, sultry nightwear, you're guaranteed to find something to add to the top of your Christmas wishlist!
Sharine embroidery balconette bra
Designed in house by our all-female design team, our Sharine embroidery lingerie range is going straight from our basket to our winter lingerie wardrobe! Designed with ultra-fine feather embroidery placements, in a choice of mesmerizing black and gold or rich red; this set is designed to fit you perfectly… all whilst feeling your most confident and glamorous!
Sharine embroidery body
The Sharine body is a worn to be seen festive season staple! Our new hero piece in this collection is designed with the same luxury design placements, and colourways as the matching set - with the addition of stunning spot mesh & cut out back details. Sharine is our most versatile and strikingly beautiful body with endless styling possibilities to have you look flawless all Christmas. Feel empowered to style it the way that makes you feel you're most fabulous.
Ottilie balconette bra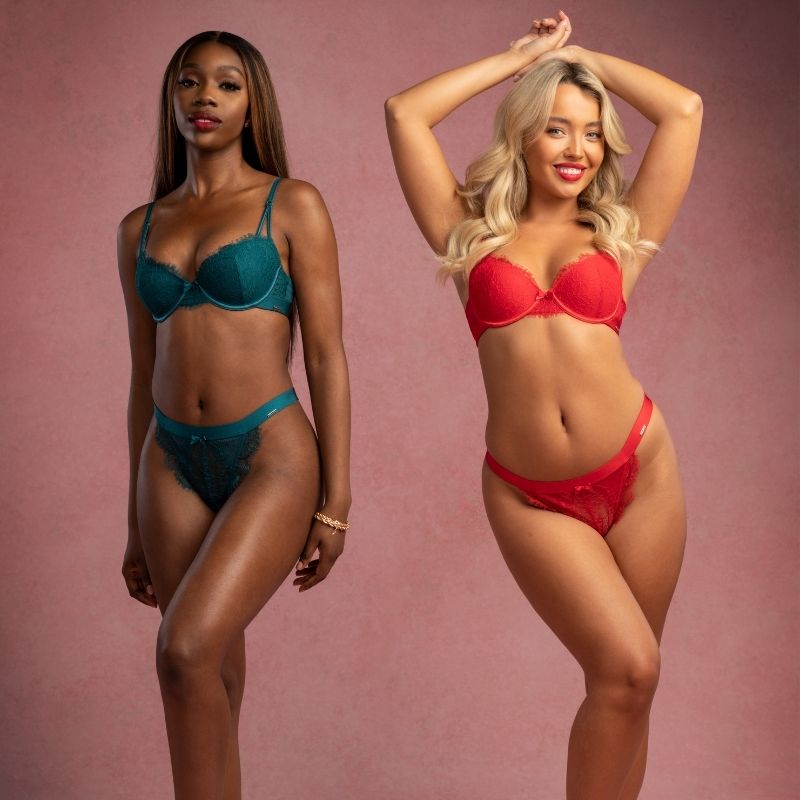 Time to add a little colour to your lingerie drawer? Ottilie is the range for you! Created in a choice of two opulent colourways including emerald green and strawberry red; and designed with a flattering satin and eyelash lace mix to make you feel your most feminine. The geo mesh and satin apex details add a little extra edge to this unique set, making it that little more luxe.
Abella nightwear
If you love your nightwear with just the right amount of glam, then the Abella nightwear range is right up your street! Now that we're spending a lot more time indoors, it's the perfect time to invest in your nightwear and treat yourself to a few, new luxury pieces. Designed in soft touch jacquard spot satin, with on-trend, lace cut-out back details; this is the perfect, inexpensive range to take your nightwear game to the next-level. With stylish options including a cami set, chemise, robe and revere pant set, there's something for everyone!