CHRISTMAS GIFT IDEAS FOR EVERY GAL IN YOUR LIFE
Whether you start your Christmas shopping before the Halloween decorations have even come down, or you're more of a last-minute kinda gal, there's no denying that buying Christmas presents is SO MUCH FUN.
From your Mum to your BFF, we've got you covered with some of the best Christmas gift ideas for every gal in your life. In fact, you'll be spoilt for choice with our selection of beaut nightwear, accessories and lingerie gifts.
CHRISTMAS GIFT IDEAS FOR MUM
When it comes to buying the perf Christmas gift for your Mum, you really cannot go wrong with some cute, cosy loungewear.
Our suuuuper soft Dark Lynx midi dressing gown will be like a giant hug every time she wears it. With a super soft lined hood and a flattering tie waist, your Mum is sure to love this beaut dressing gown. Why not treat her to some matching grey fur slippers too, to make sure she's cosy and warm all winter long? She will LOVE them.
Our Mini Me collection is another perf Christmas gift for Mums. We are OBSESSED with the Shimmer heart twosie set - one for Mum, and one for her mini me. You can't go wrong with a matching loungewear set at Christmas, after all.
CHRISTMAS GIFT IDEAS FOR FRIENDS
If you're looking for Christmas gift ideas for your friends, you can't go wrong with some boujee nightwear or accessories.
If your BFF likes to take a walk on the wild side, then she is going to adoooore our Leopard satin revere pyjama set. Made from a luxurious satin stretch fabric, these super comfy pyjamas will have her looking cute and stylish even when she's asleep.
Another gift you just can't go wrong with is a super soft pair of slippers. We loooove our pink Platform slider slippers. They're soft, stylish and super comfy… what's not to love?! We'd defo want these under our tree at Christmas.
Our Leopard hot water bottle is another perf gift for your BFF. The super soft fabric and cuuuuute fluffy tie toggles will keep them warm and cosy on the coldest winter days.
CHRISTMAS GIFT IDEAS FOR YOU
Buying Christmas gifts for your friends and family is hard work, so you deserve to treat yo'self too! After all, we are all about self-love here at Boux, and what better way to show yourself a little bit of appreciation than with a gorj Christmas gift from you to you?!
Girl, when it comes to self-gifting this Christmas, why not go all-out with our stunning Milana set that our girl Sophia looks soooo fire in?! The Milana rose longline bra is so flattering. With the super cute rose print, gorj lace detailing and corset-inspired shape – this is sure to become your new fave bra. Team with the thong and suspenders for a lingerie set you're never gonna want to take off.
Let's be honest, everyone needs a new red lingerie set at Christmas, so treat yourself to our racy red Adelia set. The Adelia high apex plunge bra will give you that lift and support you need, whilst the matching thong, suspenders and hold ups complete the look.
We personally think slippers are a winter essential, so treat yourself to our chic and stylish Pastel suedette mule slippers. With a soft plush faux fur lining and suedette outer - these beaut slippers will keep you warm alllllll season long.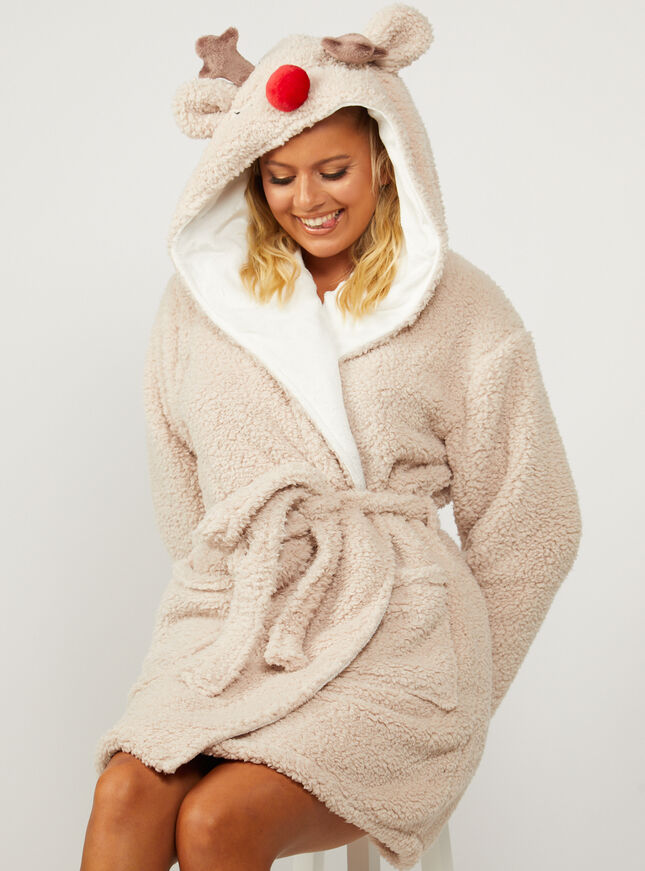 We may have just saved the best gift until last with our SUPER cute Reindeer dressing gown that's sure to have you sleighing on Christmas morning.
No matter who you're buying for this festive season, our Christmas gift ideas are sure to inspire you. We'd looooove to see pics of your friends and fam unwrapping their gorj Boux gifts on Christmas day, so don't forget to tag us on Insta using #MyBoux.