CUTE PYJAMAS TO BRIGHTEN YOUR DAY
As the temperatures cool, the days shorten and holidays make way for daily life again, there's no feeling quite like slipping into a pair of chic, cute pyjamas at the end of the day.
We all have our go to lingerie for making us feel great, be that your thongs or your fave bras. But we also need cute PJs to help us embrace some chill from time to time too. Whether it's satin pyjamas or cotton PJs for the win, we all need our relaxing time 'fits to stay wearable, breathable and versatile as the seasons change.
So how to max out your relaxation? Well, start by browsing our cute pyjamas sets for inspo and see where it takes you! Hint: Dreamland is a very likely destination.
THE CUTEST PYJAMA SETS FOR NIGHTS IN
Keep it classically cute with these top picks - a mix of new-ins and the Boux community's best-loved pieces are waiting to be snapped up. And you know what's even better? We've all the fluffy dressing gowns and fluffy slippers to elevate your post-work chill even more, too.
A classic shape in a cutesy print is what we are starting off with - the Heart scallop cotton short pyjama set brings a pretty-in-pink vibe to proceedings. The revere button top, combined with scalloped edging and its adorable heart print makes this one all too easy to opt for at bedtime - and to lounge in, long into the morning after!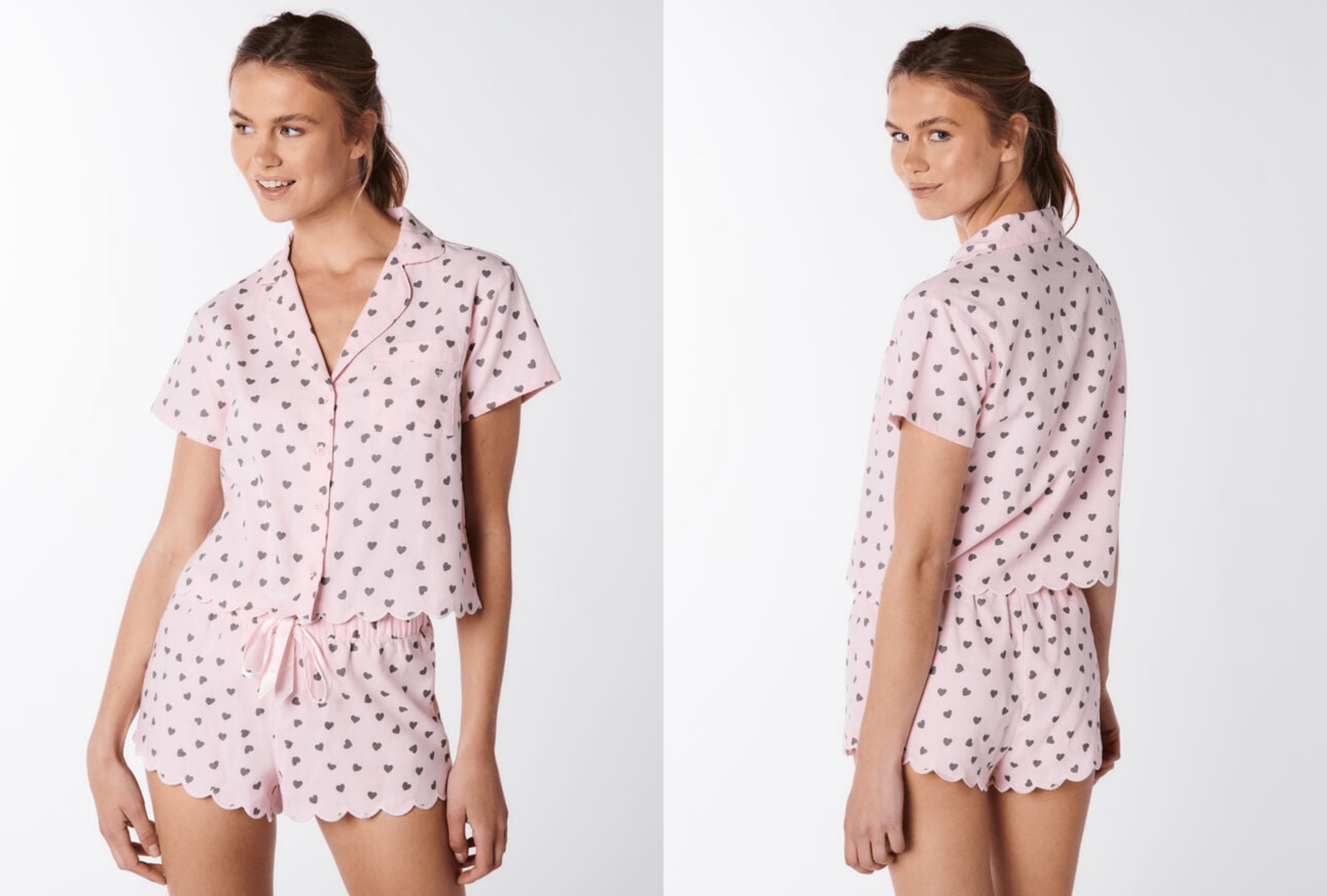 Add extra cuteness with the Velvet fleece socks in pink mix and ensure your tootsies are treated, too!
Now, the return of colder climes also means that cosy nights are back on the cards…and what would these be without a signature Boux pyjamas in a bag set?! Go girly with the Stripe cotton pyjamas in a bag and gift yourself cute comfort and style, all in luscious lilac.
Feel the chill a little more easily? Then the Star fleece pyjamas in a bag are the ones for you. Star patterning is dainty yet grown up, and a long sleeve revere plus soft fleece material equals instant toastiness. Winning!
Love that revere shape but prefer more time-honoured traits? Swap stars for stripes with the Stripe cotton short pyjama set instead. A touch of lurex glitter gives this one its subtle extra-factor, for which we just know you'll be peachy keen…
It's a fact. Cami sets are cute. We've two irresistible styles that conquer any camisole brief to perfection.
Both the Ditsy floral tie cami pyjama set and the Cami woven daisy short pyjama set feature floral detailing, breathable fabric and elasticated waistbands; so you can keep those summer vibes flowing just a tad longer, whilst sleeping soundly in the cutest, comfiest pjs out there.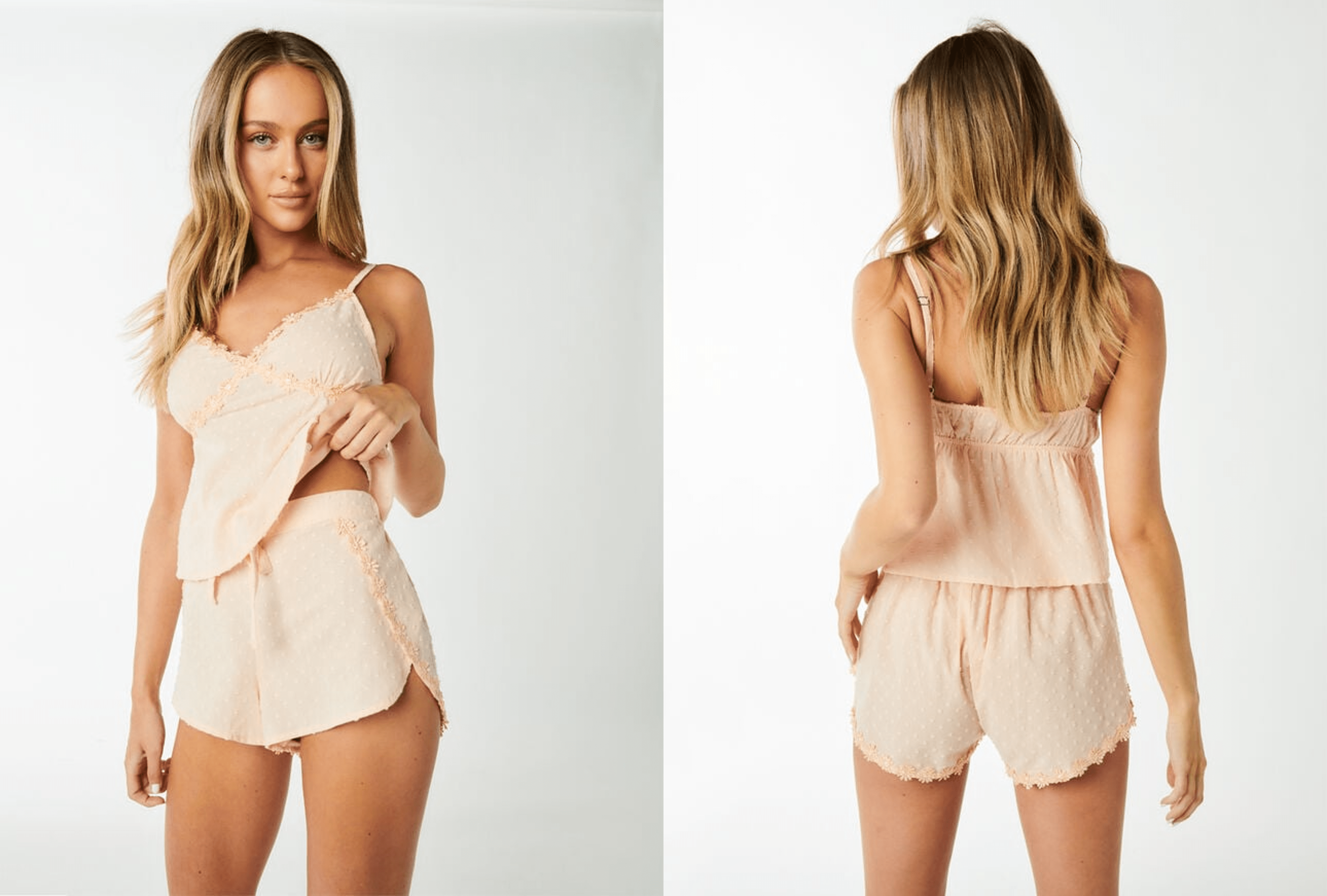 Next up; the new-ins stay second to none this season and the Ribbed wrap short pyjama set is no exception. Fall hard for one of fall's key necklines and embrace a cute version of the flattering wrap shape. Short pyjamas pair with a long-sleeved top, for a contrasted look that brings true glam to your lounge time; plus, the charcoal hue with contrasting pink edging makes for the cutest colour pairing.
Wrap up for the chillier days in the Heart wrap top and leggings pyjama set: That stunning wrap shape slays again and this time, with leggings and ribbed cuffs too!
A cute pyjama set that gets even better when you add the Fluffy plush long dressing gown on top. It's official; we're not leaving the house.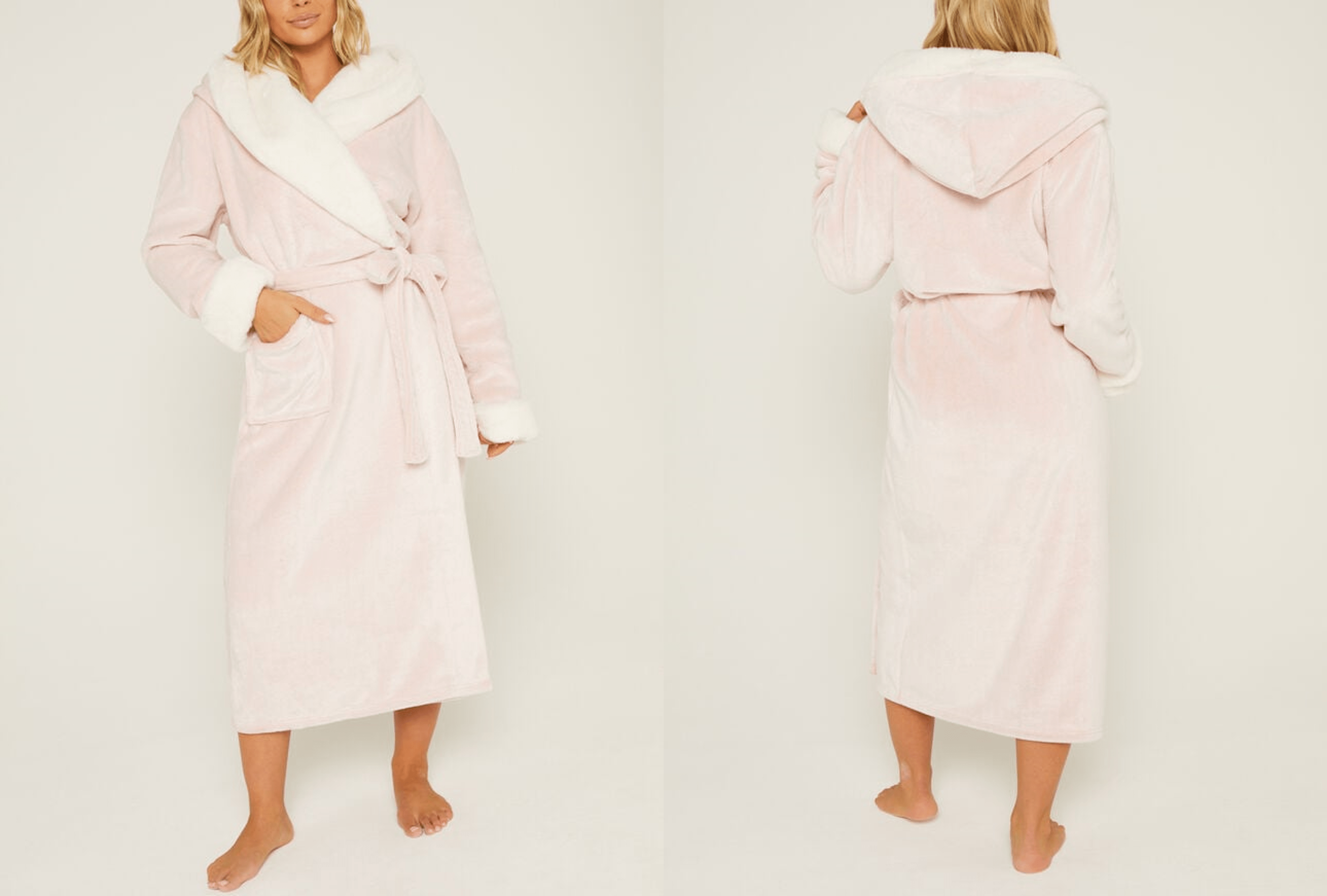 CUTE & SEXY PYJAMA SETS
And who said cute can't be sexy, too? Treat someone special (yourself included) with Boux's best-ever ranges of sexy nightwear and satin nightwear.
One of Boux's most-loved collections, we turn to Amelia for all sultry yet cute pyjama needs. And she never disappoints, not with gems like the Amelia satin short pyjama set in the range! Just look at that premium lace detailing on the sleeves and shorts - combined with the luxurious satin material available in both navy and ivory shades - it's a sexy pyjama set you'll go back to time after time.
Another cute and sexy PJ set and another Amelia favourite: Enter the Amelia satin cami set. Ideal for those who want to keep the lighter vibes going for longer, cami straps, a cheeky short side-split and sensual satin-like fabric make this one the perfect sexy:cute combo.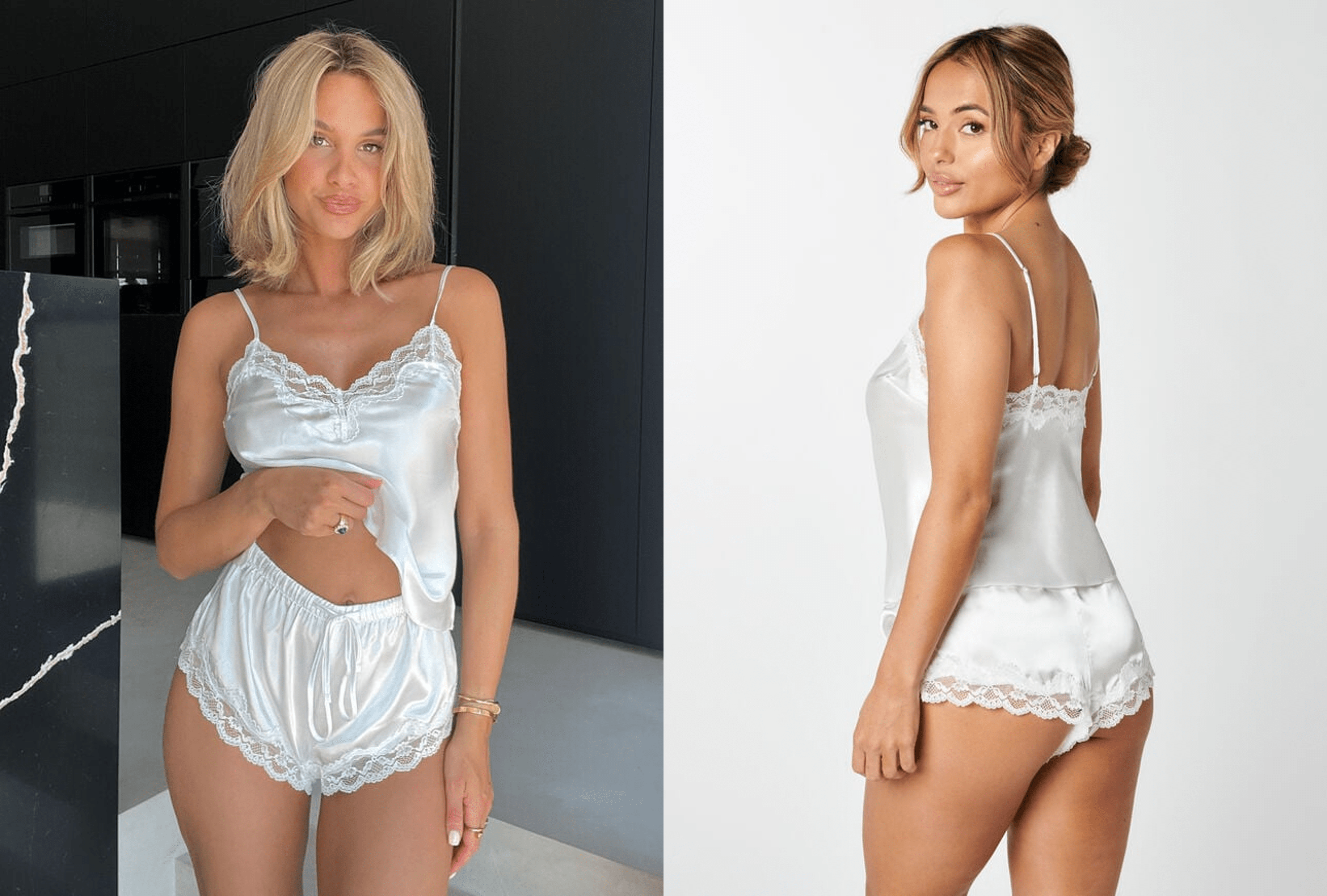 The Amelia short robe is designed to look and feel dreamy with the whole range - and we know you'll find satin robe feels ideal to cover up in, day after day.
Sticking with satin for the moment, the Stripe satin cami pyjama set brings a smarter element to your cute pj collection. White lace edging and barely-there straps keep this smart set sexy too, and with both pink and mint mix shades to choose from, you can alternate according to your mood.
Our designers simply had to add the latest lingerie shape trend to our pyjama collection - so voilà the Stripe jacquard satin bralette. Bralettes go above and beyond the brief every time, and this beauty is one of those pieces; in powder blue, and crafted in premium liquid satin material, this one feels as slinky at slumber time as it does under any satin dressing gown for other boudoir shenanigans…
Don't forget to match the Stripe satin jacquard shorts for the cheekiest of feels - their high-waisted shape will ensure your derrière looks as divine as you feel whilst wearing them.
Curated your cutest pyjama 'fits already? You're ahead of the game and we want in! Share your fave cute pj sets on Insta using #myboux