International Franchise Enquiries
Boux Avenue is a stylish, innovative lingerie brand that is an irresistible shopping haven for lingerie, nightwear, swimwear and accessories.
---
Beautiful, luxurious lingerie - all over the world...


Boux Avenue is the leading British lingerie retailer with an international presence in over 14 countries.

From the beginning, Boux Avenue has been designed with a woman's mood in mind. The brand was built for lingerie lovers, looking for quality underwear at affordable prices. We pride ourselves on superior fit, outstanding customer service and an inclusive size range. This unrivalled attention to detail and high standard of customer service makes Boux Avenue appealing to a broad customer base and truly sets the brand apart.
FIND OUT MORE ABOUT BOUX AVENUE
Privately owned and chaired by successful businessman Theo Paphitis, Boux Avenue is part of a group also consisting of Ryman the Stationer and Robert Dyas. Theo Paphitis is renowned for his ability to revive the fortunes of notable retail brands such as La Senza and Contessa Lingerie, and has been investing in and running retail brands for over 20 years. Across the brands there is a total retail estate of 350 stores throughout the UK with increasing International presence and interest.

Boux Avenue has won Global RLI Awards for Rising Star of the Year 2012, UK Retailer of the Year 2013 and UK Retailer of the Year 2014.
Our Product
Boux Avenue has made stunning lingerie accessible to every woman. As a lingerie specialist we will provide for all your customers' needs, from everyday bra solutions to fashion forward styles, sophisticated nightwear to swimwear; creating the perfect destination to give her lingerie drawer a new lease of life.
Beautiful, quality garments are at the heart of what we do; combining attention-to-detail, fit and fabric is the key to our success. The Boux Avenue brand is elegant and feminine. It is through the product that the brand truly comes to life.
Store Concept
Boux Avenue stores are beautifully designed with a contemporary, stylish feel in chic monochrome, with lingerie cleverly displayed in drawers according to size. Three different light settings in the fitting rooms that emulate day, dusk and night are some of the key features that make the Boux Avenue in-store experience truly unique.
Stores across the globe are designed to be a true extension of the brand creating the Boux Avenue experience, wherever they are in the world. All elements, encompassing staff to store design, work together to create a shopping environment which is all part of the Boux Avenue journey.
Outstanding Customer Service
Outstanding customer service is paramount, both online and in the retail store environments. In store, customers are offered a personalised concierge service with expert bra fittings that make shopping pleasurable and exclusive. To complete the ultimate lingerie shopping experience Boux Avenue offer a beautiful gift-wrap service with every purchase. Lace inspired tissue and scented rose petals continue the brands attention to detail, ensuring customers return time and time again for the experience that is uniquely Boux Avenue.
The Right Location
The Boux Avenue International Franchise team work closely with our partners to find the best locations to suit the business needs and customer profile. With the franchisee's expertise knowledge of the local market and Boux Avenue's innovative store design and product, we aim to deliver a great concept in the right location.
At Boux Avenue we are dedicated to selecting the very best franchise partners to share in the success of our brand around the world. We have established an infrastructure that can seamlessly support the delivery of the Boux Avenue brand wherever in the world it might be.
We operate via a franchise model, with international retail companies with an existing fashion presence who are keen to add an exciting new brand to their portfolio.
The Boux Avenue franchise model has been developed to be simple and efficient, whilst maintaining global brand identity.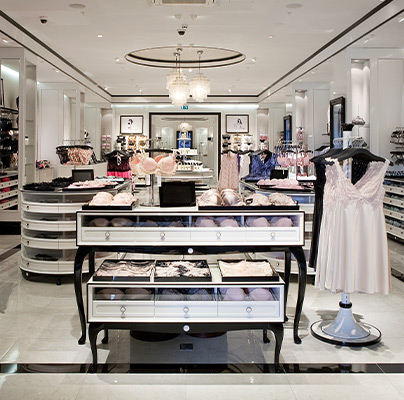 WHAT DOES BOUX AVENUE OFFER TO A FRANCHISE PARTNER?
Dedicated international team for your Boux Avenue business

Retail & store branding

Comprehensive retail design manual

Full initial and ongoing training

Buying knowledge

Product merchandising and analysis

Operational & VM support

Marketing guidance & direction
WHAT ARE WE LOOKING FOR IN A FRANCHISE PARTNER?
Expert local retail knowledge

Strong understanding of local marketplace

Extensive support infrastructure

Access to sufficient financial resources

Operational focus

Superior service based culture

Proven retail track record
---