Introducing our debut Boux Lounge collection! Our brand new range of luxury loungewear is designed in London by women to encourage the everyday woman to find confidence in comfort, through super-soft fabrics and textured knits perfect for lounging in style.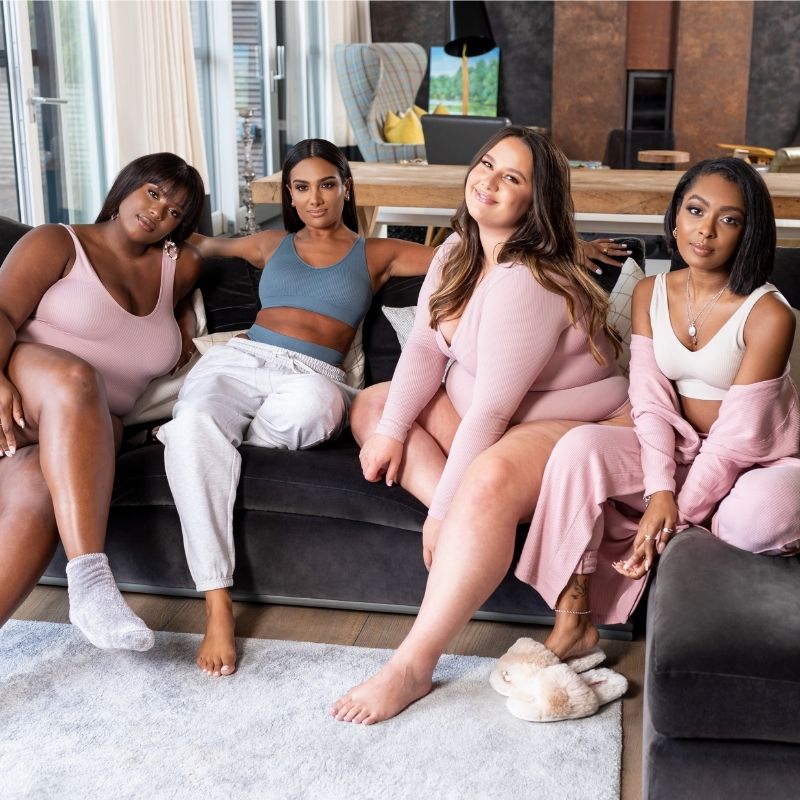 Boux Lounge merges style staples, quality and trend-led designs to elevate your everyday basics through a new collection of timeless classics, designed around you and your lifestyle. We've got all the answers to a winning winter wardrobe right here and with prices starting from £10, you can tick off the AW20 minimalist trend for less! We chatted to the faces of our campaign (and influencer style queens) discussing everything from personal style tips to off-duty days at home - continue reading for more about our new collection and an exclusive interview with our campaign talent!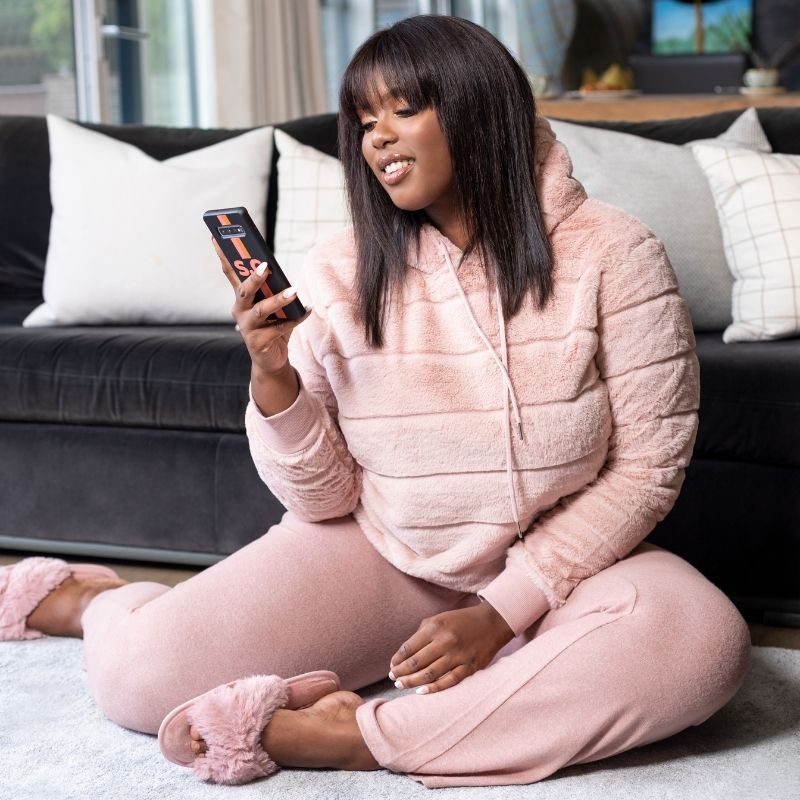 What would you say is your favourite thing about the brand Boux Avenue?
Samira Mighty (@samiramighty): My favourite thing about the brand is that all the clothes look good on everyone, and show loads of diversity.
Simone Charles (@simonecharles): The variety of products available - whether you want some cosy loungewear or you want to dress up in some special lingerie you will find something from Boux!
Michelle Nayla (@michellejulietnayla): When you shop Boux Avenue, you are first priority the moment you enter the shop or you click on the website. You can tell it's made by a woman for woman
Mariam Musa (@itsmariammusa): My favourite thing about Boux Avenue is their quality of underwear. The quality is so high and the price is so reasonable.
Tiffany Watson (tiffanyc_watson): The quality and fit of their pieces are amazing. I know that when I order my size I don't have to worry about it not fitting well to my shape.
Jourdan Rianne (@jourdanrianne): My favourite thing about Boux Avenue is the comfortability for people of all sizes! There's something for everyone.
How would you describe your personal style and where do you get your inspo from?
SM: My personal style is edgy, preppy, fun and cool. I like to dress however I feel I want to dress on the day. I like to look at trends going around, at the moment I'm really into preppy American looks and also oversized grandad vests.
SC: I would say my personal style is bold, co-ordinated and figure-hugging. I love wearing anything from leather to leopard print but it always needs to flatter my curves! I get style inspiration from Instagram - influencers like @kiitana and @mercer7official have the BEST sense of style!
What would be your hero piece(s) out of the collection?
MN: Definitely the bralettes and thongs! They are so versatile they cover enough to dress up or just at home when you have a girl's night with the Sia flare pants.
MM: The underwear from this collection is my hero piece as it's so comfortable, fashionable. Something that I'll be going to in my wardrobe time and time again.
What does a typical day off look like for you?
TW: I'll say I'm going to lie in and then wake up early like always! Go for a walk which always starts my day nicely, finished by an oat milk coffee. Then probably meet some friends for lunch or see my sister. Ending the day catching up on my favourite series, Real Housewives of Beverly Hills!
JR: A typical day off never really exists haha! I'll be on my sofa in my living room after cleaning my house and having a long bath. I'll more than likely edit some work I've done the days before. And then watch a few movies before bed. Typically either my best friend or family will come round to my house!
What do you wear when working from home?
SM: When I'm working from home, I wear comfies most of the time or a crop top and cool joggers, with fluffy socks, depending on the weather.
SC: Anything that is comfy - usually shorts and a t-shirt!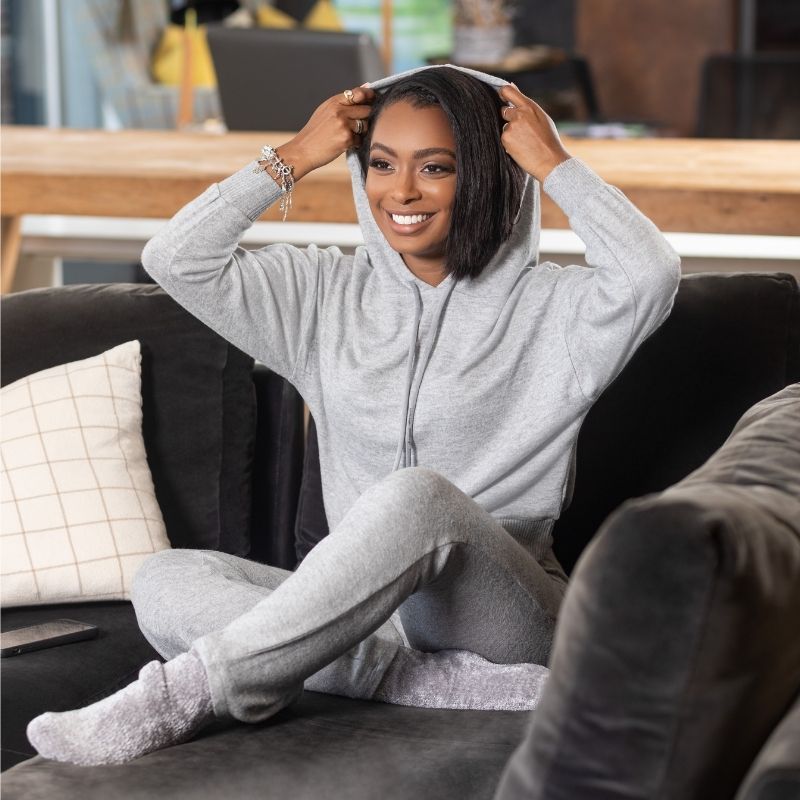 What are your styling tips for dressing up your 'at-home' outfit but still keeping it casual?
MN: I love keeping everything one tone. It always looks more put together, working with different layers of clothing so you can focus on the silhouette that you want for your body; or flare pants with a crop top and dressing gown can look so good. I like to wear a lot of gold rings and golden earrings which gives it a nice twist.
MM: I would add a nice fitted top with the tracksuit bottoms. Something to show your figure a bit more and also a light makeup will always help make you look more dressed up!
What are your ultimate at-home/self-care activities?
TW: Putting a hair mask and face mask on at the same time. A long bubble bath with essential oils. Or if I'm treating myself I'll book an at home massage which is heaven.
JR: Hair washing (deep conditioner for hours), doing my nails, having extra-long salt baths, skin care routine twice a day! Maybe even a face mask.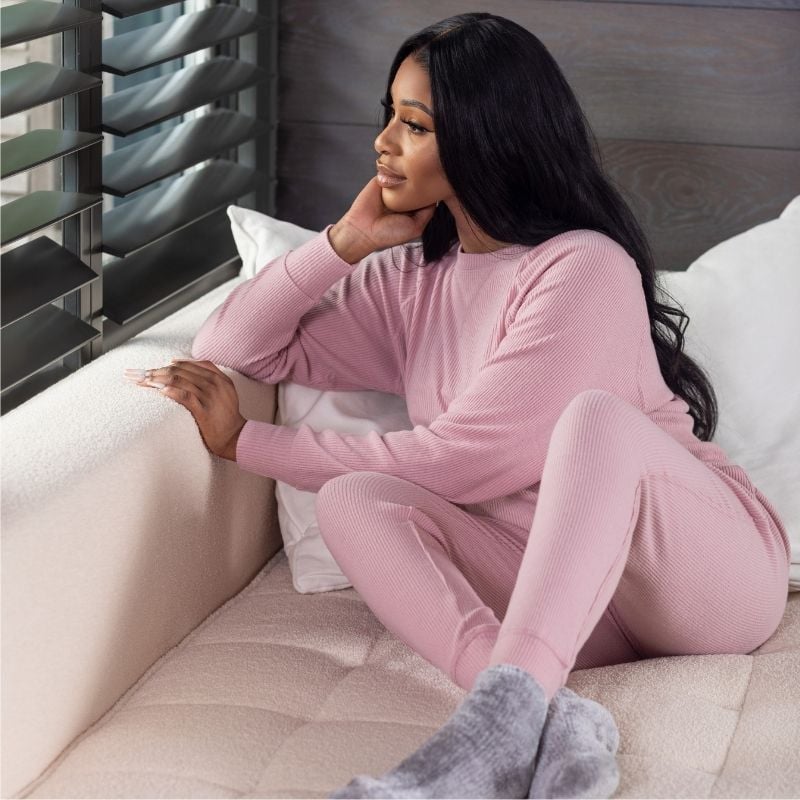 Lastly, we asked the girls some quick fire questions:
Samira
Staying in or going out - Staying in
Dressing up or dressing down - Dressing down
Takeaway or restaurant - Restaurant
Slippers or heels – Slippers
Simone
Staying in or going out - Going out
Dressing up or dressing down - Dressing up
Takeaway or restaurant - Restaurant
Slippers or heels – Slippers
Michelle
Staying in or going out - Going out
Dressing up or dressing down - Dressing down
Takeaway or restaurant - Restaurant
Slippers or heels – Heels
Mariam
Staying in or going out -Staying home
Dressing up or dressing down - Dressing up
Takeaway or restaurant – Takeaway
Slippers or heels – Heels
Tiffany
Staying in or going out - Staying in
Dressing up or dressing down - Dressing up
Takeaway or restaurant – Restaurant
Slippers or heels - Slippers
Jourdan
Staying in or going out - Staying in
Dressing up or dressing down - Dressing down
Takeaway or restaurant – Restaurant
Slippers or heels - Heels