THE HOTTEST SWIMWEAR TRENDS FOR 2023

The yearly swimwear update is upon us - and we're here to introduce the styles we simply can't live without this season. Whilst some are a constant (hello, high-leg swimsuits and high-waisted bikinis!), this year's returning trends are super special too.
From trendy bikinis to the latest swimsuit trends, you'll find something to suit your own unique style, taste and body shape with Boux's ultimate swimwear trends 2023 edit. So what are you waiting for? Time to dive in!
SWIMWEAR STYLES WE CAN'T GET ENOUGH OF…THE SEASON'S BEST COLOURS AND PRINTS
While the Boux team are always here for the classics, 2023 is bringing some spectacular new styles too. We love an original colour or texture, and we're frankly spoilt for choice for the season. Barbiecore, bold and bright and retro prints are the colours we're going for; whilst textured swimwear, ruffles and ruching are de rigueur in terms of fabrics.
Don't say we don't spoil you. Let's start with that gorgeous colour palette…
PINK BARBIE CORE SWIMWEAR
Barbiecore babes out there, have we got some girly goodies for you. The Barbie aesthetic continues for 2023 and we've listed a few Barbie-inspired lovelies right here. Fun and feminine, this trend brings some much-needed nostalgia to our lives. Enjoy.
The Azores textured daisy swimsuit suits this look to a tee. Daisy hardware, pink textured fabric and a low scooped back make this beauty an ideal day-to-night swimsuit - perfect for pool lounging and pimms-sipping alike!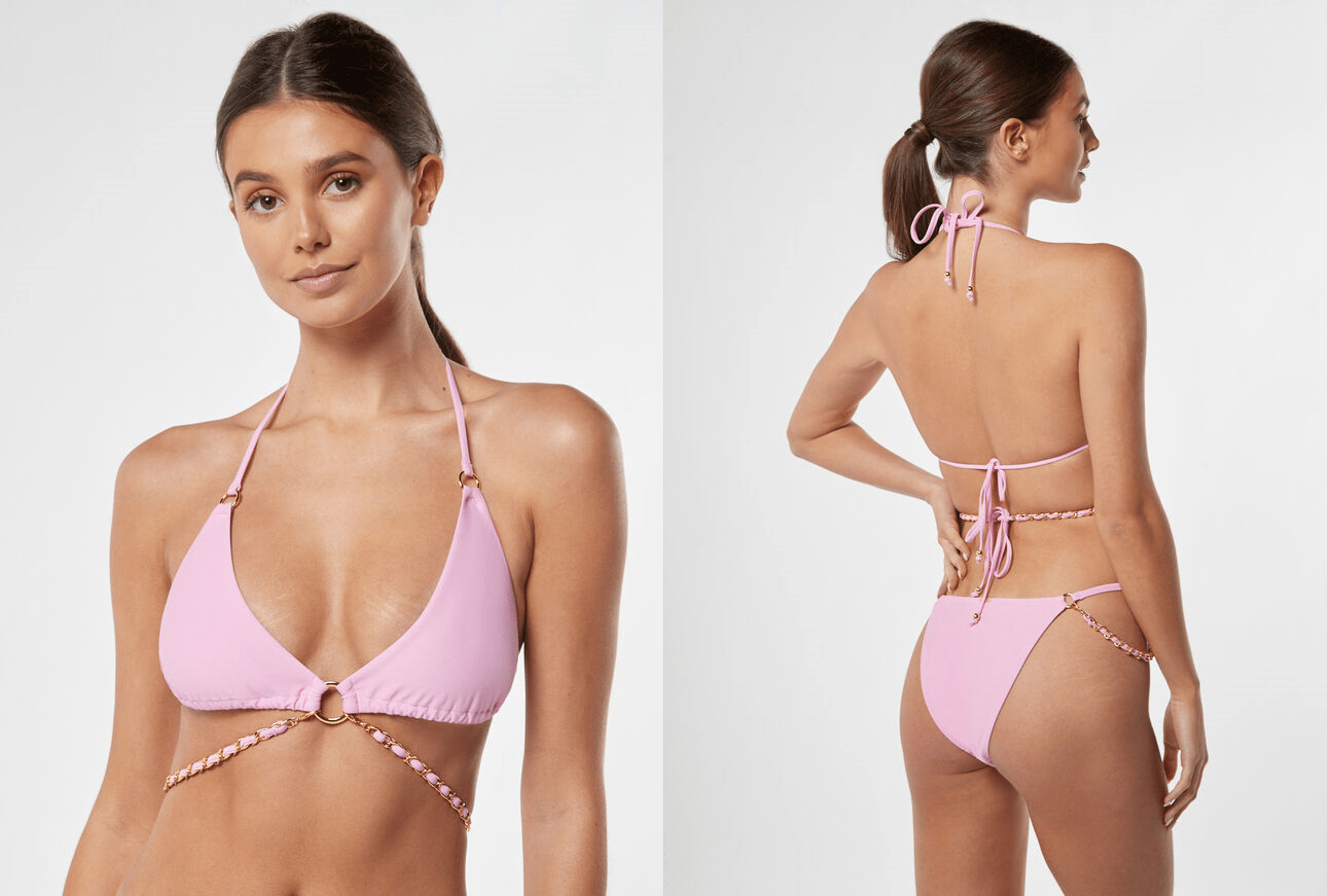 The Miami chain triangle bikini top adds a grown-up vibe to the Barbie party - with a halterneck style, gold hardware and a removable chain. Pair with a baseball cap and the Sheer beach trousers for a contrasted, sharp look. Go slay, Boux Barbies!
BOLD AND BRIGHT SWIMWEAR
Bold and bright - this is how we want YOU to feel, every day. So it's no surprise that this season's must-haves include some stunning neon swimwear. We love the Seville plait bikini top. This one means business in neon orange, and as well as adding the matching Seville plait bikini thong, you can adjust straps to make it a cross-back too. Two in one…what more could we want?!
RETRO PRINTS
Gingham, hippy-style swirls and florals. All would fit just as well into an episode of That 70s Show as they will into your summer swimwear collection. Inject a little carefree fun into beach days with three of our faves:
The Fiji frill gingham balconette bikini top is the one for you if you're keen to accentuate curves and add a little softness to your look - available in a peachy pink and a more ravishing red mix, add the Nude angular sunglasses for a true 50s pin-up vibe.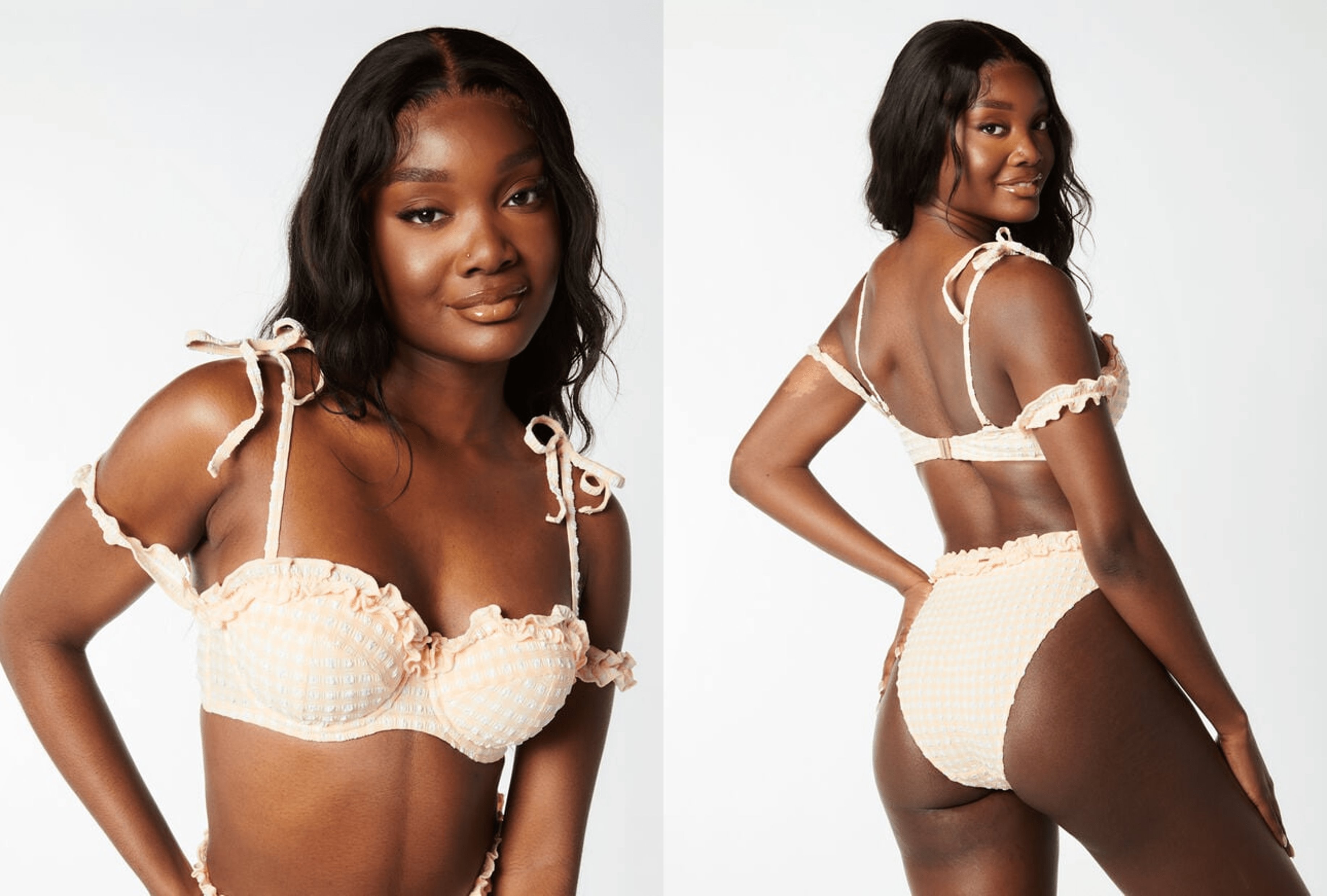 The Malaga super push up bikini features a swirling heart paisley pattern that'll never look outdated - that's one reason we love this feminine yet fun set. Another is the additional padding to bring that extra push up vibe.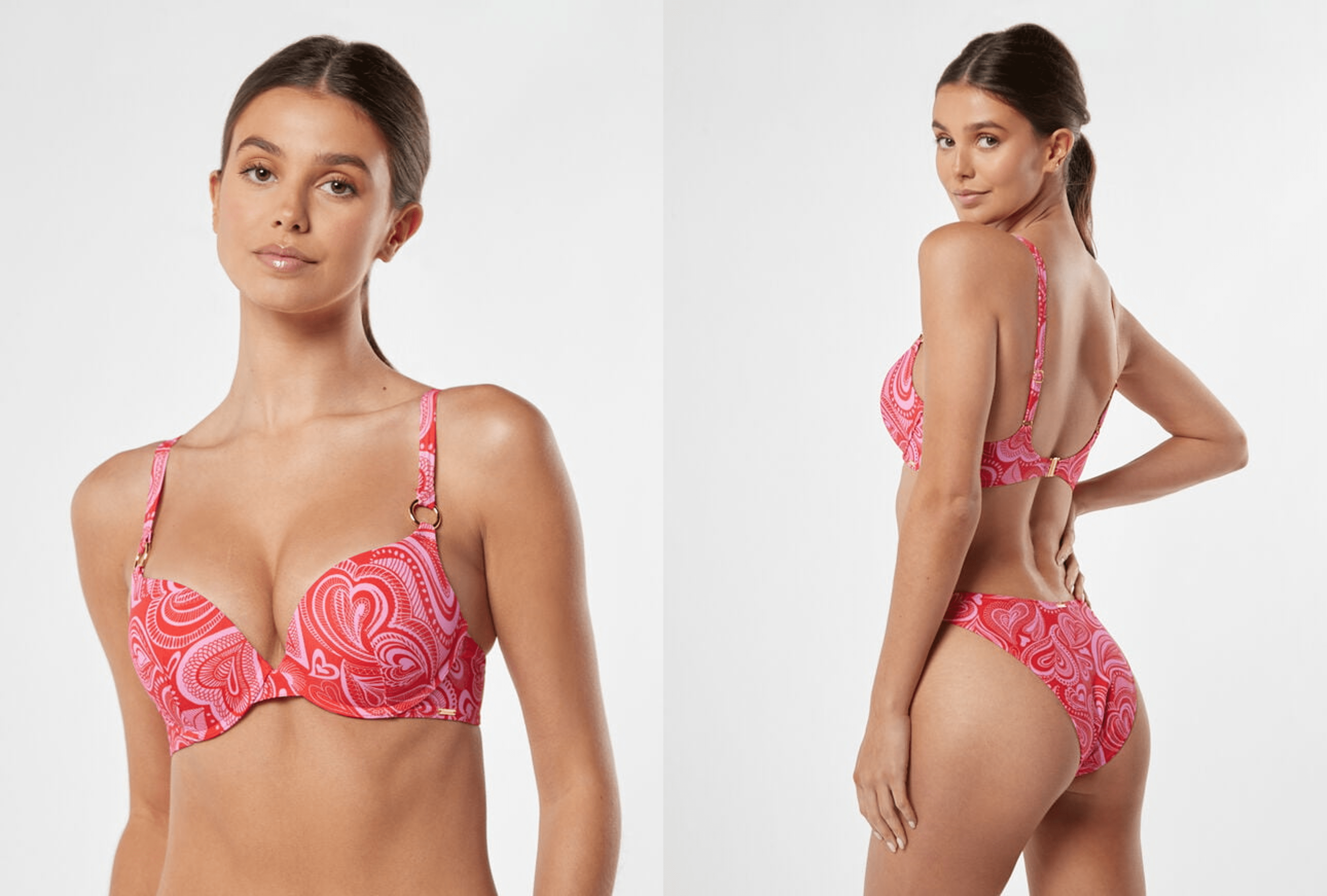 And what are summer prints without a strong floral option? The Crete floral triangle bikini top offers up some multicolour magic, meaning a colour palette for everyone, it looks incredible under the Chiffon frill kaftan in white. Slip on the sliders and off you go!
RUCHING IS IN…
And we're very pleased about it. It's flattering, it's feminine and we LOVE the adjustability of a ruched detail! Especially when it comes in the form of the Ibiza eyelet bikini top (striking red is the one for us) or the Amalfi balconette bikini top. Ruching elements truly accentuate your natural curves - and we think these two stunning bikinis look incredible underneath the Cut-out knit midi beach dress in white. Well, who doesn't want that tan to pop?!

RUFFLES MEET SWIMWEAR
Ruffles, frills, pleating - it all counts. We love our swimwear with a little extra touch. After all, if we can't flex a little flamboyancy in summer, when can we?!
The Sofia frill sleeve bikini top in white is simply gorgeous. Hidden wire cups mean hidden support and a workable front tie means you can gather the front exactly how you like it! Needless to say, this can totally be worn as a crop top too. So just one decision remains; to pair with your best denim mini, or a casual parachute pant instead?
TOWELLING & TEXTURED SWIMWEAR MUST-HAVES
Towelling, or textured, swimwear brings a new dimension to our swimsuit drawer - it feels a little more like clothing, which makes it perfect for transitional dressing as well as beach days!
The Dalyan cut-out swimsuit, with textured white fabric and full lining, is equally at home on that sunlounger as it is teamed with your fave midi and wedges combo.
And back to Sofia we go, as this cutie combines the best of that textured feeling with floaty frills to boot. In a gorgeous lilac this time, its ribbed-like fabric and spot-on colour are sure never to fade out of fashion…

BIKINI TRENDS TO KNOW
The bikini. That cheeky two-piece we all know and love since its inception in 1946. For 2023, there are a few key trends to keep on top of - and we've got these sussed for you. From the micro bikini, to the upside down trend, and over to ring details, browse a few of our sassiest picks for this summer!
THE MICRO BIKINI TREND
The micro bikini trend: Bringing a fresh take to the 'itsy-bitsy, teeny-weeny' theme, these pieces are barely there, very sexy and really show off what you're working with.
One of our favourites has to be the Ibiza eyelet bikini thong. Pair with any of your fave bikini tops, but don't forget the matching Ibiza eyelet bikini top too! Its super-scooped neckline and unpadded cups fit the micro bikini trend perfectly, and will ensure maximum tan coverage too. Ciao ciao, pale parts!
UPSIDE DOWN BIKINI TREND
Rewind to 2020, and countless celebs spent their summer flipping their triangle bikinis to channel a more daring vibe. Don't remember? In a nutshell, the upside down bikini is this: The bikini (top part only!) is switched up so that the pleated parts are facing upwards.
It brings a more revealing and sensuous element to swimtime, and we adore the Syros shell triangle bikini top for this.
RING BIKINIS (RING HARDWARE)
Knock-out glamour is assured with a little ring hardware - classy and bold (much like you), it makes a real statement. And the Mauritius ring side bikini briefs make an understated nod to the ring bikini trend - small ring details on these briefs look simply sensational with its shimmering bright green hue.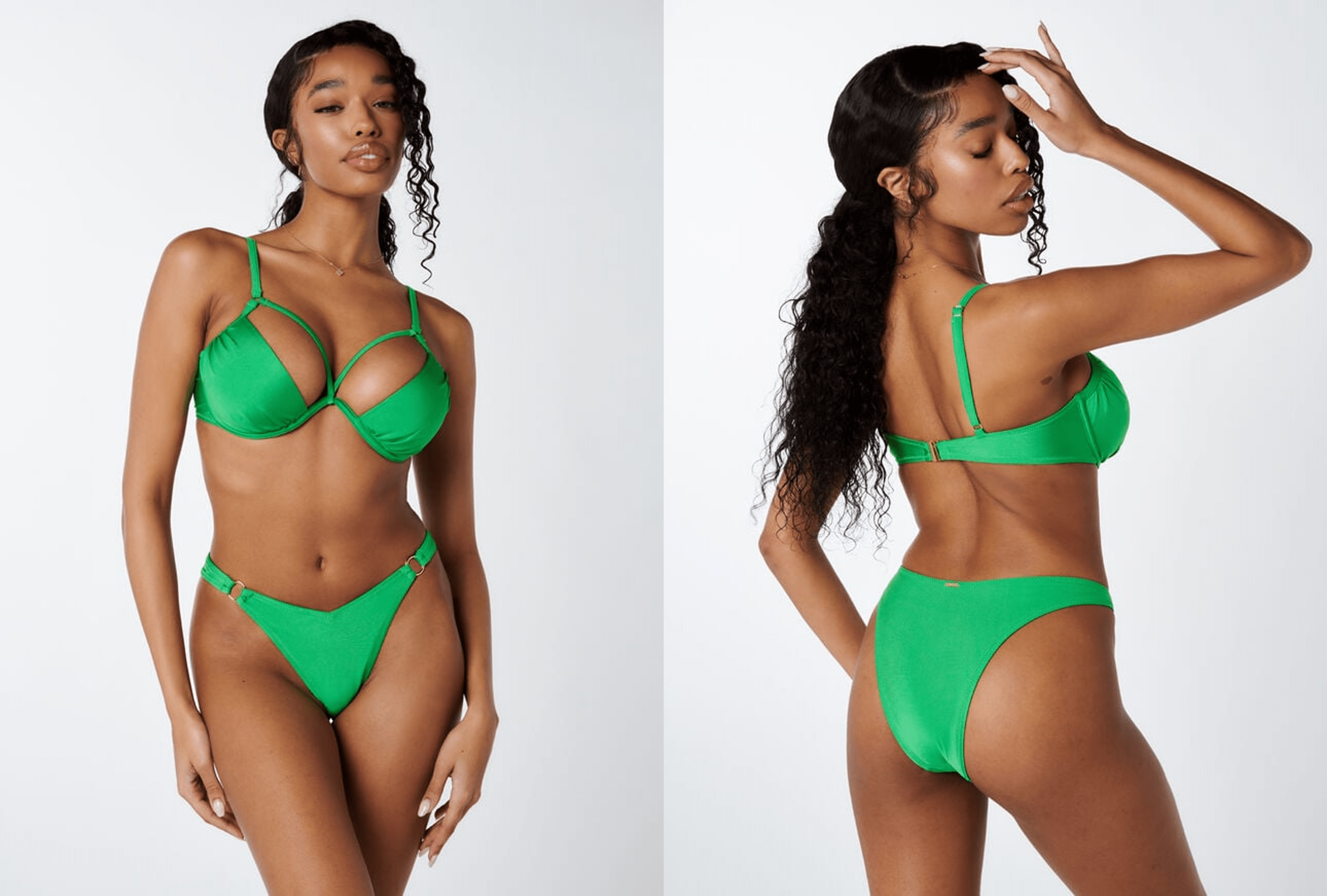 Go bigger with the Seychelles plunge textured bikini top, which features large gold rings which contrast beautifully against this one's hot pink colouring. Want a little extra bling? Complete the look with our Triple strap body chain in gold and shimmer and shimmy your way through summer.


SWIMSUIT TRENDS TO KNOW
More of a one-piece woman? Then you're in luck - the swimsuit range feels better than ever for summer 2023, with a look to work for everyone. Below, peruse our picks of the best plunging styles, cut-out pieces, high-leg classics and of course, the badass black swimsuit must-haves.
PLUNGING CUTS
A beautifully made plunge-cut swimsuit makes us feel like an absolute glamour queen. What's not to love? Plus, they look amazing worn as tops with our trusty denim shorts!
The key? The perfect amount of 'plunge', hidden support and star-worthy colour palettes. Read on…
The Caicos plunge swimsuit is an absolute classic and we're always here for it. Plunging lines, pillarbox red and pretty frill detailing on the back make this one a total winner for this year's poolside chills.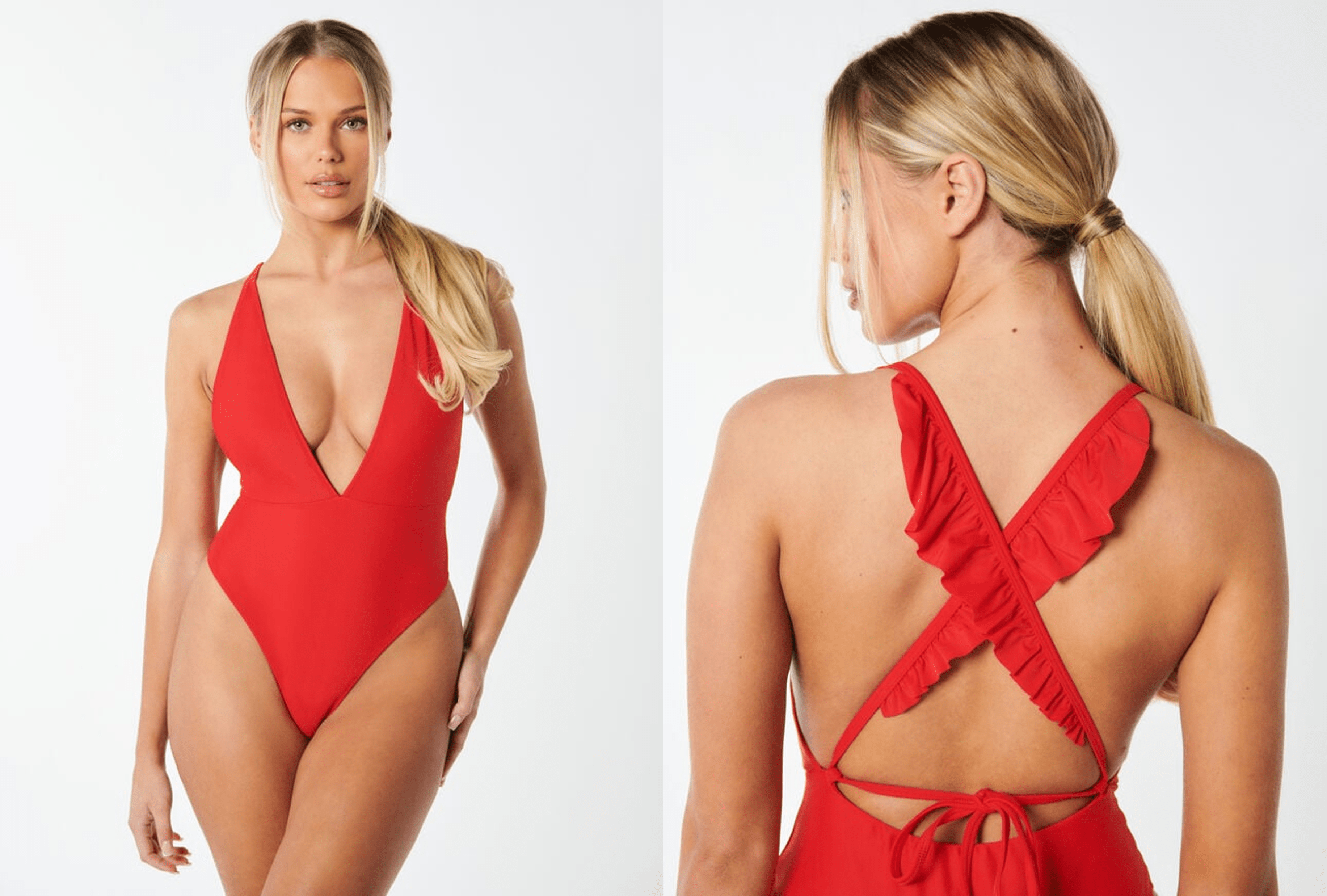 Or, go a little cheekier with the Ibiza halterneck swimsuit. In neon orange, and with additional cutouts, this one's a more daring edition for our party lovers out there.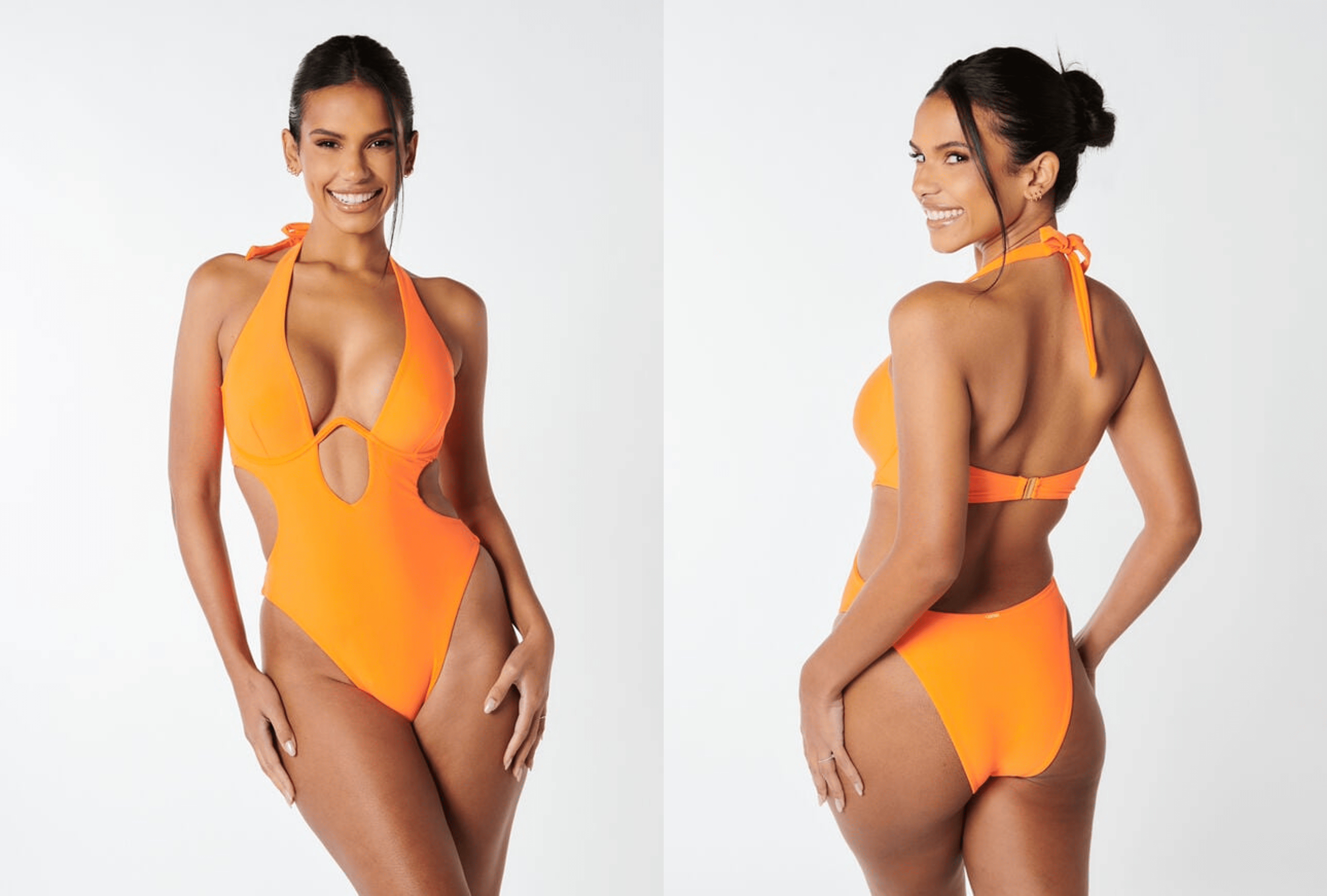 CUT-OUT SWIMSUITS
Onto more cutout swimsuit chicness; with this trend, we say go hard or go home.
Cute, summery vibes are yours with the Positano ring cut out swimsuit in pale pink. Shiny fabric, a high neck and cut-outs in all the right places will make sure it's you who shines on the beach this season!
And if a stronger vibe is what you're seeking, the Menorca chain cut out swimsuit will deliver. A super high-shine finish means fierce, bossing-it vibes to help you slay all the way to those sundowners.
Just add mega shades and a wide-brim hat and you've got yourself one hell of a look, ladies.
HIGH-LEG CUT SWIMSUITS
Bringing Baywatch back (as if it ever went anywhere) are our hottest high-leg swimsuits. Pack the Santorini ruched swimsuit in your suitcase and enjoy the 'look-at-me' wow factor of this piece. Fabric that's fully lined means no worries about transparent trip-ups and its sexy high-leg cut complements its cut-out details perfectly!
The Nusa strappy swimsuit is another gem; another high-leg cut with extra shoulder and back straps that'll ensure you're feeling your best self, whether it's on Nusa Dua itself or in your own back garden! Stay pool party-ready at all times with the Chiffon fill kaftan too; beautiful chiffon and delicate frills create a luxe resort look that we just can't get enough of.

THE STAPLE LITTLE BLACK SWIMSUIT
The staple that needs zero explanation because it hits the mark every single time.
When did you last update your go-to black swimwear? Perhaps it's time, especially with pieces such as the Ibiza eyelet swimsuit just waiting to be snapped up. Wiring for extra support and keyhole cutouts both front and back help this one get you noticed, and for all the right reasons.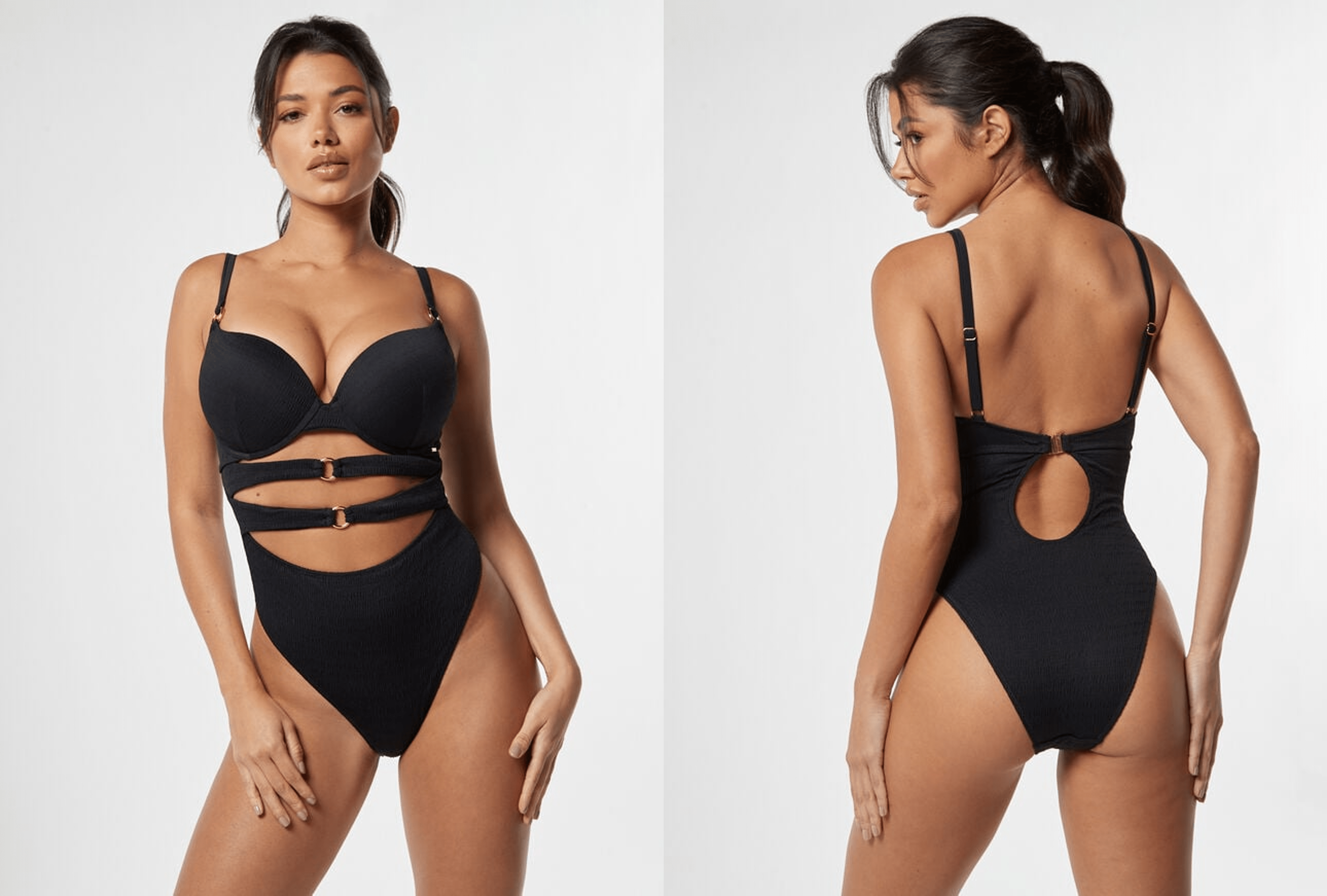 And for a bigger boost, try the Cyprus super push up swimsuit. Extra padding and waist-detail cutouts are perfect for those (holi)days where you're ready for something a little more 'in your face'. Just throw on the Sheer sarong for a pop of colour and sashay across that sand…
Taken the plunge this year and want to share your lushest swimwear looks? Share your fave swimwear trends on Insta using #myboux !