SEXY BLACK OUTFITS: GET A SUMMER-READY REFRESH

This just in, black on black is back in time for summer! Our favourite perennial colour has never abandoned us, nor will it ever. But here at Boux Avenue it does come in some updated shapes and styles that give black the summer-slanted edge we've all been waiting for.
Whether it's lightweight black summer outfits, sexy black lingerie you'll be proud to showcase when temperatures rise, or black swimwear that makes you feel more body positive than ever, this guide will help you turn your fallback option into your first choice for the season.
According to our survey, in partnership with YouGov, black is already the nation's leading choice when you want to feel your best:
- 31% of UK adults (aged 18-45) declare black to be the sexiest lingerie colour.
- Among our GenZ and millennial ladies, the feeling's even stronger - 32.6% and 42.7% respectively picked the shade as their go-to for all things seduction.
See, black has never done us wrong. Now you're about to do very, very right by it, too…
BLACK SUMMER OUTFITS TO BRING (AND BEAT) THE HEAT
If there was ever a time to try the see-through fashion trend, it's now. And, we think, it's with our Mesh tie top and coordinating Mesh ruched maxi skirt. Wear black-under-black or bright-under-black - you can't beat a neon top under black, for more chic or playful styling. Just make sure you wear it with all the confidence this show-stopping set is sure to bring you.
Boux has plenty of black summer tops to suit every occasion, and some versatile enough for several all at once. Like this Broderie wrap top with its plunging neckline, frill sleeves and matching ultra-chic high-waisted Broderie wrap skirt.
Or you could try the bra-turned-crop-top Halter seamless top with its flattering rose-gold bust ring and versatile seamless fabric; it's no-show under clothes and a spectacular show on its own. For a seasonal take on black-on-black, pair it with on-trend Parachute pants in the same shade.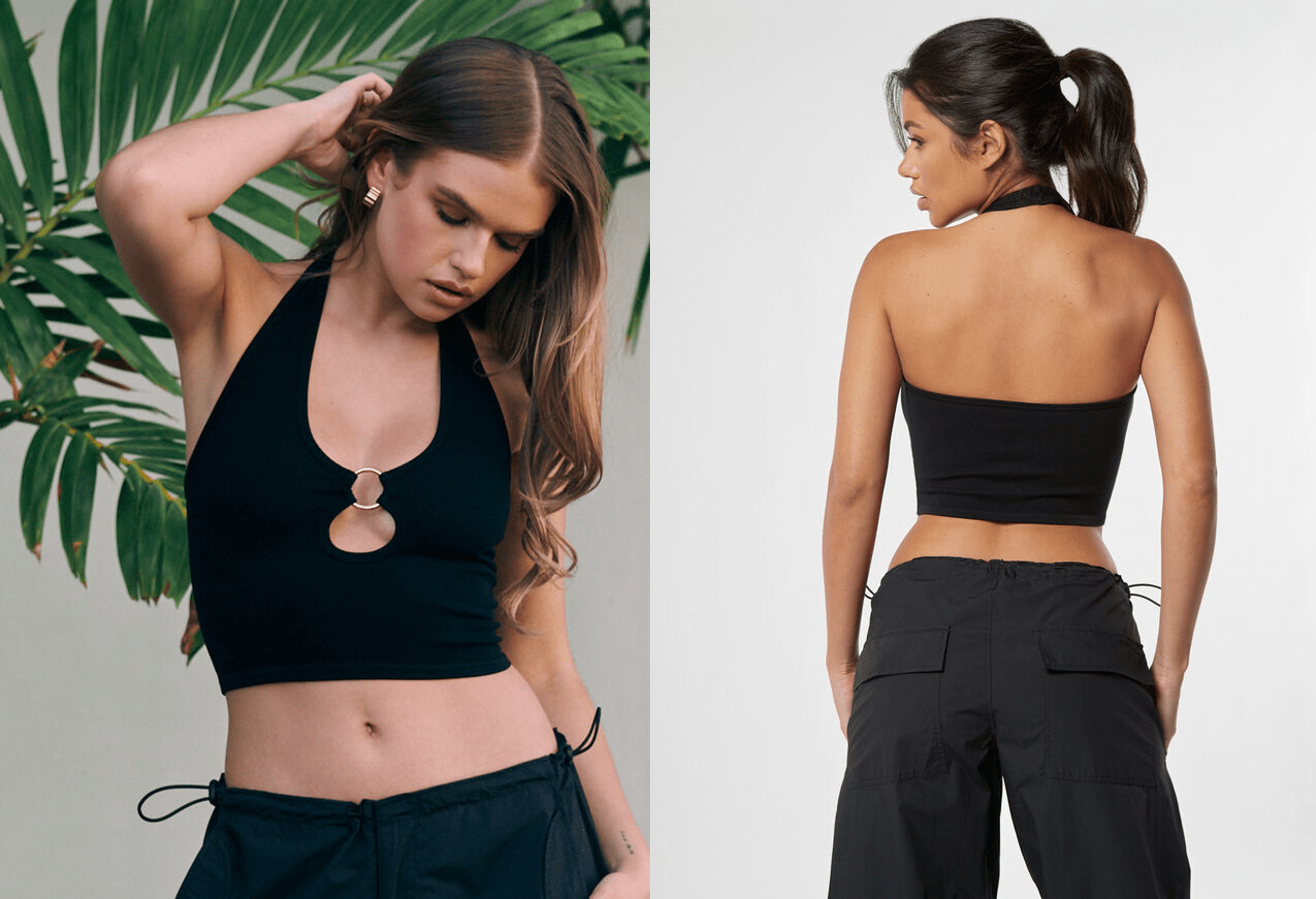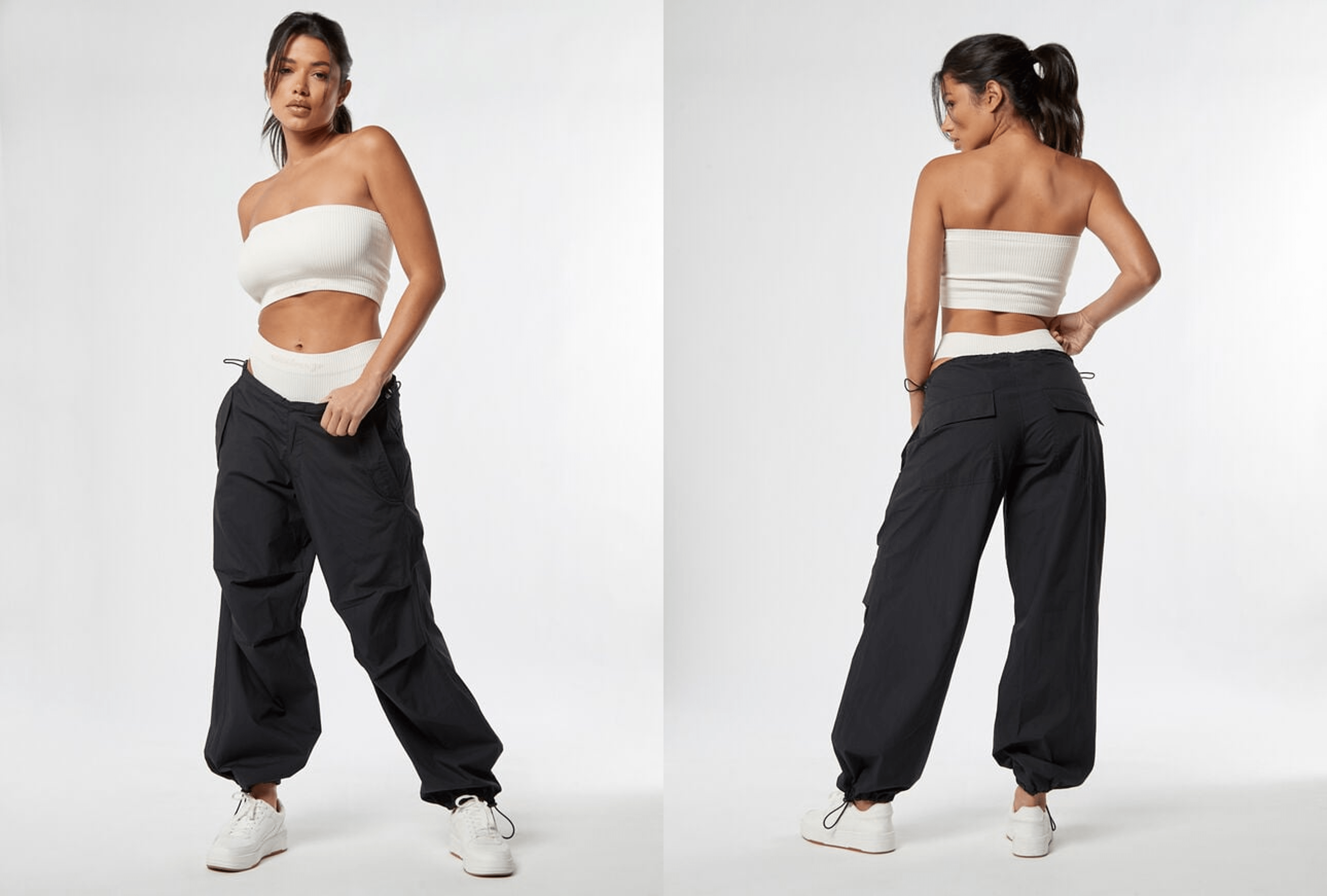 No black outfit round-up is complete without a little black dress. Take your pick from our ideal-for-summer-strolls Broderie frill dress, best-at-the-beach Strappy back knit beach dress or fit-for-a-festival Cut out knit mini beach dress. Black has many personalities - now your summer wardrobe can, too.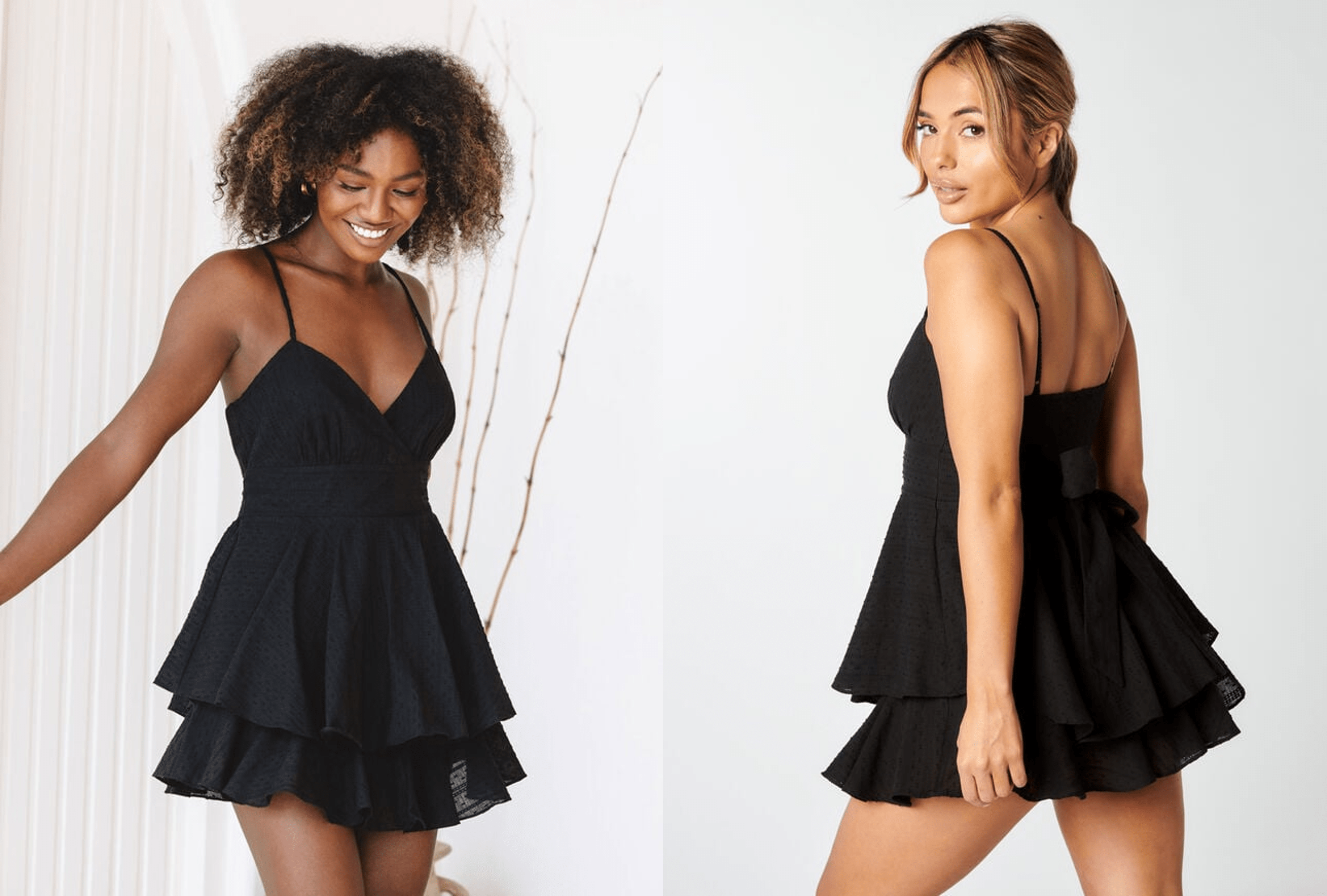 SEXY BLACK LINGERIE FOR DAY AND NIGHT
Sexy black lingerie has always ranked highly in our sexy underwear collections, but sometimes it's overlooked by summer brights when the seasons turn.
No longer, because nothing could say summer more than this blue-on-black embroidered floral Audrey balconette lingerie set. It's sheer with tactical (and downright beautiful) coverage and accented with bows and ruffles. Pair it with its co-ord strappy briefs or thong; they feel both 'everyday' and 'extra' all at once.
Another versatile pick - our take on the sexy black bodysuit - is the Eloisa body. With a double lined cup, high-neck with flattering chest cut-out and strappy statement back, in all-over-lace, it has as much wow-factor paired with a skirt or shorts for a summer's day out as it does with our Lace top hold ups in the bedroom.
Yes, black can also be practical, but that doesn't make our Microfibre strapless bra in black any less brilliant. You'll never need a strapless bra more than you do during the summer months, and this padded version is as soft, comfortable and flattering as they come. A true summer bra essential!
You needn't go fruit picking (though you can if you wish, 'tis the season!) to give cherries a fashionable appearance when you pair it with our Cherry embroidered thong.
Cute under a cropped tee, we also love the Noella longline bra. It's ready for Bridgetron's courting season (hello Queen Charlotte bingeing) with its boned body and cutaway-strap back detail, and also for a season of sunshine thanks to its 'sexy black top' versatility via full-coverage padded cups and delicate lace detailing.

SEASIDE-WORTHY SEXY BLACK BIKINIS & SWIMSUITS
Summer at the British seaside may not always be sizzling, but our collection of sexy black swimsuits and bikinis guarantees you will sizzle whether you holiday at home or abroad. Let's start with our favourite black one pieces.
The Cyprus super push up swimsuit delivers maximum cleavage and minimal fuss with its clean lines, soft texture and style-elevating strappy waist and cutaway back.
It also has a sister style Cyprus super push up bikini - perfect for coordinating with your pals on vacay.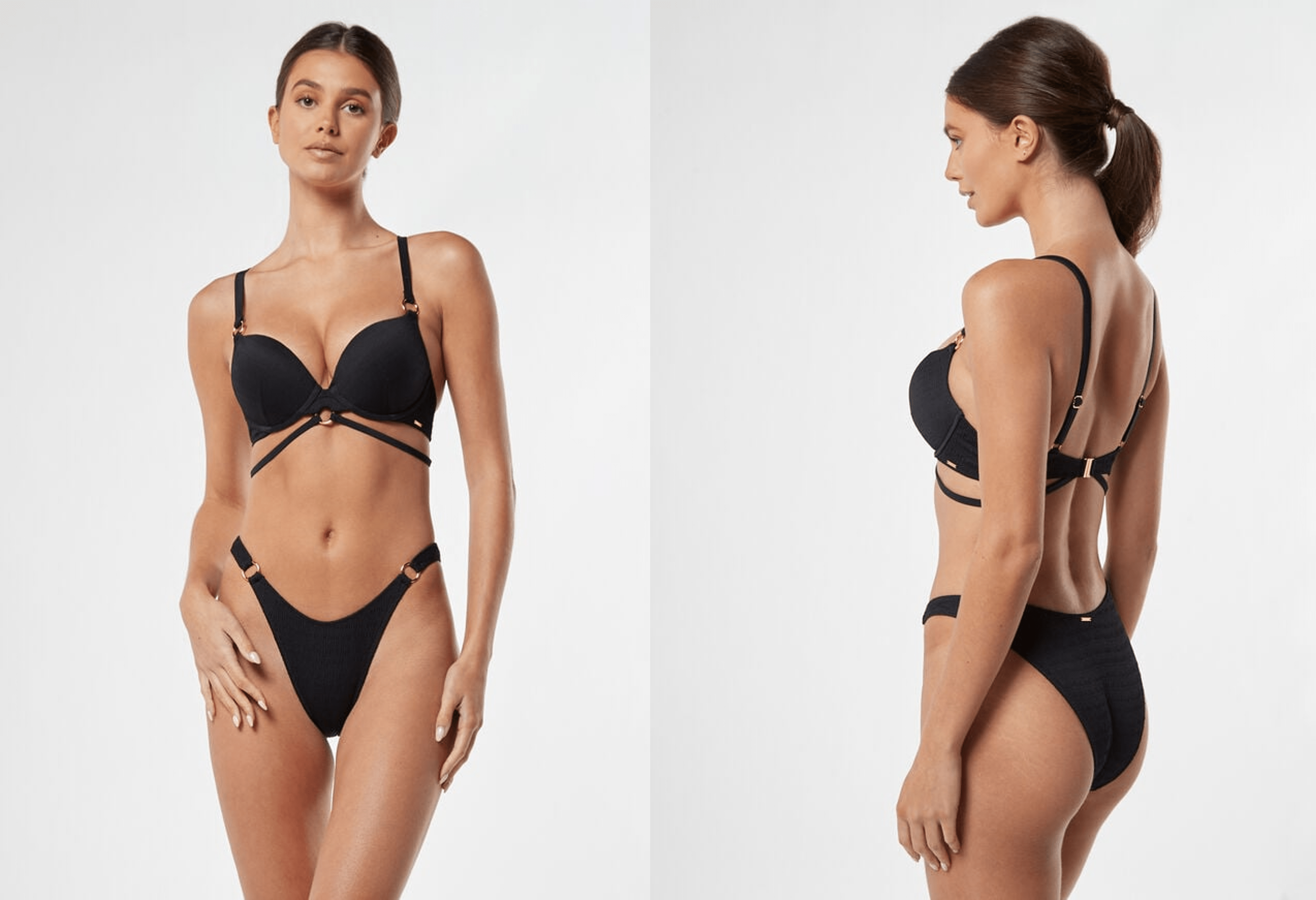 Next up in our one-piece fan-favourites is the Caicos plunge swimsuit. We love its simple, unassuming plunge style in the front, with its unexpected frill cross-back for 36(0) degree summer style.
If you're into strappy backs, our sensational beaded Majorca strappy back swimsuit is a must-have too.
If it's a showstopping front you're after, the Ibiza eyelet swimsuit is the one. An unpadded yet supportive wired swimsuit, it has a ruched tie-up neckline, ruched sides and a keyhole under-bust cutaway. It's almost as bold as its sexy sister the Barbados chain cross swimsuit, with its cross halter neck style and removable gold chains.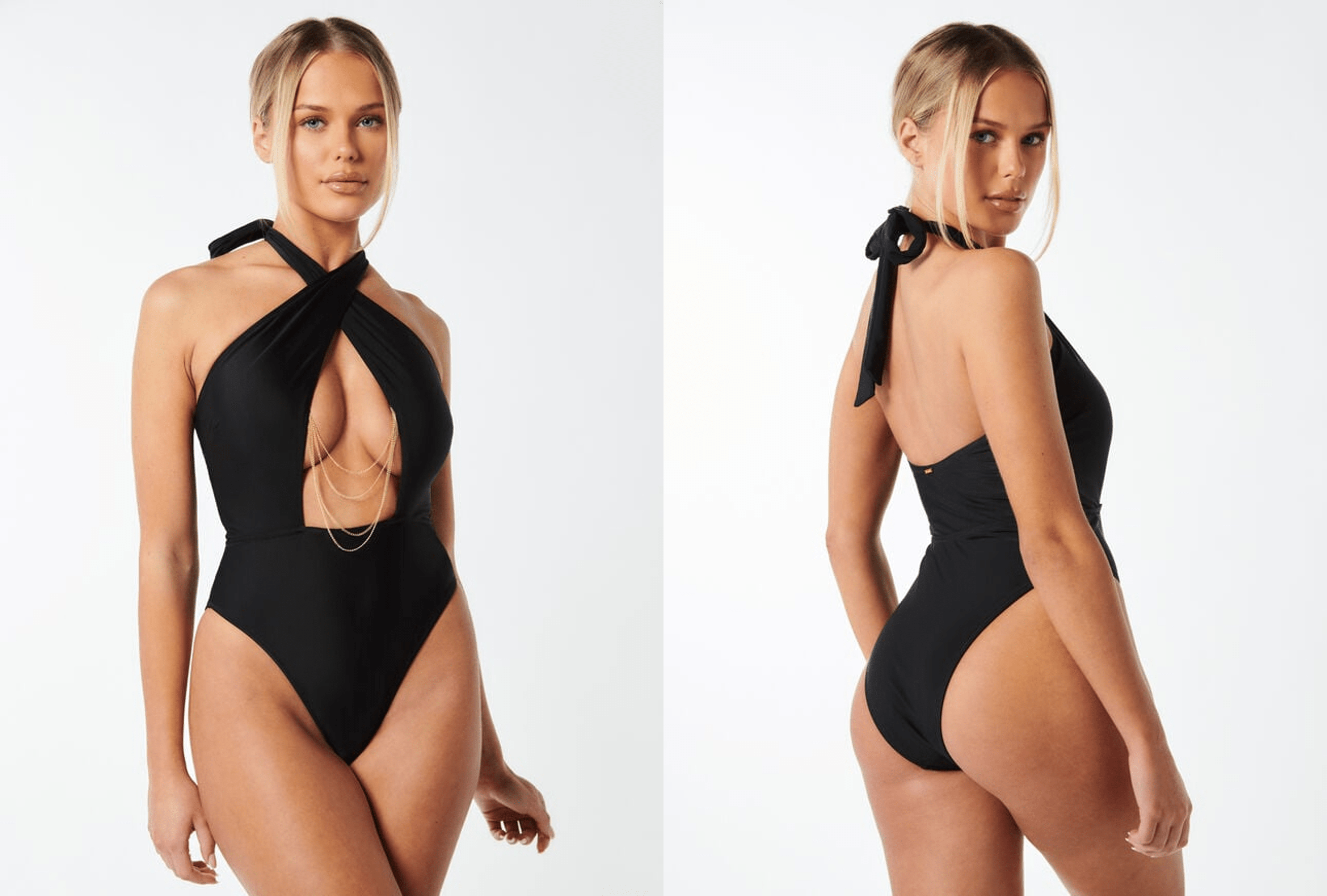 If you're team bikini, then you'll definitely be team sexy black bikini when you see our summer line-up. There's the Rio balconette bikini set with its padded, underwired top, high-shine finish and matte black chain to co-ord with chain-strap detailing in low or high-waist bikini briefs.
Get a string bikini update with our Ibiza eyelet bikini set with tie-up briefs and a matching tie-up ruche-detail bikini top.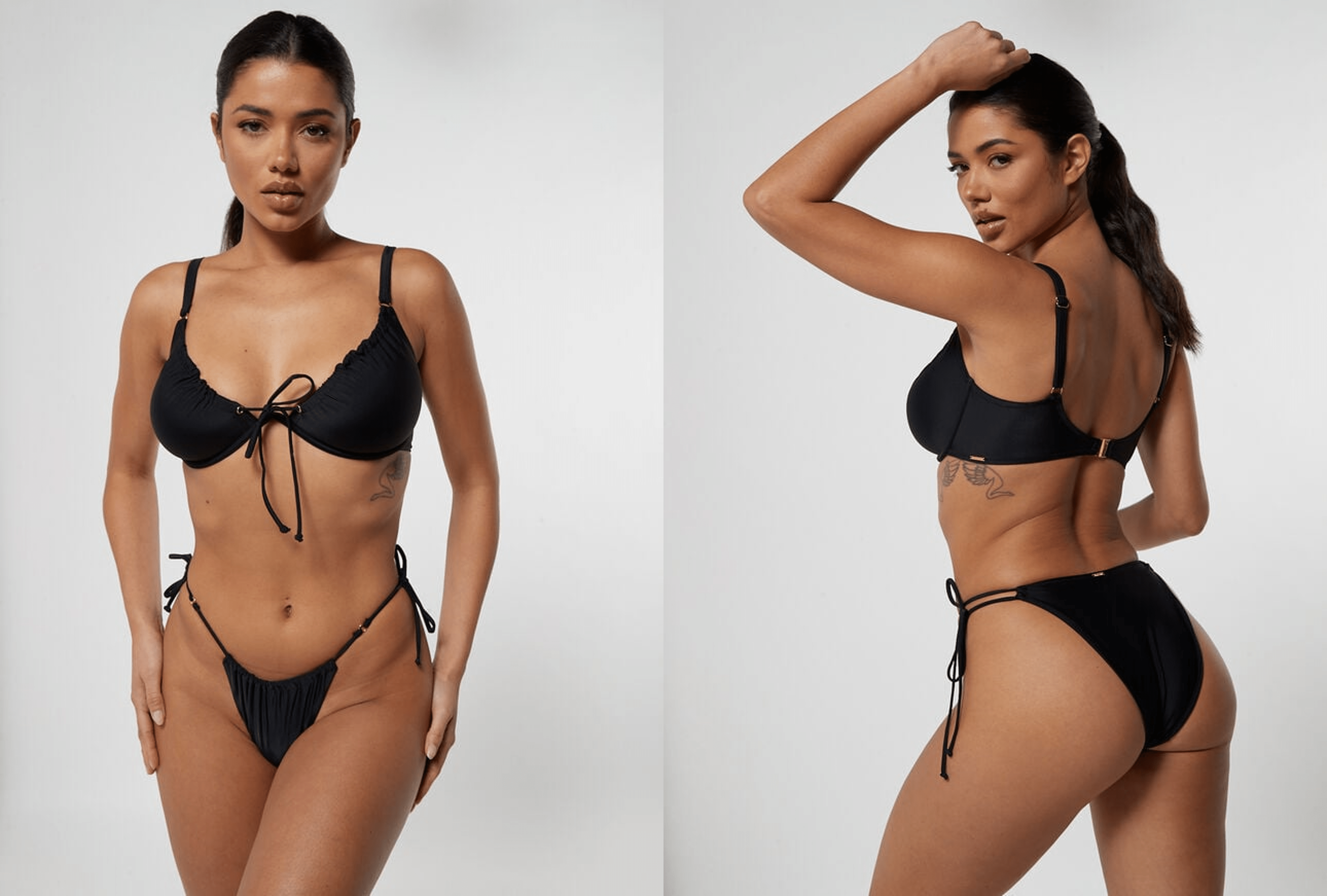 Or keep it classic in a triangle bikini with frill details to complement its feminine raspberry print: the Vienna raspberry triangle bikini set gives a playful twist to your poolside LBB(ikini).