BE BOLD WITH HARNESS LINGERIE
Strappy sexy lingerie is here, and we want it all. Harness style sets are perfect for when you want to turn up the heat. A spicy addition to the racier end of your lingerie rack, harness lingerie is also a very versatile trend: A subtle harness hint can work just as well as the most daring piece for making you feel your sexiest! Time to get bold with harness lingerie.
So strap in sisters, but first; swot up on the complimentary reading. Harness styles lend themselves all too well to those sexy underwear-as-outerwear ensembles, and if you're going all out (why wouldn't you?), you'll want to know exactly how to wear your suspenders like a seasoned pro. Get in the know, then hit go on our most sumptuous harness lingerie collection…
THE SEXIEST HARNESS LINGERIE SETS
Like a bit of colour in your lingerie sets? Us too, which is why Boux has lovingly designed the Priyah plunge lingerie matching set. A rich emerald green oozes class, letting gold hardware, floral details and a tasteful tanga thong help you to unveil your sexiest side. Cutaway cups moulded to your shape, a leg harness featuring the loveliest lace…we could go on! Grab the full set and fall into fall with this harness style ensemble.
From one stunning colour to another - this time it's the Odeletta plunge bra in hot pink. Yes, summer may be behind us, but thankfully autumn brings this gorgeous harness-inspired new-in, and it feels so fresh. Additional strapping sits above the cups giving that chic bondage feel.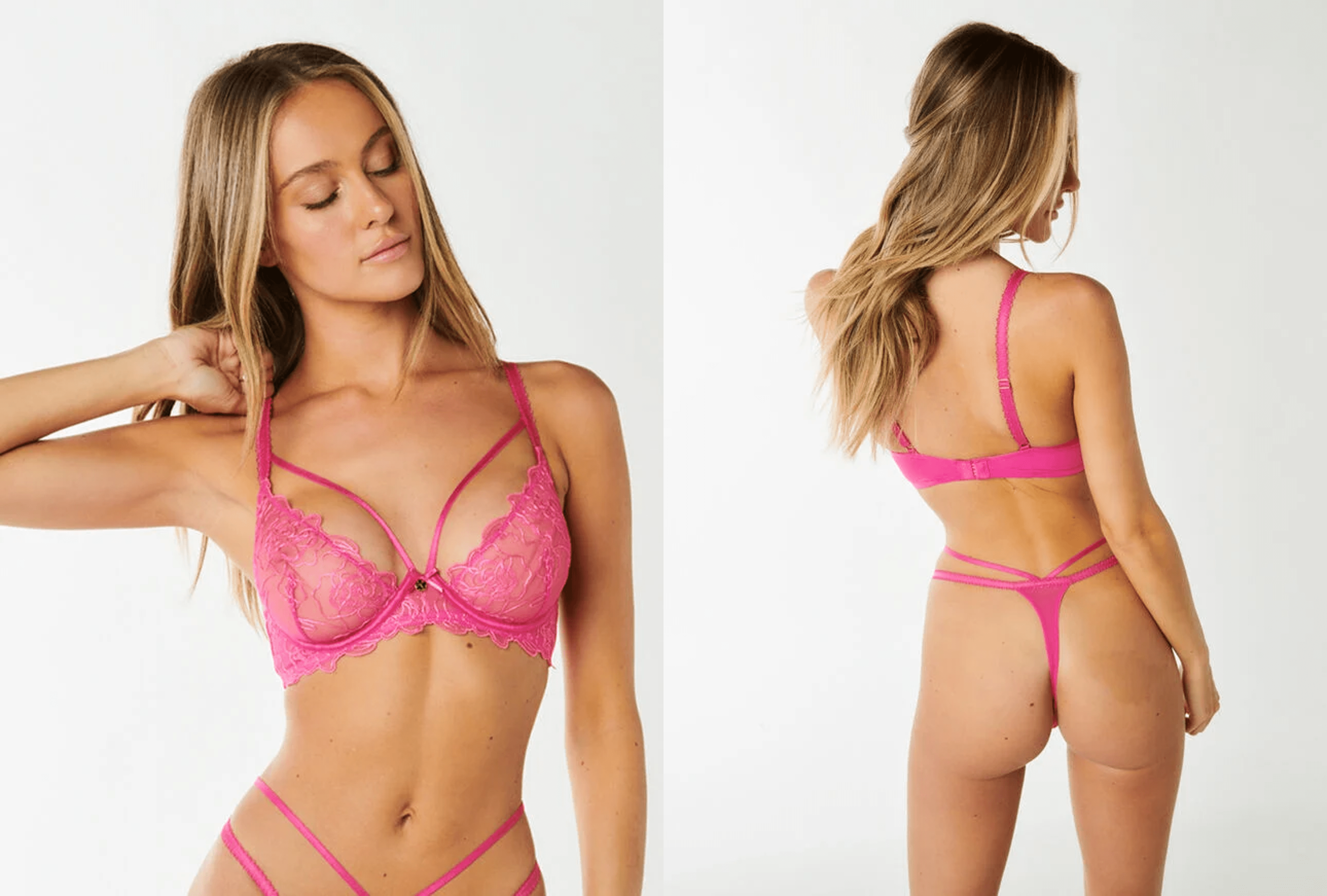 The Odeletta tanga briefs also feature extra strap detailing making a very sexy v-front. The result? A set that makes a naughty-but-nice nod to harness underwear; in a way that works for your everyday efforts too.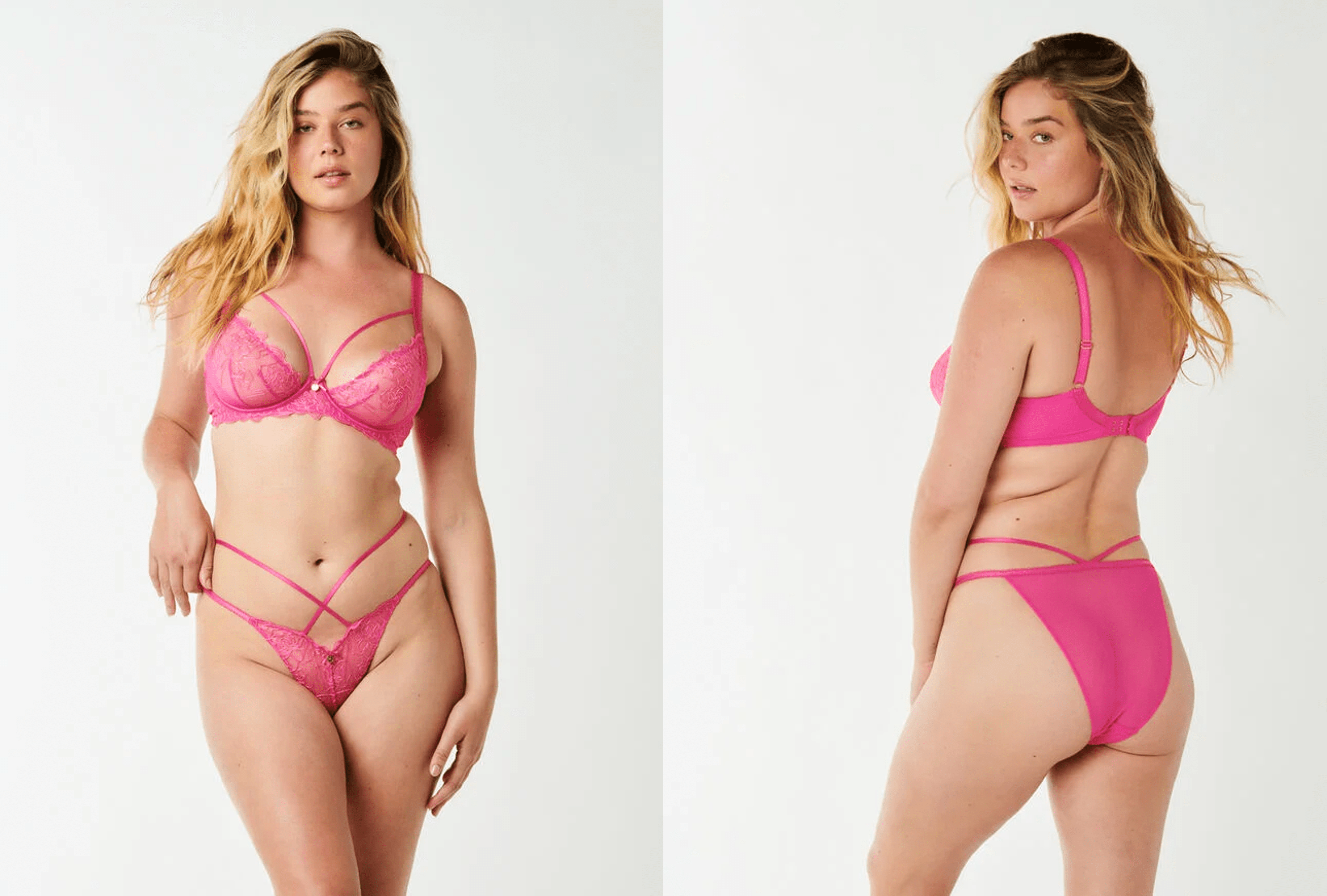 Is pink your thing, but powdery hues a preference? Opt for the Bouxtique Vivian balconette bra. You won't put a foot wrong with this stunning piece, which combines a classic balconette shape with wider (oh-so-extra) strapping for that harness fashion feel. The Bouxtique Vivian bumless briefs add a cheeky touch, whilst this set's matching leg harness makes a sumptuous statement. It's all about the intricate florals and feminine hues contrasted with wide straps for us. We've never seen a harness set quite like it.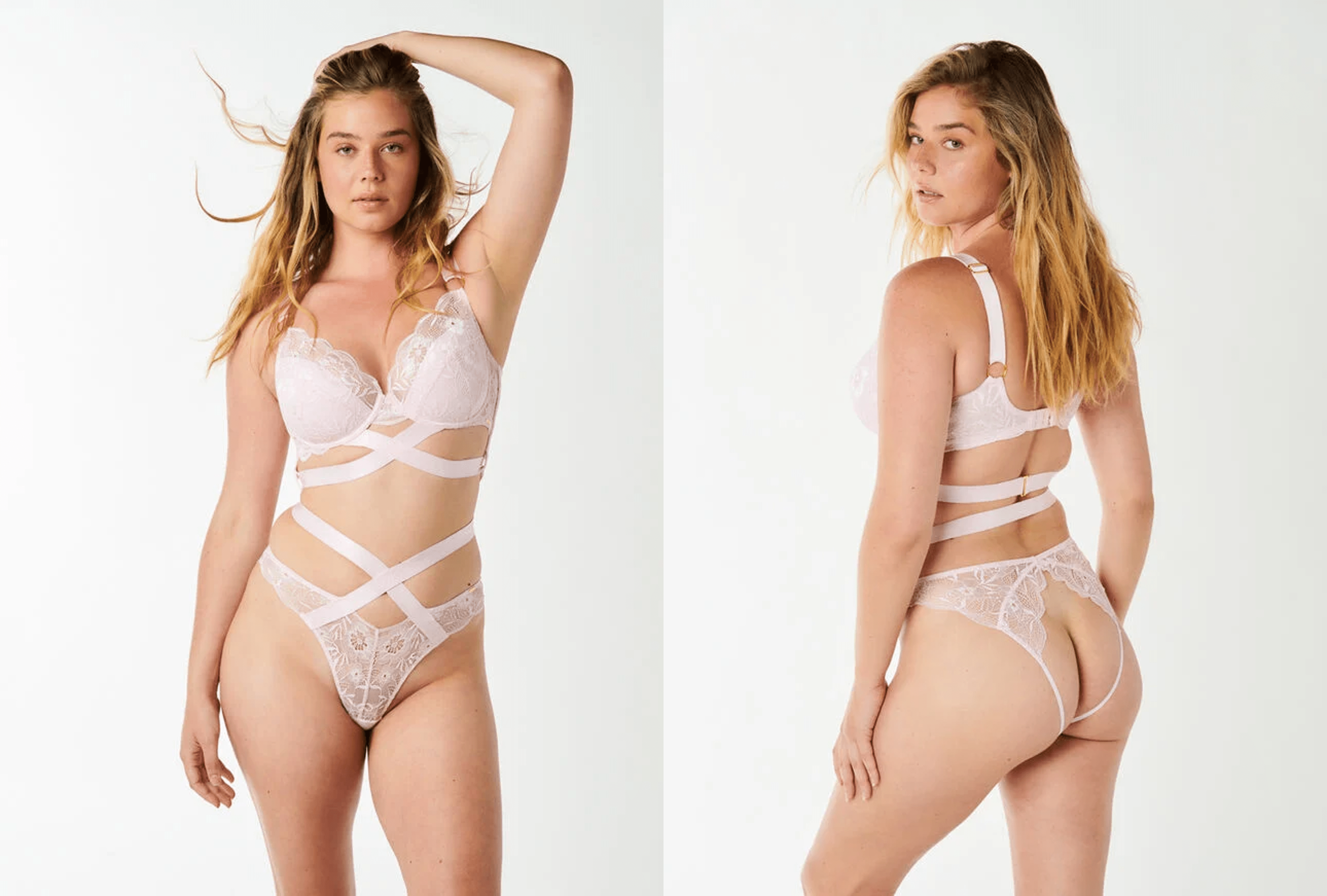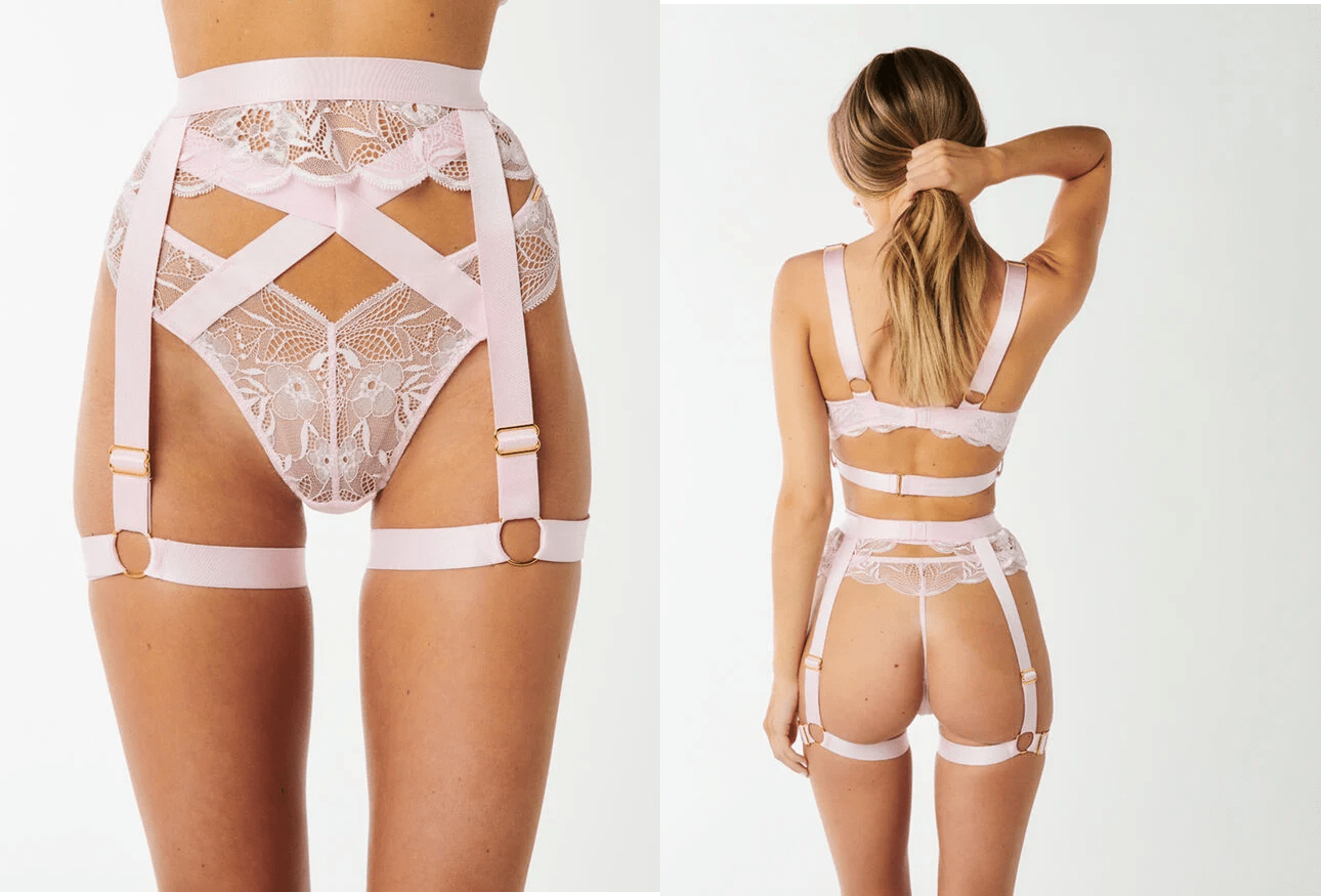 Colour pop complete, we couldn't leave this edit without a couple of classic black options for you, Boux beauties too.
The Bouxtique Filippa plunge bra features wow-factor harness credentials, with fully-adjustable above-cup straps and a flirty yet flattering underboob mesh panel on sizes inclusive of DD+.
Complete the look and unleash your most seductive side with the rest of the set - slip on a sexy chemise, and warm up the winter nights your way!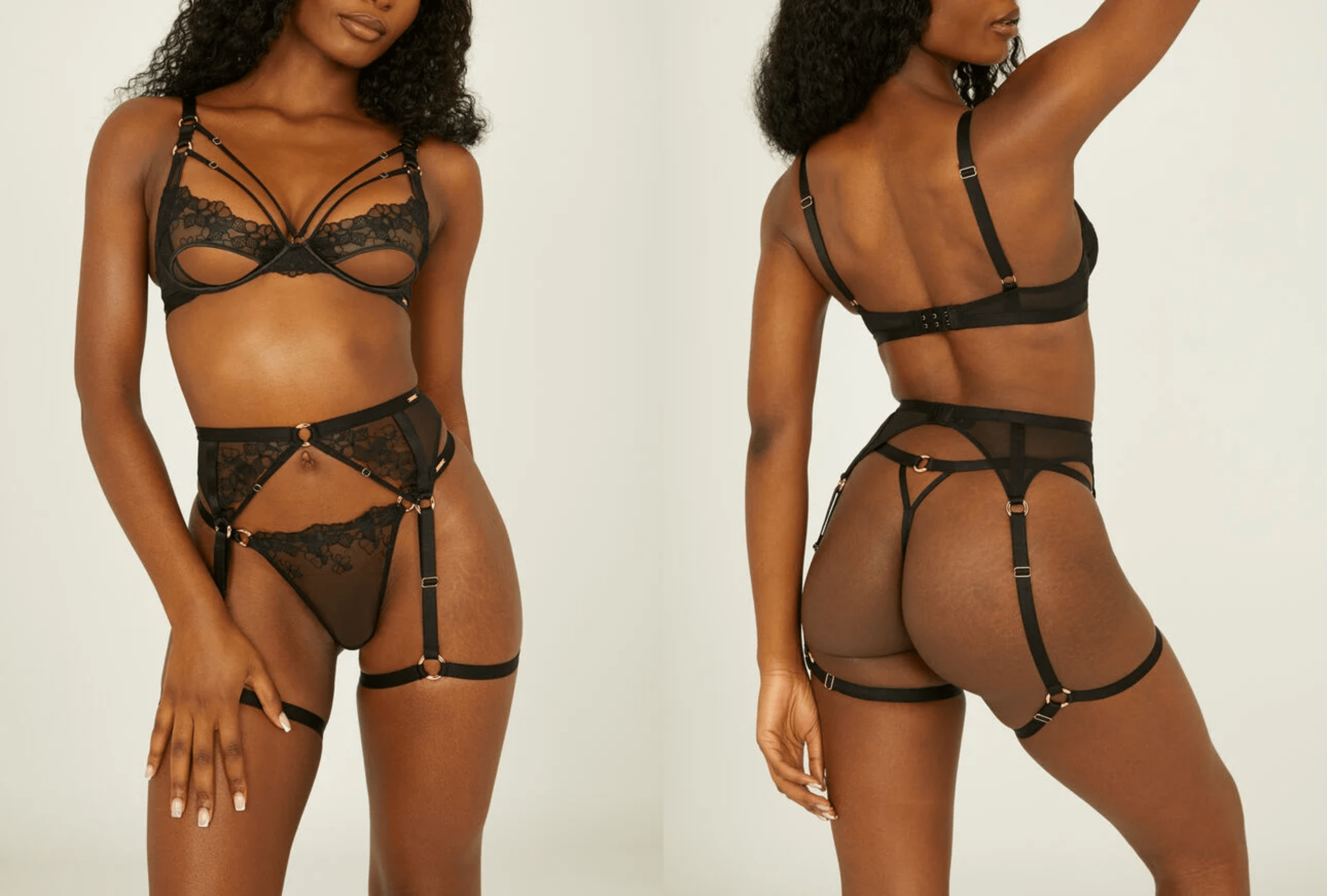 The Filippa range doesn't stop there, either: Fancy some extra-sexy harness hype this season and love a sexy bodysuit? Tempt, tease and tantalise to your heart's content with the Bouxtique Filippa bumless body. Stunning black lace feels luxe whilst the bumless element will keep bae feeling lucky! We adore the optional neck harness element too. A touch of 90s flair that works throughout the ages, strategically-crafted harness strapping will highlight your waist, hips, bum and thighs to perfection.
Got your go-to harness lingerie 'fits down? We want all the strappy, sexy inspo please! Share with the Boux crew on Insta using #myboux