HOW SHOULD A BIKINI FIT?
We all want to feel fabulous when we slip into a bikini and head out to the beach, pool or hot tub. But struggling to find the right bikini fit can put a real dampener on your summer fun, whether you're jetting off somewhere exotic or enjoying a staycay.
Whilst our shops have reopened (yay), our fitting service remains on hold, so how can you make sure you're choosing the right bikini fit at home? We've got some insider secrets to make sure you feel gorj, supported and confident all summer long.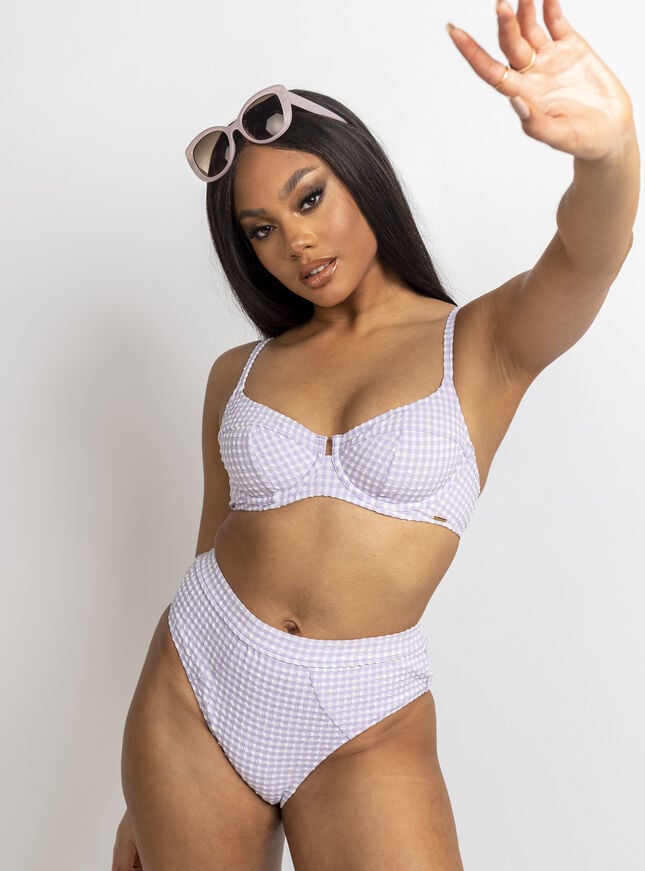 SWIMWEAR SHOULD FIT LIKE LINGERIE
Gals, we all know there's nothing quite as satisfying and confidence-boosting than a perfectly fitting bra. When you choose your underwear, you make sure you're getting a fit that feels good, looks cute and gives you all the support, right? So why don't you hold your swimwear to the same standards?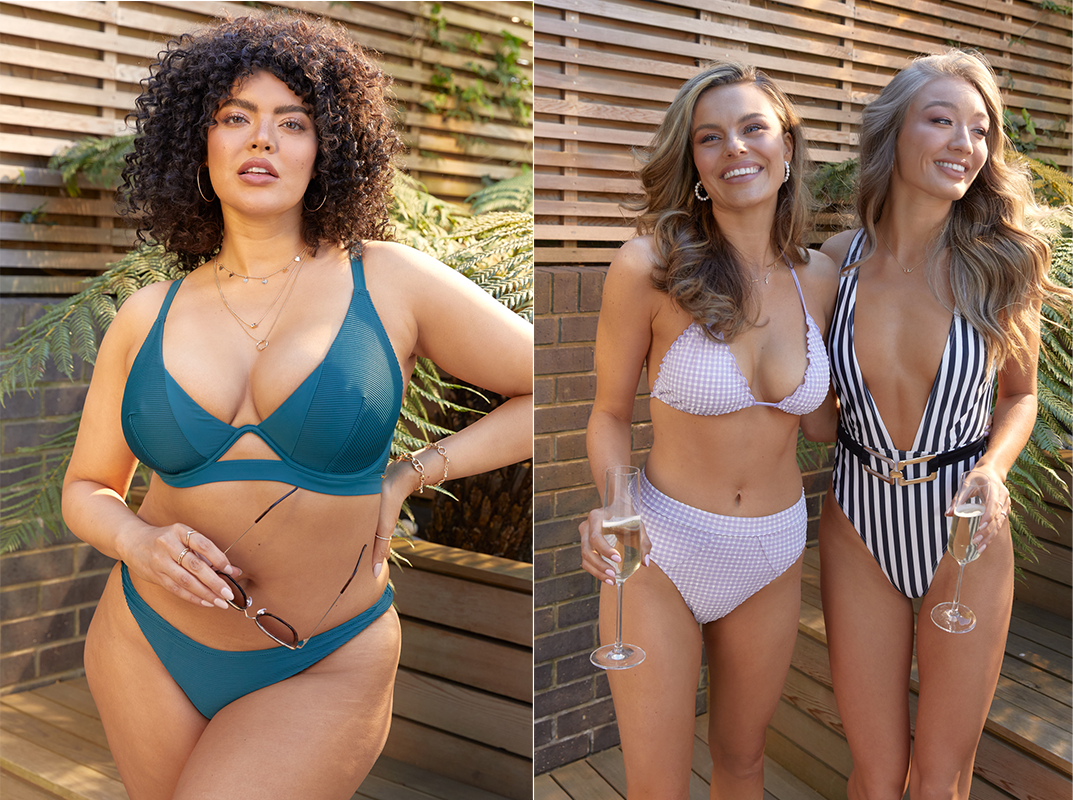 Just like your lingerie, your bikini should fit well without squeezing you where you don't want it to! After all, if your bikini isn't comfy and flattering, you won't be feeling like your most confident, sassy self when you're strutting down the beach or into your garden.
Getting your bikini fit right is especially important when it comes to your bikini top, so we'd avoid choosing swimwear measured in dress sizes and opt for bra sized bikinis instead, so go for the same size bikini top as your bra. Not sure if you're wearing the right bra size for you? Check out our guide to finding the right bra size and use it to find your perf bikini fit.
GETTING THE SUPPORT YOU NEED FROM YOUR SWIMWEAR TOP
From simple triangle bikinis like our gorj Gili bright stripe triangle bikini set to more supportive underwired designs, like our super-flattering Santiago set - with so many bikini styles to choose from, it can be a minefield trying to find the most supportive bikini for your unique body shape.
To ensure you're getting as much support as poss, avoid flimsy materials and strapless designs - especially if you're anything above a C cup. There are a few ways to make sure you're getting the most support from your bikini top:
• Make sure the straps fit snugly – if they fall off easily, you won't be supported!
• If the straps feel too tight and dig in, it might be a sign you need to size up
• If your halter neck bikini is giving you neck ache, it's either tied too tight, or it might be on the small side
• Make sure the band fits snugly against your back (this is where most of the support comes from!)
When it comes to choosing the right bikini, it's important to think about the activities you're going to be getting up to. If you're planning on channeling your inner Baywatch and running down the beach, then you're going to need a little more support. But if you plan on kicking back on a sun lounger with your fave book all day long, then you can get away with a less supportive style.
GETTING THE RIGHT FIT FOR YOUR BIKINI BOTTOMS
Getting your bikini top size right is one thing, but choosing your bikini bottoms can be just as much of a difficult decision thanks to all the styles to choose from. Do you opt for a flattering high-waisted style like our Madeira deco high-waisted bikini briefs, or dare to bare in something a little more revealing like our gorj Ibiza thong bikini bottoms?
When you're looking for the perf bikini bottoms, it's similar to finding the best knicker styles for you. Thong bikini bottoms offer the least coverage, with a high leg and minimal material at the back, whilst bikini briefs offer full coverage for your booty.
For an in-between style, Brazilian style bikini bottoms are the ideal choice and they're one of our most popular styles. The low-rise cut offers more coverage than a thong, but less coverage behind than briefs – perf for those who like to be a little bit cheeky.
So whether you mix and match your bikini tops and bottoms, or stick to matching sets – you're sure to be looking and feeling fabulous this summer with some gorj bikinis in the right fit.