THE MOST FLATTERING LINGERIE TYPES FOR YOUR BODY SHAPE

At Boux, we're all about body positivity and this means designing flattering lingerie for absolutely everyone - as long as YOU feel incredible, we've fulfilled our mission.
We want you to find the lingerie sets and swimwear that really rock your world, and that's why we've created the ultimate guide to the pieces that'll stay comfy and flattering, whatever your body type.
Found yourself googling 'underwear for my body type' one too many times? Search no longer as we break down the key lingerie styles for your body type right here.
Oh, and don't miss the vacay version of this guide, either: Yes, the most flattering swimwear guide is live and ready for you too!
THE MOST FLATTERING UNDERWEAR FOR PEAR-SHAPED BODIES
The classic pear – our gorgeous girls with wider hips, a cinched in waist, a smaller bust and a derrière that's very much there!
Firstly, accentuate that volume up top with the Mollie plunge bra - our bestselling push-up bra comes in a whopping 14 colours and has been serving that luscious lift for years now. We have to say, according to you Boux beauties, it just gets better with every season!
And you can't treat the top half without the bottom, are we right? Show off what you're working with - we mean, really show it off - and grab the matching Mollie thong. Enjoy floral lace for every day glam and best of all…zero VPL. Ever.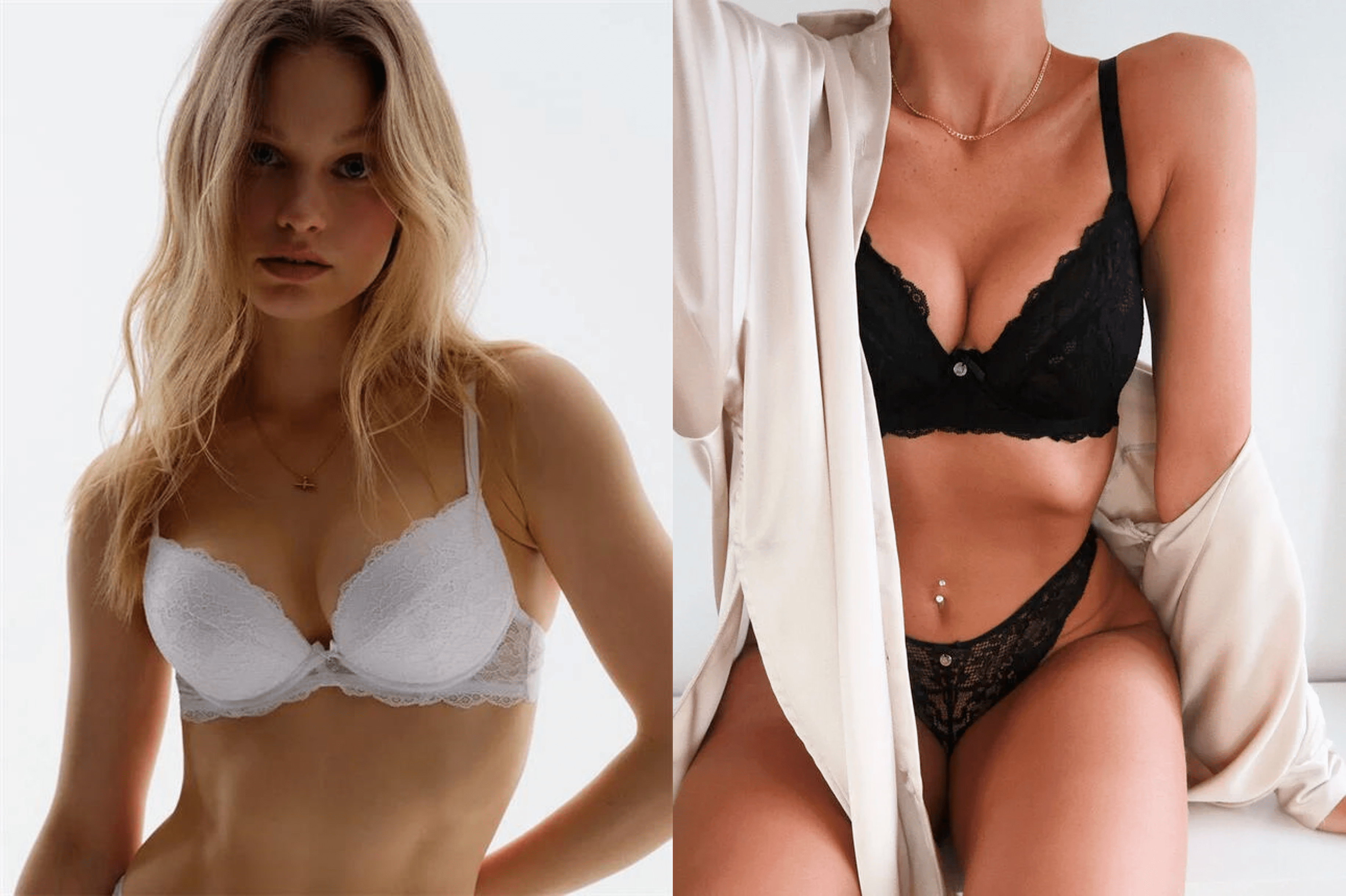 THE BEST LINGERIE FOR INVERTED TRIANGLE BODY TYPES
The 'inverted triangle' – if you're blessed with a busty-bust and broad shoulders, whilst having narrow hips and a slim bum and legs, you have what is known as an inverted triangle body shape. If you fit this description and find you retain your weight round the middle too, it's likely you are an apple shape, which we talk about here too.
Both inverted triangle and apple body shapes, have plenty of assets to flaunt, these lingerie picks are perfect for showing off your much desired curves and slim hip shape - get ready to feel your best in these pieces.
Feel gorgeous and graceful in the Gracey balconette bra - aside from the pretty pastel summer shades this one comes in, she provides all the support you need, (thank you, underwire), without the extra padding of a push up. This'll keep you streamlined and ensure those boobs are comfy too!
Then pick up the Gracey briefs and let the two tango together, tanga style! We love a tanga cut for accentuating legs and bums like no other knicker can.
It's a well-known fact at Boux HQ that inverted triangle body types look sensational in bodysuits, too. The Jodie body in white is no exception; mesh side panelling gives you a cinched-in look, and works oh so well with the corset-style boning up front. With everything smooth and sleek, this beauty looks amazing under any outfit or on it's own.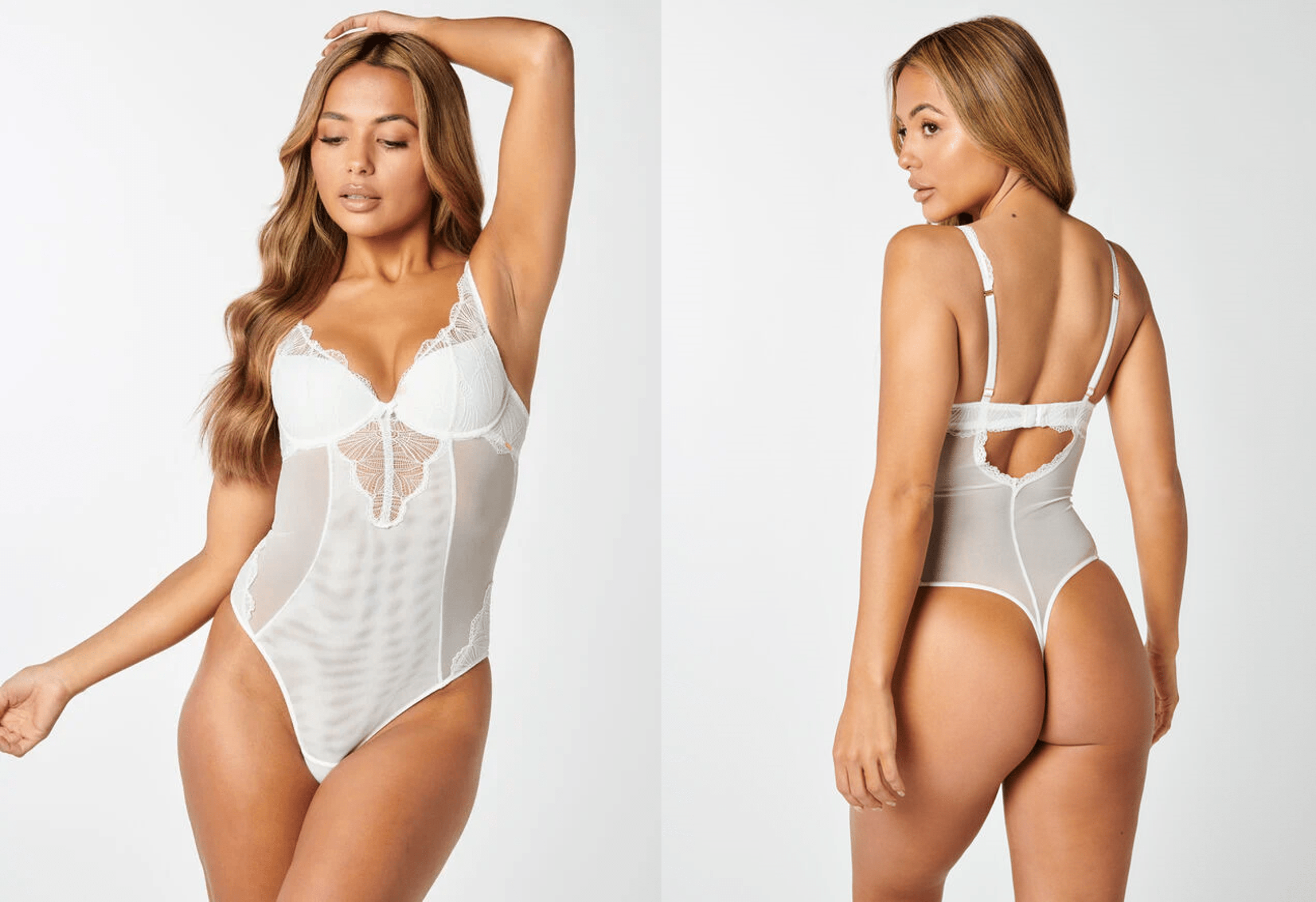 THE BEST LINGERIE FOR HOURGLASS BODIES
Your hips are curvier, your bust is fuller, and your waist? On the smaller side. Hello, hourglass honeys!
Show it all off in the Piper balconette lingerie set. The balconette style bra draws attention to your bust by ensuring a tad less coverage than your standard cup, whilst the Piper thong is effortlessly sexy on all our beautiful body types. The hourglass shape suits a suspender to perfection too; the belt accentuates a cinched-in waist beautifully!
Try the Leah lace balconette lingerie set for a start. Pretty floral lace in classic black couldn't be anything but flattering and the matching Leah suspenders bring a touch of luxe to your look; a satin bow front and delicate scalloped edging sit on your wondrous waistline, just to highlight it a little more!
THE MOST FLATTERING UNDERWEAR FOR ATHLETIC BODY TYPES
Strong, straight and lean - if your hips, waist and bust are on a pretty much even keel, you are likely living your best life in an amazing, athletic body.
This figure type makes lingerie choices just a teeny bit trickier, because you've so much to choose from!
Plunge ahead with the Aliyah plunge push up bra - yes, she's an everyday staple, with a difference. Made with beautiful floral lace and push-up padding, this bra is a must for adding a little volume up top when you fancy it. We're obsessed with how the Aliyah briefs, with wider lace-clad side bands and the cutest V-front dip cleverly create the illusion of more curves, too.
Love your body type and love your lingerie collection even more? We want your inspo please! Share your favourite lingerie types on Insta using #myboux!