YOUR GUIDE TO ALL THINGS THONGS!

Whether it's working out, going out, hanging out or standing out - a thong can be your very best friend. With the Y2K trend well and truly bringing this humble item back to the forefront of fashion, its popularity in both lingerie and swimwear sets has undoubtedly intensified over recent seasons.
A thong is, in a word, sexy and one of our fave knicker styles. But it can also be mega practical, super comfy and even a (risqué) focus of your outfit…and there are so many types to pick from. G-strings, bikini thongs, high-waisted thongs - we've got them all, plus top styling tips too. Ever wondered how to wear a thong, and wear it well? You'll wonder no more after reading this edit.
WHAT IS A THONG?
Essentially a small, triangular pair of knickers, the front section is always larger than the back, with little to no booty coverage. The side bands can be stringed, wide, or anywhere in between. The material and colour? Whatever takes your fancy!
WHAT ARE THE DIFFERENT TYPES OF THONGS?
Classic, g-string, high-waisted, tanga, crotchless, bikini…phew. Fear not, because in amongst this throng of thongs you've got your six key staples. Invest in a couple of each and you'll never find your knickers in a twist.
Here we break it down for you: What does each style look like? What are they worn for? And most importantly, we're serving a curated selection of the best of Boux, getting you 100% ready to embrace the thong renaissance!
CLASSIC THONG STYLE
The classic - we love it for everyday wear. Classic comfort is simply unbeatable and this thong has to be one you'll happily pick from the drawer on a daily basis. Why? Because it takes you from day job to dinner date so seamlessly. What more could we ask? Look for wider side bands and breathable materials.
Try the High leg seam free thong as a start. Super soft and comfy, this high leg seam free thong is the perfect go-to everyday knicker. Available in a four-way natural colour palette, it'd seem silly not to nab all of them, right? Especially as they are in our much loved knicker multi-buy offer!
THE DIFFERENCE BETWEEN G STRINGS AND THONGS
Thongs vs. g-strings. Points in common? They're sexy, perfect under your best bodycon and they expose your 'cheekier' side! The key difference? G-strings tend to have thinner side bands and much less fabric at the back - as in genuinely, just a string. So when looking for a more sensuous set to wear with a special someone (or just for yourself) a g-string is a good way to go.
The Lula lace g-string is a perfect example of a g-string with a girly feel to it - this style flaunts exactly what you're rocking, coming in the prettiest pink, orange and aqua hues.
Or perhaps you're digging the g-string dream but need something a little more 'all-day-every-day'? Then the Lucie microfibre g-string is for you. Microfibre fabric = soft and comfy. Super thin string style = sexy, yet invisible under clothing. Ideal.
HIGH WAISTED THONGS
The high-waisted is one that's really come into its own for 2022-23. Typically made with a little more substance and fabric, a high-waisted thong can be worn as a just-visible accessory to your favourite trousers, or as a sexy addition underneath sheer clothing.
Just check out how hot the Ribbed seamless thong looks with a pair of Parachute pants. It is one of our favourite ways to wear parachute pants! The Ribbed thong material keeps these beautifully on trend and will ensure you can work that Y2K look to the absolute max.
TANGA THONGS
Remember the trusty tanga style? Well, it's back and we're delighted. Perfect for when you need sexy lingerie, but absolutely zero VPL. This one holds a little extra fabric at the back for a teeny bit more coverage, but remains understated and undetectable under your outfit.
The Estie thong is for the ladies who love to tanga style with a little elegance to boot(y). Floral embroidery, purple contrasting and the whole stunning Estie set to match make it - and you - pretty irresistible.
The Danica tanga thong serves up a similarly feminine feel; only this time, with neon colours and come-hither crossover straps. One to be seen, we're sure you'll agree!
CROTCHLESS THONG STYLES
Do we really need to tell you what these are good for?
Promiscuous, daring and definitely not for everyday wear, treat bae to a date night to remember. We adore the Darlah crotchless thong. Neon coral makes that tan pop like never before, and the matching Darlah plunge bra is a must-have. Extra strapping, cutaway lace and that classic plunge lift will make you feel like a goddess. A-mazing.
BIKINI THONGS
Now, we love a high-waisted bikini style two-piece as much as anyone (and we know you do too) - but the bikini thong trend is one that has us more excited than ever for sunnier climes.
Why? Flattering fits, no leg-shortening cuts and the chance for an almost-all-over tan. Need we say more? Proving a firm favourite so far is the Ibiza eyelet bikini thong. Stunning red and adjustable ruching will turn up the heat for poolside playtime - and watch this space - as this one's coming in a range of colours for you.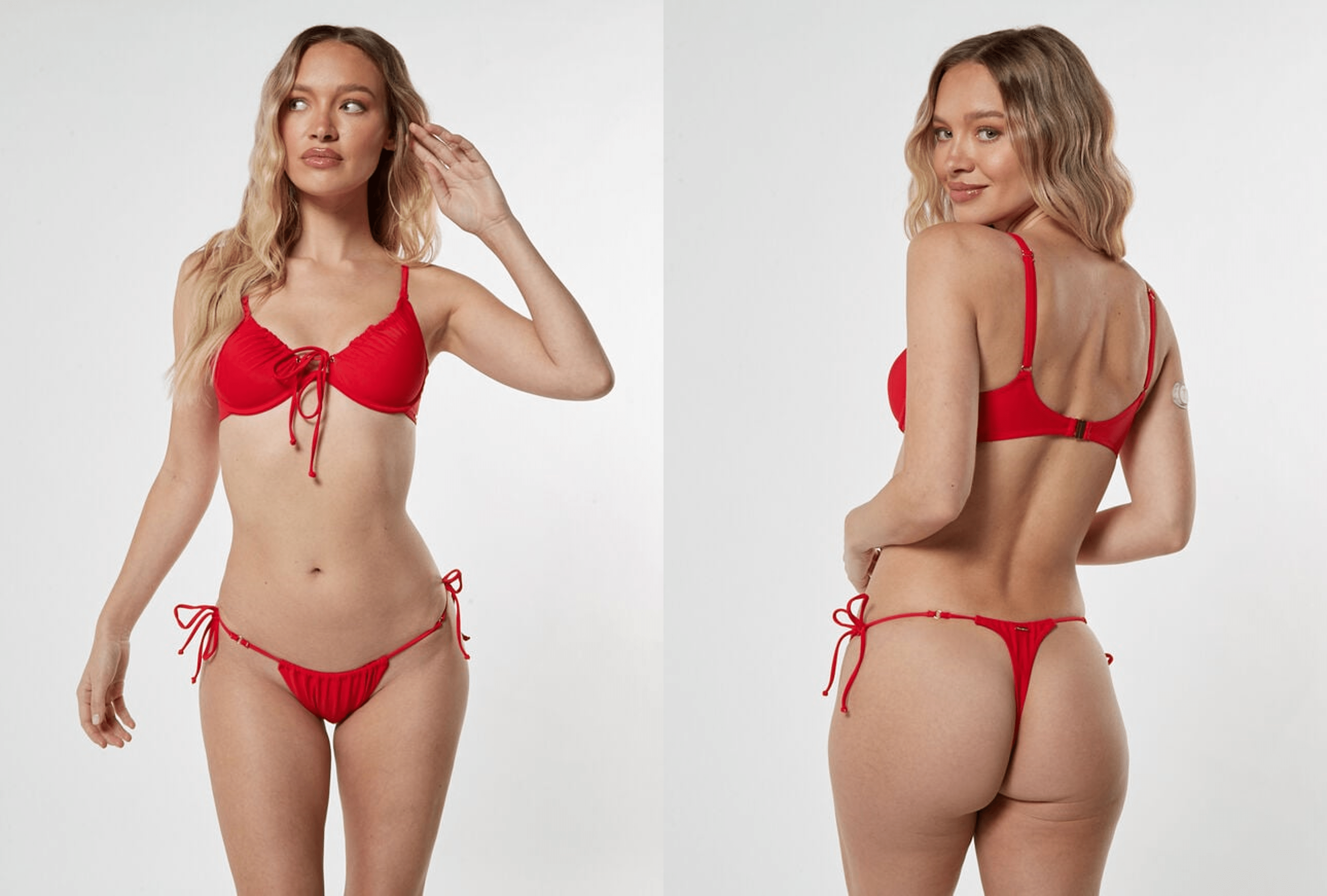 For something a little extra, go for neon orange! Check out our Seville plait bikini thong. This one does its thong thing too, in a colour that screams summer! Pair it with the Seville plait bikini top (the plait detailing is removable), for a sexy swimwear look!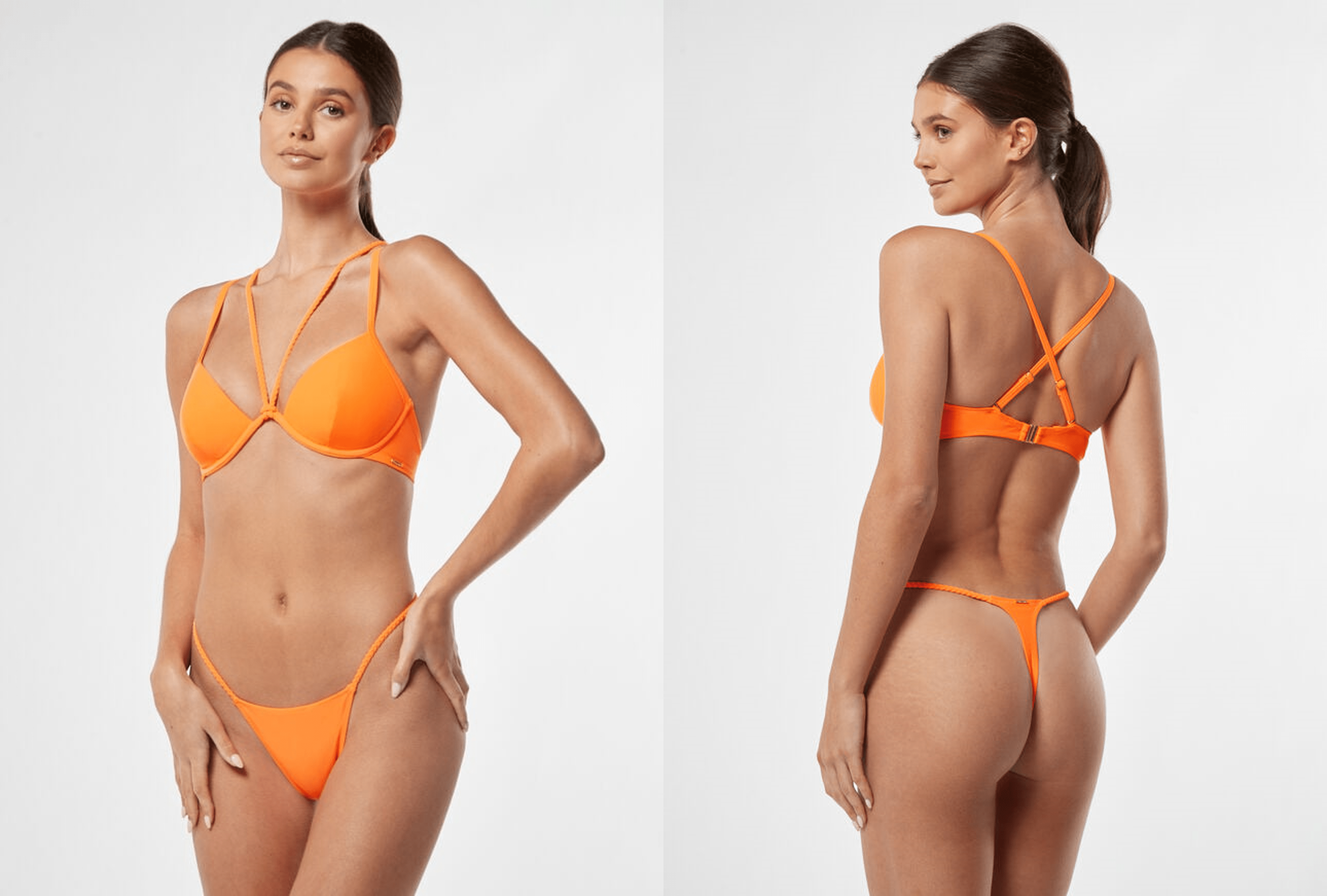 ARE THONGS COMFORTABLE?
Most definitely. Especially those crafted by our in-house designers, made to make you feel comfy, confident and, let's be honest, as if your knickers are barely there.
It's all about the material and the cut. Need breathable, all-day comfort to take you from meetings to margaritas? Go for microfibre or cotton. And if the priority is minimal VPL? A seamless thong or a g-string is the way forward.
It's all about personal preference - so if you're a thong novice, grab a couple of different styles to start and try them out with a range of items and outfits.
HOW TO WEAR THONGS NOW THEY ARE BACK IN FASHION…
First thing's first. It's a trend that's accessible to everyone and there's simply no right or wrong; how you style that thong is totally your call.
For the gals going all out, having your thong visible over trouser waistbands is most definitely a thing. Keep it casual and pair the Ribbed seamless thong in bright teal with the new Boux Parachute pants. Look how it pops against the white - a fresh summer look that's everyday wearable too.
After a touch of glam? Style the Sheer beach trousers for a night out-out and play peekaboo with the Jodie high leg thong. The high leg cut keeps it classy (and very flattering) whilst scallop edging and mesh add a discreet touch of feminine sexy. Just get ready to turn heads, okay?
Singing the thong song on repeat? Share your looks and inspo with us on Insta using #myboux !