Guilty of online shopping for new pyjamas and ending up with a basket full of either oversized men's t-shirts or cute cami sets? If you're used to sticking to the same style of nightwear, we've created an edit of our favourite Boux Avenue sets and what your chosen style might say about you. From sultry boudoir one pieces to sporty bralette sets, we've got a style for whether you're ready to slip off to dreamland or have a big girls night-in ahead.
What does your nightwear style say about you?
Sophisticated & Flirty
Are you a night owl and enjoy treating yourself to nothing but the best when it comes to nightwear? The Harriet Satin Chemise is effortless, sophisticated, and feminine. Designed with delicate eyelash trim details and adjustable crossback straps, the fit is perfect for accentuating your silhouette. The satin feel chemise that's soft on your skin oozes luxury, and is the ideal number for a special occasion. Ease into the transitional season and pair with the matching robe for ultimate bedtime glam!
Fun & Easy
Believe less is more when it comes to nightwear and only get a good night's rest in as little as possible? If you favour comfort over glamour, up your forty winks in the cute and comfy Pineapple cami and knickers set The light and breathable cami and knickers combo is perfect for keeping you cool all night throughout the peak summer season. Available in three fun colourways and prints this easy set is a desirable choice for holiday nightwear.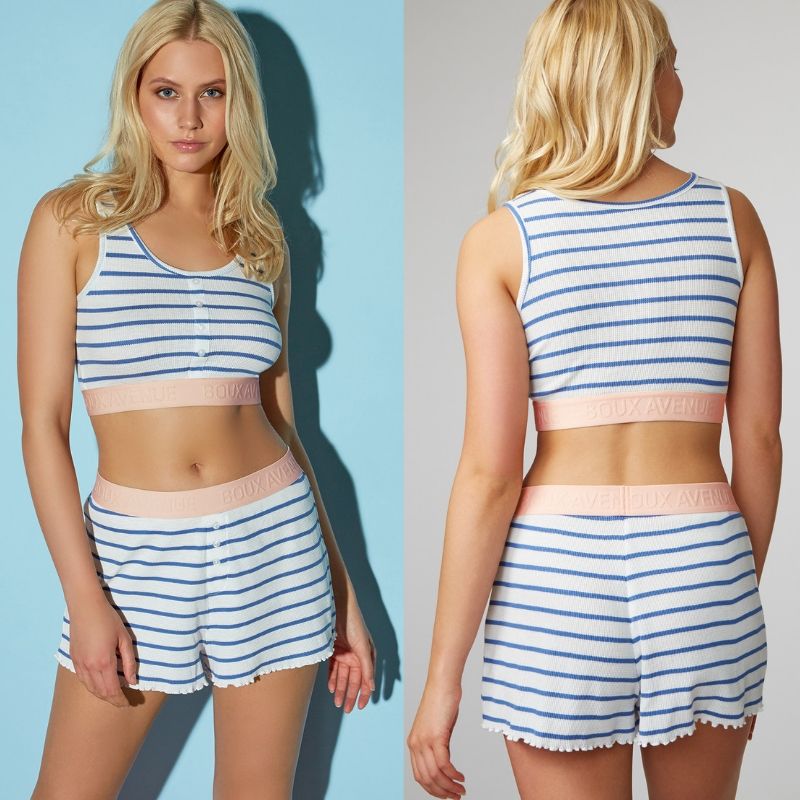 Sporty & Stylish
Do you enjoy the perfect mix of comfort and style, and prefer something breathable that's still appropriate to lounge around in post breakfast? Then the Stripe waffle and bralette set is your summer sleepwear of dreams! The white and blue nautical print is finished off with baby pink accents and a wide Boux waistband for a sport luxe feel. The waffle textured crop top and matching shorts with lettuce hem add a little fun to your bedtime attire.
Smart & Luxe
The Star satin short pyjama set is the ideal set for the woman that prefers her nightwear with added coverage paired with a little luxe and a little fun. Opt for this relaxed cut pyjama set that works as a saving grace for the occasional cooler night in summer/autumn. Designed in an all over star print in a deep, navy blue and finished with contrasting white piping. With both the look and feel of luxury with a spot print and soft fabric this set is a fusion of smart, and stylish practicality.
Cosy & Casual
Favour a girls night in over a big night out? The "May contain champagne" pyjama set is great for unwinding and indulging in all things that come with a perfect night in! The elasticated shorts and soft, relaxed grey marl tee are just right for the woman who prefers her champagne from the comfort of her own home. With a pretty colourway of light grey, pink and rose gold embroidery this set is an affordable alternative for 'the morning after' lounging.
Whether your style is more, sexy boudoir chemises or playful knickers sets, try switching up your nightwear style with a choice of one of our pyjama styles and set yourself up for sweet dreams!