When choosing swimwear for your body type, it's all about finding just the right combo to help you feel beautiful, supported and totally flawless when you step into the sun! Boux Avenue's philosophy is that swimwear should 'fit like lingerie' and feel just as glam too! So here are our insider tips for embracing what you love about yourself when the swimsuits and the sun come out.
Stunning pear-shapes tend to have delicate narrow shoulders, slim waists with wider hips and curvy, to-die-for bums! A bit like our fave Queens - Beyonce, J-Lo and Rihanna!
Your top swimwear tips:
Mix and Match
Be on the lookout for 'mix and match' bikinis! Pairing a plain bottom with a colourful or patterned top will emphasise your bust and will add a beautiful sense of visual balance to your gorgeous figure.This colour blocking trend will never go out of style!
Elongate the Legs
High-cut legs are oh-so-flattering for pears because they elongate the figure. This will create the illusion that you've got legs for days, make you look taller and highlight the shape of your gorgeous curves.
Draw the Eye Upwards
Halter bikini tops draw attention upwards and accentuate slimmer waists. A cute off-the-shoulder top or trendy cut-out top will also intrigue and draw the eyes upward!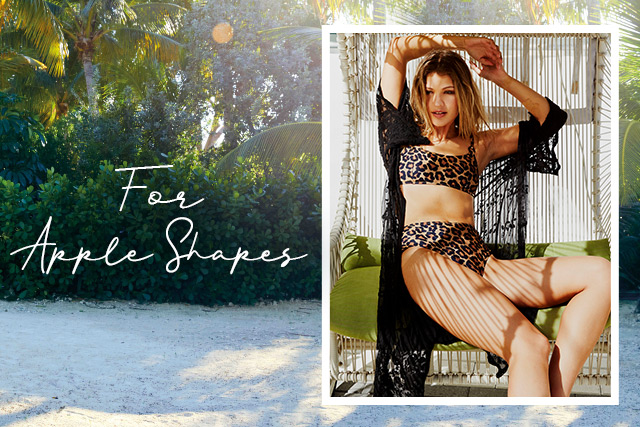 Feminine apple shapes have slender hips and shoulders against fuller busts and midriffs. And let's not forget those enviable legs! There are loads of gorgeous ways to showcase your stand-out features in swimwear. Take style notes from celebs like Drew Barrymore, Lena Dunham and Kimberley Walsh!
Hot swimwear options:
Create an Illusion
Swimsuits with ruching on the sides or in the middle work wonders in creating the illusion of a cinched-in waist. High-cut bottoms will also show off your slender hips and legs.
Go Retro
Sizzle in high-waisted bikini bottoms that end above the belly button to help flatten the tummy. A well-fitted halter top will lift and support the bust to create a longer-looking torso.
Feel Supported
If you're self-conscious about your midriff, a tankini (tank top bikini) will give you coverage, while shaping swimwear will help you feel supported.
Hot Tip:
If you've got tan lines you're still trying to get rid of or need a boost of confidence, throw on a simple
sarong or cover up
for an effortlessly cool beach look.

The 'straight up and down' body type is the divine athletic frame – and it's a great one to dress because balance is so easy to achieve! With little difference in size between the shoulders, waist and hips, you can emphasise your beach look with loads of beautiful colours, patterns and cuts. Celebrities like Cameron Diaz, Jennifer Aniston and Jessica Biel are perfect to take style inspo from!
Swimwear must-haves for athletic body types:
Play with Your Look
A smaller bust means you can get away with minimal support and have loads of fun by playing with bright colours, bold patterns, frills and ruching. Try out a bandeau, a crop top or a boob tube as the top half of your bikini.
Take the Plunge
Take advantage of needing less support in a one-piece swimsuit, and go for a plunging deep V neckline. It's sexy and flattering for smaller busts!
Enhance the Curve
Add volume to your bust and hips with bright colours, bold prints or frills, which create the illusion of a fuller curve. For something trendy and a little different, try a one-piece with keyhole cut-outs, like a monokini. The wavy cut-outs create the illusion of a curvier overall shape.

The womanly hourglass body is balanced yet curvy, with a full bust, round hips and a smaller waist. Kim Kardashian, Scarlett Johansson and Kelly Brook are all style icons who know their hourglass-shaped angles!
Your most flattering swimwear styles:
Embrace the Classics
A classic bikini with bra-style top piece looks gorgeous on a balanced, curvy hourglass figure.
Support Your Bust
This body type typically needs more support, so look for tops with underwiring and wider fastening straps for supreme comfort.
Create a Silhouette
Taller hourglass frames look great with high-waisted bikini bottoms. Paired with a sweetheart neckline, you can create a real 'bombshell' silhouette.
Hot Tip:
Women with busts of all sizes can really benefit from a
professional bra fitting
to ensure they're wearing the right size and getting the support they need. The hourglass figure, with its fuller bust, will certainly benefit. Don't forget you can pop into your nearest Boux Avenue store for a complimentary expert bra fit!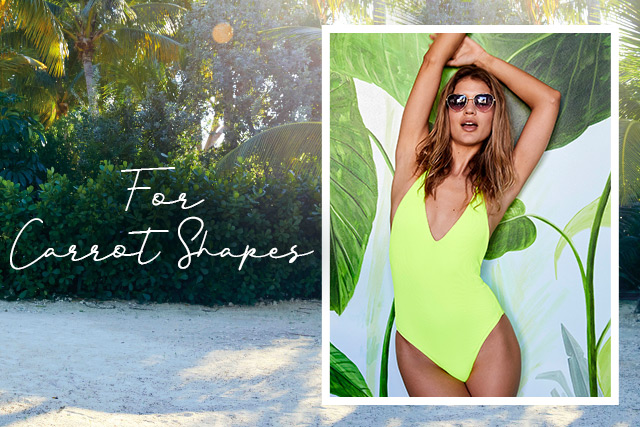 The 'carrot', or inverted triangle, body shape has stunners for legs, narrow hips, a fuller bust and beautiful, broad shoulders. Balancing your look is key when choosing swimwear.
Top swimsuit advice for carrot shapes:
Bring on the Stripes
Nautical-inspired horizontal stripes are flattering on carrot shapes, widening the hips and balancing out broader shoulders.
Mix it Up
Like pears, carrot body types have the perfect shape to mix and match. Choose separates with bolder colours and patterns on the bottom half to create a balanced visual frame.
Reinforce the Bust
Carrot shapes tend to have a fuller chest, so look for swimsuits or bikini tops with underwiring or halter shapes with great support and coverage.

No matter what your height, weight, shape or age, you can look and feel like the goddess you are in swimwear! Repeat this to yourself daily: there's no such thing as a perfect body type. The right fit and a few simple pieces can help you feel ready to step out onto the beach anywhere, anytime.
To support you, Boux understands that there's no such thing as 'one size fits all' when it comes to swimwear. If you're looking to show off your best features while getting support in the right places, we have the pieces to help you do this. Every customer can find something designed to celebrate their unique and beautiful shape!
Pop into your local Boux Avenue store or browse online for a heavenly selection of swimwear and lingerie to flatter your shape.